If Pennsylvania had a state food flag (who do we talk to to make that happen?), there is a 100% chance that a pretzel would be emblazoned on it, front-and-center. There are a lot of iconic PA foods — and we love them all — but perhaps none is so purely symbolic of our foodways than this delightfully twisted salty snack.
Here in PA, we produce and eat more pretzels than anywhere else in the country. About 80% of all the pretzels made in the US are made right here, with 45 pretzel companies calling Pennsylvania home. Yep, we have so many, that together, they make up the Pretzel Belt. And while the average per capita pretzel consumption clocks in around two pounds per year, Pennsylvanians go way harder. It's a bit tricky to find statewide pretzel consumption statistics, but it is well-documented that, at least in Philadelphia, the annual pretzel consumption per person is 12 pounds per year!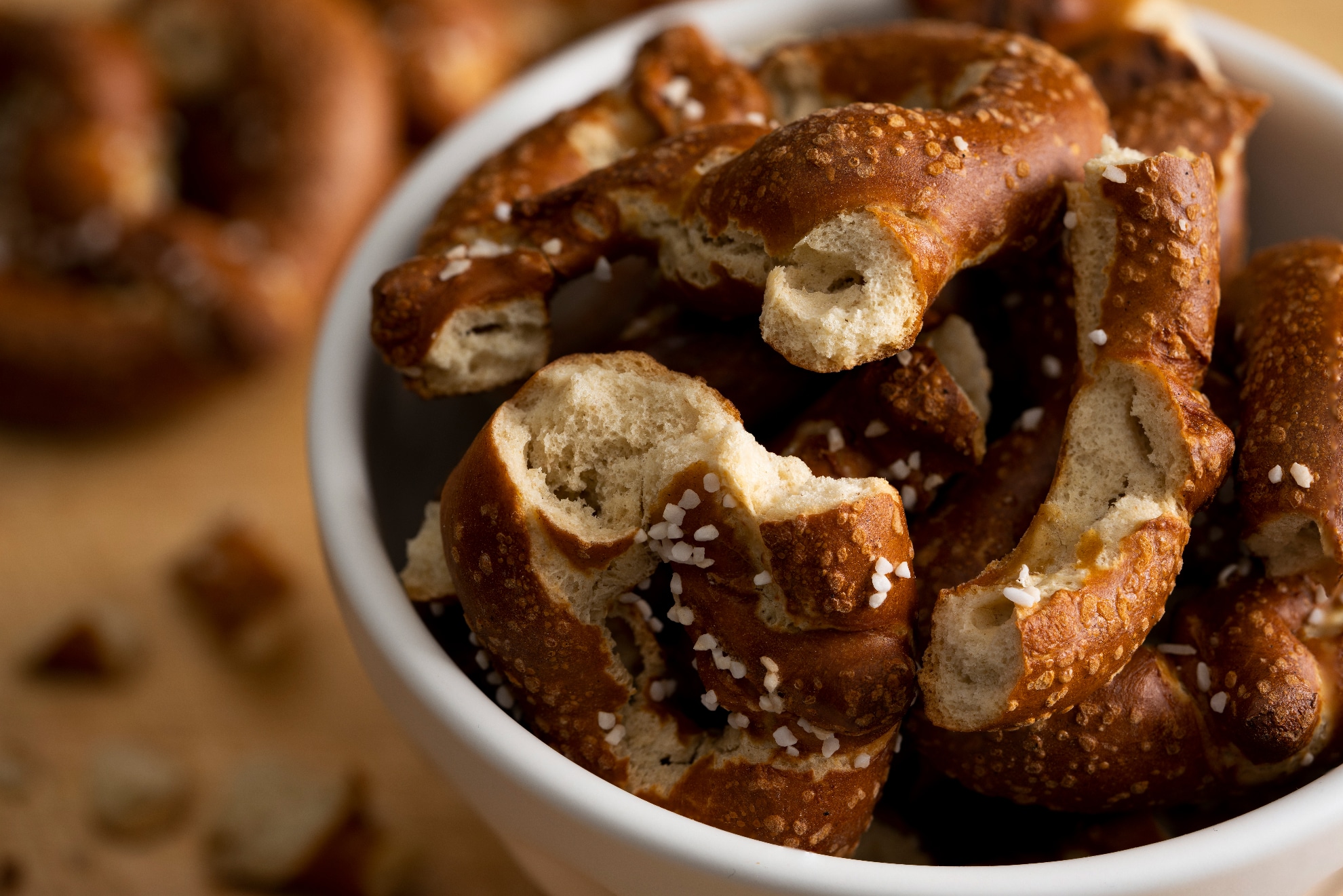 Unsurprisingly, pretzel culture runs deep here. In the 1990s, there was a Pretzel Museum in Philadelphia (sadly, now closed), and there are annual pretzel festivals held in Lititz and Reading. In 2003, Governor Ed Rendell declared April 26 "National Pretzel Day," and this day is still celebrated each year, with many pretzel bakeries running special promos and giveaways. Drawings and renderings of pretzels are emblazoned on patches, pins, cards, tee-shirts, and more at local retailers, like South Fellini and Exit343Design.
PA has got both of the major pretzel categories (hard and soft) on lockdown. Some of the biggest pretzel brands in the country have their home bases in Pennsylvania: On the crunchy front, we've got Synder's of Hanover, Herr's and Utz; on the soft pretzel front, Philly Pretzel Factory has a sizable number of franchised locations, and Auntie Anne's is a true phenomenon that has brought PA Dutch-style pretzels to all 50 states.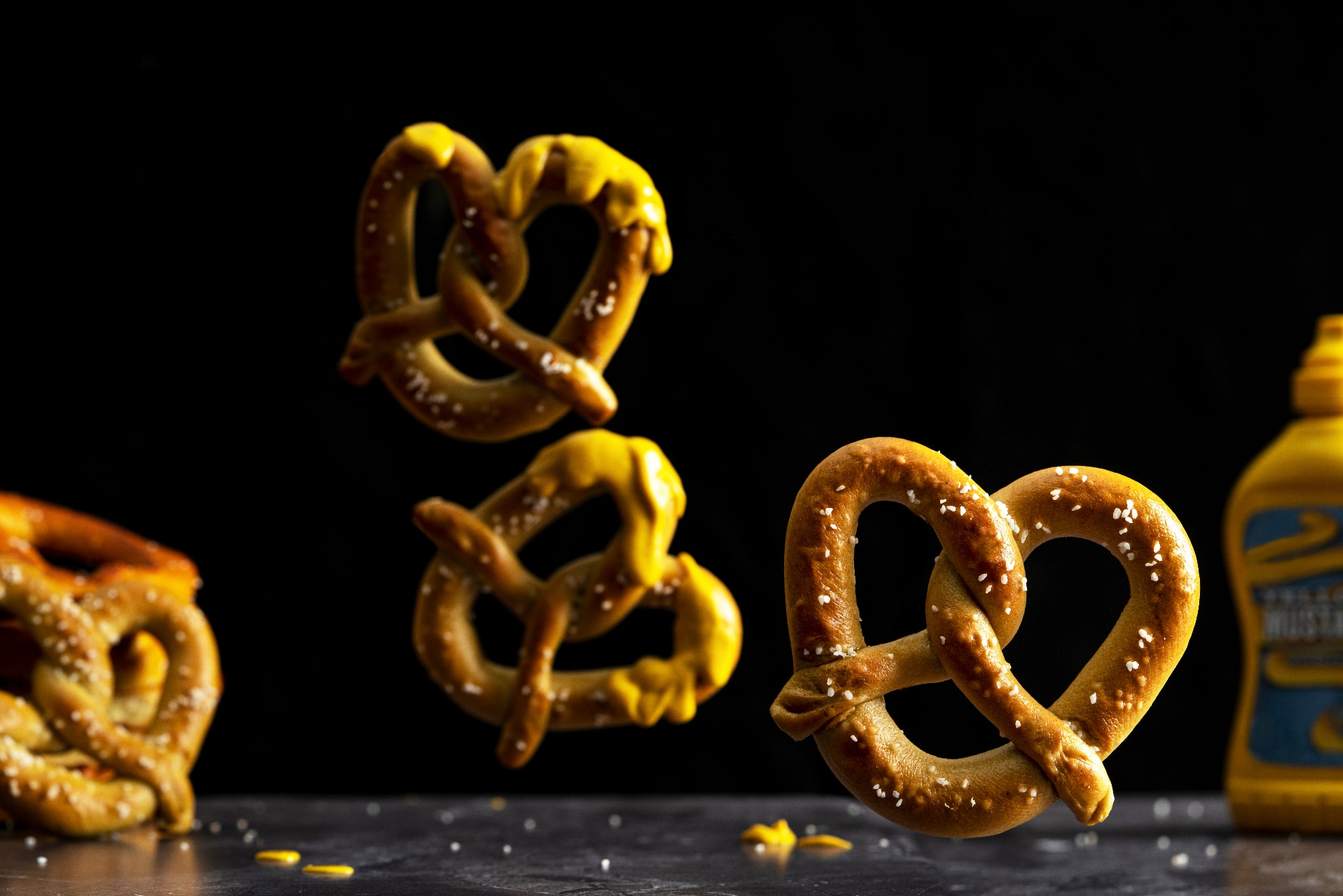 There are tons of small, artisan brands here, too, like OMG Pretzels in Plymouth Meeting, Uncle Jerry's Pretzels in Lancaster and Axel's Pretzels in Pittsburgh. Even in a pretzel-saturated market like Philadelphia, there are newbies trying to stake their claim, like Pretzel Day Pretzels. Whichever type you prefer, pretzels are ubiquitous in our state: sold in convenience stores like Wawa and Sheetz, at all sorts of bars and restaurants, on street corners from carts and food trucks, at sports stadiums … everywhere.
Why are we so pretzel-obsessed? Like so many of our iconic foods, PA's pretzel mania can be traced back to some of the first European settlers to come here. The German immigrants who settled here in the late-18th and 19th centuries brought with them a long tradition of pretzel-baking (they're called brezels in German). Fun fact: The history of the pretzel dates way back to 610 AD, when Italian monks would bake them as a reward for children who learned their prayers.
In the 19th century, Pennsylvania Dutch, as the German immigrants became known, baked pretzels at home. It wasn't until 1861 that a commercial pretzel industry took root, when one enterprising baker named Julius Sturgis opened a pretzel bakery in Lititz, PA. The home where he founded the bakery is still there, currently the location of the Julius Sturgis soft pretzel bakery — in 1946, Julius' grandson Marriott, moved the hard pretzel operation to Reading (this division is called Tom Sturgis Pretzels), and it moved one more time in 1970 to Shillington, PA, where it remains today. The Sturgis family has the claim to fame of being America's first commercial pretzel bakery, and from there, many more pretzel bakeries sprang forth, cementing Southeastern PA as the epicenter of US pretzel production. For a bit of context, Snyder's of Hanover was founded in 1909, Utz in 1921, and Herr's in 1946.
According to Kurt Van Glider, the general manager of Julius Sturgis Pretzel Bakery, Julius' business venture was originally born out of a resourceful discovery.
"Julius started out as an intern at the bakery down the street, and his job was to clean the cooling ovens," Van Glider says. "He would find pretzels that had cooled too much overnight and were hard and were usually given to the livestock. He went to owner to say, 'Hey, we could sell these,' and was repeatedly told no. He finally decided to go into business for himself."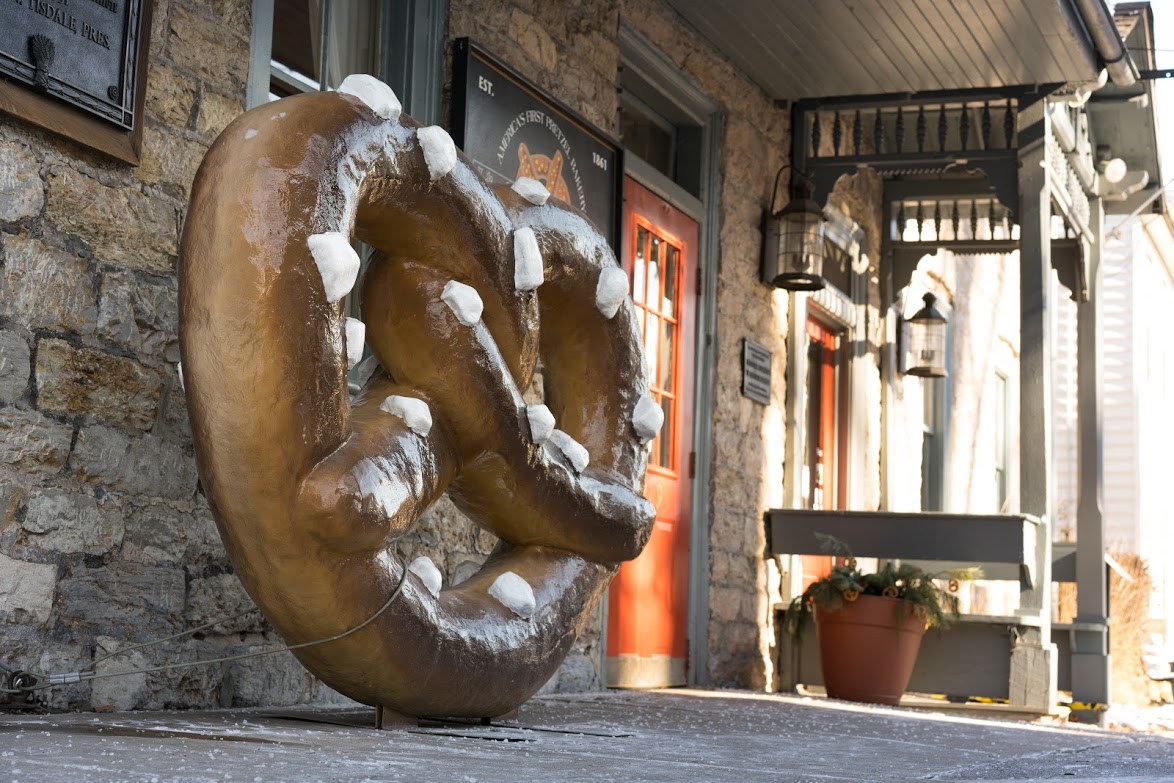 Part of the success of the company was that, during the Civil War, Union troops who were coming through the area, preferred Sturgis' pretzels to the hard tack they usually ate. Their enjoyment of the pretzels helped spur the popularity of hard pretzels as a snack across the East Coast.
Van Glider notes that what sets their company apart from the rest is that it's still a family-owned business, run by Bruce Sturgis, who is Julius' great-great-grandson.
"Their name is on the business, and they care about that," he says.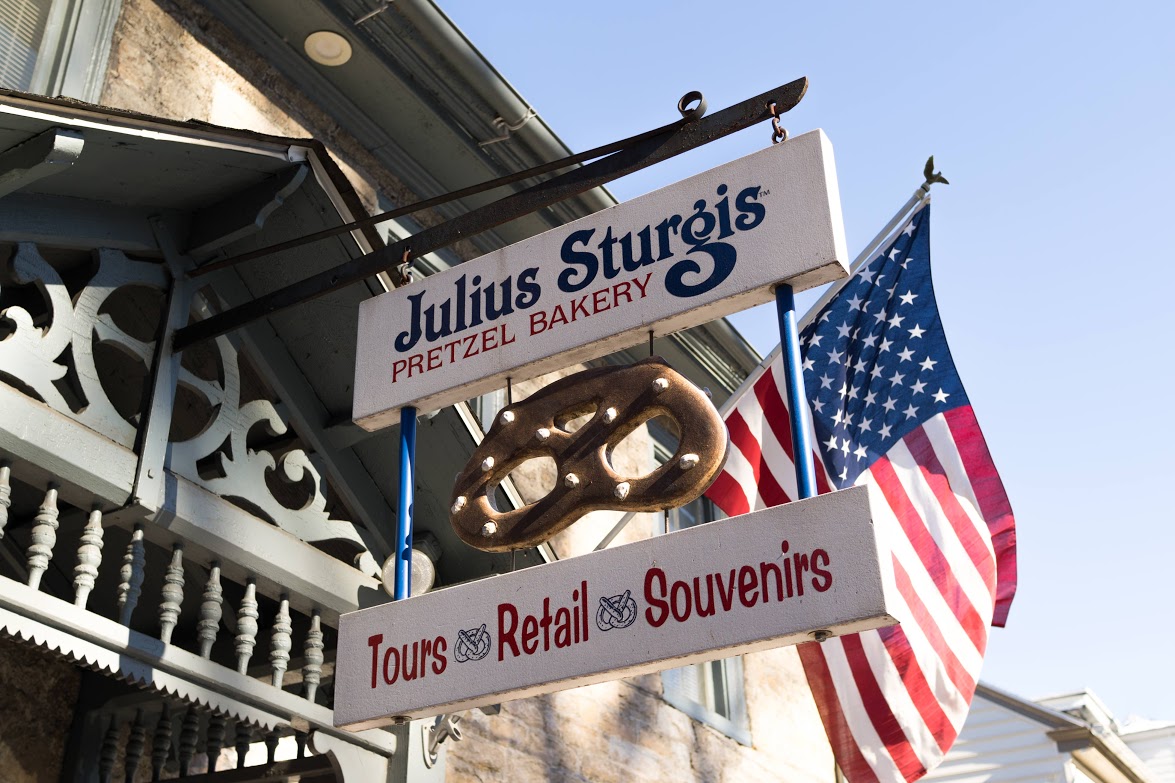 Unlike bigger brands, they only direct distribute within a 150-radius of Reading, which means they are working in smaller batches.
"Producing pretzels in a small amount is different than a mass amount … [scaled up] they can lose texture and flavor. Here, we can do a slight recipe change or make alterations if a batch isn't quite right," he says. "Compared to some brands, we are a very small potato."
Both the Sturgis hard and soft pretzels are made using the same recipe that Julius began with. They use only Pennsylvania wheat flour and the pretzels contain no dairy products. The brand's best-sellers include Little Cheesers (like a crunchier version of a Goldfish crackers, Van Glider explains), Cinnamon Sugar Stiks, Sourdough pretzels and Specials.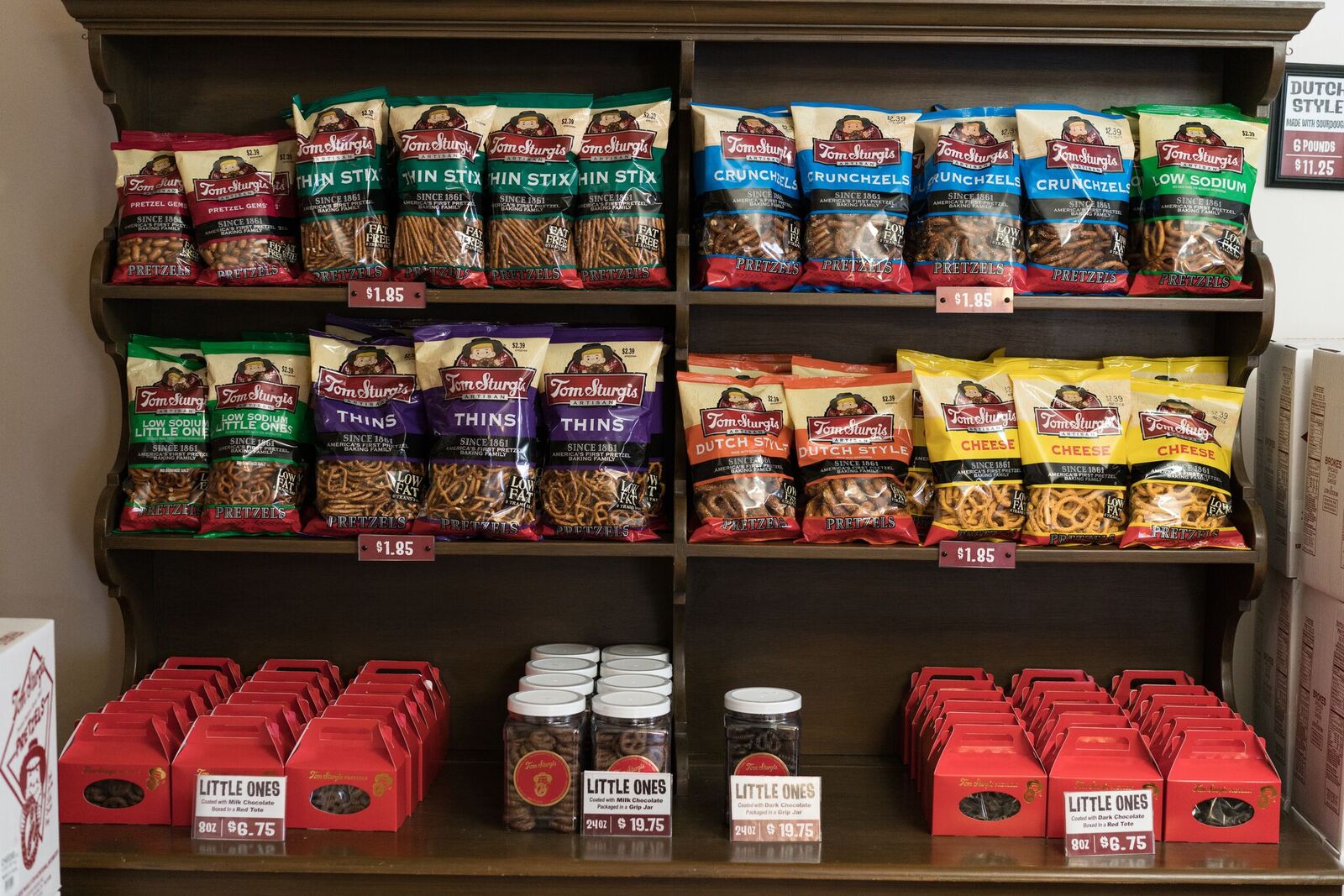 On the soft pretzel side, the Julius Sturgis bakery in Lititz makes them fresh every day. On busy days, Van Glider reports that they can sell up to 400 pretzels! They also offer history-based factory tours, where visitors can see the original ovens (no longer used), receive lessons on pretzel twisting, and can learn more about the family business and the history of Pennsylvania pretzels.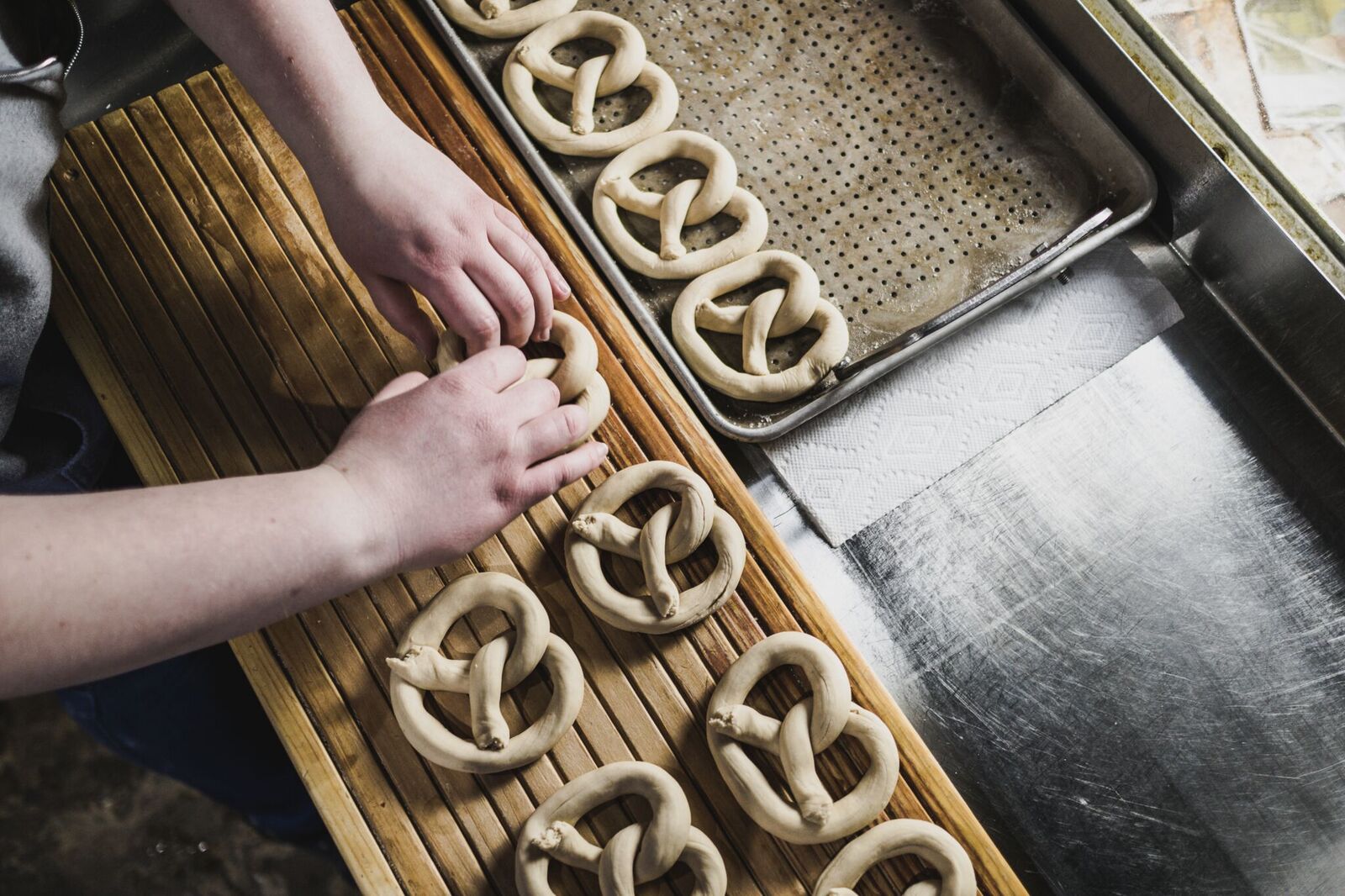 Are you a passionate, pretzel-loving Pennsylvanian? What are some of your favorite local brands or pretzel bakers? We would love to know! Join in the conversation on the PA Eats Facebook page.
Pretzel photos:

Dish Works

All other photos:

Courtesy of Julius Sturgis Pretzel Bakery