As St. Patrick's Day rolls around, something special starts popping up in Pennsylvania — especially the Southeastern region — that's just as familiar to locals as shamrocks and leprechauns: Irish Potatoes! These seasonal candies, which are neither of Irish origin, nor contain any sort of potato, represent a Philadelphia tradition that goes back at least a century. Typically, these confections are made of sweetened coconut and cream cheese, hand-formed into little oblong shapes and rolled in cinnamon, which are loosely reminiscent of a freshly dug potato.
Philadelphia and the surrounding area have historically been a hotbed of candy making and manufacturing in the US. This tradition is often credited to the city's position as a bustling port in the 18th and 19th centuries, where goods from abroad — including sugar — made their first landing. Some of the big names in candy, including Whitman's of Chocolate Sampler fame, were founded in the region during the Industrial Revolution and beyond. By the early 20th century, there were over 130 candy shops and makers in Philadelphia, and in the time since, others big and small have continued to spring up.
Holidays are important sales opportunities for candy brands, and some people credit the creation of commercially made Irish Potatoes as a savvy marketing move by candy makers to fill the gap between Valentine's Day and Easter. It's unclear which candy maker can take credit for packaging Irish Potatoes. But, like clockwork, they've been appearing on local shelves for many, many decades. And while they're relatively easy treats to make at home (some have theorized that it was actually Irish American immigrants who first created the candies at home in the late 1800s), it's the consistent proliferation of local candy shops churning these out every year that has made them a true iconic Pennsylvania food.
There are dozens of confectioneries in the current Southeast PA food landscape making Irish Potatoes each year, between January and March. Some are super-small batch, and sell only in their own shops or online, like Shane Confectionery in Old City Philly, Lore's Chocolates in Washington Square, Anthony's Italian Coffee House and Chocolate House in the Italian Market, and Bridge Street Chocolates in Phoenixville.  Many fine food markets, candy shops and grocery stores, like Pennsylvania General Store in Reading Terminal Market and Evolution Candy in Doylestown, PA, also carry wholesale brands.
There are two main heavy-hitters that are making Irish Potatoes for wholesale distribution, and helping to bring this Philly secret to the masses: Stutz Candy Co. in Hatboro, PA, and Oh Ryan's in Boothwyn, PA. Stutz, which makes its Irish Potatoes with a coconut cream center rolled in a mix of ground cinnamon and cocoa powder, reportedly sells over 2,000 pounds of them each year, mostly in the tri-state area.

Oh Ryan's appears to be the biggest name in the Irish Potato game, with distribution deals through Wawa, BJ's Wholesale, Giant Food Stores and other major retails. Sales Manager Harry Hefton, who has worked for the company for 20 years, says that Oh Ryan's produces and sells 97,000 pounds of Irish Potatoes in just the first three months of each year. While the majority of the sales are in Pennsylvania and the Mid-Atlantic region, Hefton reports that, thanks to Amazon, Oh Ryan's have made their way around the world.
"We've hit every state in the US, including Hawaii!" he says. "We've also sold to Germany, England, France and Puerto Rico. We just sold some to a guy who was taking them to Ireland!"
Thanks to the deal with Wawa, newer markets, including Scranton and Pittsburgh in PA, and cities down the East Coast to Florida, are opening up. Hefton says other corporate deals, like with CVS Pharmacy haven't worked out, because at that scale, the retailers want the product cheaper or want the option to be able to sell them all across the country.
"We're not big enough for that," Hefton notes. "We like to grow each year a little bit, but we're a seasonal company, we start making the Irish Potatoes in December. This year, we did get a head start, with 1,245 cases for Wawa earlier in December, because they wanted to be the first ones to have them."
Oh Ryan's, which is a relatively small, independent candy company, has been in business for 30 years. Owner Dave Lamparelli started two candy companies with his wife Laurel, naming each one after their two kids. One is Oh Ryan's and the other is Christopher Chocolates, a candy shop in Newtown Square, PA. A trained candy maker, Lamparelli began making Irish Potatoes when he learned what a local favorite they are.
"Dave came here from Buffalo where he used to make sponge candy, that's a big thing there," says Hefton. "When he came down here and someone gave him a recipe for Irish Potatoes. It's a real Philly thing … you go up to New York and they don't know what they are!"
The Oh Ryan's Irish Potatoes follow roughly the same family recipe that Lamparelli started with three decades ago. One major difference between its method and others products and recipes you might see online are that they don't use cream cheese in the coconut mix.
"Cream cheese messes up the shelf life! We put a six-month sell-by date on our Irish Potatoes, but we've found them under the seat of a car after a year before, and they're still good!" Hefton says. "We also use a really fine coconut, so you don't get the big stringy pieces of coconut, and baker's sugar, so the candies get softer, not harder, as time goes on."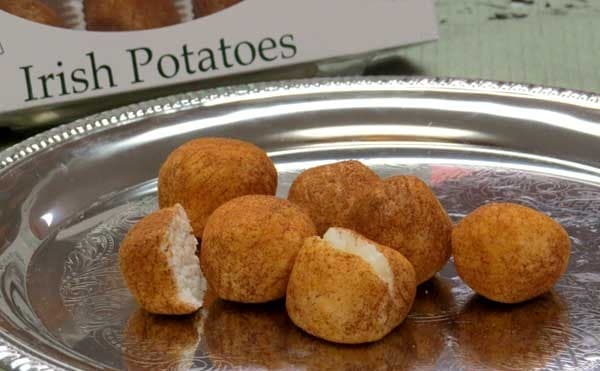 The Oh Ryan's production facility is in Lynnwood, PA, very close to Marcus Hook and the Delaware border. Some of the products for Christopher Chocolates are made there, too. It's a popular stop for field trips from local schools and organizations. Hefton also notes that Oh Ryan's donates candy to many fundraisers and local charity events, as well. To make the Irish Potatoes, the facility uses cut-and roll machines, which run for between 12 to 14 hours a day from January to February.
Hefton says, "Our machines are 110 years old! We say, if it ain't broke, don't fix it."
What are your favorite memories with Irish Potatoes? Are there any under-the-radar local brands we should know about? Tell us in the comments here or on the PA Eats Facebook page!