A boozy drink can warm you up from the inside out and a pleasant alcohol burn shining through in a well-balanced cocktail is one of winter's small comforts. But, when it's freezing cold outside, a drink shaken or mixed with ice is a hard sell. Enter: the hot toddy. Warm cocktails are such a lovely way to enjoy a drink even on the frostiest day and they open up interesting avenues for combining ingredients and coaxing out relaxing, cozy flavors.
Typically, a hot toddy combines hot water or tea, honey and lemon juice, spiked with whiskey. You'll find some version of this in bars and restaurants across PA, some sticking to the more traditional recipe and others going off on riffs and tangents on the classic toddy.
Here are a some of our favorite Pennsylvania hot toddies, and a couple more (technically non-toddy) delicious warm drinks just for fun:
Gettysburg
1863 Restaurant & Lounge, in the Wyndham Gettysburg Hotel, adds a bit of flair to its hot toddies: try the Apple Brandy Hot Toddy with E&J Brandy, Sour Apple Pucker, honey and hot water or the Fireball Hot Toddy with Fireball Whiskey, lemon juice, honey, caramel and hot water. 95 Presidential Circle, Gettysburg; (717) 339-0020.
Harrisburg/Hershey
Hershey's only gastropub, Irv's Pub, is a popular spot in Central PA for craft beer, rustic food and cocktails. While it's not officially on the menu, ask for a hot toddy with your choice of brown spirits and enjoy a warm, tea-spiked cocktail. 814 E. Chocolate Ave., Hershey; (717) 298-6476.
Lancaster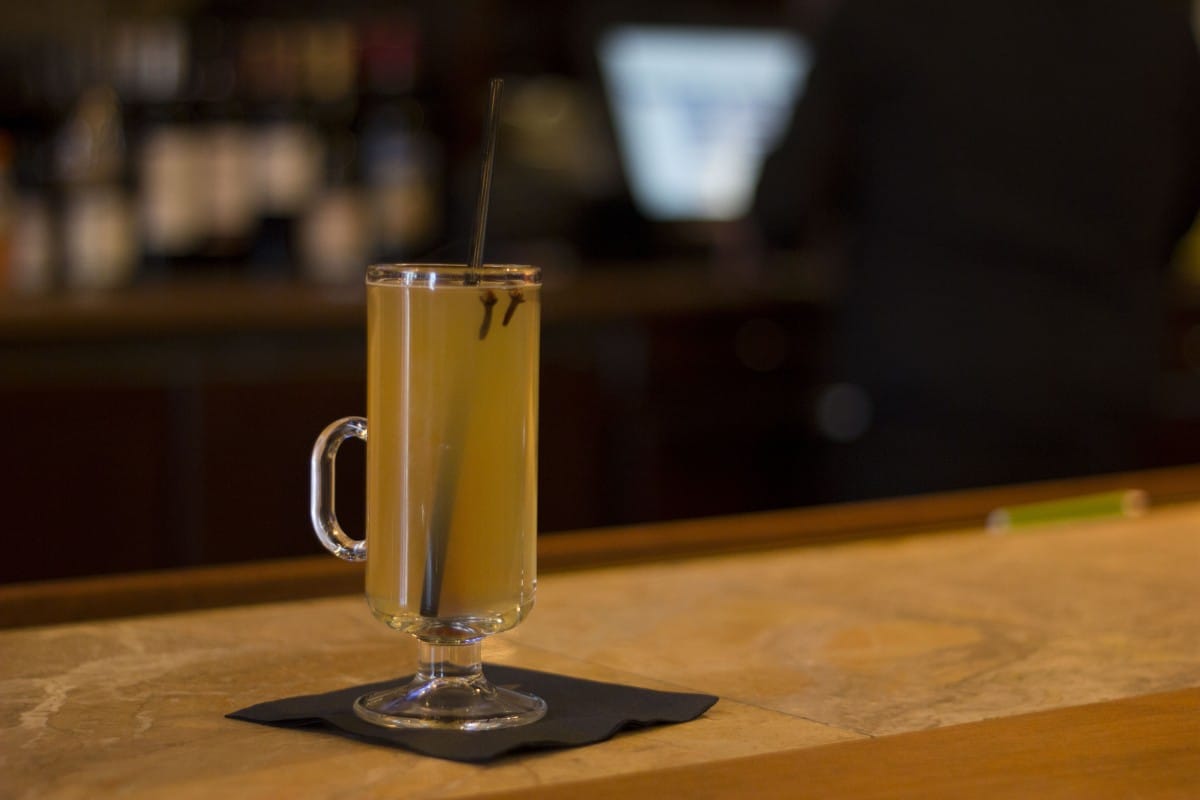 The Pressroom's cocktail menu is on point, with seasonal specials like the Commodore Q (coconut oil washed Martell VSSD Cognac, matcha infused cacao, ginger liqueur, creme de cacao, yuzu, spiced vanilla pear shrub and cardamom bitters) and fresh takes on the classics. Of the many places to get a warm drink in Lancaster, this classy joint is our fave for hot toddies. 26-28 W. King St., Lancaster; (717) 399-5400.
Philadelphia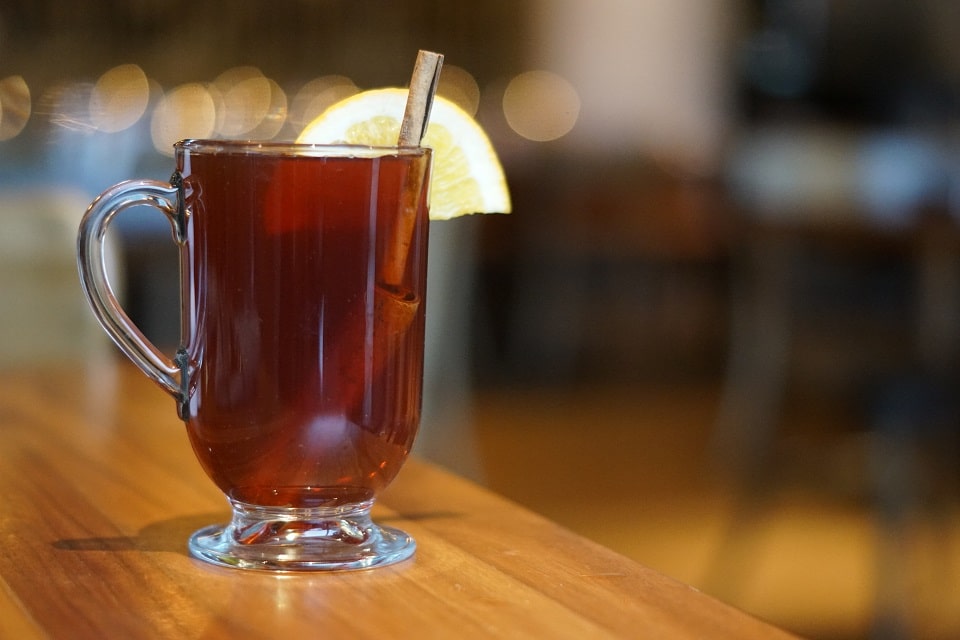 In University City, CO-OP, the restaurant and lounge tucked into The Study hotel offers a zesty Hot Toddy with hot cinnamon spiced whiskey and orange. 20 S. 33rd St., Philadelphia; (215) 398-1874.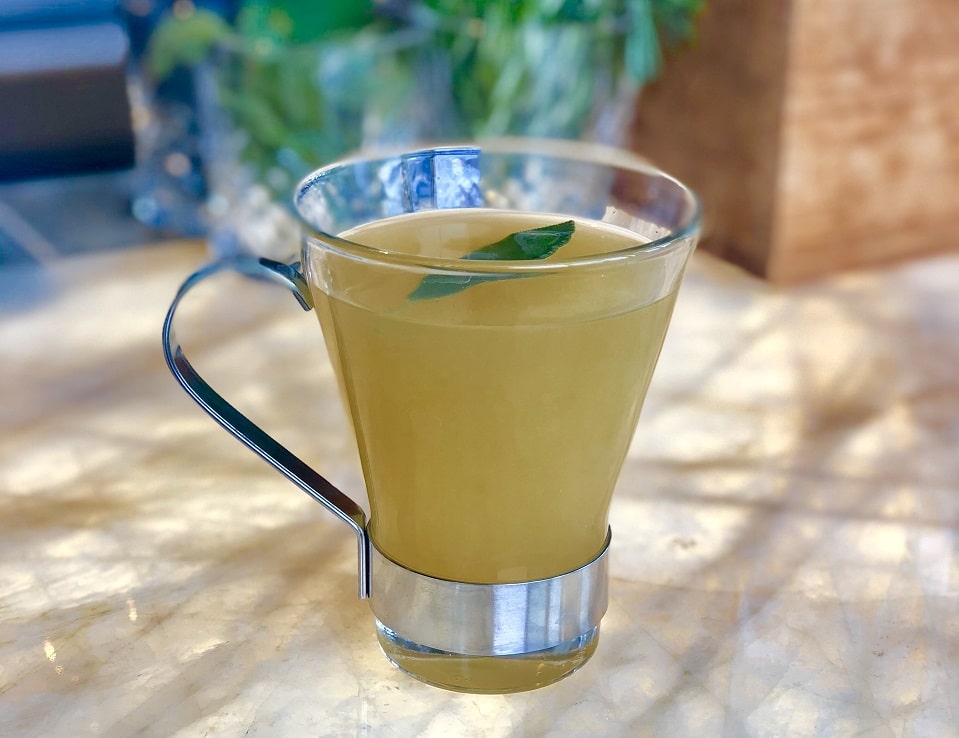 For a double dose of warmth, cozy up to the fire pit at Assembly Rooftop Lounge (above the Logan Hotel in Center City) and order up a Hot Dotty, made with Jameson whiskey, Laphroaig, ginger, sage, honey and lemon. 1840 Benjamin Franklin Parkway, Philadelphia; (215) 963-2723.
Bourbon lovers know that The Twisted Tail in Old City is the place to go for an amazing selection of brown spirits. This restaurant, bar and live music venue also mixes up a killer hot toddy, with Jim Beam, ginger puree, fresh lemon with clove and wildflower honey. 509 S. 2nd St., Philadelphia; (215) 559-2471.
Philadelphia Main Line
Terrain Cafe at Devon Yards warms up its gorgeous garden space with the Thoughts & Fancies hot cocktail, a delightful blend of floral mulled cider, hot buttered rum and a hint of citrus. 138 Lancaster Ave., Devon; (610) 590-4675.
Teresa's Cafe in Wayne didn't get a James Beard Award nomination for its bar program for nothing! In addition to a wonderfully curated natural wine list, sour beers and ciders and boutique-y craft beers, it's also got an excellent cocktail menu (including a build-your-own gin and tonic situation). Regulars looking for a winter warmer know to go off-menu though, with Teresa's hot toddy: Waythen's single barrel bourbon, hot water and honey are dressed up with a cinnamon stick and a fragrant clove-studded lemon. 124 N. Wayne Ave., Wayne; (610) 293-9909.
Pittsburgh
Of course, the whiskey experts at Wigle Whiskey know how to mix up a truly fabulous hot toddy! Its signature toddy includes not one, but two types of whiskey (its house-distilled Wheat Whiskey and Cinnamon Whiskey) with brown sugar simple syrup, lemon juice, hot black tea and Pomander orange bitters. 2401 Smallman St., Pittsburgh; (412) 224-2827.
State College
Local Whiskey has compiled an insane whiskey list and makes all kinds of tasty cocktails, mostly whiskey-based. One of its warm options is the Apple Toddy with Laird's Apple Brandy, Cocchi Torino Vermouth, Happy Valley Cider, apple cider, honey and ginger syrup and bitters. We'll have two, thanks. 107 E. Beaver Ave., State College; (814) 272-6831.
York
Old Republic Distillery is offering a tasty hot cocktail this winter, the Hot Rum Cocoa. This sweet treat is a blend of its 80-proof Old Republic Rum and hot cocoa. Word also has it that after Old Republic Distillery perfects its Blue Mountain Jamaican Coffee Rum, there will be a line of hot coffee cocktails on its menu, as well! 1327 N. Duke St., York; (717) 885-5095.
Where's your favorite spot for a hot toddy or warm cocktail? Let us know!
Pressroom hot toddy photo:

Lisa Yoder

Co-Op hot toddy photo:

Co-Op

Assembly hot toddy photo:

Assembly Rooftop Lounge

Twisted Tail hot toddy photo:

The Twisted Tail