If you want to make someone's day a little bit brighter, give them a batch of cookies. This idea that cookies = happiness was the very first seedling of a business plan for Ashley Naftaly, the founder of Kindness Kookies.
She didn't start out seeking to sell her fun, colorful baked treats; she started bringing them to people at her gym as gifts when she moved from New York City to Hoboken, NJ in 2017. The cookies helped her make friends, and as she began giving away more sweets to friends and family and saw their excitement, she decided to make a career pivot and start a cookie bakery. Now based in Montgomery County, not far from Philadelphia, Kindness Kookies has an online retail shop boasting over a dozen cookie varieties. Some are seasonal specials, and others are available year round, but one thing is true of all of Naftaly's creations: They are absolutely loaded with fun fillings and toppings.
We enjoyed the chance to interview Naftaly and to learn more about Kindness Kookies. Get to know this MontCo baker through our Q&A:
PA Eats: Where are you from? Is your background in culinary? What did you do before Kindness Kookies?
Ashley Naftaly: I'm originally from Michigan and I moved to New York City a few days shy of my 18th birthday to go to college at the Fashion Institute of Technology. I majored in photography and was very set on being a photo editor at a fashion magazine. As time went on, I started to become more interested in the food space, and I worked as the production manager at a couple of different food companies while simultaneously working on Kindness Kookies.
You used cookies to make friends in a new town. What is it about sweets that you think connects people?
I have yet to see a treat that doesn't make someone smile. There's something that is so sentimental about giving and receiving desserts, especially if it's homemade. It can always make someone's day a little better, and truly a little sweeter! While sweets unfortunately can't solve all of our problems, they can instantly make someone feel loved and thought of.
How did you turn Kindness Kookies from a hobby to a business?
I was working full-time in Brooklyn, living in Hoboken and passing out kookies to people at the gym in the morning to make their days a little brighter, and to also make friends. The response was very positive and I decided that I was going to establish Kindness Kookies as a business. I was super-lucky to have met Krista Stucchio, a photographer and digital creator in the food space, and she introduced me to the owners of a Hoboken restaurant, Sauced.

The owners at Sauced were very kind to allow me to bake out of their kitchen and they would sell the Kookies out of the restaurant. At a certain point, I could only grow the business more if I left my full-time job, or if there were magically more hours in the day, since I was commuting 1.5 hours each way every day. I ultimately made a tough decision to temporarily put Kindness Kookies on the back burner until I could scale the business properly and more permanently. Fast-forward to October 2020. Now living in Pennsylvania, I took the leap and took on Kindness Kookies full-time. I'm still a one-woman show!
How has the company grown since you started it?
When the business was in Hoboken, I was only selling out of Sauced and fulfilling local orders. Now, I ship nationwide, as well as doing local deliveries in Bucks/MontCo. The business recently went through a rebrand that helped to establish a more clear and fun brand identity. The business has evolved so much, from packaging and branding to how the kookies are made, as well as the goals of the business. Every single day it feels like I'm learning something new.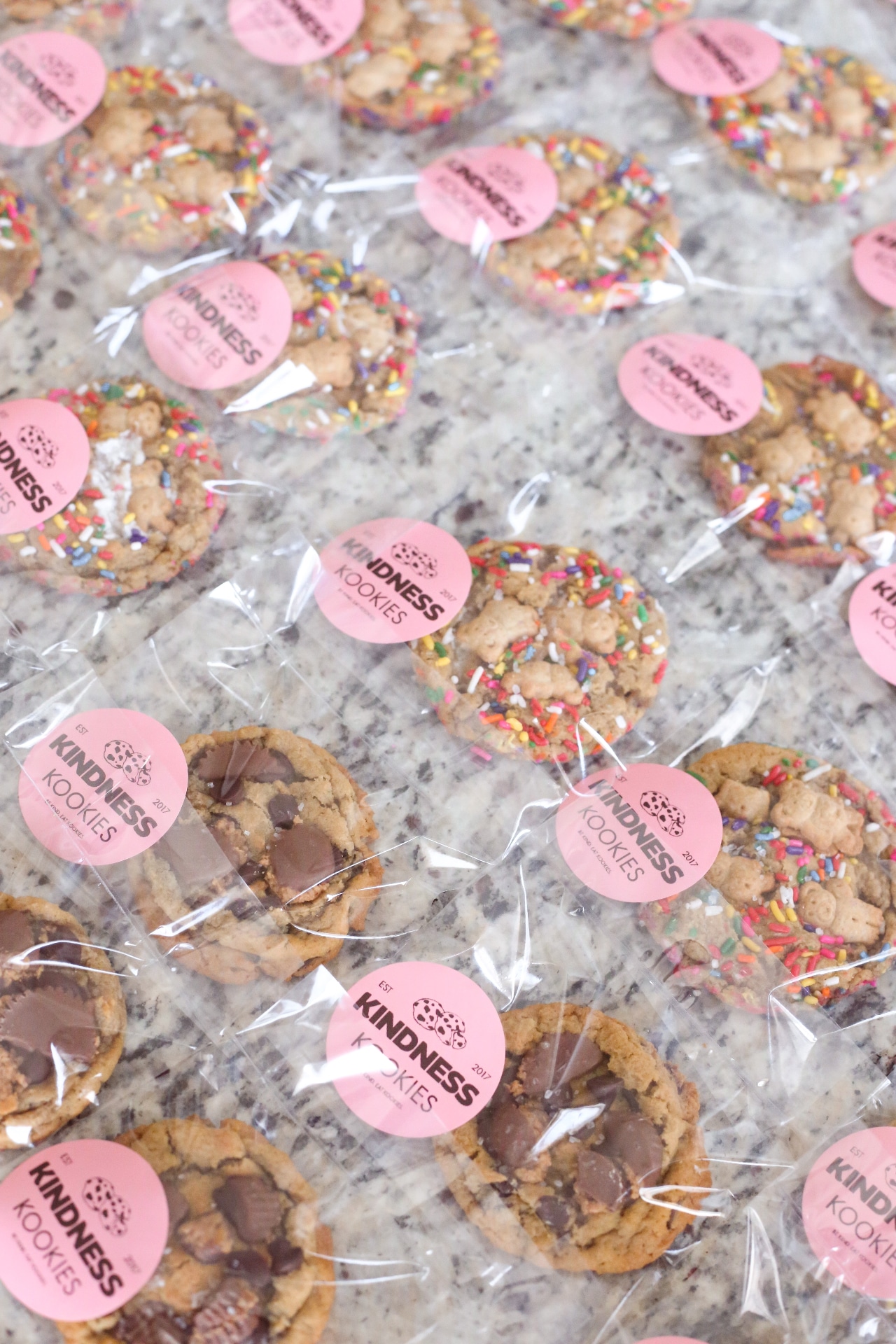 What inspires your cookie creations (and their fun names!)? Do you release new flavors every month?
I love going into the candy, cereal and chip aisles at the grocery store to think of new flavor combinations! I always want the flavors to be either a little out of the box or something that's nostalgic or comforting. I release a new flavor every single month, which allows me to be creative and come up with something that's unique to the rest of the menu. The names of the flavors either come from the flavor itself, a play on words, or the holiday that's specific to that month!
What, to you, makes an ideal cookie? And how did you develop your recipe and your style to get the cookies to where they are now?
This is definitely a hot topic! Everyone has their cookie preferences: crunchy, chewy, salty, the list goes on and on. I love a chewy, soft cookie with a touch of salt to contrast the sweetness. When you take a bite, it should feel like it melts your whole body, your eyes widen as it brings a slow smile to your face and you nod your head saying, "That's so good!"
There was a lot of trial and error with developing the recipe, especially going from one kitchen to the next, as not all ovens are created equal. So it was all about figuring out the sweet spot from a bake time and temperature perspective, as well as the ratio of each ingredient.
Kindness Kookies helps spread kindness through donations to the community. Can you tell us more about this mission?
Yes! Ten percent of the proceeds from each flavor-of-the-month kookie sold goes to that charity of the month. We've also auctioned off kookie boxes for charity fundraisers. The company all started by trying to make people's days better. Everyone is going through something, and I wanted the kookies to be a symbol of care and acknowledgment of, "I see you and I'm here for you."

For instance, in February 2022, the flavor of the month was the No Toaster Required Kookie and 10% of the proceeds from each one sold was donated directly to Forget Me Knot, an organization that spreads love through recycled, repurposed wedding and event flowers to connect with people in local hospitals.
What is your current production set-up? Can folks find your kookies anywhere besides your website?
I'm baking out of my own space at home, approved and inspected by the PA Department of Agriculture! I'd love to get into more local markets and boutiques permanently, and I'm currently discussing wholesale opportunities with a few stores. Hopefully good news will come very soon! Stay tuned!
Are there any other future goals/plans on the horizon for Kindness Kookies?
Some of my favorite orders are orders for weddings, so I'd love to do more weddings and events! I'd also LOVE to collaborate with a local ice cream company to do ice cream sandwiches!
Calling all local ice cream makers: We need ice cream sandwiches made with Kindness Kookies! In the meantime, shop for boxes of these decadent delights on the Kindness Kookies website and follow along on Instagram and Facebook for mouthwatering photos and videos to enjoy.