As with any fermentation, brewing beer is part art, part science. The science part cannot be overstated, though — even the coolest idea or most unique style isn't worth much if there are problems along any step of the fermentation. For Chelsea and George Alexander, the owners of Mechanistic Brewing Co. in Clarion, PA, the scientific aspect of brewing is so important that they've woven chemistry imagery into both their branding, and engineering language into the name of their company. Their core belief is that high-quality ingredients and science makes the best beer, and that is what they've set out to do.
The couple opened Mechanistic Brewing in 2019, not long before the pandemic drastically changed the social landscape. They were able to persist through the tricky times, and have earned a stellar reputation for providing not only expertly crafted beers, ranging from crisp Norwegian ales to hoppy hazy IPAs to silky smooth stouts, but top-notch hospitality, as well.
We learned more about how this world-traveling couple decided to open a brewery, why they chose Clarion (about 75 miles north of Pittsburgh) to put down roots, and how they've bounced back after the struggles of the pandemic. Get to know them in this installment of our Who Behind the Brew series:
PA Eats: Let's go back to the beginning! When did the idea of starting a brewery first begin to percolate for you?
George Alexander: Chelsea and I were living in Washington DC and our first daughter was on the way. We knew that DC was going to be too expensive for us to stay with kids, so we decided to move back home to Clarion, PA. We were excited to be close to our families and to raise our kids in our hometown. However, both Chelsea and I had lived in different states, and different countries, for a number of years. We knew that we were going to miss many of the places that we frequented. Eventually, we realized that we could just create a space that we wanted to hang out in. Clarion has so many amazing people, so we decided to create somewhere to bring community together. A brewery was a natural fit for us. Chelsea's father owned an industrial building with lots of outdoor space. My background is in geochemistry. After spending many years in the laboratory in grad school, I missed the lab environment and experimentation. I also missed working on my feet and being face-to-face with people.
When and how did you decide to take "the leap" into turning this idea into a reality?
George: We went back and forth so many times. I am naturally risk averse when it comes to business, whereas Chelsea grew up in a family with local business ties (F.L. Crooks & Co. Clothing). We played with the numbers in endless Excel spreadsheets with the help of our local Small Business Development Center. Eventually, Chelsea told me that we either build a brewery or we'd have to stop talking about it.

Chelsea Alexander: This is true! This was consistently our road trip topic: You have 5 beers on tap, what do you choose? It became the never-ending topic of opening a brewery, and I said either we do this, or let's talk about something new (because lots of talk and no action was starting to drive me crazy).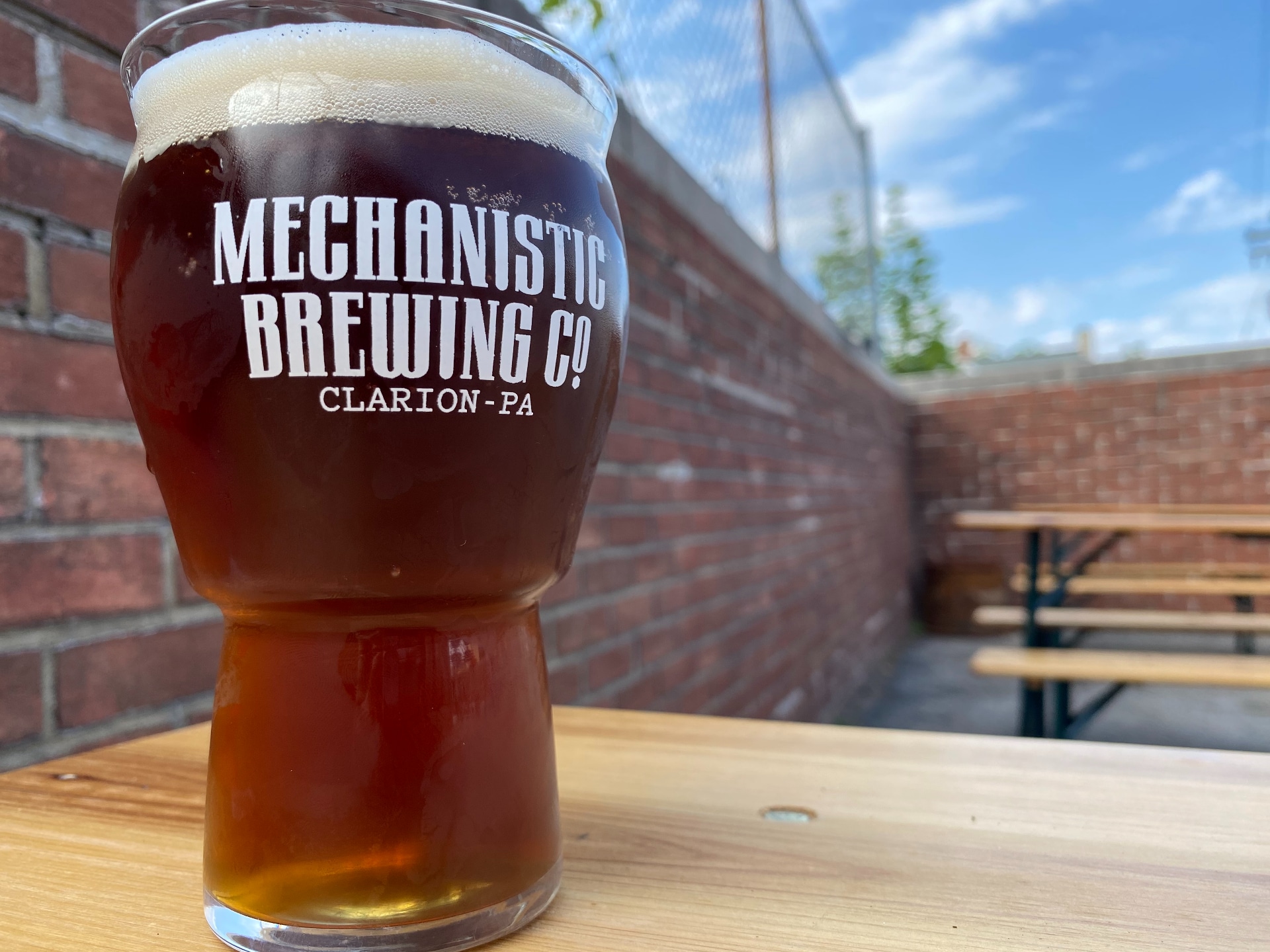 Did either of you have a background in brewing/hospitality? If so, where? If not, what were your careers before?
George: My background is geochemistry and the lab, so a brewery was an easy transition, especially with my love for cooking. I previously lived in Vail and the Tetons and worked in hospitality and food and beverage. I also at a local restaurant and lodge in Cook Forest in the early 2000s.

Chelsea: I grew up working in my family clothing store, and then studied Spanish and economics in college. After graduation I worked briefly in a wine bar in DC and was an intern with a nonprofit organization that led me to work in international credit unions.
What were some challenges you faced as you worked to open the brewery? What about some victories?
George: We faced the same challenges that every brewery faces. The regulations through the TTB, IRS, PLCB, PA Department of Agriculture plus building codes, local zoning codes, etc. were daunting, even just trying to figure out who we needed to talk with, and the sheer length of the documents. We have met amazing people along the way who've worked with us and have become friends, including people from Small Business Development, architects, local talented craftsmen, artists and fellow brewers. The relationships that we've built have been the biggest victory. 

Chelsea: Working through Covid was a huge challenge for us. The changing regulations were exhausting and stressful, especially after only 10 months in business. We purchased a large tent for our outdoor area which was taken down by a freak rain storm just days after installation. Navigating insurance companies and coming up empty handed was a big lesson learned. We have had many victories along the way, and they inspire us to be better and to keep working hard. We have met so many friends through the brewpub and have worked with some incredibly talented people who inspire us. We have found purpose in our town, and have filled a need to bring community together.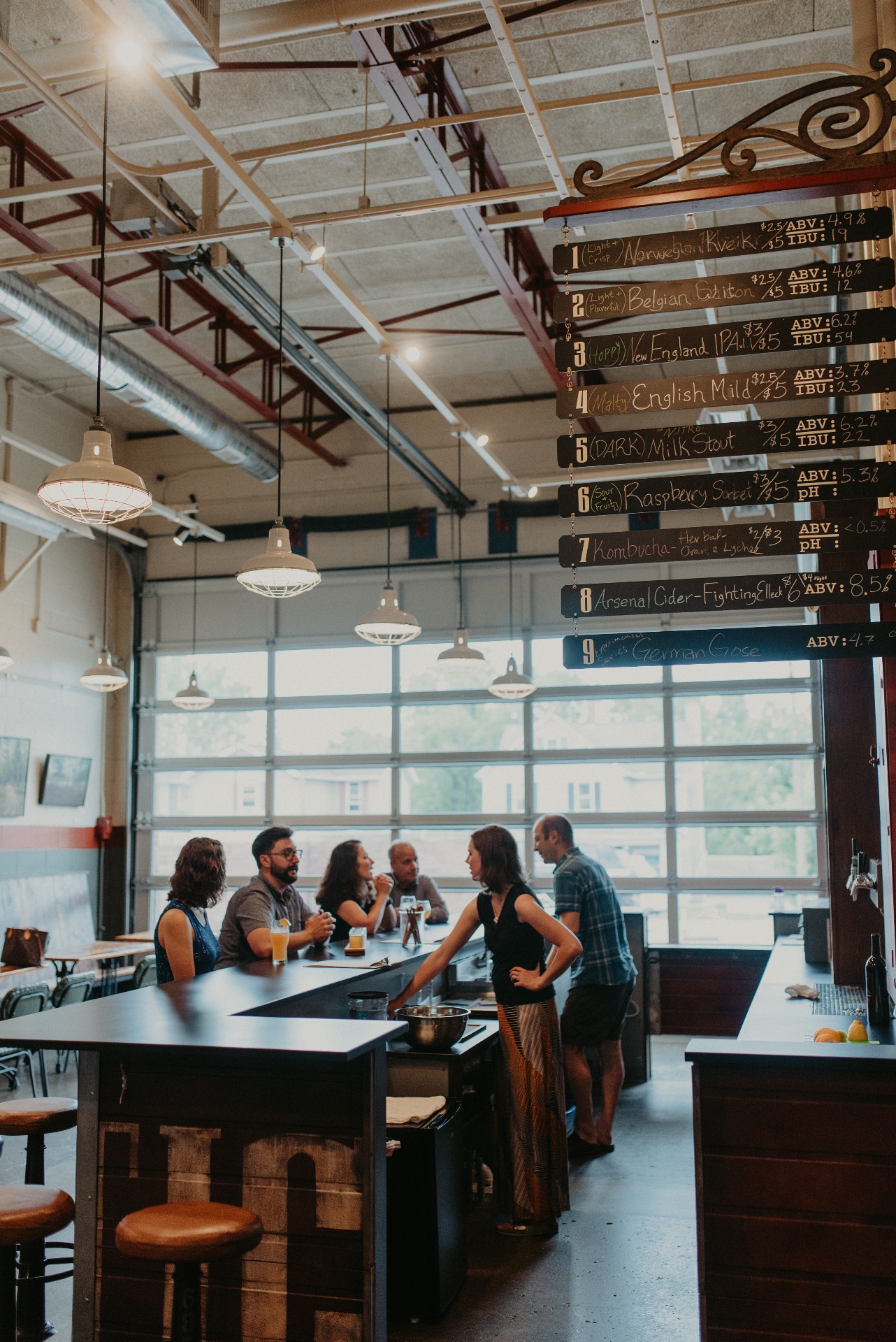 What kind of space/vibe were you hoping to create? What choices did you make to support that?
George: Chelsea and Karl, who is a close friend and is amazingly talented artist, designed the space. I helped with the layout using PowerPoint to make sure everything fit. Otherwise, Chelsea and Karl created the space with the idea of creating points of contact. We wanted to create opportunities for people to meet other people. 

Chelsea: We wanted a place that was light-filled, clean and family-friendly. I remember walking through the bar area telling Karl that we needed to make sure we could roll a stroller down the middle. He thought I was crazy until he brought his stroller in years later! While I lived in South America for a few years. I'd see families go out together, have a beer (or juice box) and meet with friends. Bars there felt like community gathering places, like one big block party. We wanted to enhance our own downtown with a place like that to bring folks together.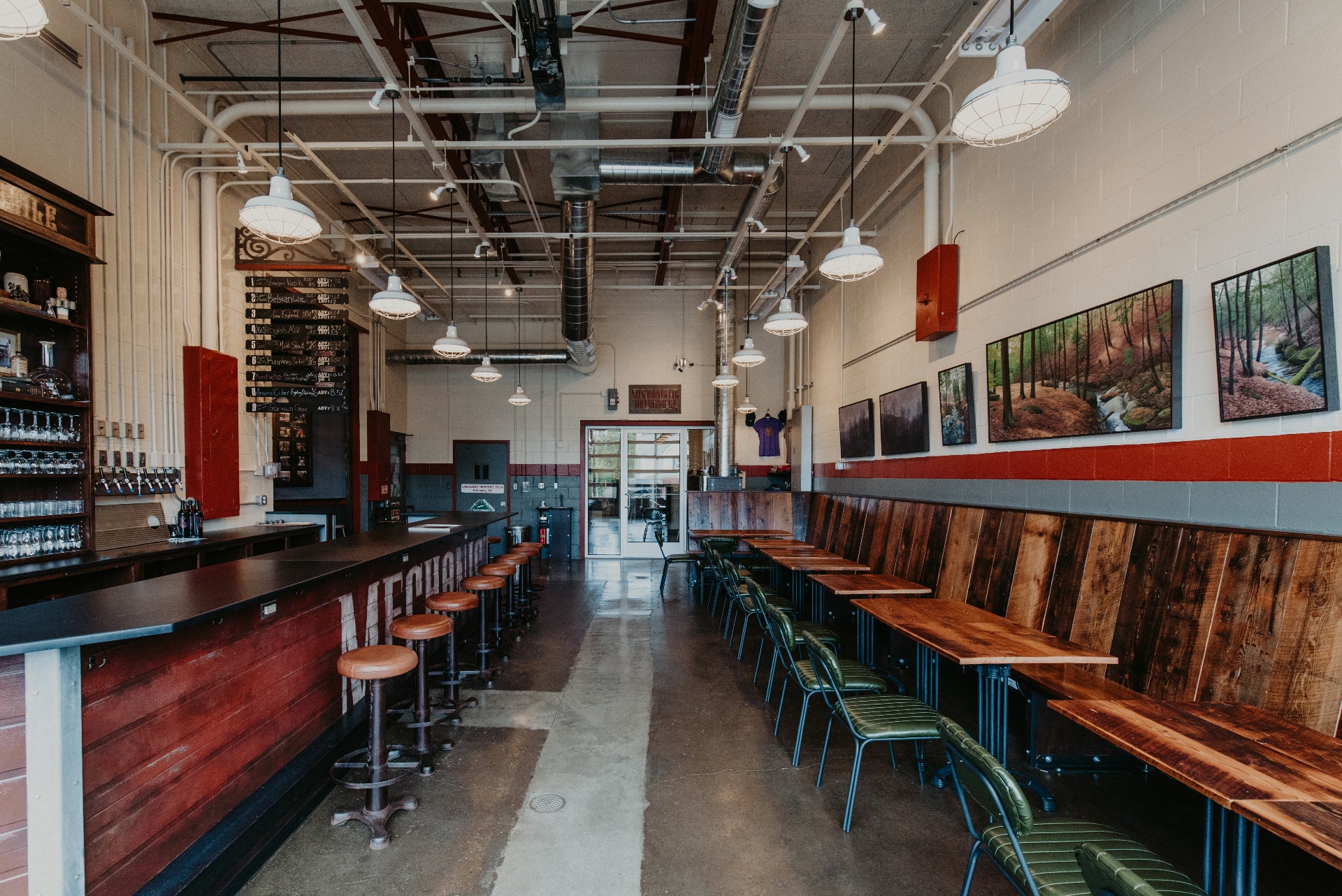 Can you describe your brewery and taproom space to those who haven't been there?
Chelsea: Our brewery space is in a converted garage formerly housing the West Penn Power Company. There are tall ceilings with a big glass garage door and a lab-top bar to lean into the chemistry behind the beer. We have a casual and inviting vibe that mixes industrial elements and warm barn wood benches and tables. We offer both indoor and outdoor seating that provide the perfect space to relax and visit with friends. Whether you are seeking a cozy corner for a conversation or a vibrant space to pull several tables together during a class reunion, we have you covered! We are family-friendly and have several games, like cornhole, Jenga, and board games. Our outdoor patio area is pet-friendly and includes a large covered space under an industrial pavilion. Our back beer-hall side is a versatile space that can be rented out for private functions. Equipped with a projector, we frequently host a variety of events like trivia, open mic nights, live music and community events like the Stew & Brew, a fundraiser for the local library.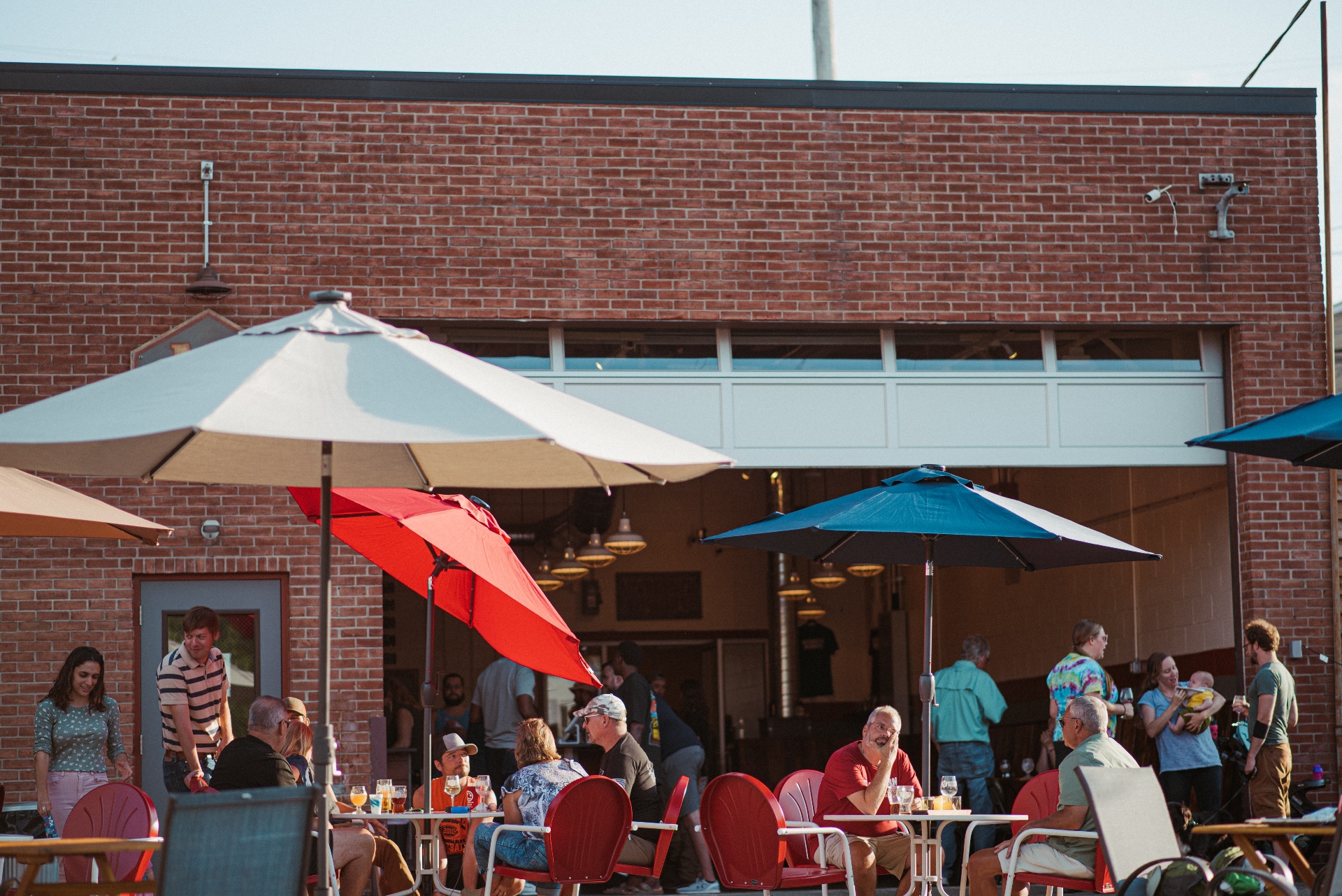 Your outdoor space seems like it is and was an important gathering space for your guests, especially during the worst of the pandemic.
Chelsea: We are blessed to have such a large outdoor space that is perfect for families and friends to gather. Our patio area allowed us to stay open during Covid, even during the most strict regulations, and the area has improved greatly over the years. We erected a large steel pavilion with a built-in bench and many tables underneath. We host live music outdoors during the warmer months, as well as reunions, rehearsal dinners and other community events.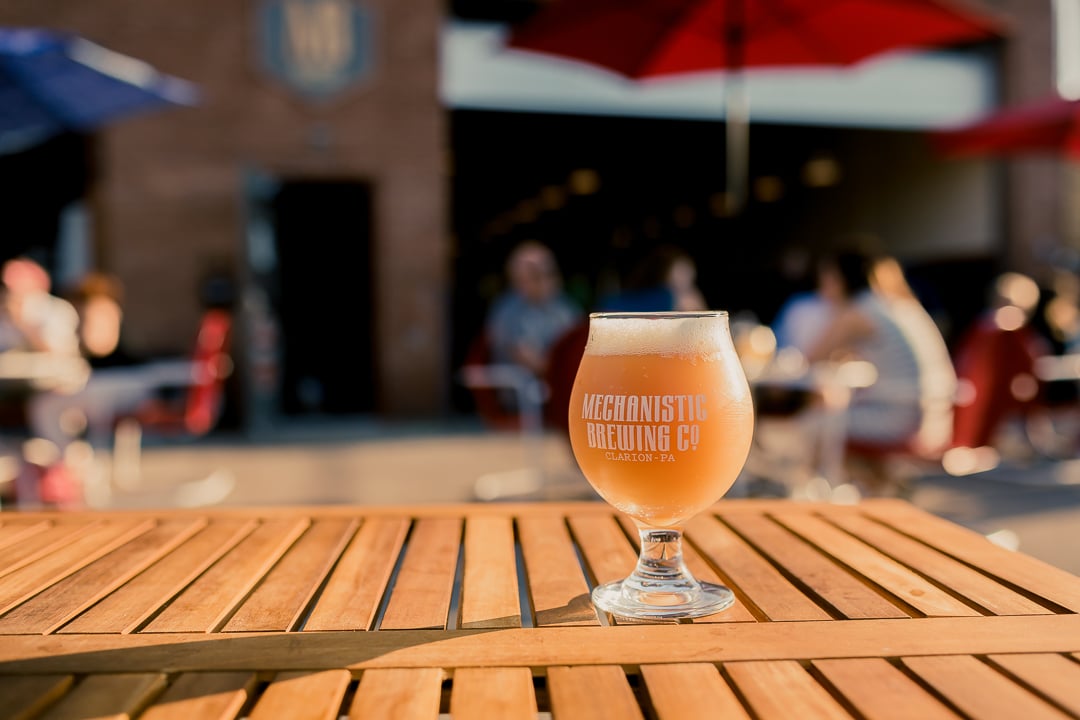 How do you describe Mechanistic Brewing Co.'s beer? Can you talk a little more about how you use scientific methods in your processes?
George: We try to apply a scientific approach throughout our brewing process, from the water chemistry to recipe development and process improvements. We have worked with Penn West University to analyze our local water in an effort to match the water profiles of European cities and their historic beers. One of my favorite aspects is the research and development. We love to travel to try the best beers in each style and research everything that we can to learn from them. We have also been fortunate in getting to work with several talented brewers.
What is your food program like?
Chelsea: We host food trucks and pop-up vendors from May through September on Friday and Saturday evenings, with a few other pop-ups and events sprinkled in throughout the year. Pretzels from Penns Woods Pretzels and panini are available behind the bar during our fall and winter seasons. Since we have limited space and time, using outside vendors is the best option for us, and it allows us to offer a wide range of food. We also allow customers to BYOFood.

Craft breweries have become such anchors of small towns in PA. What does it mean for you to be part of your community in that way?
Chelsea: We are honored to be part of our community and to provide another gathering place in Clarion for residents and guests. We are committed to Clarion and the people that make this place special. We want Mechanistic to be more than a place to just grab a beer. We are a gathering place that celebrates community and creates memories of togetherness. We support local and firmly believe in the power of small business and the impact it can have on our community — it is our driving force that pushes us to be the best we can be. True to our name, "Mechanistic," beer is our mechanism of bringing people together to create a community. We are grateful for the support over the years! 
For more on Mechanistic Brewing, head to its website, and follow along on Facebook and Instagram.
Find Mechanistic Brewing Co. at 538 Liberty St. in  Clarion, PA; phone: (814) 297-8181.
This series is made possible by support from the Pennsylvania Malt and Brewed Beverage Industry Promotion Board and grant funding from the Pennsylvania Liquor Control Board.
Photos:

Courtesy of Mechanistic Brewing Co.