Over the course of a 100 years, a family-owned business is sure to have some ups and downs. Even one year in business, let alone a century, can contain a lifetime's worth of struggles and victories (just ask a restaurant trying to survive COVID)! For Unique Snacks in Reading, PA, six generations of making their special version of Pennsylvania's favorite snack — pretzels! — has been a journey indeed. In fact, just this year, the homegrown company launched a full corporate re-brand, it doubled its direct-to-consumer website sales, and the company saw Amazon purchases surge 575%.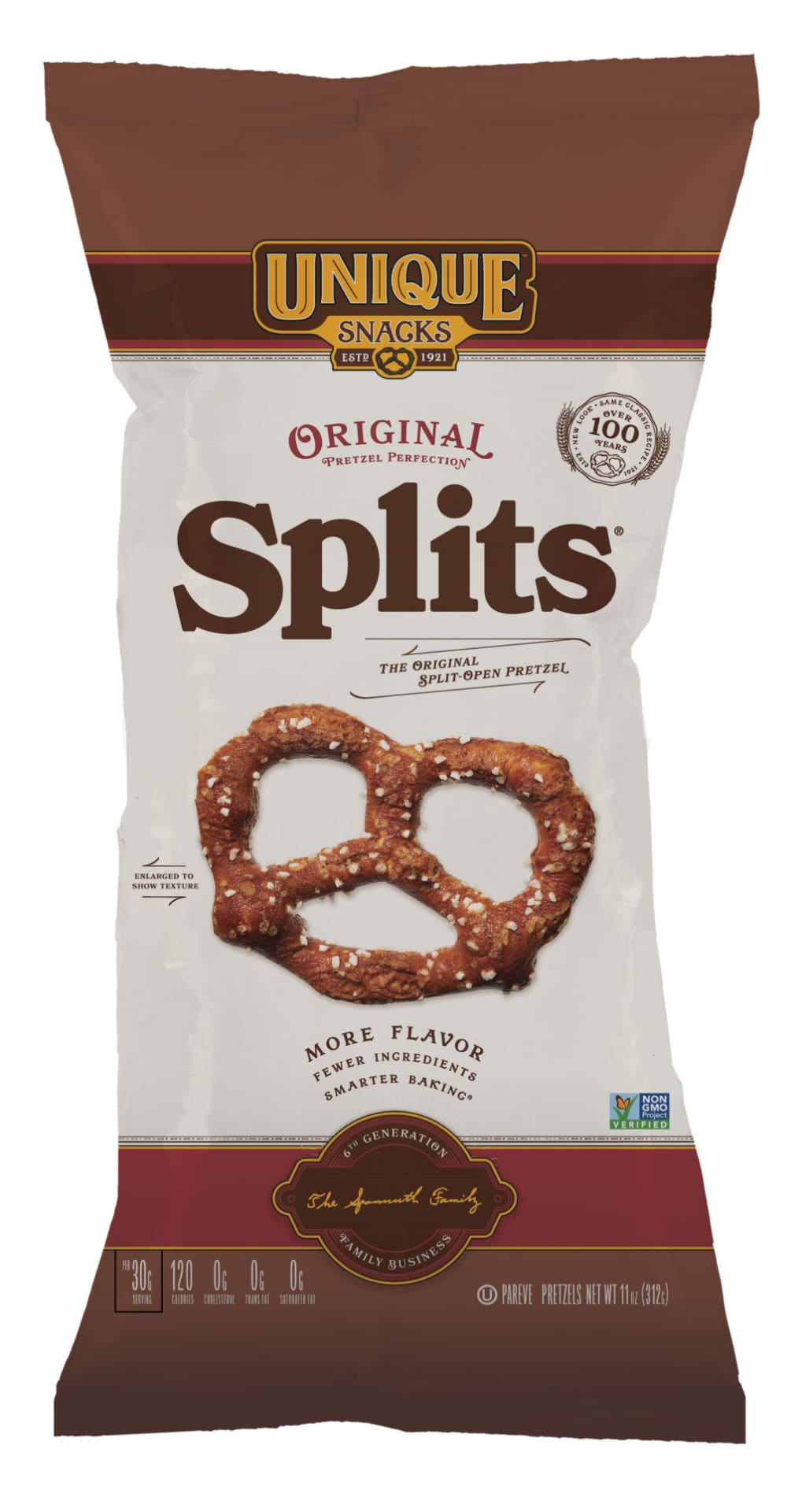 Those wins weren't always a sure thing, though, as we learned in a recent conversation with Justin Spannuth, the VP and COO of Unique Snacks. Learn more about the history and future of this super-PA-Proud brand in our Meet the PA Maker Q&A:
PA Eats: Can you walk us through your family and business history? How did you get from 1921 to 2021?
Justin Spannuth: We are truly a six-generation family business, and we incorporated in 1921. It [the business] started basically in a small garage in a half-alley in Reading, before it moved to Laureldale, just outside the city of Reading. While the company was in that garage in Laureldale, our Split Pretzel was invented. That was in the late 1950s. It was an accident that started with an over-proofed pretzel. When it baked, it burst open on the surface, which is typically a flaw, because pretzels are usually known for being smooth and shiny. Being a small, PA Dutch-style family business, my grandfather was going to sell those pretzels either way, and his customers loved them! He had to figure out how to duplicate that process again, as he was still making pretzels by hand at that point.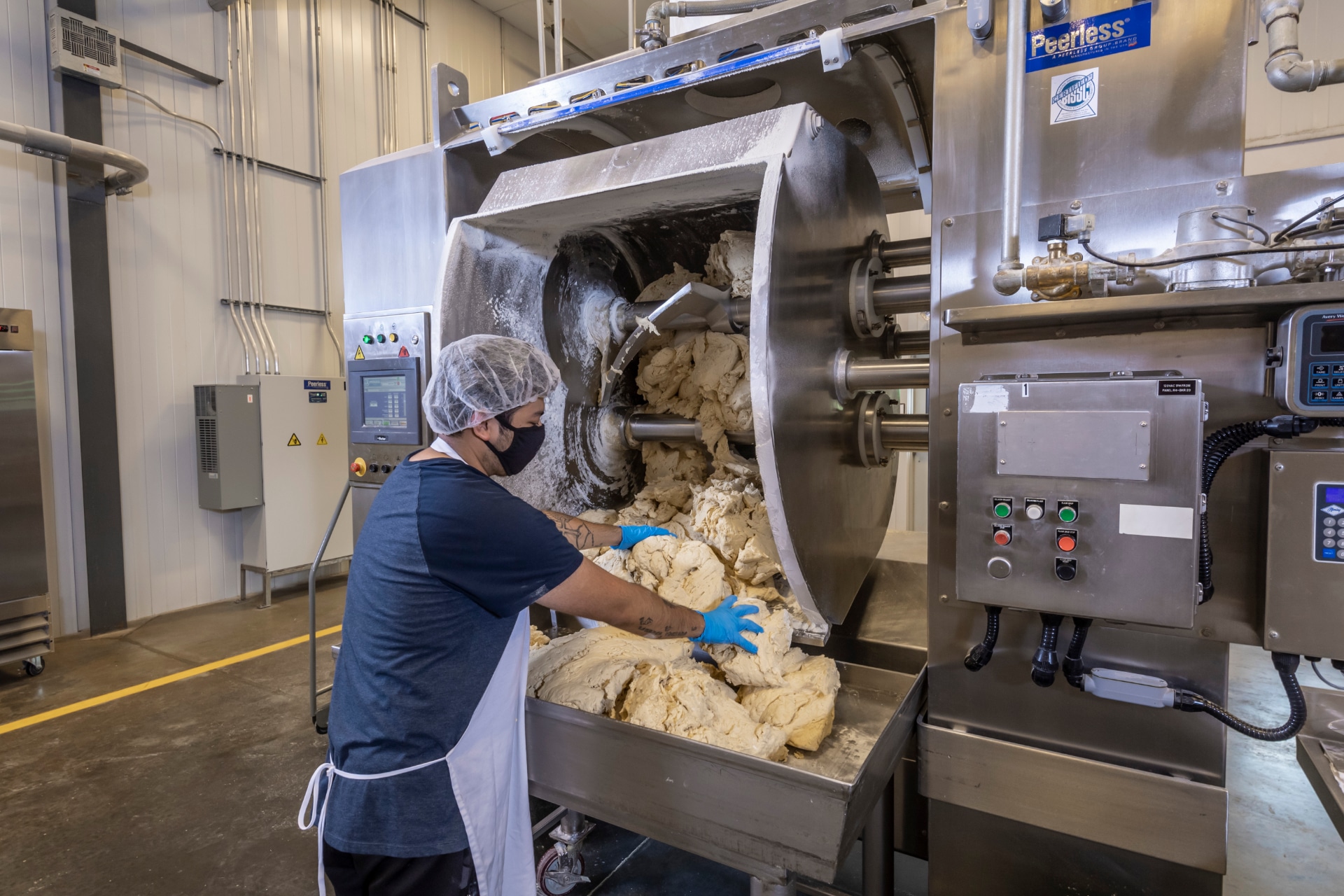 Our first single pretzel extruder, which was at the very beginnings of pretzels' mass production equipment, is very antiquated by today's standards, but that was the beginning. By the late '70s, we were outgrowing the garage, and moved in the '80s to where we are today. It took some time to be able to make our split pretzel in this facility, we went from a single to a 10-wide pretzel extruder. We fully integrated and built a warehouse in the early 80s, and then we really started to catch stride; 1996 was one of our best years. We'd just put in a brand-new oven, and opened our retail store (that's still there today).
So, was it just an upward trajectory from there?
No … after that, we kind of hit a stall. We're not different from any family business, in that you're going to run into snags. During that time, the business was technically still owned by my grandparents and my dad and his two sisters. There was some family turmoil. We had success, but there was no succession planning. They were all flying by the seat of their pants, and there was the mindset of "we made it" but the business was actually struggling.
What was your role in the family business at that point? Did you always know you would step into a leadership position?
I started with the company when I was 18 years old in 1999, basically the day after I graduated high school. I was going to culinary school, but I ended up having a son. So, [I did a] major pivot because I needed some sort of income. It was definitely an interesting first few years. My grandmother and aunts were still involved, and the company was not doing very well at that time.
My brother Bill started in 2004, and we bought out the rest of the family. In the years in which I could start to make sense of the family business, it was not going well and I wanted no part of it. But it got me. But what's great is that seeing it, living it, being able to get through it, it's made it much more apparent about what to do to not allow that to happen again. So I'm big on family culture, succession planning, just having a plan. That's a big piece of what I focus on [at Unique Snacks], to make sure that never happens again. If someone wants out, there's an exit strategy. If someone wants in, there's a strategy. That's probably the benefit of going through what I'd never want to go through again.
What were some of the challenges you faced in taking over the company? How did you jump those hurdles?
Well, in 2008, the economy crashed. We were hurting prob on the fringe of going out of business. Wheat prices doubled, and we realized we had to do something. We re-branded and increased the size of the packaging. Before, it had been an 8-ounce bag, which was not a competitive size to any other brand, in a national brand sense. The branding was outdated, and the logo was hard to read. We decided to go over $2 per bag, so we made it an 11-ounce bag and went straight to $2.49. It was a gut feeling and lucky guess. We ended up doubling the size of the company!


Then, in 2009, we developed our sprouted grain product, and in late 2010, we invented our pretzel shells. Within 12 months, they become our #1 skew. It was an innovative product that no one else was doing. We didn't have anything bite-sized, and because our production process is a little different, we wanted to utilize our strengths. So we were able to make this hollow pocket pretzel.
Did doubling the company mean you had to build new production space?
We had to build another building! We had a plot of land behind our facility and put up a 75,000-square-foot facility, which is half warehouse, half production. We broke ground in 2012, and were operating out of it in 2014. Making that investment was scary. The funny thing is, if I knew then what I know now, I might have been too scared to make the move. It was a really great, profitable year, and we probably should've taken another one of those years to save up. But it's one of those things where you just go.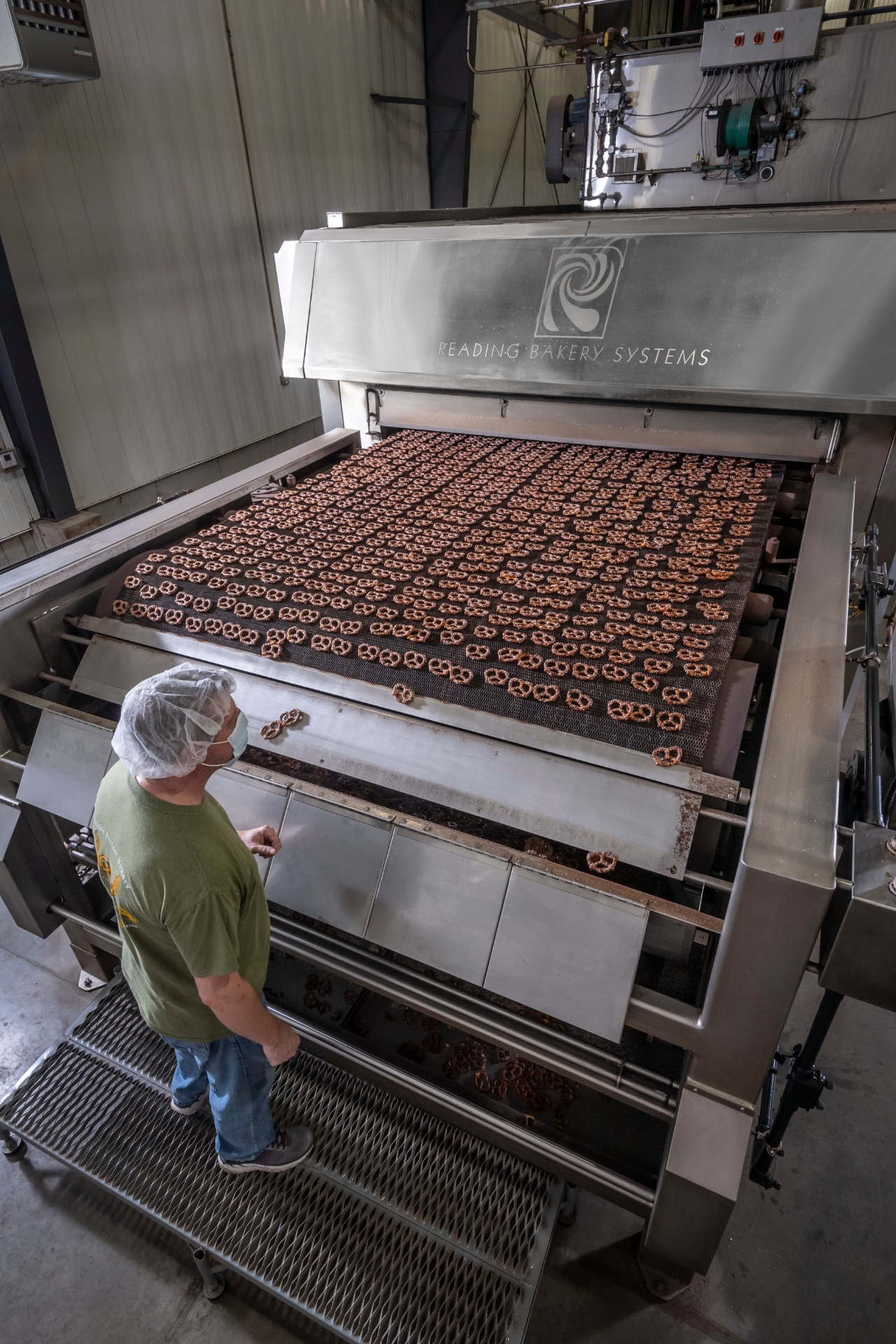 How has being in the snack biz changed as food and diet trends have evolved?
A lot of food trends and diets steer away from carbs and gluten. But also, people are looking for higher- quality, simple and clean ingredients, and fortunately, we fit those buckets. For people who are looking for an upscale version of what they buy, we fit that niche. Our ingredients have always been clean: five ingredients, no added sugars. We became non-GMO verified, which wasn't difficult with the ingredients that we already used. Our flour comes from a local miller which is basically 15 minutes away from our plant, and about half of the grain that they use is PA-based grain.

The way we produce is more artisan than mass-produced pretzel companies. Our most expensive ingredient is time. It takes us a lot longer to make our pretzels. With basically every type of snack, you can speed up the process except baking, you can't speed that up … well, you can but you lose quality, or you have to add sugar to speed up the yeast. There are some cheats, but you sacrifice quality. We could speed up and make more money, but then we wouldn't have the good product that allows us to sell what we sell.
Talk to us about your connection to the Reading area! How many people do you employ, and how are you engaged with the community?
When I started in 1999, I was the 17th employee in the company. Now we're at about 85. We take our internal culture and external perceived culture pretty seriously. One, we treat our employees well. We try to do everything we can to treat them the best we can. We want to be viewed as the company that gives back to our hometown, we want to be the pretzel of Reading. We get along with and respect the other pretzel manufacturers, but we want to be the brand of Reading when people think of pretzels. There are big "Welcome to Reading" Unique Snacks billboards around the town, with our branding. And that's to build that culture. When our employees or their families see them, we want them to be proud of working here. We also donate to a lot of charities.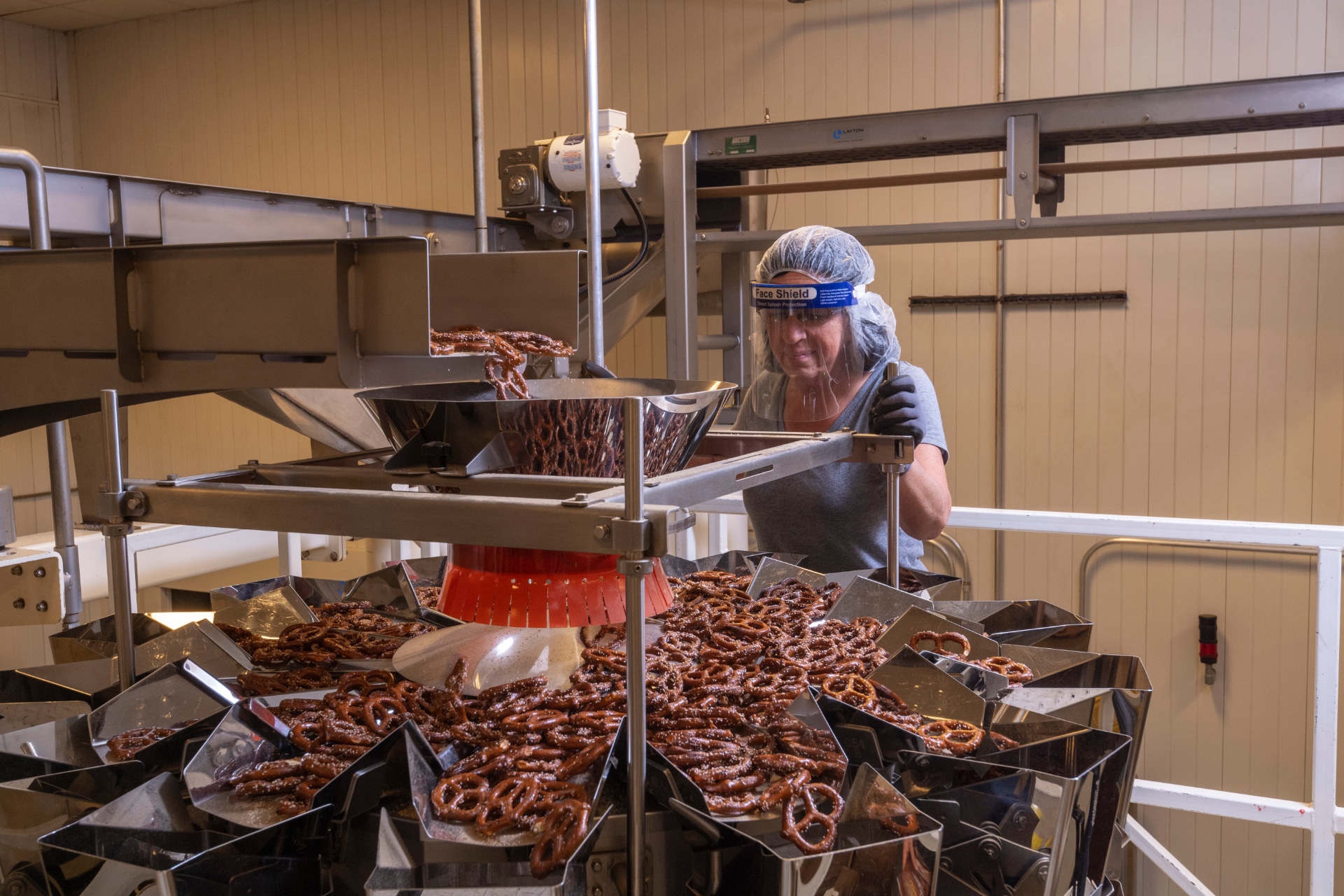 It seems like we can't talk about Unique Snacks' journey without talking about COVID. How did that affect things for the company?
We were busy, as was anyone who sold product to grocery stores. Our online sales were like 300-400% for a period in the beginning of the pandemic, and our Amazon sales went up to 700%. We were ready for it, in the sense that we were positioned to be able to fulfill the orders, and we did have to bring in more employees for packing. Fortunately, we didn't have any supply chain issues.

What's funny is that at the end of 2019, we got the ball rolling with a complete re-brand. We went from Unique Pretzels to Unique Snacks. The ball got started, and here comes COVID, and I couldn't undo it. It was a lot to put on the plate with everything else going on, with redoing all of our packaging and launching a new website. Probably the only thing that got stalled was the implementation of some new products, which was part of that process. We are looking to invent additional products beyond pretzels, non-standard products that will hopefully come to market soon.
After 100 years in business, do you think this next phase of Unique Snacks represents permanent growth? Do you think you'll expand into the 7th generation of the family?
Yes, our growth is permanent growth. We're picking up new grocery chains across the country. We can be both mainstream, which sells the most product, while still having a gourmet feel which allows us to sell in more upscale places.

My son is 21 and he works here now. He's generation seven. He definitely has an interest in the business. I have him in production, because one of the key elements of our business is to understand the process of how the product is made and to earn the respect of the employees. I have another son and my brother has three children, the oldest of which is 16. Will they carry it on? You just don't know what they're going to want to do, so the succession plan we put in place has to adapt to all decisions. If my kids don't have an interest and want to do something else, they have a fair way to do that.
To learn more about Unique Snacks or to shop online, check out its website. You can find these locally made pretzels in grocery stores and markets all over Pennsylvania, or you can visit the Unique Snacks store, located at its bakery in Reading.
Find Unique Snacks at 215 E. Bellevue Ave. in Reading, PA; phone: (610) 929-3172.
Photos:

Courtesy of Unique Snacks