Recently, Becca Lynde, owner of The Farm Bakery in Quakertown, PA, and her family gathered in their home kitchen, rolled up their sleeves, and cranked out 500 handmade apple dumplings for the annual Autumn Alive Fall Festival in Quakertown. The counters covered with flour, and heaps of apples rolled up into sheets of flaky pastry dough, the Lyndes' epic apple dumpling baking day traces its way back to the farm's roots and Lynde's heritage. Her grandparents, Joseph and Johanna Meyers founded Meyers Family Restaurant in 1949 in Quakertown, serving PA Dutch specialties, such as shoo fly pie. One of the offerings it was best known for were its apple dumplings.
"A lot of the recipes we're using today are her recipes and her processes," says Lynde. ""I grew up making apple dumplings, and I remember my grandmother rolling out the dough. Also, my dad, Gerald Meyers, is a huge reason why we're here today! I have so many memories of making dumplings with him, it's amazing."
Meyers Family Restaurant closed in 2003, but Lynde carries on the legacy with The Farm Bakery, a wedding events venue and scratch bakery, which she started in 2017. All of her baked goods, which include other PA Dutch favorites, like shoo fly pie and Funny Cakes, focus on high-quality ingredients, from-scratch methods and traditional Pennsylvania food ways. However, she hasn't been afraid to merge tradition with modern sensibilities when it comes to nutrition. 
"I wanted to not only have a great apple dumpling but to also provide a wholesome product," Lynde says.
Instead of using the hyper-processed white flour and hydrogenated fats that her grandmother relied on, Lynde sources freshly milled, organic flour from Small Valley Milling in Halifax, PA, which meant she had to tweak the water content of her grandmother's original recipe (fresh flour and processed flour absorb water differently). Lynde's focus on local doesn't stop there: All of the apples for the apple dumplings come from Beekman's Orchard in Boyertown, PA. She'll use whichever types of apples are in peak season.
Though The Farm Bakery doesn't have a storefront, it sells its large apple dumplings through its website for pick-up or local delivery, and the mini apple dumplings are popular additions to wedding dessert tables. For weddings and other catering gigs, Lynde offers a fun modern twist to the dumplings: four kinds of dipping sauce, including traditional vanilla glaze, orange cranberry ginger, salted caramel and maple bacon. The Farm Bakery also participates in a number of fundraisers for local schools and churches in the communities, using apple dumplings to raise money for various causes. Lynde's home kitchen is inspected and certified for commercial baking (last year, she and her crew made 10,000 apple dumplings), and The Farm Kitchen is currently in the process of adding a full commercial kitchen to its farm, with an estimated opening date sometime in Spring 2020.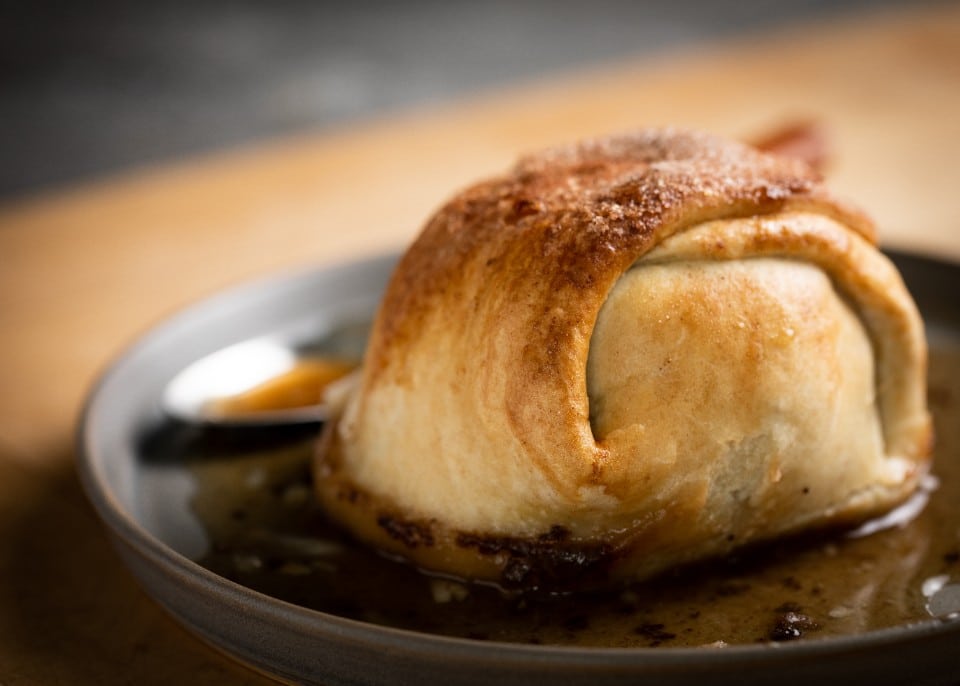 The Farm Bakery is just one of numerous Pennsylvania bakeries that make and serve apple dumplings. Head to nearly any indoor farmers market, like Reading Terminal in Philadelphia or Lancaster Central Market in downtown Lancaster, to find them cozied up in the stalls of Amish and Mennonite bakeries; bake shops, like The Pennsylvania Bakery in Camp Hill, Arianna's Bakery in New Holland, or Spinola's Bake Shop in Murrysville (just to name a few), also offer these classic treats daily.
Apple dumplings are an iconic food to many Pennsylvanians, a dessert that, like for Becca Lynde, recalls time spent at grandma's house, or the comforting feeling of cozy autumn evenings around the dinner table. Pennsylvania is apple country, and the abundance of this humble, but delicious, fruit made it a frequent ingredient in the desserts of the PA Dutch. Though the first recorded apple dumplings were made in England in the 18th century and can be traced throughout history across many communities in the United States, they've really become known as an iconic Pennsylvania food. The recipes of old fashioned Pennsylvania Dutch apple dumplings don't diverge greatly from other varieties, but one thing that sets them apart is that, in Pennsylvania culture, apple dumplings are eaten for breakfast with milk poured on top of them. Of course, they are also served as dessert, usually with a scoop of ice cream or a dollop of whipped cream. 
Apple dumplings are made with an entire apple, often Granny Smith, which has been peeled and cored, then wrapped in a sheet of homemade pie dough. Sometimes, the hollow core of the apple is stuffed with dried fruit and nuts, like raisins and walnuts. A spiced buttery sauce is then poured over the dumplings before they are baked. Older traditional recipes may call for the dumplings to be boiled, though that method was mostly used before ovens were commonplace in most households.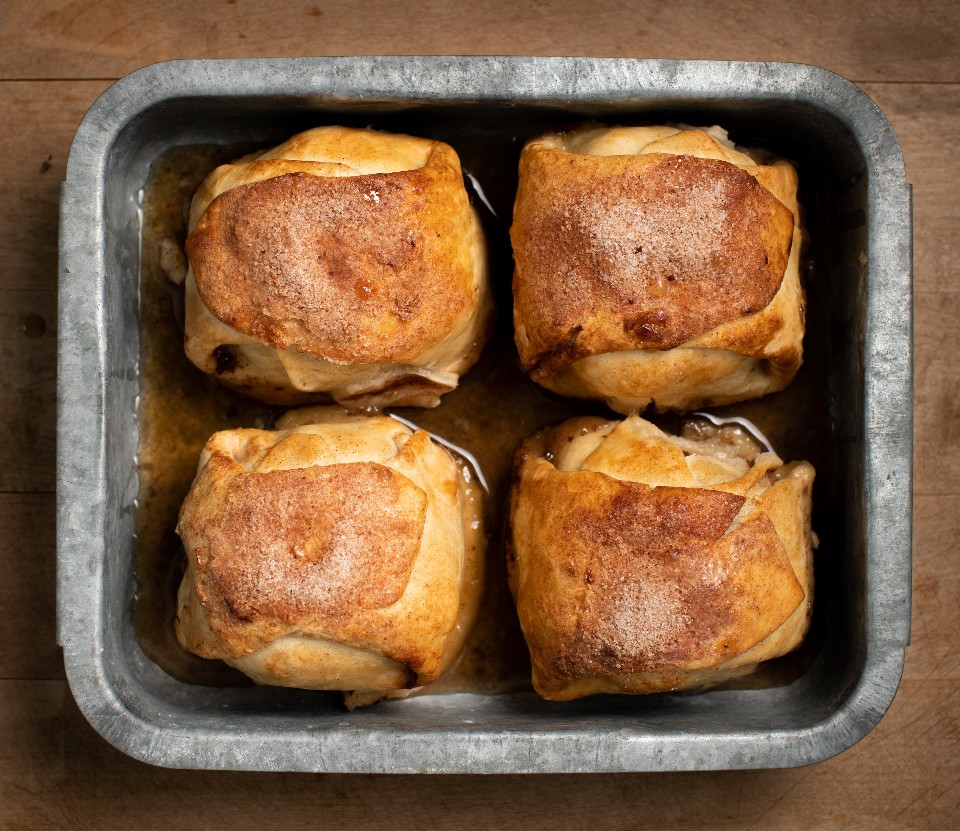 For a true idea of how apple dumplings are in PA, look no further than the annual Apple Dumpling Festival, held during the last weekend in May each year in Sinking Spring, Pennsylvania. Now in its 60th year, the Apple Dumpling Festival offers amusement rides, live music and all sorts of classic carnival food, like hot dogs, tater tots, giant turkey legs and barbecue, and of course thousands of homemade apple dumplings. There's even a "Miss Apple Dumpling" pageant! Over the years, it has become a true Berks County tradition.
Do you have fond childhood memories of apple dumplings? Is there a PA bakery where you always buy them, or do you like to make them at home? Let us know on the PA Eats Facebook page!
Photos:

Dish Works

Apple Dumpling Festival video:

ShockZombie