Every time I visit a city outside of Pennsylvania, I try to stop into a little wine boutique or store. I love the experience of talking with a shopkeeper whose eyes light up when they're asked a question about wine. Someone who will open a bottle and pour you a sample to show what words can't describe. Someone who inquires about other flavors you enjoy and makes intuitive and spot-on wine recommendations based off your answers.
Back home in Pa., it can sometimes feel difficult to replicate that intimate experience. Although the state-run stores have improved a lot in recent years, they can be tough to navigate. But we know there are hidden gems all around if we only knew where to look!
What would it be like, we wondered, to go wine shopping in a state store AKA Fine Wine & Good Spirits with a local wine enthusiast? What does he or she look for, and how do they make the most of this state-run system we've got? So, one steamy summer day, we met up with Chloe Grigri at the Fine Wine & Good Spirits at 12th & Chestnut Streets in Philadelphia. Grigri is the co-owner and general manager of The Good King Tavern and Le Caveau, an elegant-but-comfy French tavern and upstairs wine bar, respectively, in Bella Vista.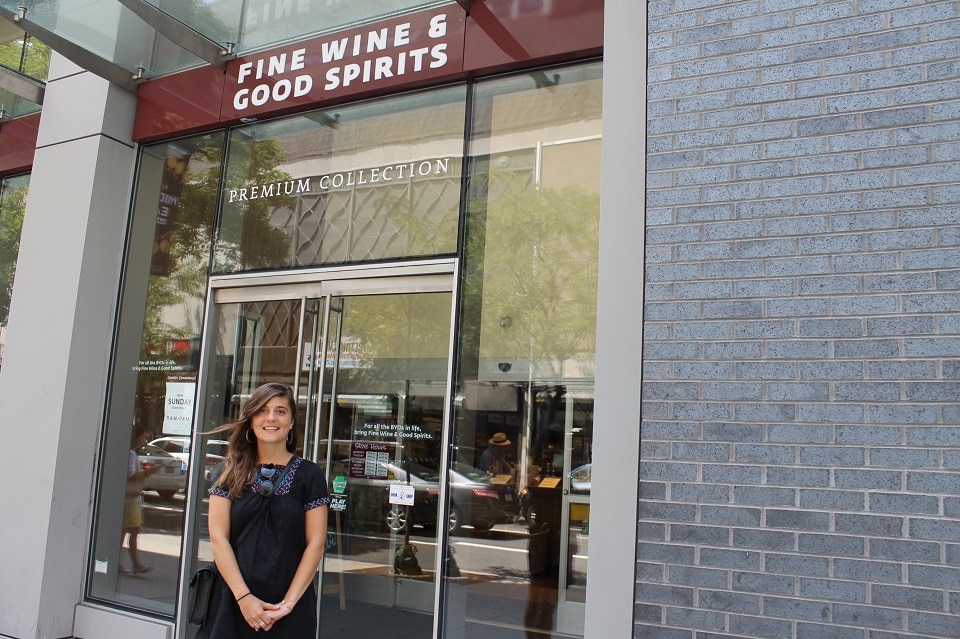 Grigri is the friendly face greeting guests and suggesting killer wine pairings. After a stint in the fashion industry, she jumped back into the restaurant business to help her father open The Good King Tavern. Her passion for French food, culture and wine has helped establish their restaurant as Philadelphia's best spot for casual French tavern fare and exciting beverages, with a big emphasis on natural wines.
"Natural wine" is a sort of catch-all phrase meaning wines that are made without technological and chemical intervention. While a lot of conventional modern winemaking relies on all kinds of additions, like sugar and yeast (at the very least), natural wine aims to grow grapes with organic practices on low-yield vineyards, pick the grapes by hand and let the wine ferment with the natural microbes and yeast in the air and on the grape skins. The wines are unfined and unfiltered, with little-to-no added sulphites. There's, of course, a lot more to it than that, and if you want to learn more, this fun primer from Bon Appetit is a good place to begin.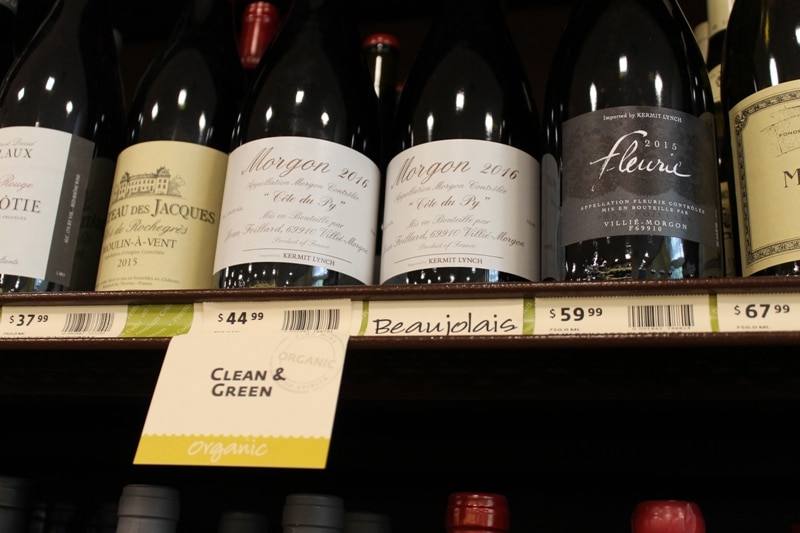 Here's what we like about natural wines: they're funky (most always in a good way), intriguing, a little bit mysterious, and they just exude this wild essence of life that's the antithesis to the stodgy, buttoned-up reputation mainstream wine has earned for itself. The lack of intervention, the theory goes (and seems to be proven), allows you to really taste the terrior, the place of origin, of the wines: the soil, the rain, the fruit, and maybe a touch of the esoteric passion of the maker.
Grigri, who spent many childhood summers and holidays in France, travels back to France as often as she can. Perhaps unsurprisingly, she focuses our shopping excursion on natural wines from France, all of which are great for pairing with summertime grill feasts.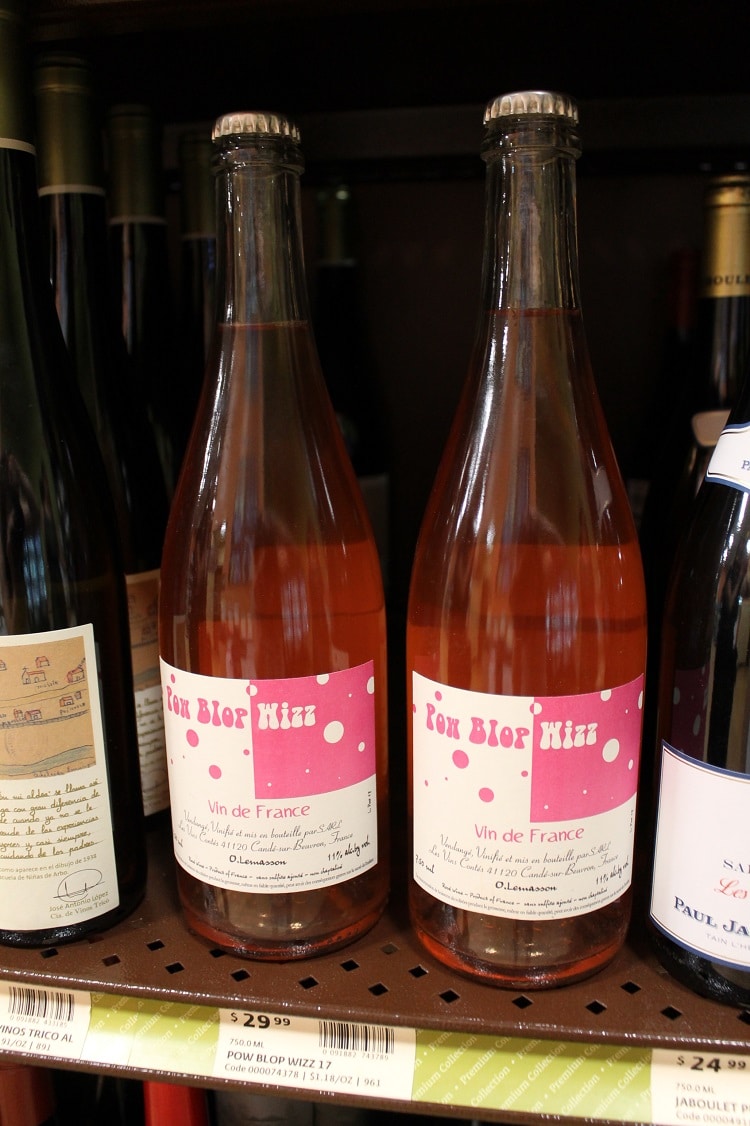 We start with this rosé pétillant naturel (say "pét-nat" for short) wine from the Loire Valley in France. First of all, if you care about things like this — and we do — the name is fantastic, an expressive onomatopoeia that makes us want to drink nothing but bubbles. Grigri explains that pét-nat wines are naturally fermented in the bottles, sometimes referred to as méthode ancestrale, unlike champagne and other sparkling wines (brush up on those here), which are fermented using a méthode traditionnelle, wherein a solution of sugar and yeast is added to the bottle to spark secondary fermentation. Méthode ancestrale yields less predictable and occasionally unstable results, but also wildly delicious results. It's like taking the risk of standing in the front row to watch a freaky art punk band instead of a string quartet. Pow Blop Wizz features non-aggressive carbonation, with a light, fruity character, a little bit of sweetness and a little bit of funk.
"This is a great one to start off your barbecue with, maybe with some snacks, before moving on to bolder wines as the night progresses," Grigri suggests.
Another natural rosé that Grigri recommends is Forty Ounce Wines, a fun concept developed by Patrick Cappiello, founder of Renégat Wines, and, among other roles, the wine director at Philly's own Walnut Street Café. You can't miss this one in its iconic bottle echoing the forties we may or may not have imbibed in college. It's great for a crowd and very, very Instagrammable!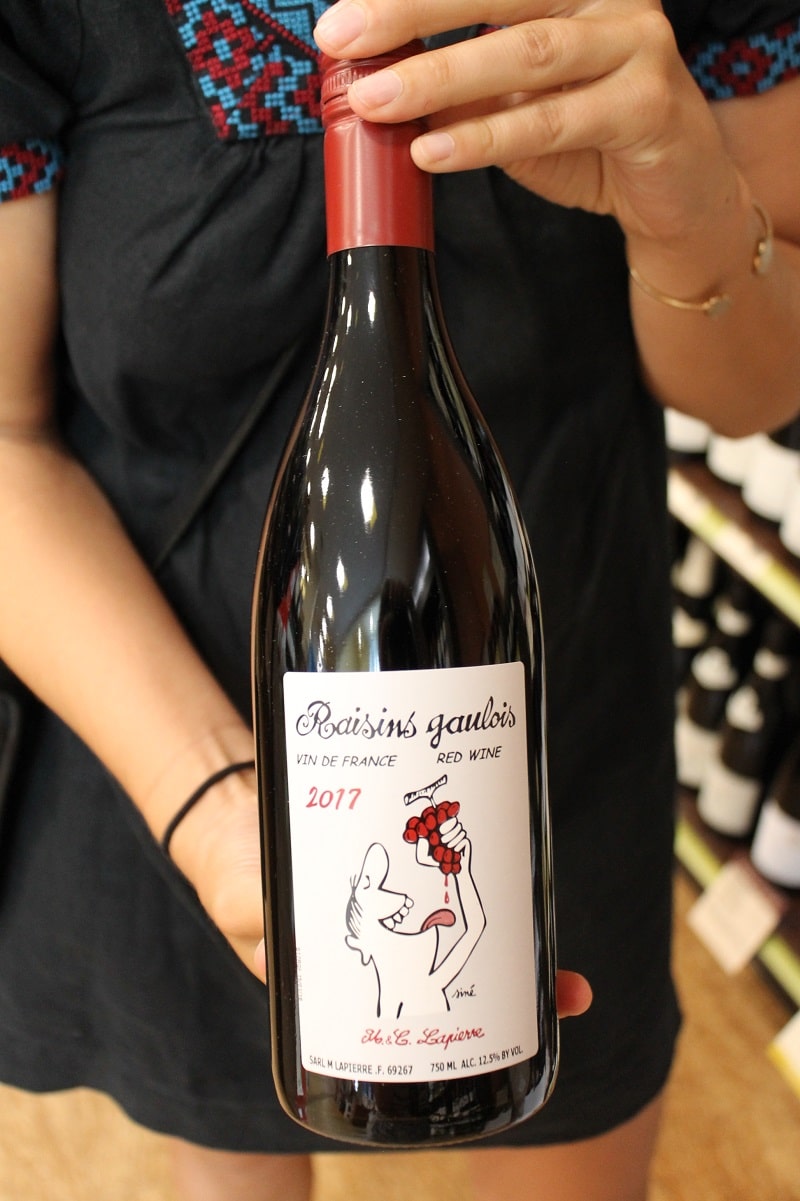 This gamay from the Beaujolais region of France comes from Marcel LaPierre, one of the most prominent figures in French natural winemaking. He, along with Jean Foillard, Guy Breton and Jean-Paul Thévenet, constitute the "Gang of Four": the four winemakers who, through a decades-long campaign against the use of pesticides, herbicides and cultured yeasts, have changed the culture of winemaking in Beaujolais, and to some degree, the world. Grapes from organically farmed land are fermented with native yeasts, and the result is a pure expression of gamay's telltale light, floral juiciness.
"Serve this one with grilled sausage, pork chops and charred vegetables!" Grigri says. It is also suggested to serve gamay with a light chill.
Two other options from Beaujolais at higher price points are Morgon 2016 and Fleurie 2015 from Jean Foillard.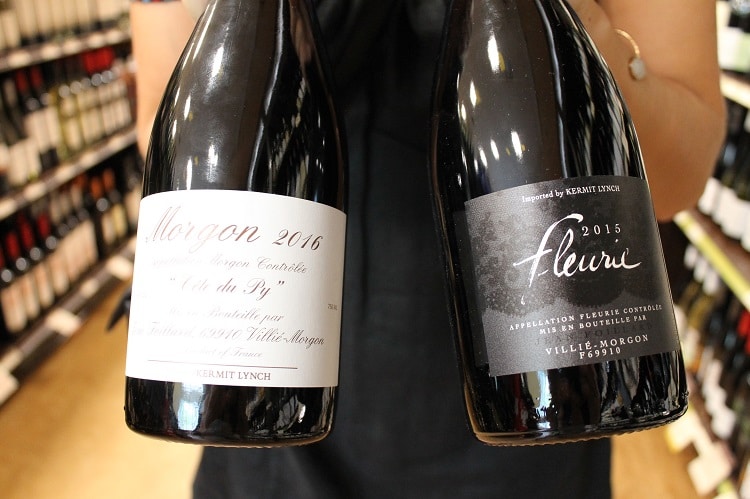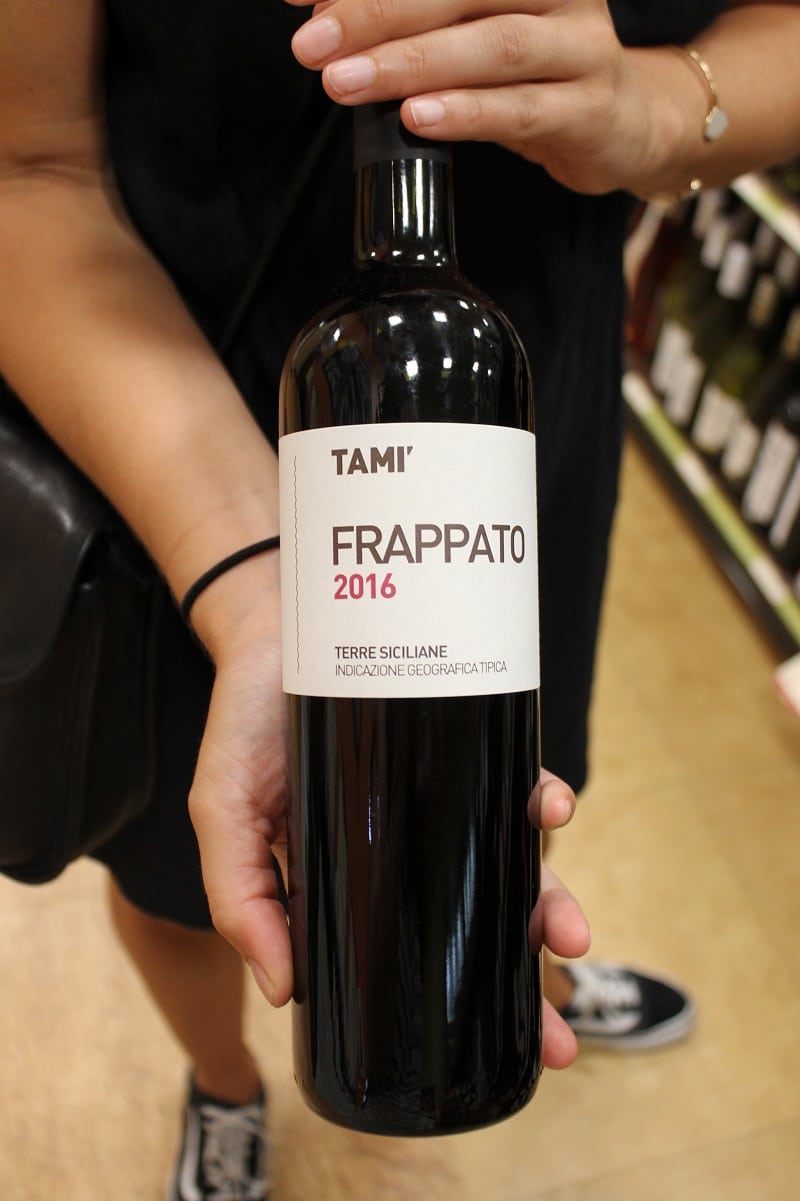 They weren't all French wines on Grigri's list. Tami' is the more affordable line of wines from rockstar Sicilian winemaker Arianna Occhipinti (versus her flagship and higher-priced Occhipinti SP68 wines). A collaborative project with friends, Occhipinti transformed a friend's vineyard with organic farming, and since 2009, it's been producing Sicilian grapes and transforming them into easy-drinking, natural wines with only indigenous yeasts, short macerations and aging in stainless steel. The Frappato 2016 is made with 100% Frappato, farmed organically, fermented naturally, macerated for one week and aged six months in stainless steel. Light-bodied, with lots of red fruit notes and bright acidity, this one will pair nicely with your grilled red meats and anything made with Asian-inspired spices or sauces.
"This is the one to open and drink into the night with your friends!" says Grigri.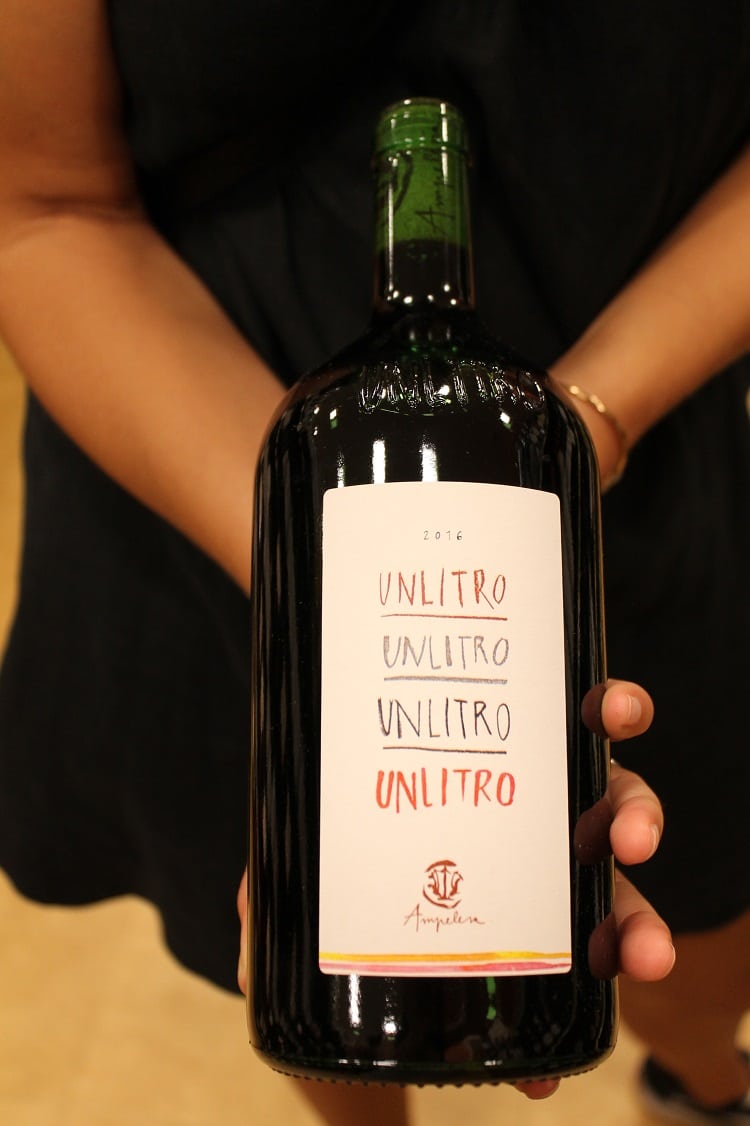 Grigri notes that the Fine Wines & Good Spirits at 12th & Chestnut is a particularly well-stocked one, and when I ask for her for a recommendation that can be found at smaller neighborhood locations, she points to Ampeleia Unlitro, a natural Tuscan red in a fun, squat 750ml bottle. A range of altitudes and different soils in Ampeleia's 33-hectare vineyard in the hills of Roccatederighi (a village in Tuscany), reflect the geography of the region. Unlitro is sourced from the youngest vineyards and has notes of cherry, nice minerality, pleasant tannins and a clean finish. At around $20 per bottle, this is a democratic and approachable wine that goes well with nearly anything: cheeses, seafood, cured meats — whatever party snacks you fancy.
If you're looking to expand your wine horizons, Grigri suggests talking to the bartender at your favorite bar or restaurant and seeing what they're excited about. She also notes that one way to find natural wines is to look for the importer sticker on the back of the bottle; two that are particularly well-reputed for their natural wine selections are Louis/Dressner and Verity Wine Partners, both based in NYC.


Thanks to Chloe Grigri for her time and expertise! If your curiosity is piqued, know that you can use the "Locate a Store" function on the Fine Wine & Good Spirits website to figure out which shop closest to you carries the wines mentioned here, and in some cases, your local shop may be able to special order bottles for you.
How do you make the most of your local Fine Wine & Good Spirits? We'd honestly love to know!