For Cathy Snyder, the founder of Rolling Harvest Food Rescue, her big "aha" moment came one day when she popped over to the farmers market to do some shopping after volunteering at a food pantry in New Hope, PA. Seeing the abundance of produce from local farms on offer just half a mile away from the food pantry, where mostly everything was processed and packaged, really affected her.
"This was 12 years ago, and back then at food pantries there really wasn't anything fresh; it was mostly items pulled off the shelves of supermarkets," she remembers. "The disconnect was so striking. I wanted to do something about it."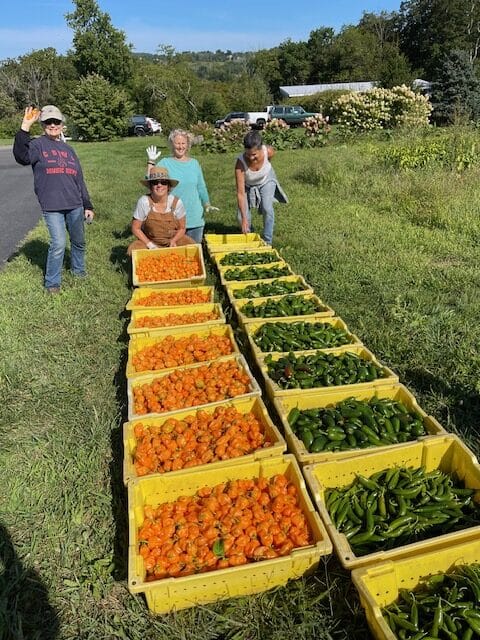 And do something, she did! Since 2010, Rolling Harvest Food Rescue has gleaned over 4.5 million pounds of produce from farms and distributed it via a complex and nuanced network that stretches across Bucks, Montgomery, Mercer and Huntingdon Counties. But, back in the beginning, it all started with a handful of casual conversations between Snyder and vendors at the farmers market.
Snyder began asking if the farmers had anything extra that she could bring to the food pantry, and soon learned a surprising fact: Farmers almost always grow surplus food in their fields, which often ends up going to waste. Snyder explains it like this: Largely to account for the unpredictability of weather patterns, farmers routinely plant 20% more crops than they're going to need to satisfy their customer base. If there isn't the time or labor to harvest the surplus, it can go unpicked and ripen and rot in the field.
After developing relationships with these local farmers, they'd tell Snyder that if she could come to their farm on a certain day and at a specific time, they would fill her van with produce that was perfectly good but wouldn't fetch top dollar at markets. Thus, the groundwork for Rolling Harvest Food Rescue was laid.
Once Snyder realized that she could help create a bridge between the farmers with the extra food and her neighbors in need, figuring out the logistics of actually making that connection became a puzzle that's constantly evolving.
"There wasn't a good logistic infrastructure to capture the surplus produce and get it to people who are desperate for healthier food, but can't get it because of a lack of transportation or money," she says. "We realized we needed trucks, coolers and hundreds of volunteers."
Over the next few years, through Bucks County's tight-knit communities, Rolling Harvest amassed a huge group of dedicated, diverse volunteers who often will often gather with just a few hour's notice to glean food from local farms.
"It's just been an incredible experience!" Synder notes. "We tell farmers, 'Give us a day and we'll be there with a team, we're just that crazy.'"
Generally, the way it works is this: A farmer might text Snyder, letting her know that he has four pallets of corn that he wants to get out of the fields but it's going to be too ripe to sell. Synder will alert the Rolling Harvest driver, who will head over to pick it up, then might go from there to a nearby orchard that's got three pallets of surplus peaches. Or sometimes, a whole crew of Rolling Harvest volunteers will show up at the farm and pick in the fields for a few hours. After that point, it's almost like a triage to figure out the best and fastest way to distribute that produce, rather than have it sit around for too long.
"The trick, and our passion, is to find the right fit for the right product," Snyder says. "It's hard because you have to say yes to everything and drop everything at a moment's notice. At the end of the day you say, 'Wow, did we really just make that happen?'"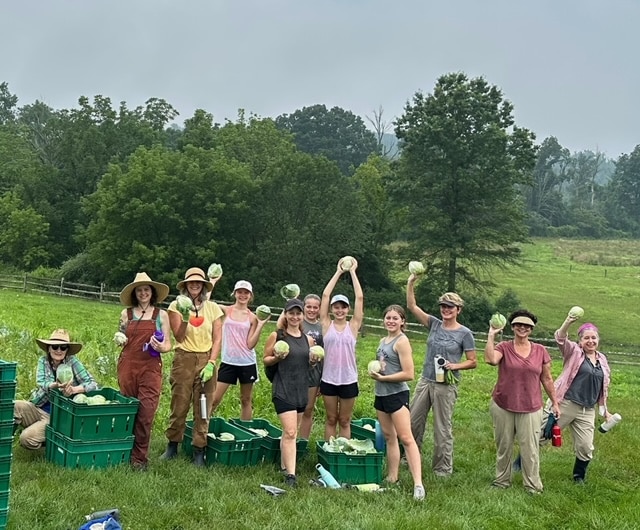 Over time, Rolling Harvest has built out not only its network of farmers, but also its distribution partners, which currently hover around 80 organizations. For food that's not as fresh, they'll deliver to the Trenton Area Soup Kitchen which prepares 1,700 meals a day and sets up a small free farmers market. Some produce goes to Fresh Connect, a free mobile farmers market that serves upwards of 1,200 families in the largest pockets of poverty in Bucks County. And, so much of the produce goes to food banks and food pantries, like the one Snyder originally volunteered in, helping to diversify the food supplies there with nutrient-dense fruits and vegetables.
Along the past decade, there have a been a few major turning points for Rolling Harvest Food Pantry. One major one was the creation of what Snyder and her team call "The County Cooler," a large walk-in refrigerator and freezer that the Bucks County Commissioners donated to local food and hunger relief organizations in 2018.
"It has been a game changer! We now have the equivalent of a well-run and impactful food distribution headquarters that we share with other nonprofits," Snyder says.
They also received an emergency grant from the Pennsylvania Department of Environmental Protection during Covid to aid with their efforts to keep local farmer's food (which was, sadly, in extra surplus then, with so many markets and restaurants closed) out of landfills. Rolling Harvest used those funds to purchase refrigerated trucks and another cold storage box, which now lives permanently at Gravity Hill Farm, right over the PA border in Titusville, NJ. The dual locations mean that Rolling Harvest can let their food bank and pantry partners know what's available, and regardless of those organizations' storage capacities, they can come pick up fresh produce an hour or two before their distributions.
"We'll send out an email blast and say, tomorrow morning at this location come with your largest vehicles and strongest volunteers and take what you need," Snyder says. "In less than 24 hours, we can move thousands of pounds of food as quickly and respectfully as possible. Sometimes it's that fresh: produce picked up in the morning being distributed to families that same afternoon."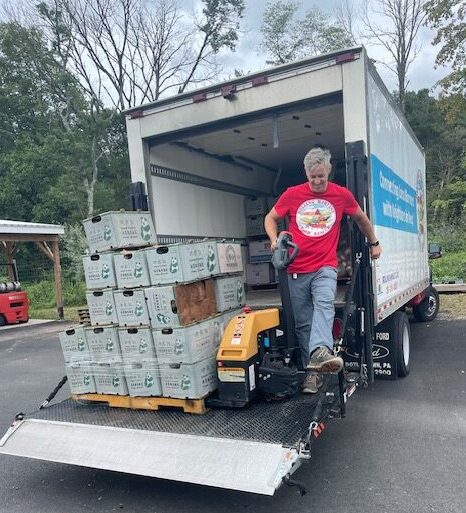 The Rolling Harvest team has grown to include a handful of paid employees, including Snyder, a full-time food distribution manager, a program director and a nutrition and culinary team that oversees education and outreach programs. But the heart of Rolling Harvest Food Rescue remains the farmers and the volunteers, who've created a symbiotic relationship that's benefited thousands of food-insecure people over the last decade.
"Those are the heroes, the farmers, the volunteers," Snyder says. "You're seeing the best of humanity!"
For more information on Rolling Harvest Food Rescue, or to sign up to volunteer, visit its website. Follow along on Facebook and Instagram for updates and behind-the-scenes looks at their epic gleaning operations.
Photos:

Rolling Harvest Food Rescue