When you're mixing up a batch of cocktails at home, there is the rare occasion when you want to go full-on "Fancy Bartender," channeling the mixologist at your favorite bar; you know, the one with the waxed mustache, pinstripe vest and pocket watch? You break out the vials of bitters, the obscure liqueurs, the special ice cubes, and you craft a concoct that's part cocktail, part science project.
But more often than not, you're looking for a more easygoing experience: An ounce or two of your favorite local spirits, a splash of a mixer and you're ready to go relax. That brings up a problem, though. Have you ever looked at the ingredient list on most pre-made mixers? They are packed with sugar, artificial flavors and dyes — none of which deserve a place in your martini glass. This conundrum is what inspired two friends and neighbors, Diane Aemisegeo and Trish Pepe Lauden, to launch their company, ROOT Crafted Cocktail Mixers, a line of creatively flavored, seasonally inspired mixers that are organic, natural and actually delicious. The varieties include The Cuke (cucumber, lime, elderflower), Hibi-Hibi (hibiscus tea, elderflower, lime), The Lemongrass (lemongrass, elderflower), The Granada (pomegranate, lemongrass, lemon), The Hound (grapefruit, tart cherry) and Au Pear (pear, lemon, orange).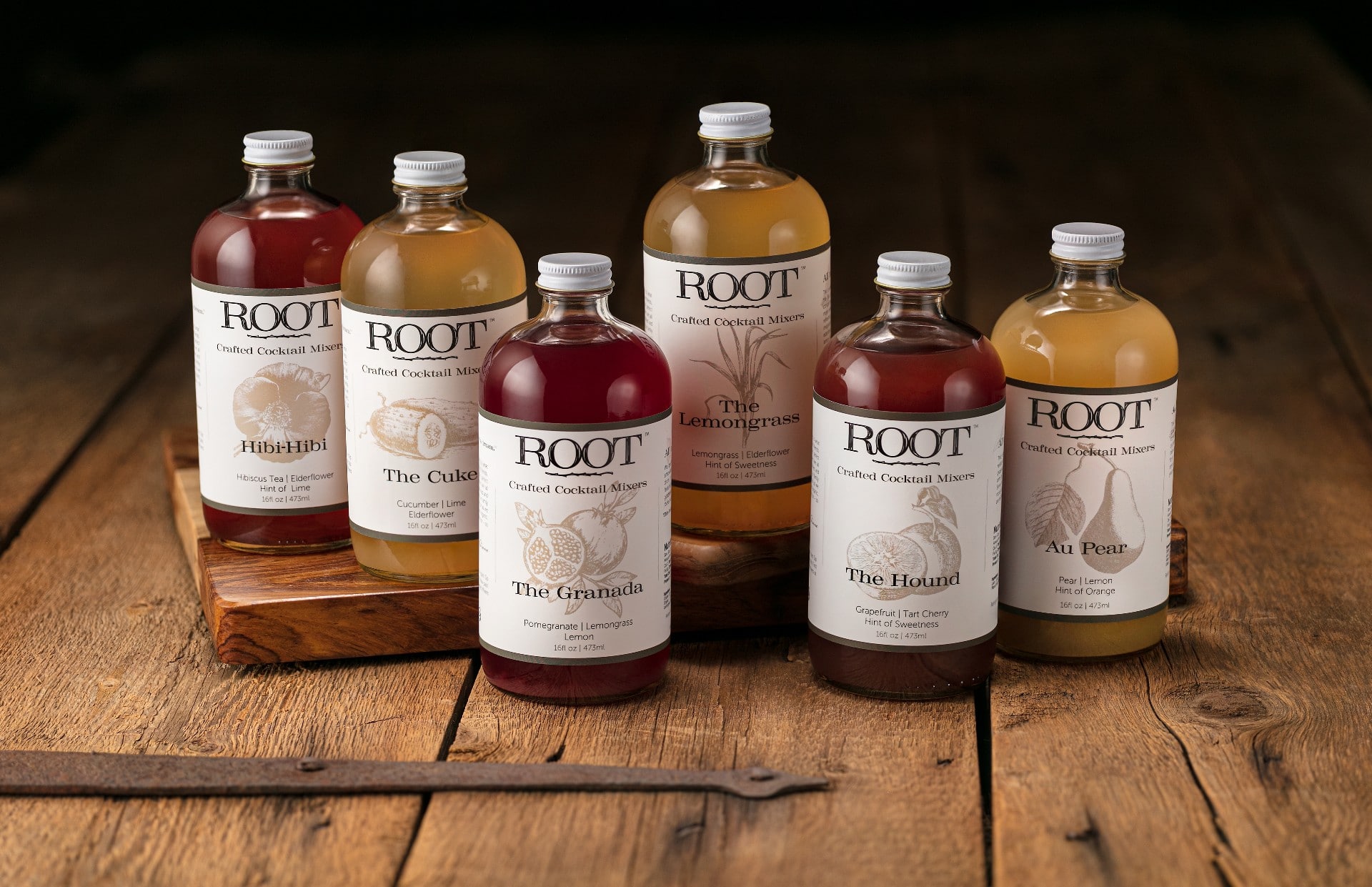 These two friends and neighbors, both living in the Bethlehem, PA, area have plenty of experience shaking up drinks together to unwind after long days spent parenting and working. They kept looking in stores for mixers that would simplify cocktail hour without sacrificing quality and flavor, but there were none to be found. That's when they decided to strike out on their own to create a brand, and to craft products that are missing from the market. They launched ROOT Crafted Cocktail Mixers in March of 2018.
We were able to chat with these Pennsylvania entrepreneurs about the birth and growth of ROOT Crafted, and we're excited to share these local makers' story!
PA Eats: Take us back to the beginning of ROOT Crafted. Does either of you have a culinary background?
Diane Aemisegeo: Trish and I had been drinking for a very long time, but we didn't have any background in manufacturing or cocktails or bartending. I come with a pharma background, sales and marketing, but nothing in production. So this was new to both of us, coming up with a new product and bringing it to market. We wanted to bring something that we hadn't seen before: all natural, organic, shelf-stable mixers to revolutionize the cocktail market. Right now you can't really find anything that's low in sugar, better for you, and easy to use. You can choose any one of our flavors and combine it with any spirit that you like and have a fantastic cocktail.

Trish Pepe Lauden: I worked as a clinical therapist prior to having kids. After I had my four kids I stopped working out of the home. Diane and I both come from entrepreneurial families, all the people in my family have worked for themselves. For me, there's always been a desire to do that, too. When my youngest started kindergarten, it was like, what do I do when they're all in school? We thought that this idea was unique enough that we could take on this huge industry, because our product is different.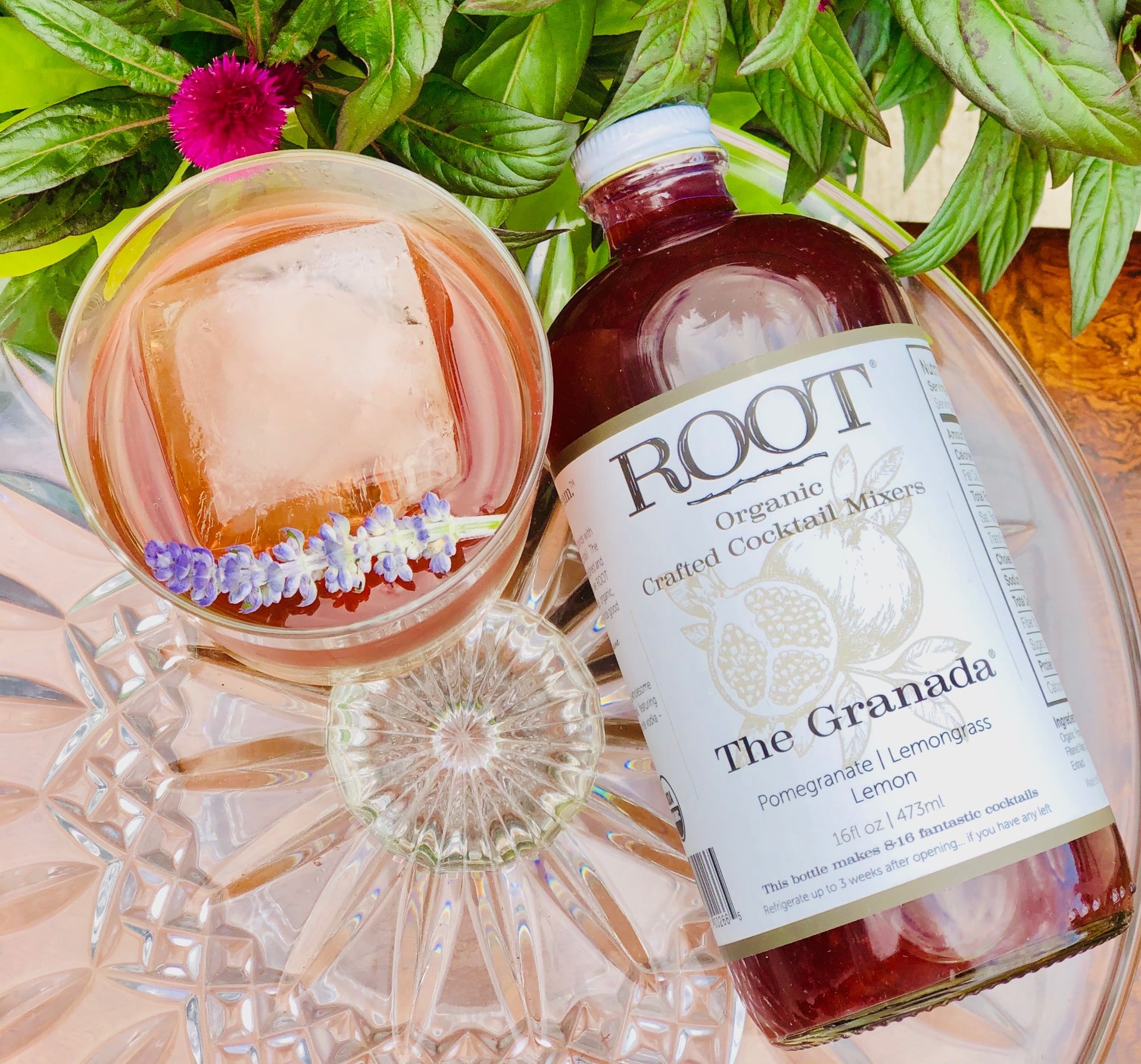 What pushed you over the edge to decide to take your homemade recipes and turn them into a brand?
Diane: We are friends and we live two doors down from each other. Our families all hang out. We were drinking these cocktails [with homemade mixers], and thinking these are really, really good. So why not do it? There's nothing like it on the market. It's like we pinkie swore to do it and couldn't take it back!
How did you start the process?
Diane: It's not an easy process. We had to figure out: Where do you begin with taking this product to market, from mixing one cocktail to mass producing this? It took a lot of taste-testing, mixing and drinking. But it also took a lot of research on how to do this. Like, who would take us on? We're two women who didn't have any real experience.

Trish: There's been a real learning curve for us. We created the products, all of them based on products we could buy in the grocery store. But when it came to scaling up, we had to go to the next level, ordering juices by the barrel, sugar by the gallon …. we had to taste and test everything. Juices even vary from batch to batch. Now we feel more settled with the products we've chosen, we try to stick with the same sources, but sources change.

Diane: Trish does all the sourcing, she does a fantastic job of getting all of our juices and sugars, making sure they're within the organic standard, making it available. But then there's the selling: How do you sell to bars, distributors? We're still learning every day, and we love it.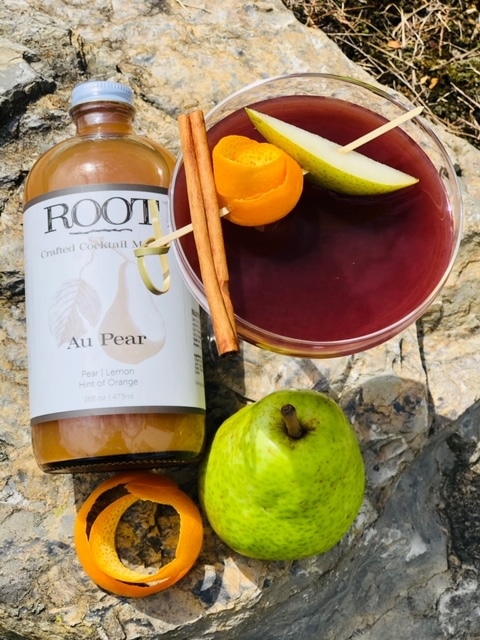 What were some of the moments that helped ROOT Crafted along the journey?
Diane: When we first launched in 2018, we started with a 32-ounce bottle that was going directly to businesses: bars, country clubs, venues. Form there, we figured out how to get in the retail market with 16-ounce bottles. We got in with the PLCB, starting with a test run of 10 stores. Now we're in over 65 of the state stores and we're about to ship palettes to their main distribution. We also expanded into Amazon, and made ourselves available to ship to various markets. We've been expanding our products too. We came out with the Cocktail Party Pack which are four, 4-ounce bottles.
How have things changed for you as the company has grown in the years since you launched?
Diane: This company has grown tremendously since 2018, but it's still Trish and I, we are the front and back end, everything. We're sales, marketing, delivery. We like it that way, we are growing at a fast pace and looking toward to the future to see how we can expand. We have a plan for where we'd like to go. I think for now we are happy with how it fits into our life.

Trish: There are times, particularly around production runs, when we're busy. As a small company, it's challenging to get in with distributors and learning that whole world. We're growing at, for us, a rapid pace but it's a controlled pace. If we get too big too fast, we could possibly lose the integrity of the products.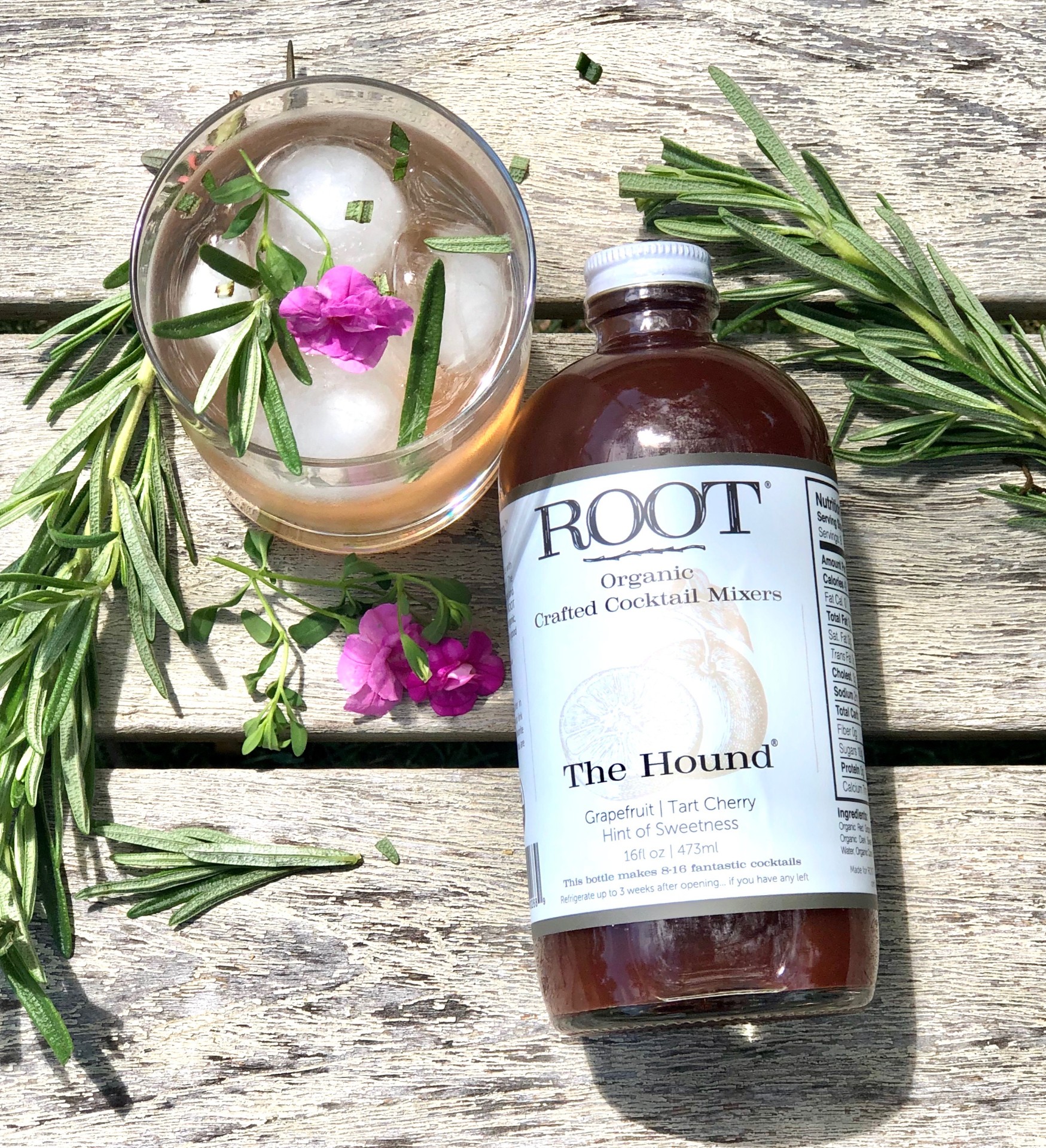 What's one of the most satisfying things that has happened for you during the growth of the company?
Trish: When we went into this, we had no idea how you take a food product and put it on a shelf. It seemed so daunting to be able to do that, with the legal aspects, health, safety … we went to different food scientists to take us through the steps. No one was very accommodating. We decided we had to figure it out ourselves, and we did. When we got the schedule process approved by Cornell, that was the most satisfying moment for me. We did it, and we did it ourselves.

Diane: Dealing with Amazon was so daunting to me. It was really satisfying when we got our products there.
What inspires your recipes and flavor combos? Any favorites or best-sellers?
Trish: Lemongrass is our best seller, hands down. That was all Diane.

Diane: It's a cocktail that I came home and made for Trish. We were like, This is awesome! It's lemongrass water with elderflower simple syrup and lemon juice. It mixes with everything. It is a gangbuster. No one doesn't like it! But our lineup is very selfish, it's all the cocktails we like to drink. We started with five flavors, and last summer, we introduced The Cuke. We're working on more. We hope to introduce new ones in the upcoming season. The next one we are launching is a little more savory, not as sweet. We have gotten that feedback from people. Our mixers aren't super-sweet, but not everyone likes sweet cocktails.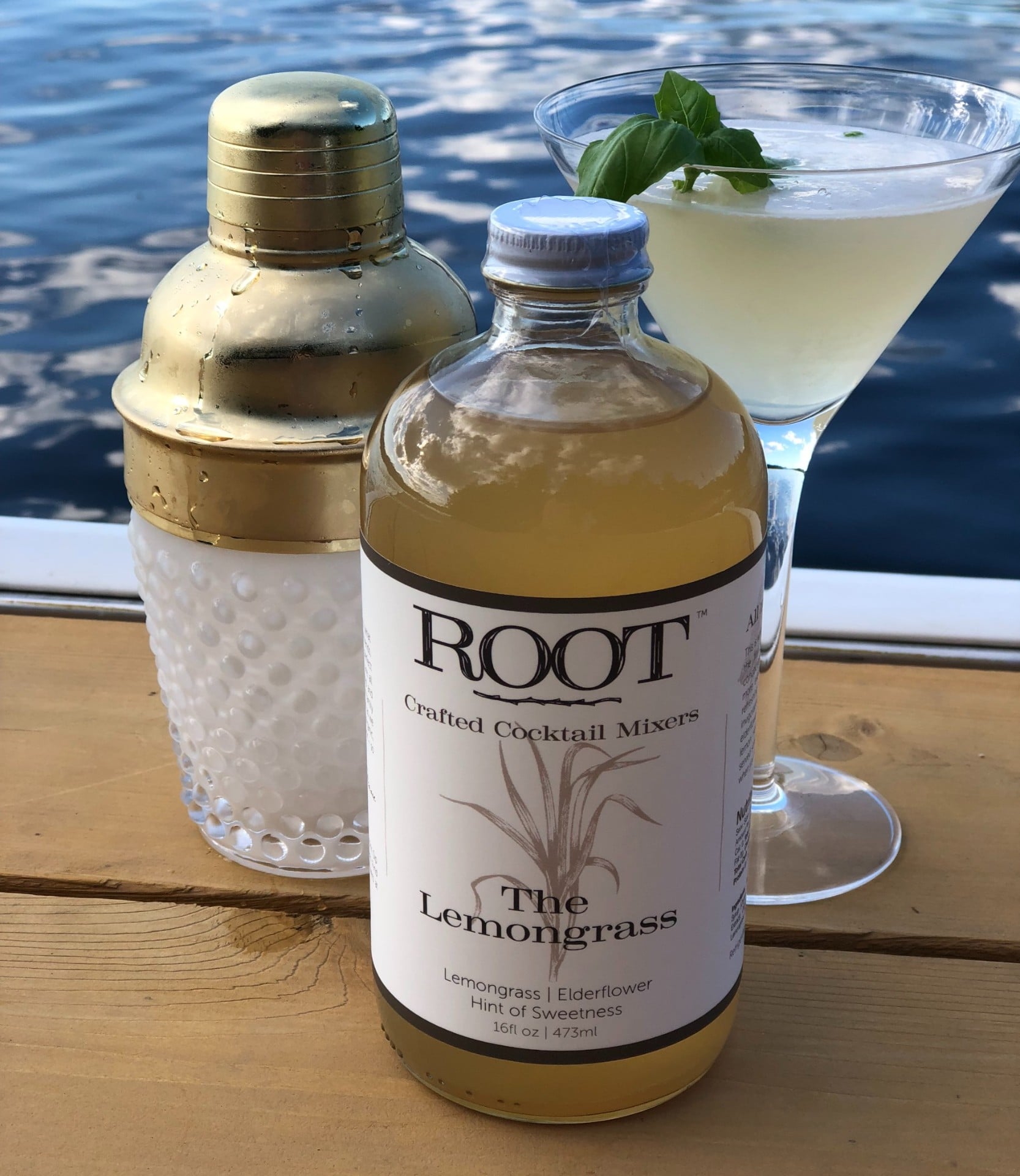 What is the big goal for the future of ROOT Crafted?
Diane: We want to be a national household name, in all the grocery store chains. We are little by little, getting into specialty stores across the country, like in California, Florida and Nantucket. But we want to be everywhere. We're going big with this.
To learn more about ROOT Crafted Cocktail Mixers, find fun cocktail recipes or to shop online, check out its website. For beautiful cocktail photos and inspired drink ideas, follow along with the brand on Instagram.
Photos:

ROOT Crafted Cocktail Mixers