How many times have you and your friends dreamed up a potential business, riffing off each other, half-joking about what potential paths the future could take. Most often, these kinds of pie-in-the-sky plans go nowhere, but once in awhile, with the right combination of people, planning and luck, the dream actually comes to fruition. So it was for Second Sin Brewing Company (named after the second of the Seven Deadly Sins: gluttony), the project of three friends Michael Beresky, Jake Howell and Phil Harris.
The trio met in high school and stayed friends all throughout college in the mid-2000s; Harris and Howell went to Penn State, and started home brewing there for kicks. They'd pick up and put down the hobby as time and space allowed, occasionally brewing when Beresky (who attended Temple) would come to visit. Over pints at Zeno's in State College, Howell, who was the most into the brewing of the three, decided that he was going to give home brewing a more dedicated shot. From there, the trio of friends began to plot and plan for what it might look like to actually own their own brewery one day.
Cut to November 2019, when Second Sin Brewing opened its new taproom in Bristol, PA, just months before Covid-19 shut everything down. Despite the massive challenges that presented, the three friends have stayed the course on their shared dream and they have built a following around their brand. We sat down for a chat with Mike Beresky about how this all came to be, and what it was like riding out the first year as a business during the pandemic.
PA Eats: What was the turning point for you three to go from messing around with home brewing to actually considering starting a brewery?
Mike Beresky: After we all graduated, we got more serious about it. We upped the quality of our equipment, and started leveling up from pre-made kits to all-grain recipes and even writing our own recipes. We enjoyed doing it and the science behind it, just hanging out and talking through different ideas. During 2010, Jake was visiting me at Temple right before I was getting ready to graduate, and we started talking about how cool it would be to own a beer bar. Then we realized that maybe a brewery would be cooler. But we were more focused on landing normal-people jobs.

Jake stayed on for another year at Penn State, and ended up taking an internship position at Climax Brewing in New Jersey, and then went on to work at Neshaminy Creek Brewing, which was more local to where we were all living. At the time, we were home brewing at my parents house, and at Jake's sister's house, whoever would have us. Once he got that job, the Neshaminy Creek folks let us home brew on their equipment at night. That was during 2012 and 2013, and that's when we got more serious about doing this as a business. We believed that getting into the brewing industry requires experience, it's very difficult to make a high quality product professionally when you just go from home brewing to opening a brewery. That's why we felt it was important to get that real-world experience on real brew systems. Jake has a degree in physics, but he decided to put that aside to follow his dream of brewing, and Phil and I jumped on board to make it a business.

What was the next phase of putting the business plan together like?
In 2013, we began putting the business plan together, but it took another 4 or 5 years until it was completed. The licensing was different back then, and we also spent a lot of time focusing on the beer, because we wanted to make it the best we could. We were getting the money together, and working to find a location, that also delayed us. In 2017, we attempted to get a spot in Doylestown, and we worked on that for an entire year, going back and forth with the owners of the facility, working on a lease. At the end of the year, we realized it wasn't going to work, and that was a pretty crushing moment. We'd put in a ton of work and were disheartened.
Did that disappointing situation somehow lead to you finding your current spot in Bristol?
Yes, fortunately for us, the craft beer industry is unlike any other, with people really looking out for one another. We knew the guys at Broken Goblet Brewing, and they were looking to get out of their location to get a new venue started. They said, why don't you pick up the lease here? They had another year on it. So, that's where we picked up from the Doylestown debacle.

They stayed in their spot longer than anticipated, so rather than finishing out their lease, we started our lease with the landlord the day after theirs was up, in April of 2019. We bought equipment from a brewery manufacturer and it arrived with defects, so we didn't actually open until November of 2019. It was three years in the making to get to when we physically opened.
Was it helpful to start out in a space that had already been a brewery?
Yeah, that was appealing. People knew that Broken Goblet was there, and while they were still open, we got to preview a few of our beers to their crowd. They had a big going away party and they let us pour at that, too. They were helpful in getting our name out there.

You only had a brief time under your belts before Covid hit. What was that like?
We opened, and three months later the pandemic hit. We were having a St. Patty's Day party when we heard that Pennsylvania was shutting everything down. We thought it would just be a few weeks before everything went back to normal, little did we know it was a once-in-a-100-year pandemic. Luckily, the state allowed our industry to do takeout beer, and eventually to offer outdoor seating.
Can you describe your brewery and taproom for us?
It's a pretty small space, and the brewery takes up the lion's share. It's a five-barrel system, and we have 50 or so seats in the bar. Our spot is in an industrial complex and is a little hard to find — you don't stumble upon us. Thankfully to Jake's credit, he brews very good beer that's put us on the Breweries in PA Top 10 List, which we've been on every time they've released it since we opened. That's helped bring people in, plus good word-of-mouth and good Untapped ratings. A lot of our business is locals and repeat customers, they love the beer, they love talking about it!
How do you describe Second Sin's beer style?
There's no specific style we do. Jake writes our recipes, as he's the one brewing the beer. His approach is just trying to brew the best version of whatever it is; the only things he won't brew are tripels and Belgian wits. Other than that, anything is game! We tend to brew a ton of IPAs and sours. We're known for Cobblerin' Time, a cobbler-inspired sour. We change the fruit pretty much every time we release it, right now it's blackberry. The way Jake makes the grain bill with the addition of the fruit, vanilla and cinnamon, it's like drinking dessert.

We don't have any flagship or core beers. The interesting thing to Jake is writing the recipes and seeing how he can change things, and messing around with the chemistry behind the beers, specifically IPAs. We release a new beer each week, which we keg and can, and have done 250 beers since we first opened. On our tap list, we try to have around six hoppy beers, a lager, a dark beer, a sour and something light. One thing we've brewed a few times is Home Field Advantage, an IPA that comes out in the fall and springtime to usher in Philly sports!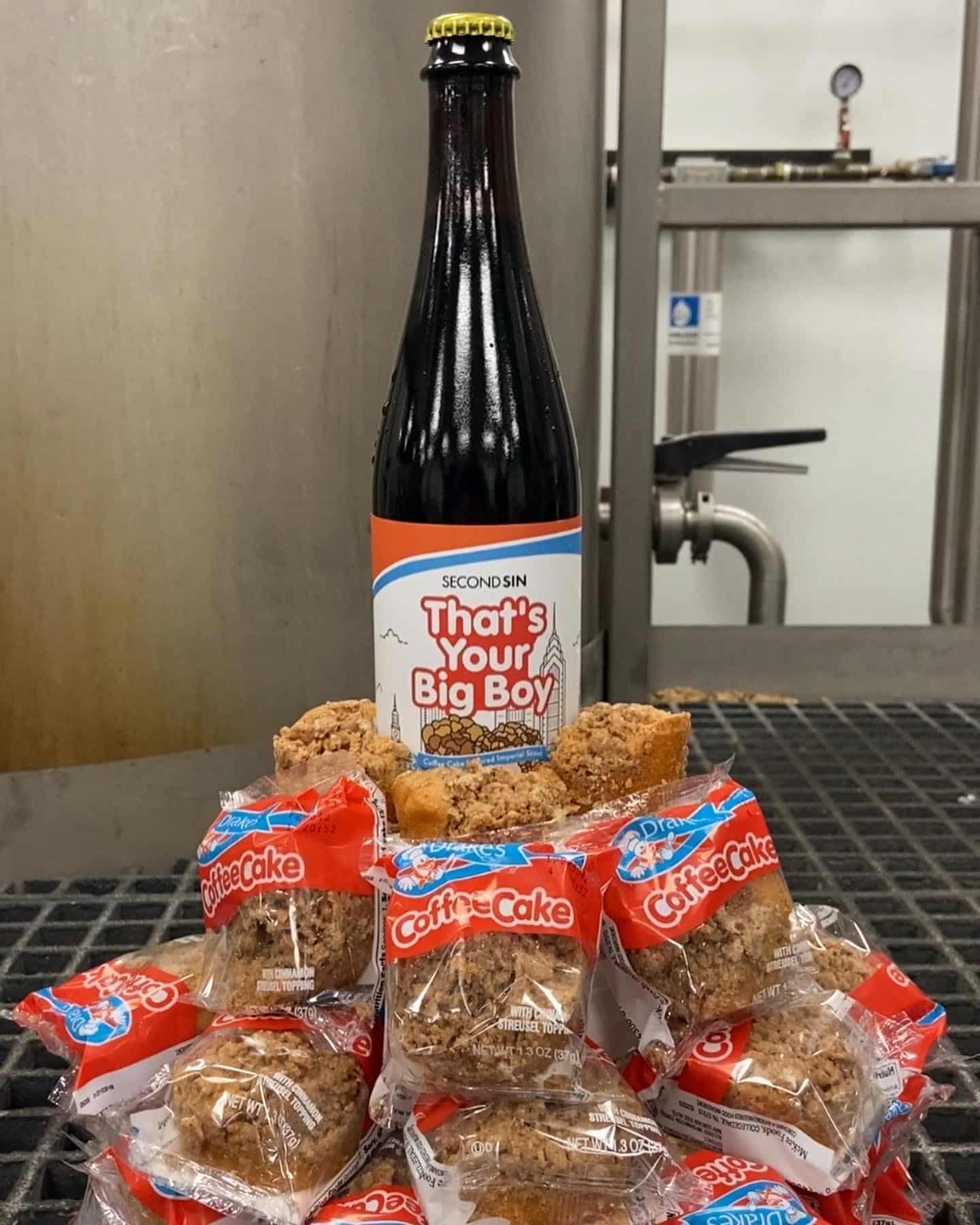 We hear there may be something new on the horizon for your soon, as well?
We actually signed a lease last month for a second location in Bucks County, in a well-traveled walking town, which is certainly going to put us on more people's radars. Stay tuned for more info about that soon!
For more info about Second Sin Brewing, check out its website and follow along on Instagram and Facebook.
Visit Second Sin Brewing at 1500 Grundy Lane in Bristol, PA; phone: (267) 812-5251.
This series is made possible by support from the Pennsylvania Malt and Brewed Beverage Industry Promotion Board and grant funding from the Pennsylvania Liquor Control Board.
Photos:

Second Sin Brewing