As part of our Kitchens + Gardens theme, we are introducing you to local artisans making handcrafted dishes, serving wares, vases and vessels in Pennsylvania. We call this series, "Future Heirlooms." If you know of an artist or craftsperson we should talk to, let us know at [email protected].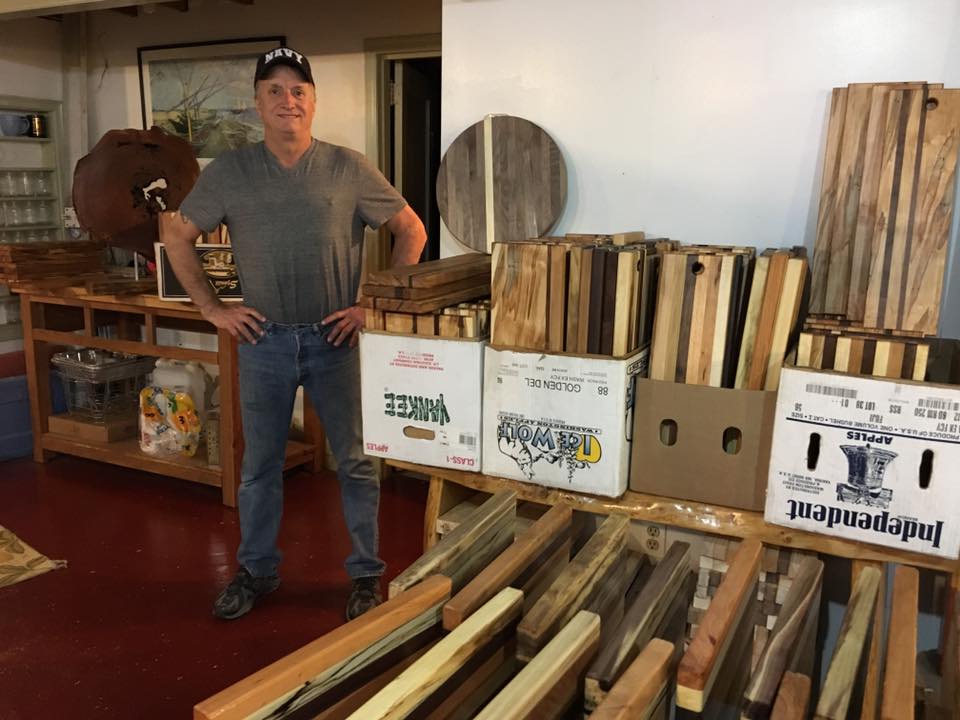 Household items, including kitchen tools, are a necessity. But, with the right craftsmanship, such helpful products can also be works of art.
Steve Reid of Steve's Urban Lumber has taken his love of woodworking and is putting his talent into the creation of eye-catching, beautifully made wooden cutting boards.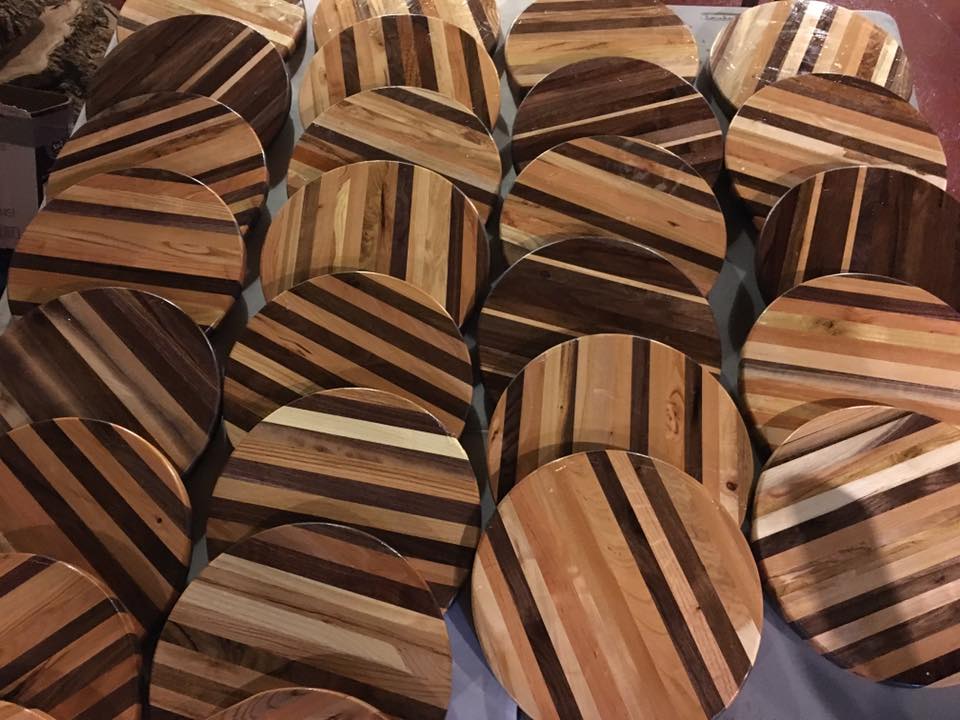 We were interested in learning more about this Bucks County-based artisan's hobby-turned-business venture, and eagerly delved into how these aesthetically pleasing objects take shape. Here's our interview with Steve Reid:
PA Eats: When was Steve's Urban Lumber founded and how did the company concept come to fruition?
Steve Reid: Steve's Urban Lumber began about 20 years ago. I had a large maple in my front yard that had to be taken down. Up to that point, I'd been making furniture from discarded pallets. However, the lumber I got from that tree changed everything.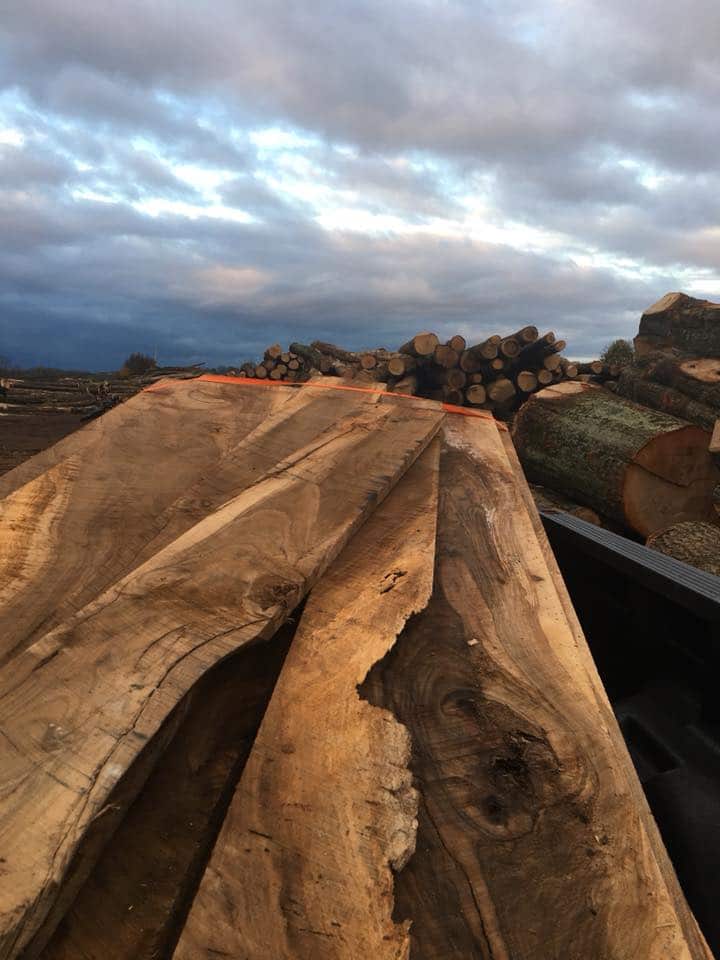 How did that maple wood lead to your lovely cutting boards?
After that, I started looking for logs, and they're easier to find than you'd think. After a while, they actually started finding me, and by then I had more lumber than I could use. In fact, the lumber piles started taking over my backyard. It takes a year to air dry a one-inch thick board, so I built a solar dehumidification kiln, which allowed me to dry the wood much faster.
But then, a new problem arose, as my kiln is 106 inches in length, and many of the logs I was getting were longer than this. I couldn't throw the short pieces away, so I dried them and stacked them in my basement. I was still making furniture and was starting to sell some of the wood, and these small pieces kept coming. After making a few cutting boards as gifts, a light went off that this was a great way to use these small pieces. So, I started making more and found that, when I would go to sell my bigger pieces at different markets, people liked my cutting boards better.
Where do you source your materials and what types of wood do you use?
The logs are all local and milled in Plumsteadville. Hurricane Sandy was, by far, the largest single source I've ever had, but most every storm brings down a tree or two. So, keep an eye on yours.
Over the years I've milled about 17 different types. Walnut is very popular right now and cherry is my favorite, but I'd like to come across another chestnut. Ash will soon be gone because of the emerald ash borer.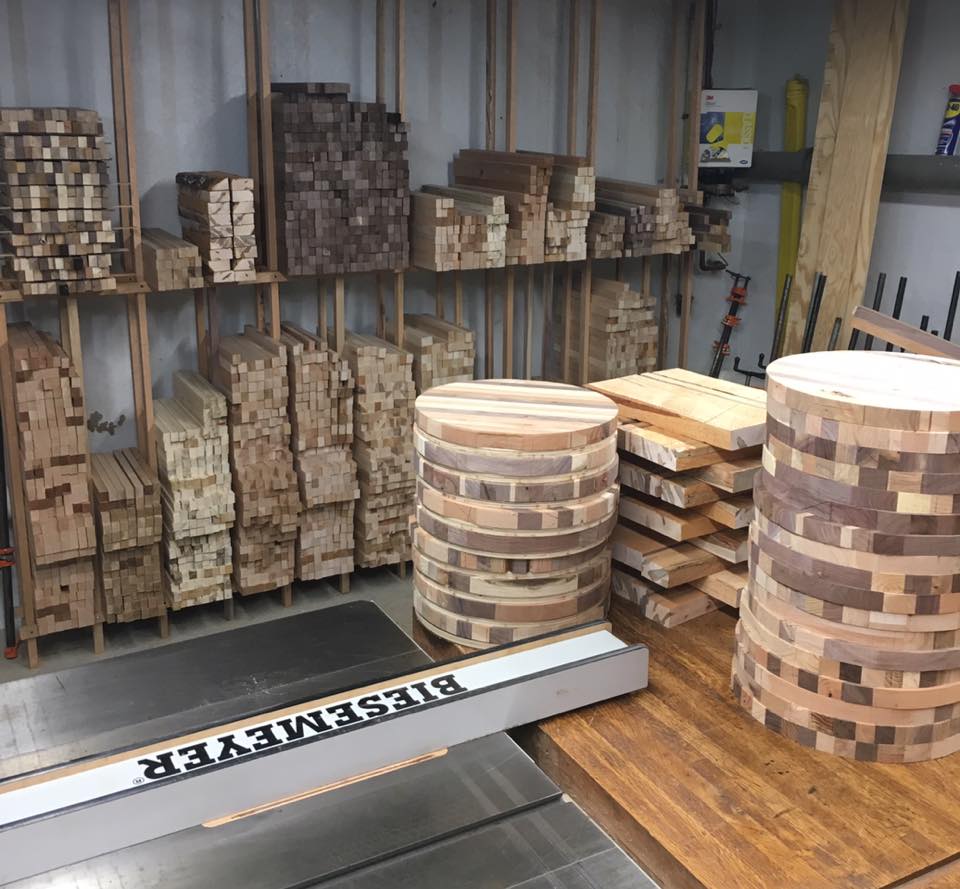 What is the creation process like?
After the boards have been dried, they are planed and sawed into strips. Then, once placed on a bench, I arrange them into patterns that I like. From there, it's over to the jointer where I make sure there are no gaps in between the strips. Once they're perfectly flat, they are glued and clamped for at least 24 hours. After that, they are planed again, trimmed, routed and the groove is cut into the ends. All that's left after that is the sanding, finishing and branding.
Where can we find your handmade cutting boards?
Woodworking is a fairly solitary hobby, which I enjoy. But I also really enjoy getting out and going to local markets and festivals. I've met so many interesting people from all over the world. Plus, they tell me how nice my boards are, and who doesn't like a compliment on their work! I'm in a store in Old City Philly called Philadelphia Independents. If you follow me on Facebook you can see what upcoming markets I'll be at this summer.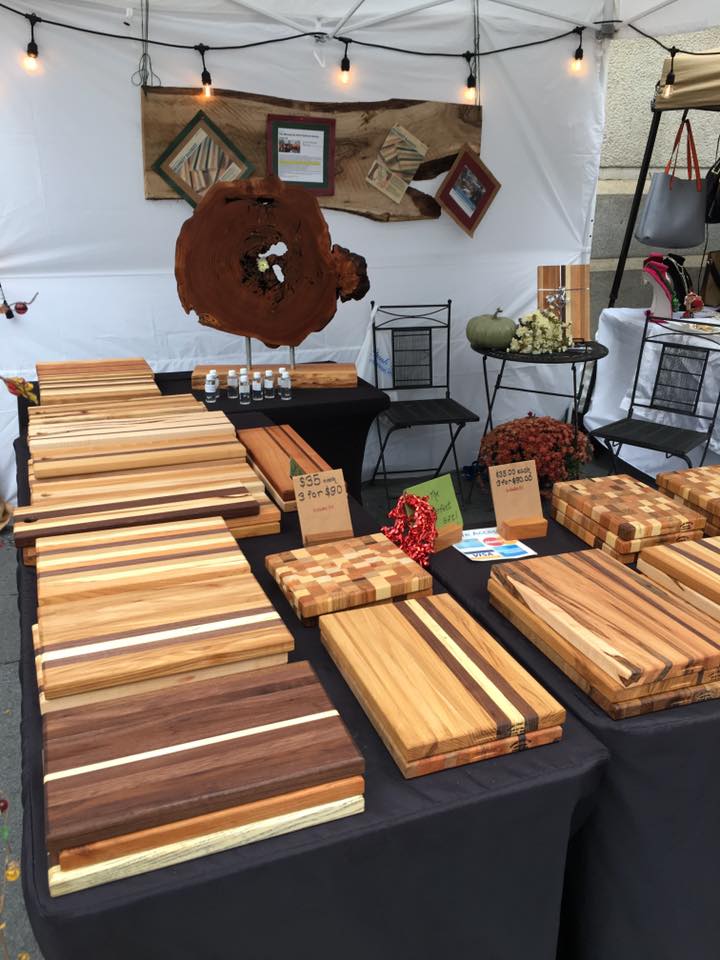 What is the price range of the products?
Currently, all my boards are priced at $35 each. I like having a single price as it allows people to find the board that works for them and not have to think of the price.
What makes Steve's Urban Lumber products a cut above the rest?
That I am using only local woods, and the fact that I've been milling for as long as I have.
What lies ahead in the future for Steve's Urban Lumber?
I plan to keep doing things as I've done for years. That's not to say there isn't room for improvements. I've recently upgraded all the cutterheads on my jointer and planers to an indexable carbide style, which uses less energy and provides a nicer finish. Plus, it's a lot quieter.
Interested in perusing the creative cutting boards produced by Steve's Urban Lumber? Make it a point to attend the upcoming Manayunk Arts Festival on Saturday, June 23, and Sunday, June 24, in the heart of Manayunk.
Additional information and details on other spots where you can acquire Steve's Urban Lumber cutting boards can be found via Facebook.
Photos:

Steve's Urban Lumber