If you've never had a stroopwafel, that's something you should remedy ASAP! These genius little snacks, originating from Dutch cuisine, are cinnamon-scented wafer thin waffles split in half and then spread with caramel. The caramel acts as an adhesive, sticking the two sides of the waffle together to form a sort of cookie sandwich, which is meant to be placed over a steaming cup of coffee or tea to be rewarmed. As the caramel filling warms, it makes the stroopwafel a bit flexible and gooey and irresistible.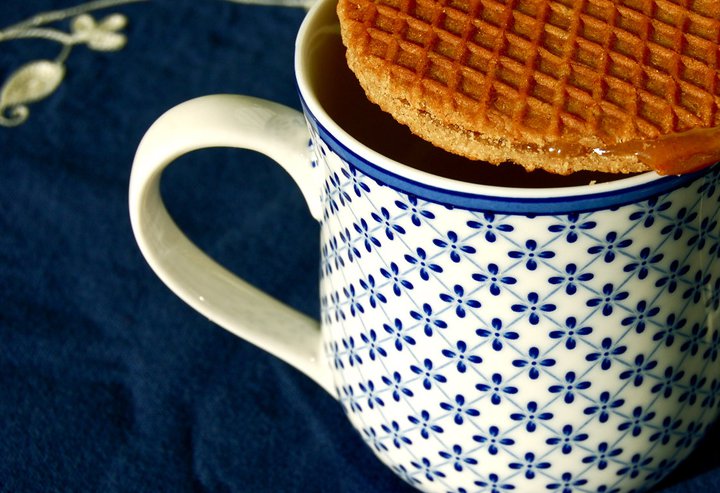 While these delights are imported from Holland and can be found in gourmet markets and some coffee shops, there is a company making them right here in Pennsylvania: The Stroopie Co. Based in Lancaster City, The Stroopie Co. makes authentic stroopwafels called Stroopies, based on a Dutch recipe, in a variety of creative flavors, like chocolate espresso, pecan, and coconut, as well as unique variations, like heart-shaped and gluten-free. Stroopies are sold online, at the Lancaster Sweet Shoppe and Lancaster Marketplace, and at a number of  cafes and shops in PA and along the East Coast.
And, while simply providing local, artisan versions of these wonderful treats brings a bit of positivity to the world, The Stroopie Co. goes well beyond sweets and treats to make an impact in its community.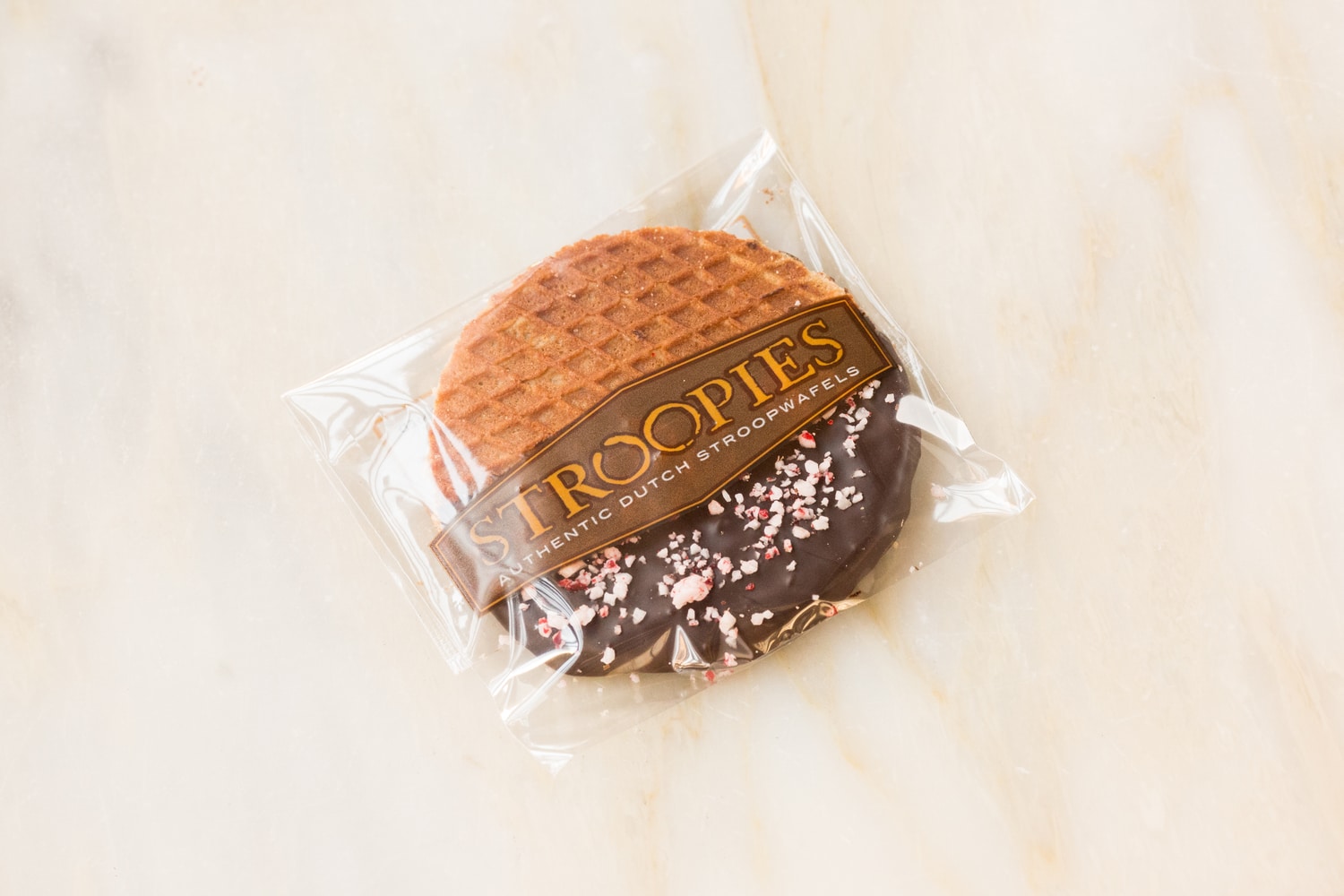 As a certified B Corporation and social enterprise, The Stoopie Co.s' deeper mission is to provide meaningful employment to refugee women who have been resettled in Lancaster. Its owners, Jonathan and Jennie Groff, are passionate and dedicated to this cause, in a way that's truly inspiring, and we are thrilled to be able to share their story with you.
PA Eats: Let's talk a bit about how The Stroopie Co. got started. Do you and John come from food backgrounds?
Jennie Groff: Well, it was actually started by our friends, Ed McManness and Dan Perryman in 2008, who were part of our church. We all had resettled refugee friends who were looking for work in the city, and Ed and Dan wanted to start a working prototype of a business here that could help them, and then start a sister company in India. In 2010, Dan and his family did leave for India, and at that point, Ed was still excited about Stroopies, but the reality of how much work it was going to take to really develop it into the dream they had was kind of daunting to him. So at that point, Jonathan and I came on as owners to bring life to it. While we were involved with The Stroopie Co. from a cheerleading standpoint from the beginning, we weren't part of the ownership team 'til 2010.

We didn't have a background in food, really. Before this, we had a lot of rental units that we were rehabbing and renting, which is partially how we became connected to the refugee community here. But Jonathan's family has been making homemade chocolates and candies for years under the name Groff's Candies, and they have a shop in Lancaster and a market stand at the Bird-in-Hand Farmer's Market. They had a facility that they allowed us to start using right away. They rented us space for very cheap and were great helps as we started to flesh out the idea of the business.
Had finding a space been an issue during the first iteration of The Stroopie Co.?
Yes, before that, Dan and Ed were renting out space from local commercial kitchens and church spaces. It was hard for them to get traction, because they had to move their ingredients and equipment from place to place. It wasn't efficient to scale into what they dreamed it could be. At the Groff's candy factory, we had space and access to their equipment. We used that space from 2010 until Memorial Day 2016, when we moved into Lancaster Sweet Shoppe [the Groff's are also co-owners of that business].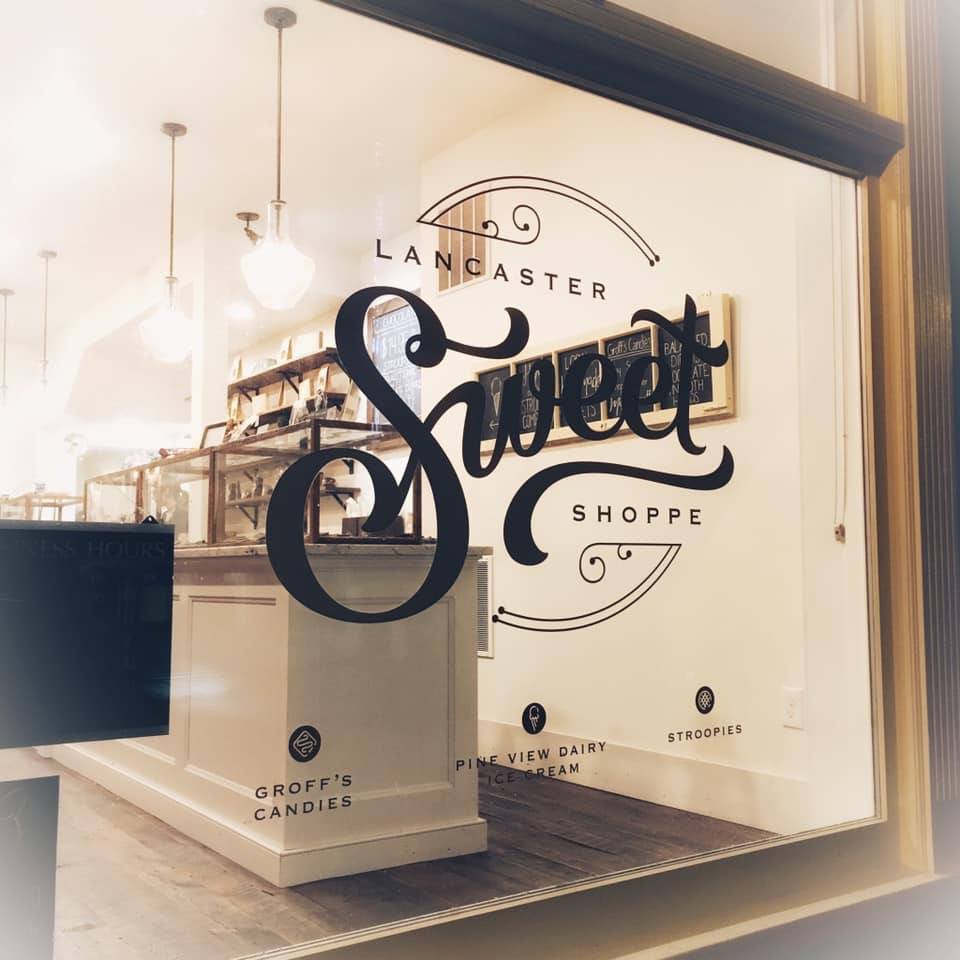 Was that an important moment in the growth of the business?
Yes! We were starting to take over Jon's family's space. Plus, the candy factory was about 15 minutes into the countryside and a lot of the women who work for us live in the city and don't have cars, and we'd have to carpool out. The city location is also great to market our product, as well, to the people walking by! When you walk in it smells like a sweet shop should smell, with the warm waffles always baking.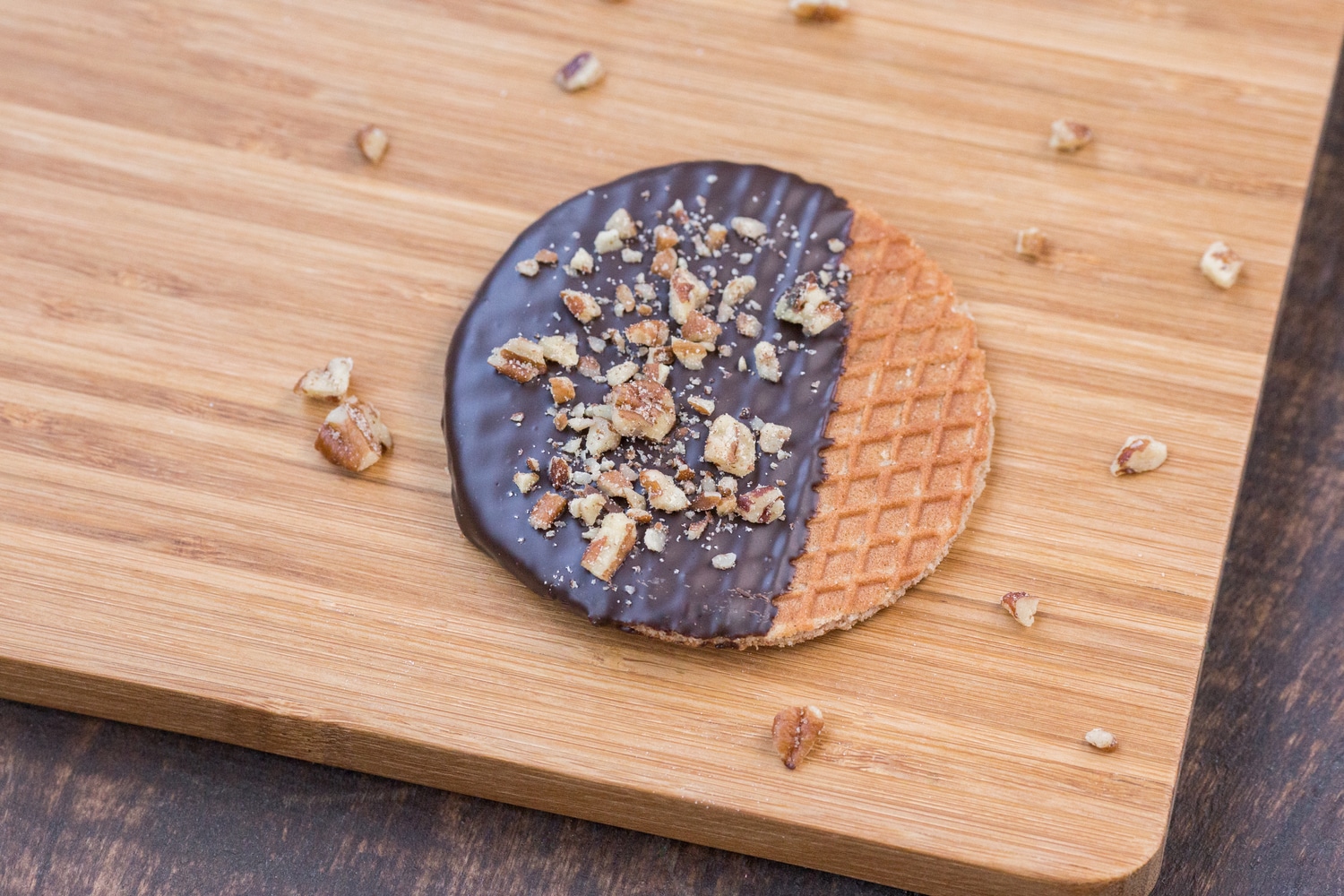 Are people generally familiar with what stroopwafels are? Have you seen that awareness change since you started in 2010?
When we first started in 2010, a lot of people had no idea what a stroopwafel was. Every month, we would sample them at the Lancaster Central Market at the Amish Family Recipe stand, which sold our products. We would give people a fresh warm Stroopie, and explain how you can rewarm it on your hot tea or coffee. We realized if we could make them fresh and warm, and give people a sample, they would buy.

Since then, people seem to have learned a lot more about stroopwafels. United Airlines started handing out stroopwafels as a treat on its airplanes, and I think that really helped people discover them. The Great British Baking Show recently aired an episode where the competitors had to make them, and many of them struggled with the challenge. It was good to show people that you can't just make them in your home kitchen … maybe people in Holland do, but not here. We have special waffle irons from Holland.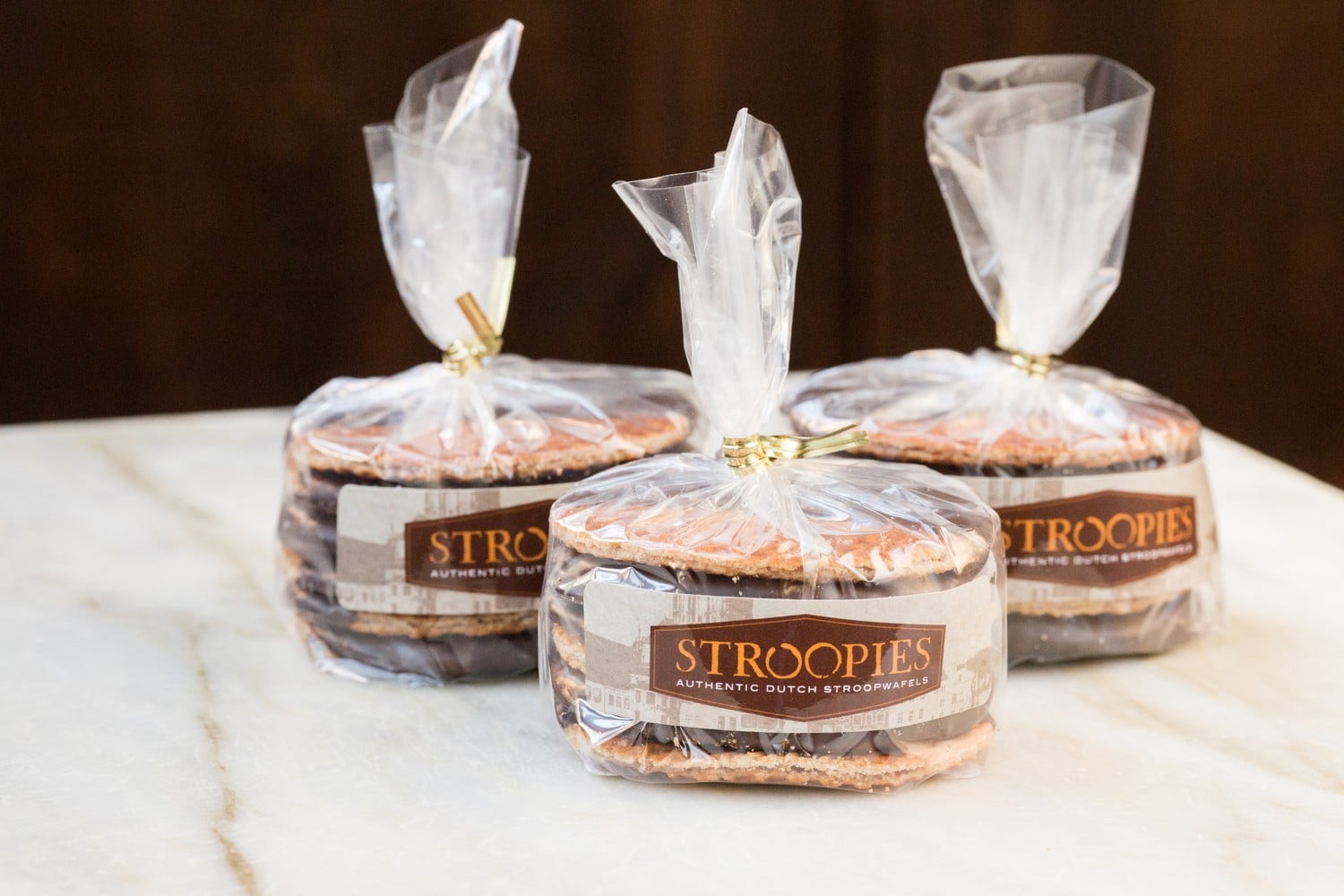 So, as public awareness of the product has grown, has the company grown too?
We're still very small but are starting to get some traction. Currently, we're making 10,000 Stroopies a week that go all over the US. One of our biggest new things is that the Webstaurant Store, which distributes nationally, is headquartered in Lititz, PA, just 10 minutes from here, and they just put Stroopies on its website! We're now competing in the national market thanks to them, and our prices on their site are comparable to the mass produced ones that come from Holland. They have our social mission and story right on the site. If there are ways we can scale in ways that work, we're excited about that. That means we can keep focusing on the manufacturing part, which is where we want to focus, because that's where the jobs are that the women jump into.
We're so curious to learn more about your social mission. Where do you find the people who you employ, and how has it all been working out?
Around 2008, Lancaster got the privilege to resettle so many families, and between then and 2015, there were just families flooding into Lancaster City. We are officially a Welcoming City, if you look way back in our history, lots of people have come here seeking a safe place to resettle. It's in the DNA of Lancaster, there are a lot of sponsors and a lot of momentum here, and I think it has a lot to do with how many peoples' families did the same generations ago.

There are two resettlement agencies in Lancaster City and our church sponsors families that come here. We have so many resettled families that we know in our neighborhood. When we first started hiring, we just looked to that relational network. We also realized pretty early on that a really good niche for us was young moms. We could really offer very flexible hours and work with what they had to offer. I will forever be thankful to the women who worked for us early on. At that point we were cutting every single Stroopie in half, all done by hand. We still do the caramel by hand, but now the waffles are cut by a machine. In the beginning there was a lot of figuring things out, they were real troopers.

Right now, we employ 3 women from Burma, 3 women from the Congo and a women from Syria. Some work full and some work part time. Our manager, who has an ESL background, is from here, that's the crew that makes the Stroopies. Our goal is that they stick with us and grow into management positions, or use us as a launchpad to build their English skills and confidence to prepare for the careers that they really want to pursue. For instance, one woman who worked here was a teacher in Iraq before, and wanted to get back into education. After Stroopies, she got a job as a translator in the local school system. To us, that is a success! But since we've been in our spot in the city, the crew working for us just loves making Stroopies and this is what they want to do, and it gives us momentum and the ability to think about scaling and growing and making more impact for others. They want to be mentors for others who are coming on. It's so exciting that there is a group of women who want to work here 'til they retire.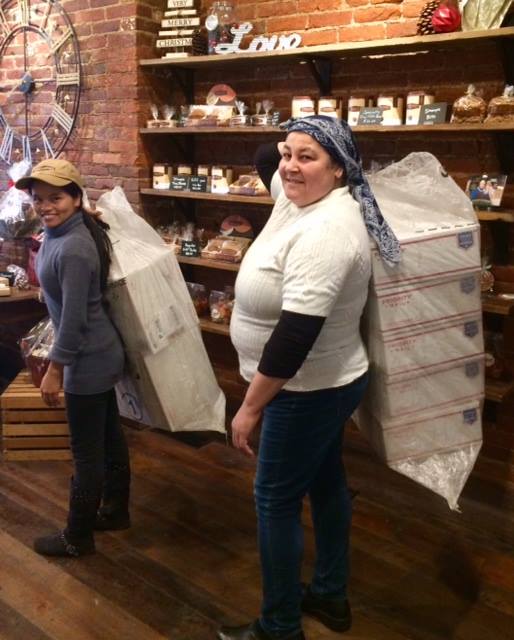 Even though their stories are so different, the women here all have similarities about what brought them to this point. There's this beautiful unity on this team, and they're all pulling for each other. It's really a gift. I'm primarily focused on finding homes for all these Stroopies they're making, and talking about our employees and sharing their stories helps me stay motivated. If it wasn't for them, I don't know if I would've made it this far, especially thinking about expansion and next steps. This all has a greater picture and greater good.
Are there ever issues around language barriers?
Because of the way we're set up, the language issue has kind of worked itself out. The job was designed to be super-simple, so it could be explained by modeling. It's not like there are never struggles, but if we ever have something we can't work out in English, at least with our Congolese workers, their levels of English are different, so sometimes it can be shared in their heart language. And we can have a translator come in, if we really need to.

Each of the women have different goals. Two of the women are working on citizenship, two of the women are illiterate even in their given language. We have a helper who comes in a few days a week to do more one-on-one work with the women who need it. We're still working on very basic English learning for the most part, but we want to provide other kinds of assistance, as well.
Ed [one of The Stroopie Co.'s original founders] still lives in Lancaster, and runs an English school for people who need an in-between step before college. When the women here are ready for the next step, we have that resource. I know there are a lot of challenges with resettling, but if you can have a grasp on the language, that will help you acclimate a lot easier.
What are your goals for growing and expanding The Stroopie Co.?
One of our thoughts is: Could we just start these Sweet Shoppes in different spots that could do exactly what we're doing, but do it multiplied? There might be a central hub where they could send the ones they didn't sell for distribution. In Holland, most of the companies are either getting huge machines that make thousands of stroopwafels an hour … do we want to go that route? In a spot like that, we could do things like on-site childcare, which is a real barrier for young moms. That's one of my big passions. It's just yet to be seen. Our goal now is to get a few prototype working spots, like Lancaster Marketplace and the Sweet Shop. We also did a very small kiosk in our local mall over the holidays. But our main concern right now is how to sell the Stroopies the women are making and how we keep expanding the manufacturing jobs, because that's where we can best accomplish our social mission.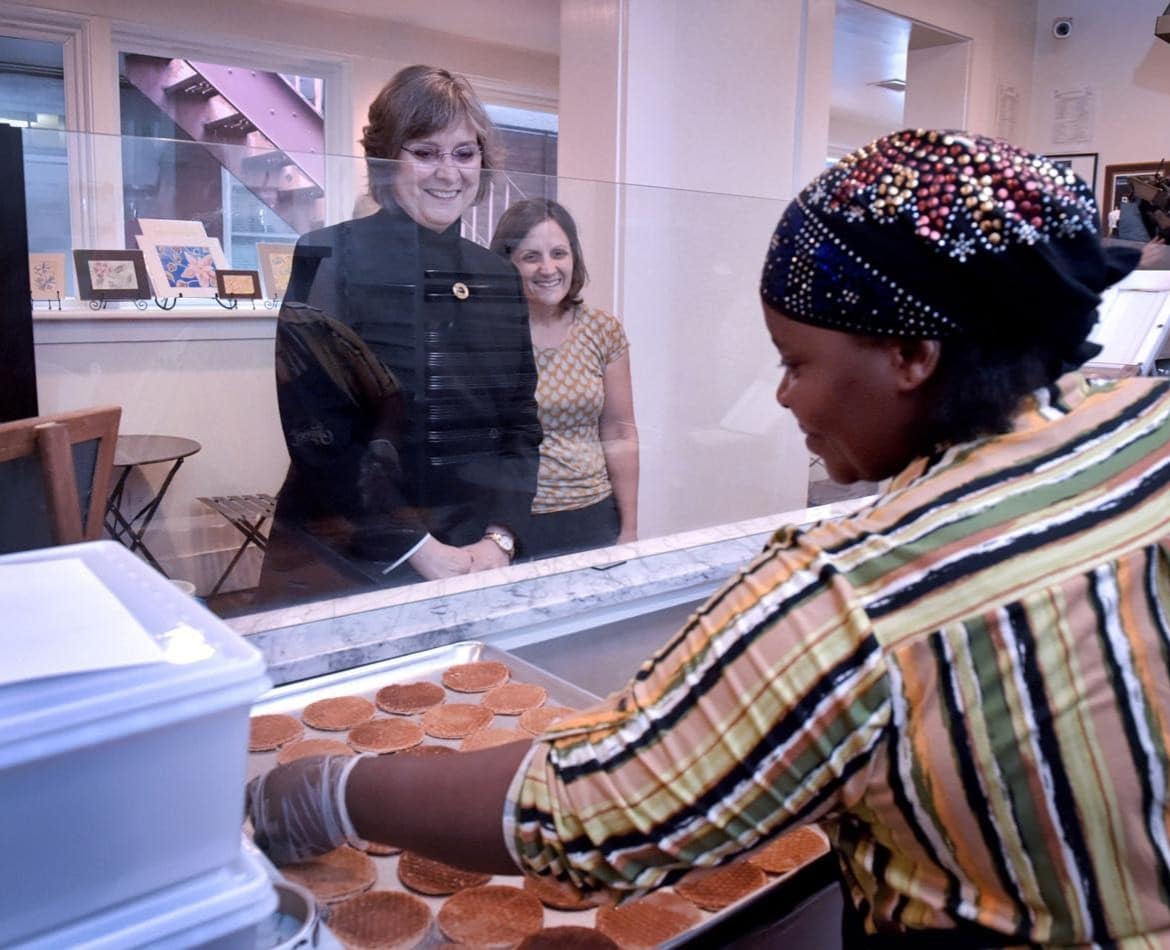 Thanks so much to Jennie for sharing the amazing story behind Stroopies. We are amazed at what this homegrown company has been able to accomplish, and how much heart is behind their social mission. To learn more, check out the The Stroopie Co.'s website, follow along on Facebook, or stop in and say hi in person at Lancaster Sweet Shoppe!
Lancaster Sweet Shoppe is located at 141 N. Duke St., #2888 in Lancaster; phone: (717) 869-5955.