On Monday, March 19, at the beautiful Whitford Country Club, 12 top-notch participants brought their best dessert-games forward as the Chester County Community Foundation hosted its annual Sweet Charity Event. Over 250 supporters did some socializing, browsing and, most importantly, tasting of some of the most creatively designed and executed concoctions during the sugar-filled competition.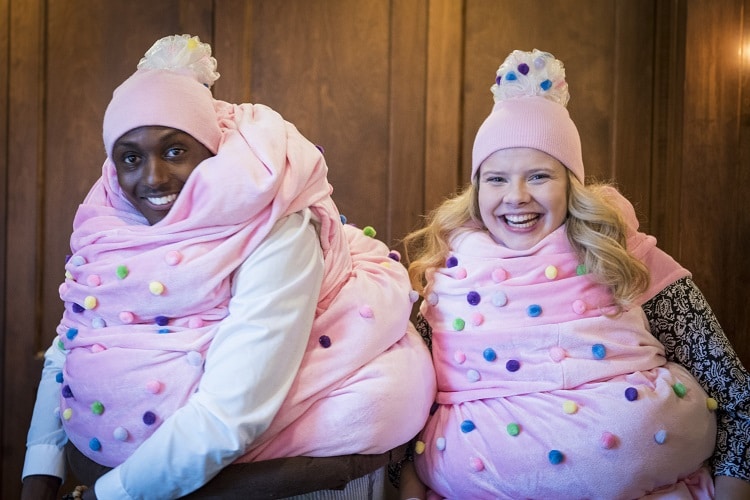 Beth Harper Briglia, vice president of philanthropy for CCCF services, said, "Sweet Charity presents a wonderful opportunity for the Foundation to bring together community members who make possible the mission to connect people who care with charitable causes that matter. We want to thank all of the wonderful restaurants who took the time and energy to contribute their fabulous desserts, as well as the patrons, sponsors and volunteers who made the evening a success."
At Sweet Charity, guests mingled over cocktails, wine, beer and coffee while noshing on meatballs, charcuterie, bacon-wrapped scallops, sesame chicken skewers and caprese bites provided by the Whitford Country Club.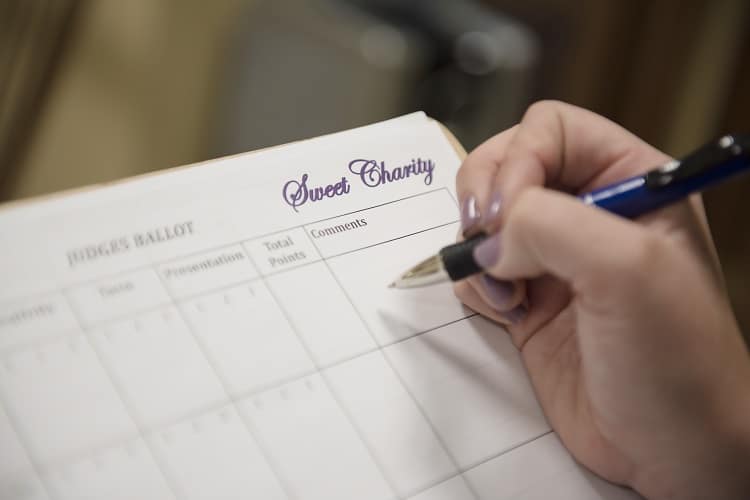 In a secluded room, three judges tasted and rated the dessert entries from all 12 presenters. Judges Dee Rogevich, who works with Women in Motion, Albert Lauber, owner of Neuchatel Chocolates in Oxford, Pa. and Ed Williams, contributor to PA Eats, Dish Works LLC and Main Line Today, compiled results. Meanwhile, guests in the banquet rooms voted for "most popular" by placing wooden nickels into boxes near each of the dessert presentations.
And the Winners Are…
Winners were announced toward the end of the evening and were presented with certificates and rounds of applause from the enthusiastic crowd.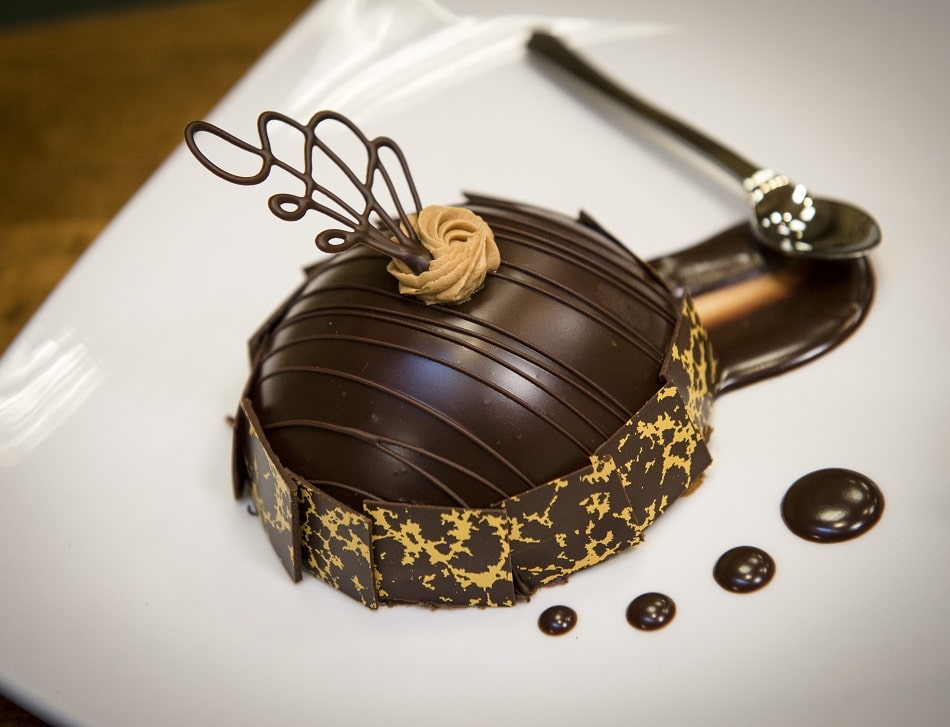 Last year's champion, General Warren Inn, walked away with the coveted top honor again this year with a decadent classic (and gluten-free) mini chocolate mocha bombe. The dessert team outdid themselves with this combination of sinful chocolate, mousse and gold-leaf accents.
Proprietor Patrick Byrne said that "the recently constructed 400-square foot pastry kitchen with new equipment may have helped inspire Pastry Chef Andy to create the guest-favorite at our historic inn. We work together to come up with a theme and then the chefs team utilizes quality ingredients and proven culinary techniques to come up with a crowd favorite." (Last year's praline pecan cheesecake was still on the minds of many of the attendees this year.)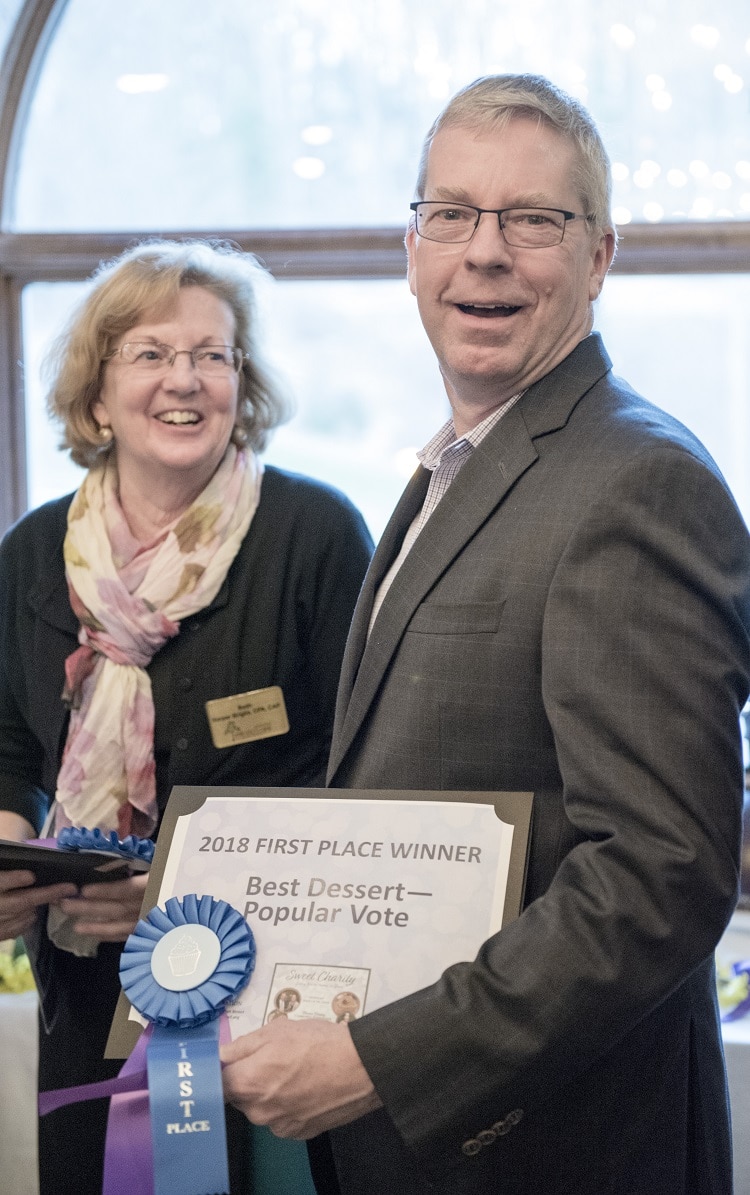 When asked why he enjoys participating in this event, Byrne noted, "The committee that organizes this event is very responsive. They appreciate and are willing to work in a partnership with the participating entrants. This is our tenth or eleventh Sweet Charity Event, and we look forward to making it a 'hat trick' next year!"
Byrne said that the classic bombe is on the current restaurant dessert menu (served with housemade raspberry ice cream). He also hinted that the spring and summer dessert menu at General Warren Inn may see a rumored creamsicle cheesecake make an appearance.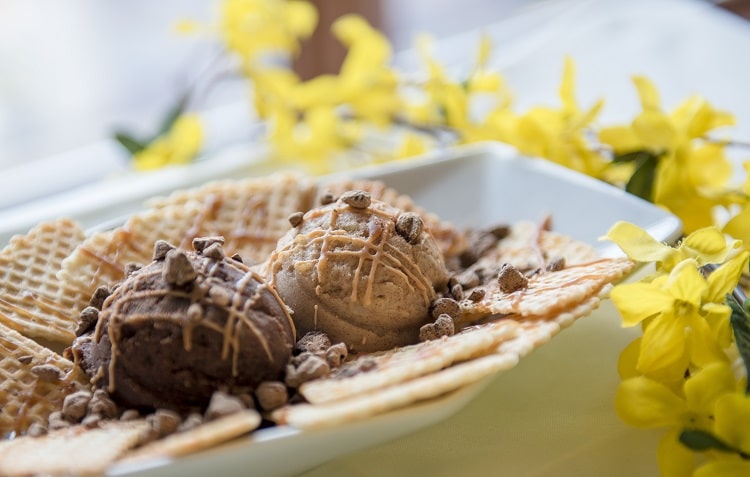 "This is our fourth year," noted Gemelli Artisanal Gelato & Dessert Cafe Owner/Chef Vincenzo Tettamanti. "We started right after we opened our doors in 2014. We won 'Most Creative Dessert' two years ago here with an apple pie sundae interpretation, and [we] decided to think more out-of-the-box this year." His wife Julianne got involved with the dream team's creativity this year and they came up with the sweet nacho sundae.
Freshly-scooped Mexican cinnamon and spicy chocolate gelato were positioned onto homemade waffle cone chips (400 of them for the event!). Drizzled handcrafted caramel sauce and chocolate shavings added the extra pop, without detracting from the complementary flavor profiles.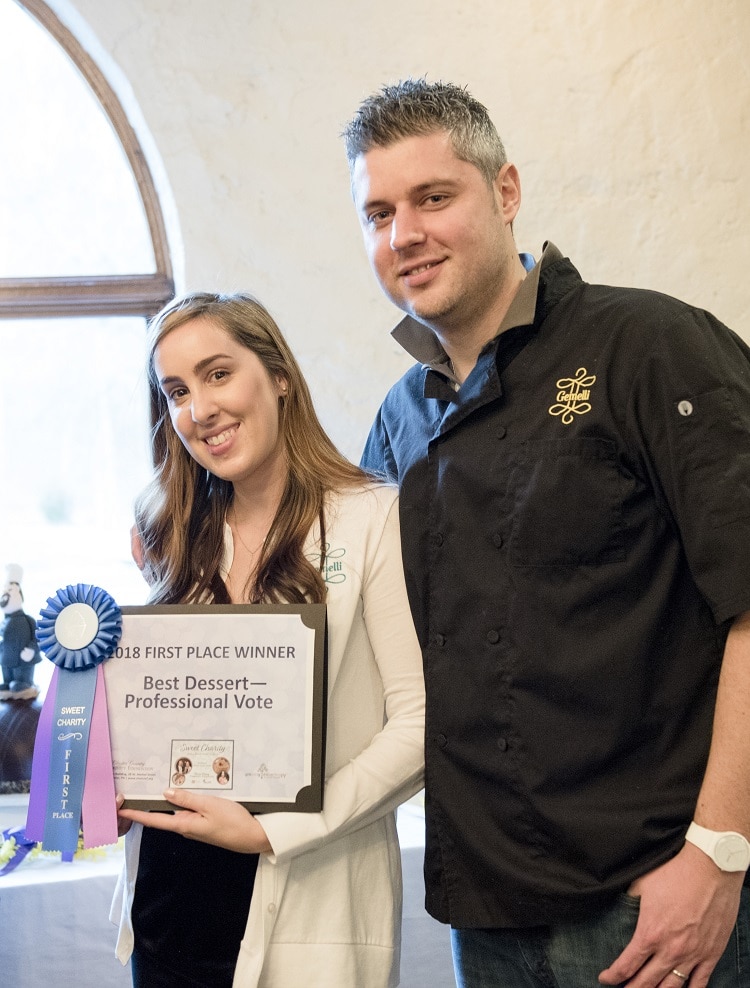 "Every year we have been honored to participate in such a wonderful charity event, " said Tettamanti. "As artisans, we always love a good challenge to push our limits and also position us in front of a different audience that might not know us or our creations. We really use the candid feedback to make our product better."
While the nacho sundae is not currently on the permanent gelato menu in the cafe, it was offered on the following weekend, and a portion of the proceeds were donated to the Foundation.
Keep an eye out for the 1948 vintage Gemelli gelato truck making the rounds at farmers markets and events in Chester County this year!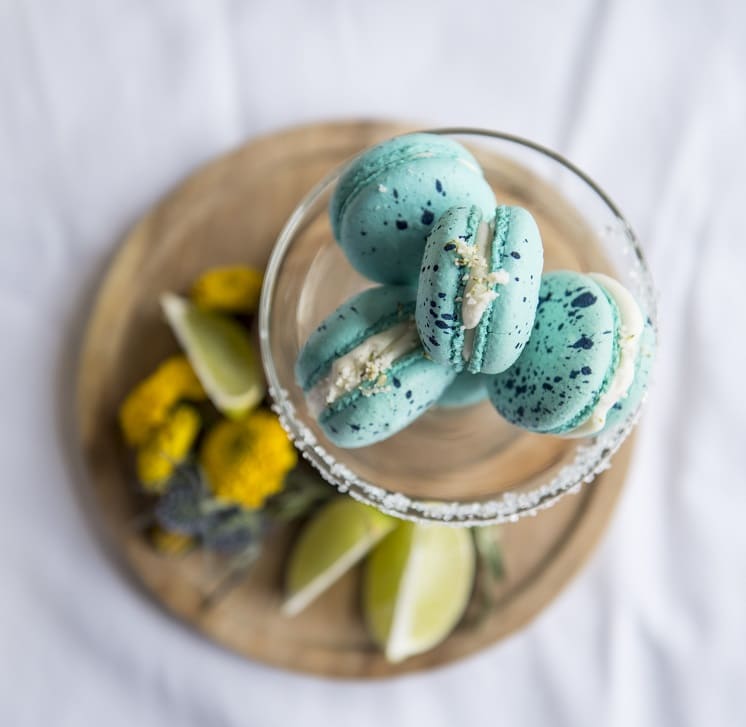 John Serock Catering knocked it out of the park in its fourth year at the event with the "Feel the Buzz" gin-and-tonic macaron. The presentation was colorful, whimsical — and who doesn't love a flavorful cocktail-themed dessert?
"The idea of a macaron came from Executive Chef Amanda Hirst and Executive Pastry Chef Melissa Jenkins. Every year we have done a dessert that is typically savory turned sweet, so this year we wanted to do a well-known and loved cocktail. Also, both chefs love gin," Chef/Owner John Serock said.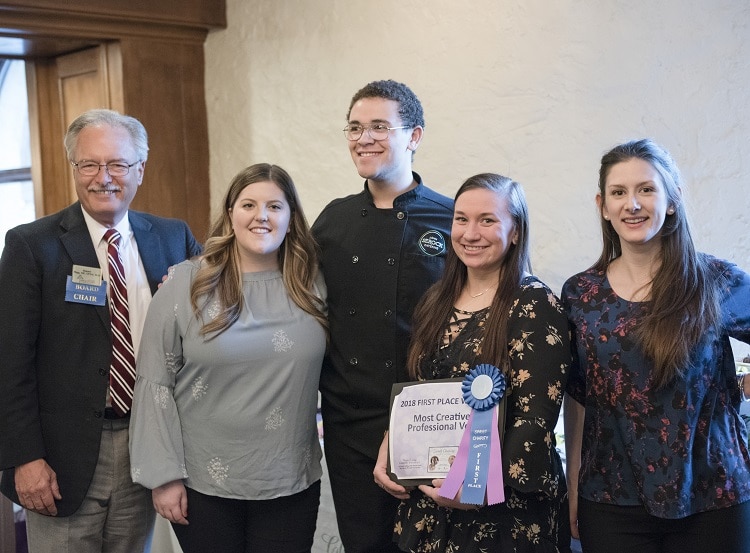 "Having always shied away from the complexities of the dessert at Serock, we realized that Amanda spent a whole semester trying to perfect the macaron in culinary school and we needed to take advantage of those skills," added Serock. "I stressed that whatever the team created, it had to wow the guests."
And "wow" it did, with bite-size aqua-colored macarons displayed in a sugar-rimmed mini cocktail glass for the judging portion. The airy and crunchy consistency was fun, summery and had the subtle flavor of a freshly stirred gin and tonic.
Serock said, "The reason we enjoy this worthwhile event is twofold: We've had the opportunity to work with many of the nonprofits that benefit from the Community Foundation before we even started doing this event. When we were first asked to participate it was an easy decision to make the commitment, since it directly benefits many of the underserved in our community. The second reason is because this event is held in March when we are coming off of our winter lull, so it gives our pastry department an opportunity to come up with new dessert ideas for the coming season."
Additional 2018 Entries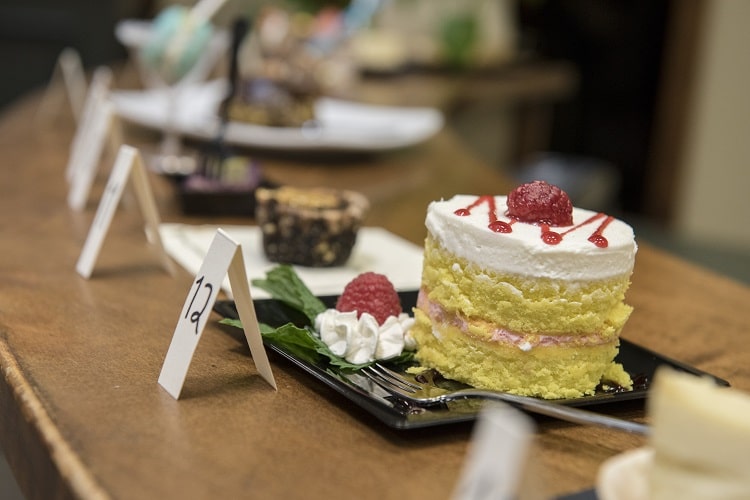 While the businesses listed below may not have claimed a top award this year, they were, without a doubt, on their best game with a slew of fun, creative and tasty presentations:
A special volunteer shoutout to Susan Johnstone and the Abbes and Friar Societies from WCU for making things run smoothly at Sweet Charity, and thanks to all who made the evening enjoyable.
The Chester County Community Foundation holds over 350 individual, family and nonprofit charitable funds in trust and annually awards over $2.5 million in grants and scholarships. For more information on its work with individuals, families and nonprofits to grow legacy philanthropy and to increase awareness of community needs, call (610) 696-8211 or head to its website.