Thanksgiving, for many of us, is a holiday enhanced with a drink in hand. If you're hosting, the hours spent cleaning, prepping, cooking, smoothing over family misunderstandings and generally just trying to keep things under control are a Herculean feat. If you're a guest, chances are you've spent a good part of the day suffering through airport crowds or highway traffic, only to be confronted with a day-long hang with family members, some of with whom you may not get along. Or, if you're keeping it low key with a smaller gathering or a quiet meal at home, drinks are nice for those occasions, too.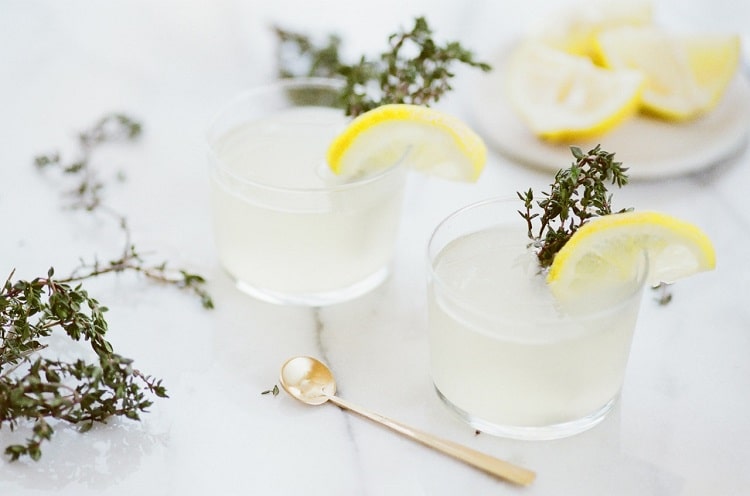 We asked some of our favorite Pennsylvania-based distilleries and craft spirit companies to share recipes for Thanksgiving-ready cocktails, and wow, did they deliver! Take a look below and start assembling ingredients for one of these delicious, seasonal libations. If you're attending someone's Thanksgiving as a guest, consider bringing a bottle as a host gift. What host wouldn't love to know that cocktails are all taken care of for the day?
Mix up a batch — not too strong, mind you — of spirited sips for that happy-hour lull, when people are arriving, wearied from the road and ready to loosen up. Wine, beer and cider are great for dinner, but when it comes time for dessert, a well-paired cocktail is impressive. And, of course, by the end of the evening, a night cap is often a welcome reprieve.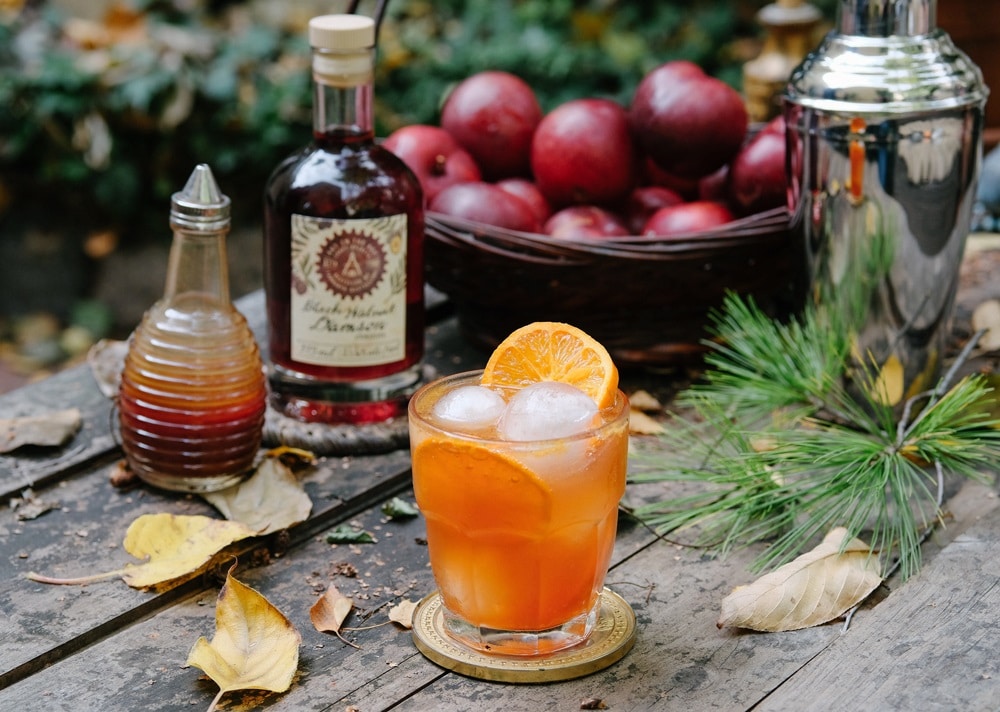 Art in the Age of Mechanical Reproduction rocked the local mixology world when it released its first line of spirits, Snap, Root, Sage and Rhubarb, in 2009. Though those flavors are now discontinued, Art in the Age continues to expand with spirits made at its distillery, Tamworth Distilling, in New Hampshire. Today's flavors are reminiscent of eras past, when foraged flowers, roots, herbs and fruits were mixed and distilled to create cordials, spirits and potions. The Black Walnut Damson Cordial is the perfect example: jammy Damson plums and smoky, sweet black walnut leaves combine to create a woodsy concoction with notes of leather and tobacco. One of these cocktails by a crackling fire sounds like it would be just right for Thanksgiving Day! Pick up a bottle at AITA's shop and tasting room in Old City, Philadelphia.
Makes 1 cocktail
Ingredients
1.5 oz. AITA Black Walnut Damson Cordial
Juice of 1 clementine
3–4 dashes herbal bitters, such as DRAM Wild Mountain Sage Bitters
Soda water
Method
In a rocks glass filled with ice, add Damson Cordial, clementine juice and bitters.
Stir to combine and top with soda water.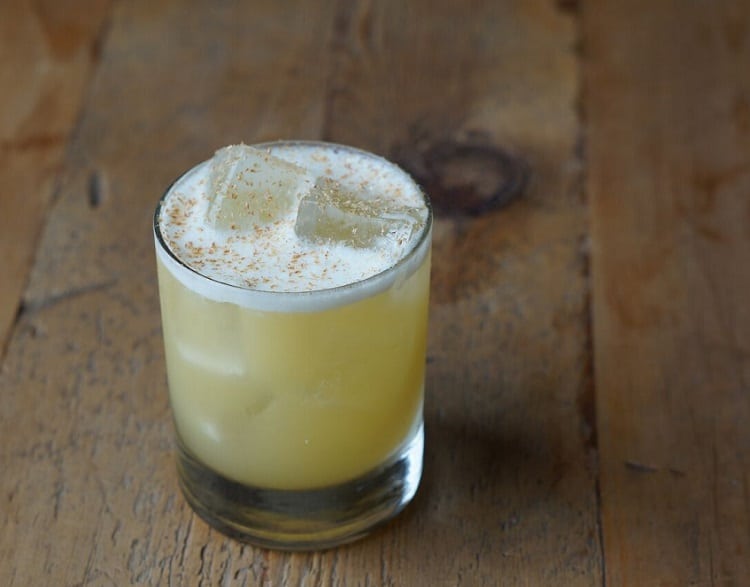 We're huge fans of any cocktail with apple cider — and there are only a few months out of the year when it's seasonally appropriate—  so why not go for it on Thanksgiving? Try this drink, made with Phoenixville-based
Bluebird Distilling
's smooth 
Dark Rum
 at dessert, paired with apple crumb pie. Though the cocktail includes some sweet ingredients, the rum, which is aged in bourbon, rye and wheat whiskey barrels, keeps it balanced with notes of vanilla, brown sugar, toffee and dried fruits.
Makes 1 cocktail
Ingredients
1.5 oz. Bluebird Distilling Dark Rum

 

1 oz. apple cider

 

.75 oz. cinnamon-vanilla syrup

 

Pinch of fresh mint

 

2 dashes Angostura Bitters

 
Method
Muddle the mint in the bottom of a cocktail shaker.
Add the rest of the ingredients and shake.
Pour over ice in a rocks glass and garnish with grated cinnamon.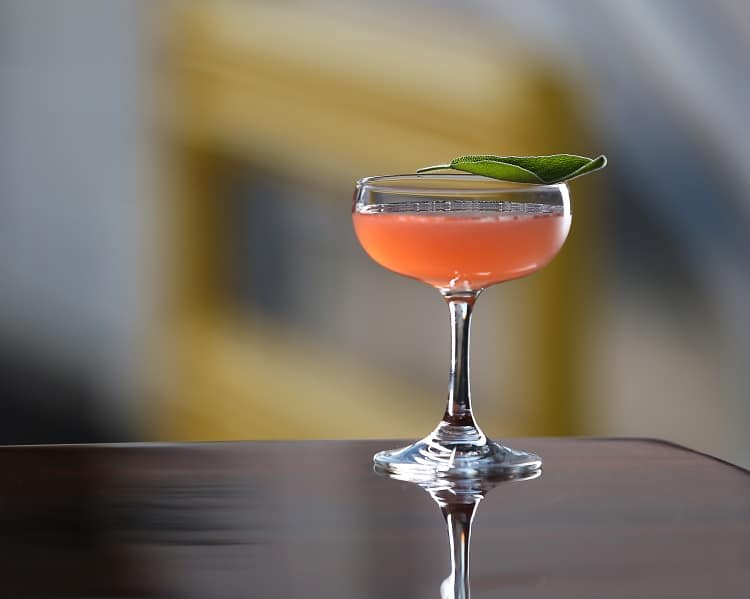 This tart, refreshing cocktail harnesses two familiar flavors of the season: cranberry and sage. Don't even think about using synthetically flavored cranberry vodka for this drink — Boardroom Spirits' FRESH Cranberry Vodka is the real deal, letting the delightfully sour punch of the fruit really shine through. You won't find any additives in this carefully crafted spirit, made at Boardroom's distillery in Lansdale, PA. It's just award-winning vodka and organic unsweetened cranberries.
Makes 1 cocktail
Ingredients
1 oz. FRESH Cranberry Vodka
1.5 oz. Boardroom Gin
.5 oz. sage simple syrup*
.25 oz. fresh lime juice
Method
Combine all ingredients in an ice filled shaker.
Shake until well chilled and double strain into a coupe glass and garnish with a sage leaf.
*Sage simple syrup method
Heat equal parts water and sugar and a handful of fresh sage leaves until sugar dissolves.
Remove from heat and let the ingredients cool for 45 minutes.
Strain the syrup and discard the sage. Refrigerate syrup in an airtight container.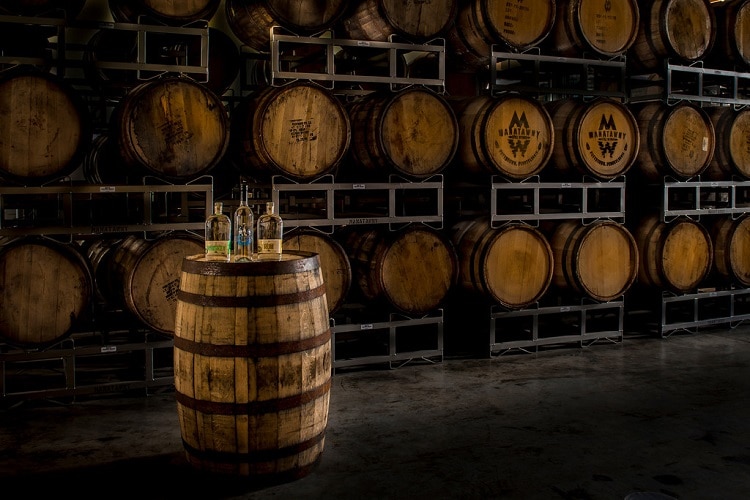 Known for a stellar barrel-aging program, Manatawny Still Works, which was founded in 2014 in Pottstown, Pa., has had a busy couple of years, with a bottle shop on Passyunk Ave. in Philly, and another in Suburban Station. This snappy little cocktail plays on the traditional Dark & Stormy, with American Gold Rum, a touch of sugar and a dash of lime juice. This enlivening combination makes for a great brunch drink, too!
Makes 1 cocktail
Ingredients
2 oz. American Gold Rum
.25 oz. simple syrup
.5 oz. lime juice
Method
Shake all ingredients in a shaker.
Pour over a rocks glass filled with ice, and top with ginger beer.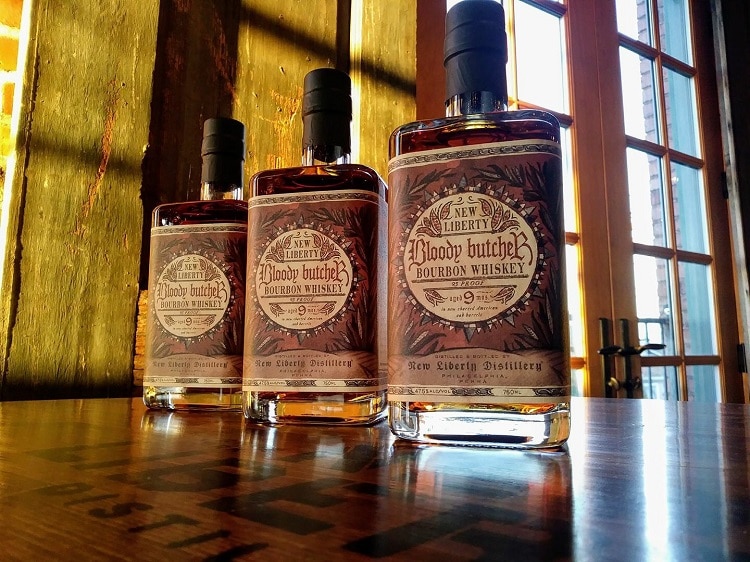 You know what's a real winner on Thanksgiving? Batch cocktails! Sometimes, playing bartender is fun, but it can be too much to manage if you've got a lot of other things going on throughout the day. Mix up a pot of this wine-spiked cider, ladle it up into mugs and add a nip of New Liberty Distillery's Bloody Butcher Bourbon to each cup. To keep thirsty guests out of the kitchen, make the cider in a slow cooker with the bourbon and a few mugs beside it, and encourage people to serve themselves.
Makes approx. 20–25 servings
Ingredients
1 orange
1 lemon
2 teaspoons cinnamon
1/2 bottle of your favorite Sauvignon Blanc
1 gallon of apple cider
1 bottle Bloody Butcher Bourbon
Method
Combine all of the ingredients, except the bourbon, in a pot on the stove or in an electric slow cooker. Heat to your desired temperature.
Pour one-ounce of Bloody Butcher Bourbon into your mug or cup and top with a ladle of warm cider.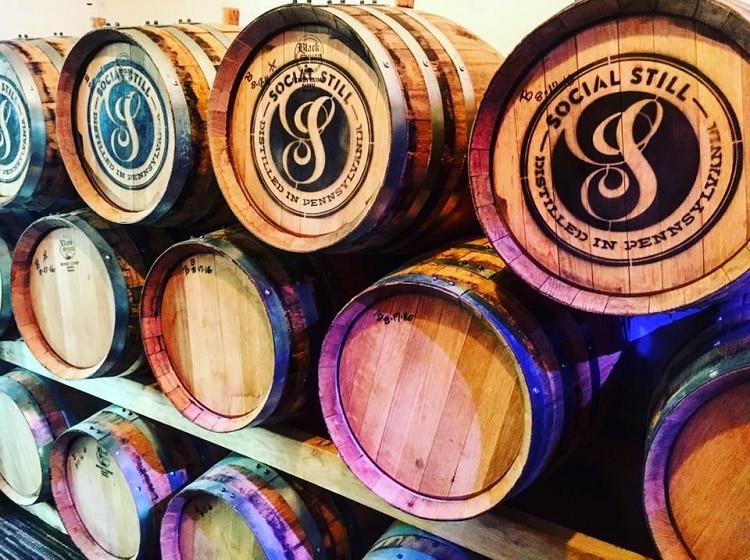 Social Still, based in Bethlehem, Pa., crafts its line of ultra-premium spirits using many GMO-free, organic, Pennsylvania grown grains. Its White Witch aged rum is barrel-aged for a year in used rye whiskey barrels, then spiced with a heady blend of cinnamon, orange peel, vanilla and anise. Sounds similar to the ingredients in pumpkin pie, right? If you're making a pie this Thanksgiving, save a bit of the pumpkin puree for this decadent and delicious drink. The pumpkin's autumnal vibe is met with a tropical kick of ginger, coconut cream and rum.
Makes 1 cocktail
Ingredients
1 heaping tablespoon of pumpkin puree
.5 oz. ginger simple syrup
1 oz. coconut cream (Coco Lopez is a recommended brand)
2 oz. Social Still Spiced Rum
Method
Shake all ingredients with ice in a cocktail shaker.
Strain into a coupe glass and sprinkle with nutmeg to garnish.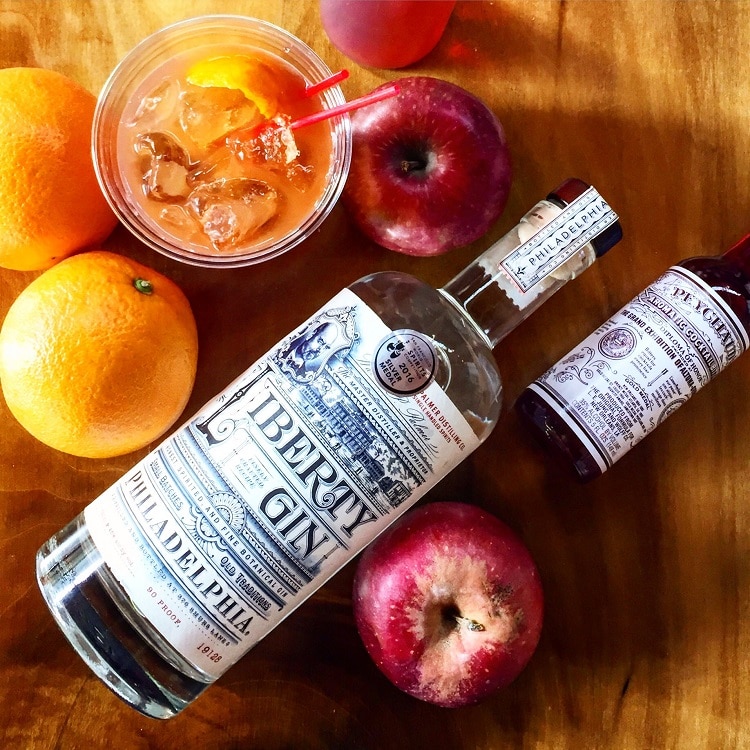 Apple cider tends to get paired with brown spirits, like rum and bourbon. We like this creative take from W.P. Palmer Distilling Co., a craft distillery founded in Manayunk in 2014, which uses its award-winning Liberty Gin instead. The gin's nuanced flavor comes from an Old Dutch recipe, combining six botanicals with 100% spring water from the mountains of Pennsylvania, distilled on a 18th Century-style copper pot still. This will be lovely paired with a pre-dinner cheese and charcuterie plate.
Makes 1 cocktail
Ingredients
Apple cider
Dash of cinnamon syrup (recipe below)
Dash of Peychaud's Orange Bitters
1–2 oz. Palmer's Liberty Gin
Method
Fill a rocks glass with ice and pour in apple cider about 3/4 to the top.
Add a dash of cinnamon syrup, a dash of Peychauds Orange Bitters and the Palmer's Liberty Gin and stir.
Garnish with orange peel, or apple or orange slice.
Cinnamon Syrup Method
Combine 2 cups of water, 4 cinnamon sticks and 1 1/2 cups of white sugar in a saucepan.
Bring water and cinnamon sticks to a boil, turn down and simmer for 10 minutes.
Strain out cinnamon sticks, then bring back to a boil, then add sugar stir until dissolved.
Remove from heat to cool.
Pittsburgh's highly celebrated Wigle Whiskey has an impressive line up of rye whiskeys on offer. There are familiar options, such as its PA Straight Rye with notes of cinnamon, clove, walnut, black tea and pepper, and more out-there picks, like Sherry Cask Finished Rye, which features more fruity, berry-forward flavors. Whatever suits your tastes best, try this Whiskey Sour variation that employs bright citrus to amplify the nutty and deep flavors of the whiskey.
Makes 1 cocktail
Ingredients
2 oz. Rye Whiske
0.75 oz. lemon juice
0.75 oz demerara sugar syrup
2 dashes Wigle Organic Aromatic Bitters
1 Egg white
Method
Carefully measure all ingredients in a cocktail shaker (no ice). Vigorously shake without ice until everything is incorporated. Add a generous scoop of ice and shake again until chilled.
Strain into a chilled coupe glass, and garnish with 2 drops of bitters on top.
We hope you have a wonderful — and not too stressful — Thanksgiving, everyone! Please remember to imbibe responsibly.
Lemon cocktail photo:

Pexels

Other photos courtesy of:

Art in the Age, Bluebird Distilling, Boardroom Spirits, Manatawny Still Works, New Liberty Distilling, Social Still and W.P. Palmer Distilling Co.

Feature photo:

Boardroom Spirits