As part of our Greens + Grains theme, we're interviewing a series of local pizza makers. If you know someone who should be featured, hit us up at [email protected]. 
To us, pizza is so much more than a tasty snack. Whether you're a traditionalist, love wild and experimental toppings or request a gluten-free crust and vegan cheese, pizza is a soul-soothing, life-giving, occasionally mind-altering food. Pizza is everything. So, we decided it was time to get to know the people behind the perfect pies in our neighborhoods.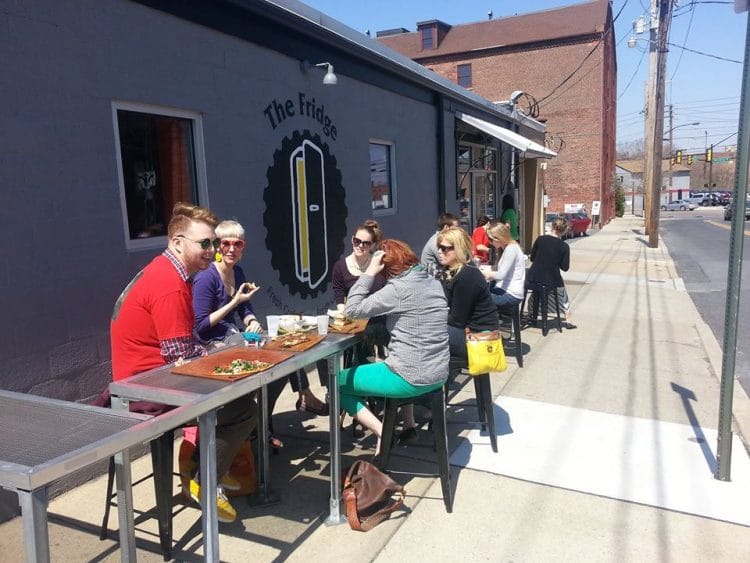 We recently caught up with the guys at The Fridge, Lancaster's go-to killer pizza (and equally-as-killer craft beer) spot. We sat down with founder and co-owner Kevin Brown, and head chef/kitchen manager, Matt Glassmyer to chat about their life long love affairs with 'za:
PA Eats: How long has The Fridge been around?
Kevin Brown: We opened our doors in 2011. It will be seven years at the end of August.

Matt Glassmyer: And I joined the team in October of 2012.
Have there been any big changes in those seven years?
Kevin: The biggest change has been in the growth of food, actually. We started out thinking we were going to be a beer place with a menu simply to fulfill the restaurant license requirements. We wanted to do something really good, and our options at first were limited to pizza and a few other things. But over time, our menu has expanded significantly.
What did the opening menu look like?
Matt: It was six pizzas and a soup. And maybe a salad.

Kevin: When we opened, it was me and one other guy. I made the dough myself. We had no idea the food demand was going to be as high as it was. We thought we were going to make X amount of pizza, and then we were done. But the public was like, "no you're not!" On the first day we were opened, we sold out of what we'd prepped in 30 minutes.

I had this arrogant mindset that we could make 50 pies a day, and when we sold out, we were done for the day. We would have been stupid to turn away that revenue. We had to really quickly adapt our plan.
How long did it take for you to figure it out?
Kevin: It took a year to really get it. The best thing that ever happened was when I went to Mandros around the corner in a panic grabbing pizza ingredients, and Bill [the owner of Mandros] grabbed me by the shirt and said, "You get your [expletive] together, and you get it together fast."

It's not just quantity that's increased, it's also quality. Attention to detail. Consistency. We put out a lot of pizza.


What's the hardest part about making awesome pizza?
Matt: The hardest part for us back in the kitchen is that the menu rotates so often and we try to keep it exciting and as seasonal as possible. Sometimes, you get to the point where you're just like, "What am I going to make? What can I do to make it exciting and make people keep talking about what we're doing here?" And that has been truly the only hard part about making pizza.

Kevin: What about the factor of hand rolling all of the dough? I mean, we got that down now, but is that not even a challenge anymore?

Matt: All of the dough is hand rolled mainly by two people, and between them, they roll Monday through Friday. And more often than not, on Saturday night, I check the stock and we always need more. It's hard to keep up with volume. Because the dough is hand rolled, they're not all perfect: They rip in the oven, they have thin spots that burn faster, they have holes before they even get sauced.
But isn't that part of the beauty?
Matt: It is. Every pie is unique in that sense.

Kevin: It still is a handmade product.
What's the compliment you hear most often?
Kevin: I get a bunch of people from Connecticut that say our pizza rivals the best of the best in their hometowns. When I travel through there, I make an intentional effort to stop there.

We also get a lot of compliments on the healthy pizza options that are loaded with veggies.
Out of all of the pies you've ever made, what is the one that people are still talking about?
Kevin: I guess it would be the kale and mushroom.

Matt: And then for a specialty pie, probably the smoked salmon pizza. That was a dill cream cheese base, the crust was seasoned like an everything bagel and topped with smoked salmon, cucumber, red onion, capers and micro greens and served at room temp. It tasted just like a bagel.
How do you dream up a pizza?
Matt: We always look at it like, what would this delicious plate of food look like on a pizza? Why don't you just eat it all at once on a piece of bread? And then the addition of cheese makes everything good.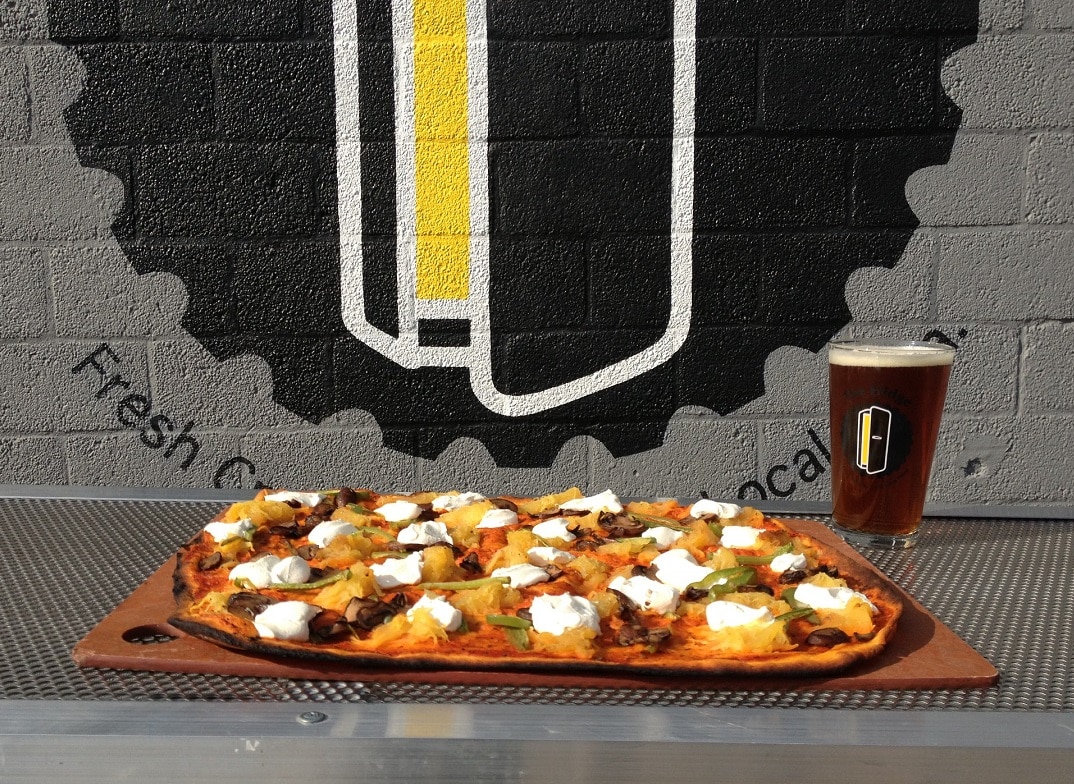 What's your favorite pizza evolution of the past decade?
Kevin: I like going back to a more traditional style … with more and more wood burning pizza places. We have that in our mobile unit. There's nothing like it.

Matt: I would agree. I like a simple pizza. I like a cheese pizza.


What kind of pizza did you eat as a kid?
Kevin: Papa Dino's pepperoni pie, out by Park City Mall. Just traditional. There was no other pizza around here back then. Or the boardwalk pizza at the Jersey Shore.

Matt: I grew up across the street from Caruso's in Neffsville, so that's what we always ate. I was just thinking about a Caruso's cheese pizza this morning. When it was super cold outside, we would keep the leftover pizza in the garage. But we had this cowbell on the garage door, and my mom would always know when I was sneaking out to get a slice in the middle of the night. I'll go to Caruso's to get a sub, and get a pizza for later. That's good pie.
What's currently your favorite topping?
Kevin: I really like the spicy meats we get from Mandros: coppa, soppressata, prosciutto. I love that kind of stuff.

Matt: I would agree. I love that hot soppressata.

Kevin: It's super thin, curls up, gets a little crispy on the edges. It's classic.
What's one of your pizza secrets?
Kevin: Our secret is the dough. I made up the recipe and tweaked it and tweaked it until I got it right. I don't even remember the source of the original recipe.

Matt: It's also a unique combination of our water, the air in the kitchen, the rolling pin. It's always going to be unique. We also use really good ingredients.
What's up with the rolling pin?
Kevin: It was in my wife Linda's family for 150 years. Her great great grandmother used to make pies with it. It's a single piece of carved maple from New England. And that's what we use.

Matt: We roll every pie with that rolling pin.
What's your "desert island" pizza?
Kevin: Frank Pepe in New Haven, CT. Pepperoni and sausage, that's it.  And from The Fridge, it would be anything with soppressata.

Matt: I went to Chicago on tour with my band, and we loaded into the venue, Subterraniuan. We asked the guy where we could get some of that classic Chicago pizza. And we were told the best place was Dimo's, right around the corner. And we walked in and it was thin crust pizza. It was a Chicago version of this place, because they had weird stuff: mac and cheese pizza, green bean casserole, general Tso's, chicken and waffles. It was so crispy and delicious. And they had Pabst and Burial beer. Pizza-drinking beer.
Anything down the pipeline?
Kevin: Summer opens up a whole new playing field. The local ingredients are so good, and you can take full advantage of that.

Matt: It's very exciting going into spring and summer with all of the great produce we're able to get. We're also working with Mirror Image Farms, a local pork provider. We'll be able to bring back a lot of stuff we haven't been doing for the past couple years, as far as smoking pork and pairing it with really great tomatoes and sweet corn. And we'll have fresh local bacon to work with as well.
What's your favorite beer pairing for pizza?
Matt: I like a cold, bubbly pilsner.

Kevin: An IPA. It holds up to everything.
For more info on The Fridge, check out its Facebook and Instagram pages or stop by to try a pizza and cold pilsner or IPA for yourself! The Fridge is open Tuesday through Thursday from 11 a.m.–11 p.m., Friday and Saturday from 11 a.m.–midnight and Sunday from noon–8 p.m. Please note: The kitchen closes one hour before closing time, and The Fridge is closed on Mondays.
Find The Fridge at 534 N. Mulberry St. in Lancaster; phone: (717) 490-6825.