If you ask most breweries about what is at the center of their business identity, they'd likely say something about beer. But according to Aadam Soorma, the Head of Marketing and Guest Experience at Trace Brewing in Pittsburgh's Bloomfield neighborhood, the beer actually "takes a back seat" compared to other components of the brewery.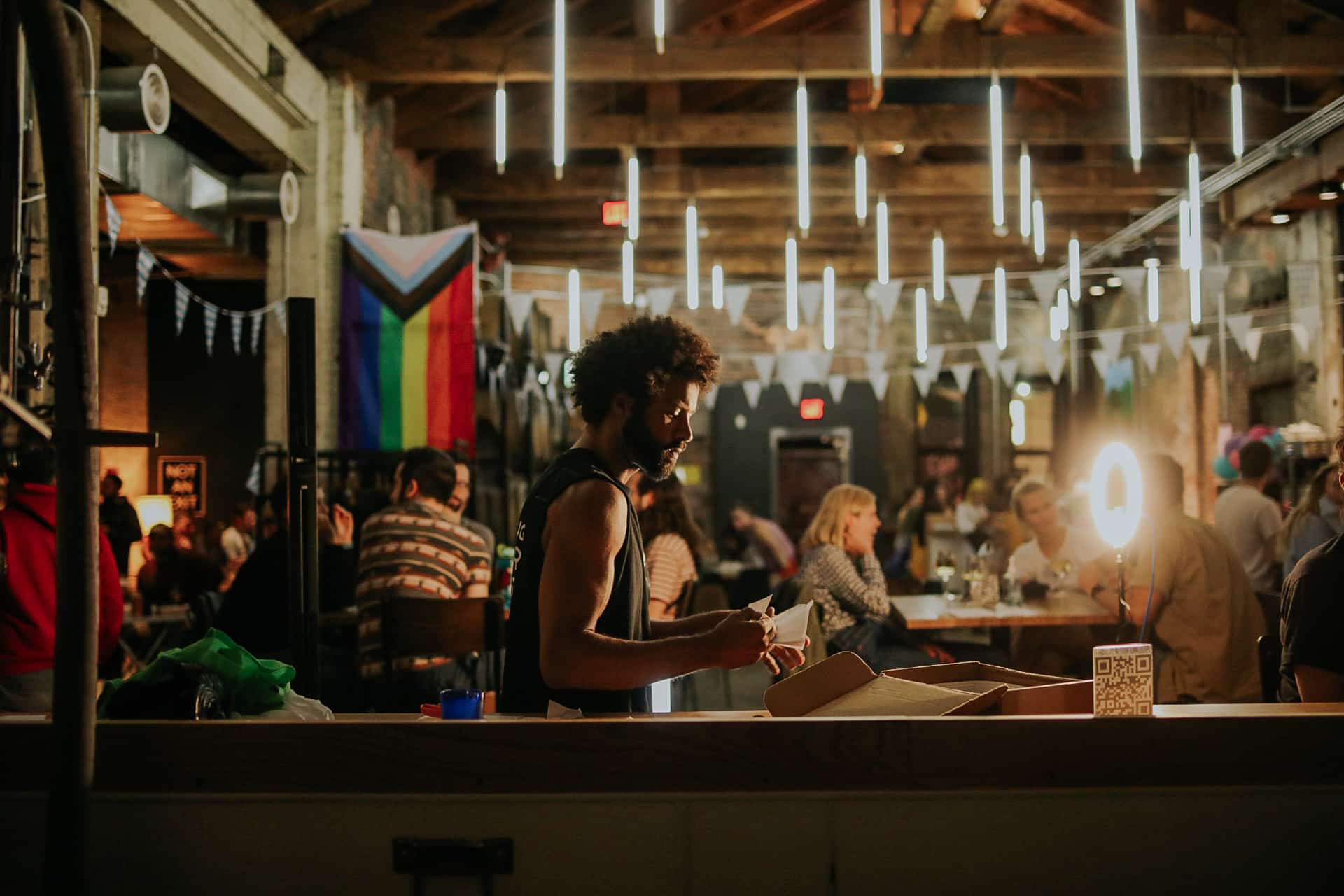 "Trace is more like a community hub that has a brewery inside of it," he says. "There's so much more than just beer here, like our coffee, art, vocational program and events that touch other parts of the community."
Soorma, who has worked at Trace since its founding in 2020, was neighbors with the brewery's founder, Dave Kushner. Kushner and his wife had moved to Pittsburgh from Somerville, Mass. (where he'd opened a successful brewery, Remnant, in 2018) to be closer to family. He and Soorma would frequently sit on their steps, sipping beer and chatting. When Kushner started talking more seriously about opening a brewery in Pittsburgh, Soorma wanted in.
Despite the massive challenges of launching a brand new brewery during the peak of the Covid-19 pandemic, Kushner, Soorma and the dedicated team that's formed around Trace Brewing, have coaxed the space into a flourishing gathering place for the neighborhood. Located in a former industrial building, Trace is a coffee shop by day, and brewery/events venue by night. It's known for being an inclusive, safe space, with a packed events calendar featuring DJs, artists and performers, that brings in queer communities, communities of color and other groups who may not historically feel welcome or comfortable in male-dominated craft beer bars or breweries.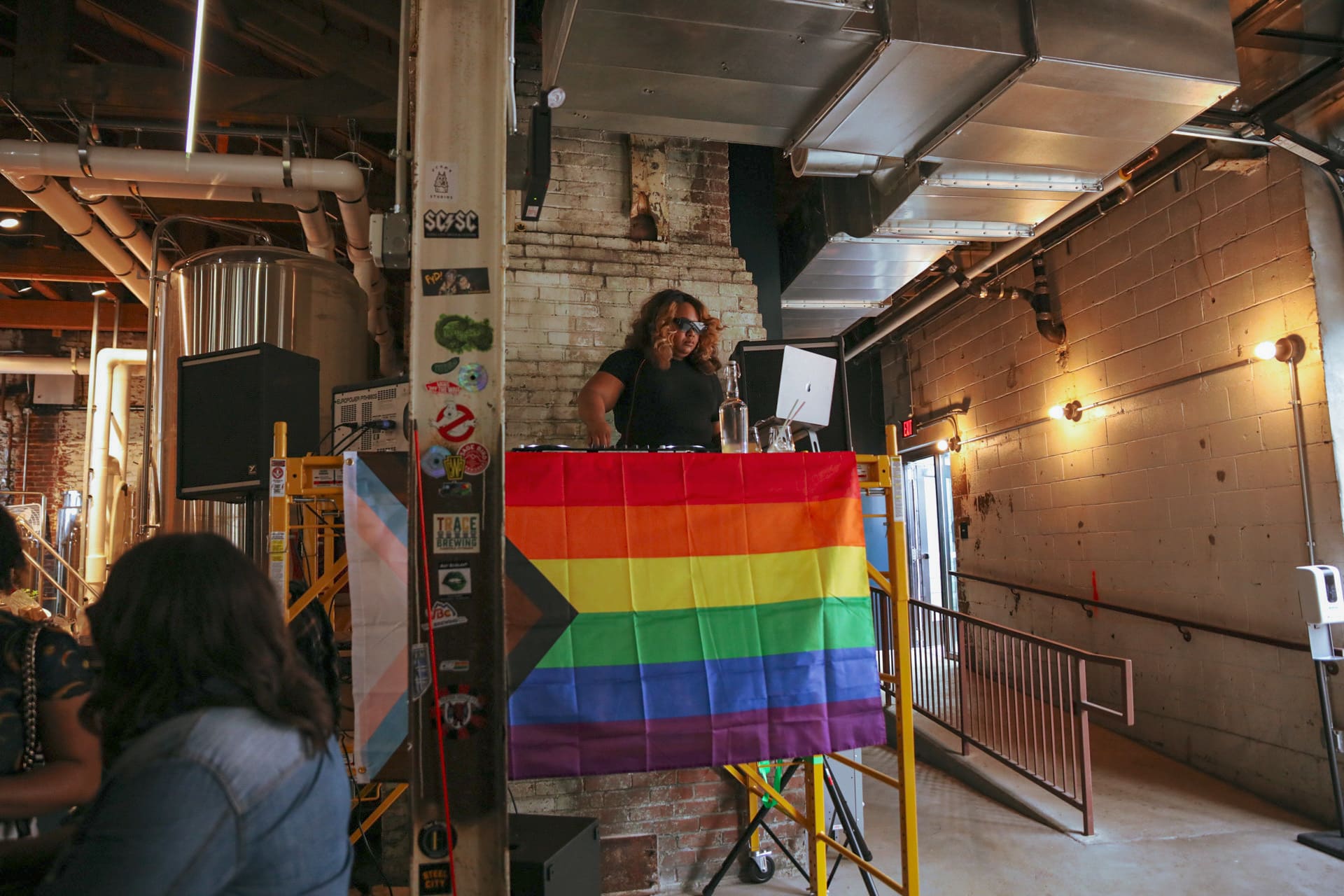 Along with Pittsburgh Pride Revolution as collaborators, Trace has also been one of the main organizers of Bloomfield Pride, a vibrant festival along their street each June during Pride Month.
We enjoyed a spirited chat with Soorma about Trace Brewing's journey, from takeout-only during the pandemic to the current full-fledged version of itself:
PA Eats: What led Trace Brewing to the building that you all operate out of in Bloomfield?
Aadam Soorma: We felt strongly about being in an urban, dense area that was bike-friendly, bus-friendly and walkable. Dave found this building we're in, which was originally built in 1900 as a brass foundry. It's so Pittsburgh! And it had a few other lives: It was a paint manufacturer, automotive shop, a black and white film photo center, and most recently from 2008-16 it was a DIY punk rock venue called The Shop. That's how a lot of people around here remember it. We got access to the building and got really serious about building it out in mid-2020.
What was it like opening as a brand-new business during that time?
Dec. 17, 2020 was the first day we unlocked the door for to-go sales. Of course, there was a lot of uncertainty then because of the pandemic. We started with our first few beers only available packaged in cans. Guests would mask up, order online and come pick up. I was inspired by other local breweries, like Cinderlands and Dancing Gnome, who made it easy to go online and buy beer. We did that system until March of 2021 when the vaccine became available, and then we opened for very limited on-site service.
What was the mood like among the staff to finally be open after operating in such a limited way for months?
There was optimism … and a little awkwardness, a little hesitation. When we think back on that era, it's a bit of a blur. As a staff, we wanted to give guests the best experience we could, but we hadn't interacted with people in awhile! But we were extremely lucky because in addition to the indoor taproom, we also have an outdoor beer garden. A lot of folks felt more comfortable with that, and as soon as the weather got nice enough to throw on a sweater, the beer garden would be pretty lit. We were starting to see what Trace could become in that little courtyard. Business was like a slow, gradual crescendo, because the number of people we sat then was only 15% of our fire code occupancy.

How does that compare to what Trace is like these days?
In the post 2021 era, we were able to open our coffee shop, which was part of the business that Dave felt strongly about. It's a very European model! We're now open 7 days a week at 8 a.m. for coffee and beer, and we typically have an event every night of the week. That includes concerts, drag performances, art nights and trivia nights. These events touch a lot of communities. Our General Manager Katie Rado thinks a lot about the communities that don't always go into breweries, which can be more straight, white and male. It's refreshing to see people feel safe and included in our space.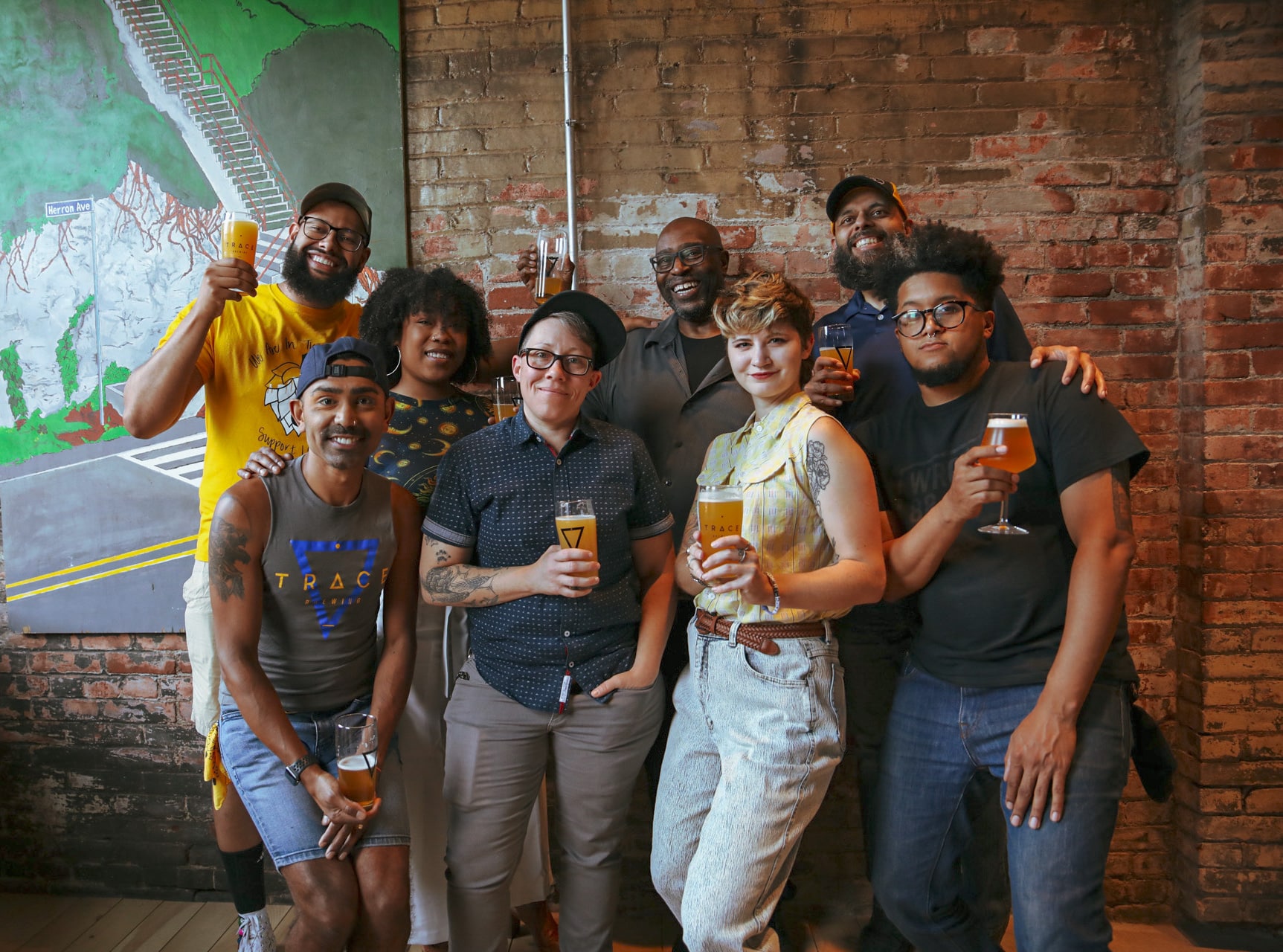 Do you think that, over time, those guests might try going to other breweries after having positive experiences at Trace?
That could be possible. We're starting to see a lot of breweries offer non-beer events, and I see that as a net-positive. If they're inspired by us, that's totally cool! My hope is that other breweries want to see diverse faces. One thing that we do is hire Black-owned food trucks, like Blowfish BBQ, or we feature a Black DJ, like Stealth, who brings break dancers with him called the Get Down Gang. So these folks that come here are supporting these other entities just by being part of the brewery. We want to get money in the hands of Black people and support minority-led businesses, not to appropriate but to actually support them by giving them the platform to do what they do, and funnel some sales their way as well.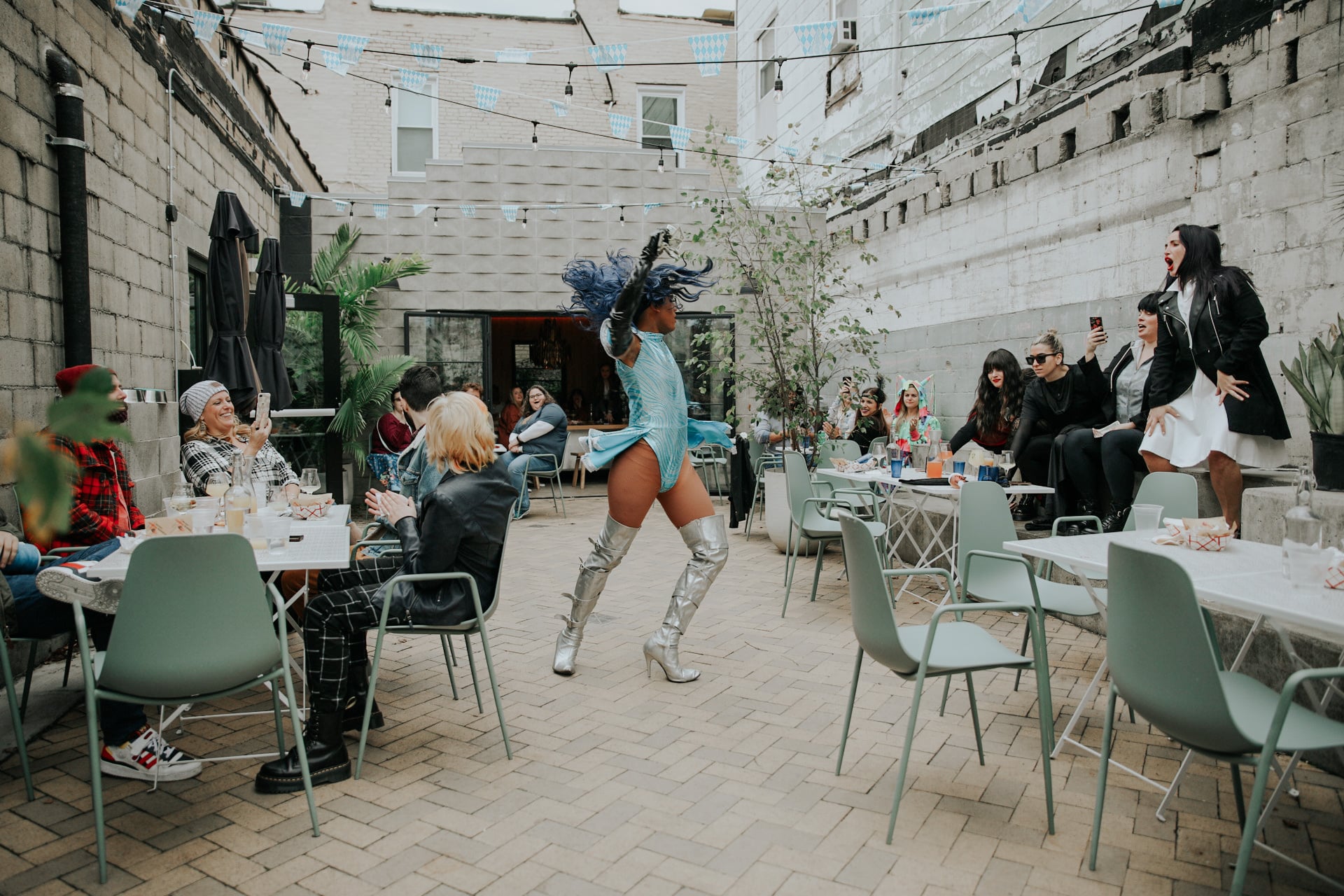 Let's talk about the annual Pride festival! That's a big day for you all, right?
Yes! Every year that we've been open, the busiest day of the year is Pride. It's become something we're known for. In 2021, in partnership with Pittsburgh Pride, we just threw a Pride party in the brewery and closed down a side street. We had some vendors, drag queens and live music. It was cute and small. In 2022, we closed down the alley and half of Main St., and in 2023, we closed down the whole entire main drag of Bloomfield! We had a 5K fun run with Yinz Runclub, where they donated all the ticket sales to a Black queer-led arts and performance organization, 2 stages, live music all day, food trucks, a live art battle and 120 vendors. Pride Revolution does Pride events all over the city in various neighborhoods, and Trace is like the home base spot in Bloomfield.
Clearly Trace does so much more than make beer, but can you describe the beer style?
Our goal is to try to have a beer for every style of drinker. We have three core styles: IPA, lager and saison, those start the basis for what you'll see on the draft board. We usually round it out with a pale ale, pilsner, sour or wild ale and something dark. There would probably not come a day here when you'd see 7 or 8 various lagers or IPAs on our list. Some breweries do that really well, and are very curated around one style. But we want to keep on something for everyone, including non-beer options like PA-made wine, cocktails, cider and seltzer.

What have some fan favorites been?
We have a house lager, a very approachable Kellerbier, that we do all year, and that's a staff and guest favorite. We also started doing hazy IPAs with different strains of hops, and last year we made a citrus-forward Orange Sap IPA. We didn't expect it to sell that well because it wasn't as dank-forward as we'd expected; it was more hazy, juicy and flora, when we'd wanted a more sticky, sappy mouthfeel. But, it just took off! People ask for it by name and wait for it when we re-release it.
Trace Brewing hosts a unique vocational program. Can you explain what that's about and how it works?
Part of our vision and focus is a six-month paid vocational program that teaches brewing. Dave started it because he felt like there's a lot of folks in our industry who look like him [a white man], and even though the US has gone from having 2,000 to 8,000 breweries in the last 10 years, there still are so few that are minority owned.

So every year we bring on two people; the first term is January through June and the second is July through December. Over each term, that person gets paid hourly at a livable wage to learn how to brew beer from Zack Colton, our head brewer. In addition to the hands-on training, we provide a curriculum with podcasts, YouTube and books for them to study. We open the application cycle every September, and we get over 100 applicants. A lot of folks really want to be part of this program, and we self-fund it, with no grants or anything.
It's so interesting to watch them grow. They touch every single part of the brewery, from cleaning to bar tending, to brewing and cellaring. The person who finishes our program is technically the most experienced person at Trace! Most job openings in brewery production ask for six months of commercial brewing experience, but how do you get that unless someone gives you a chance? We figured, let's pay some folks to gain the experience and get our backing, while prioritizing women and people of color who are generally left out. So far, we've had four people graduate, and all of them have gotten jobs in the brewing industry!
To learn more about Trace Brewing, including info on new beer releases, events and the food truck schedule, visit its website and follow them on Instagram and Facebook.
Find Trace Brewing at 4312 Main St. in Pittsburgh; phone: (412) 904-3555.
This series is made possible by support from the Pennsylvania Malt and Brewed Beverage Industry Promotion Board and grant funding from the Pennsylvania Liquor Control Board.
Photos:

Trace Brewing / Julie Kahlbaugh