"Black as the devil, hot as hell, pure as an angel, sweet as love."
Charles Maurice de Talleyrand (1754–1838), French Diplomat, on how he likes his coffee
"Our coffee will ruin you for the ordinary."
Lynn Burkholder (1958– ), co-owner of Twin Valley Coffee, on how you'll like his coffee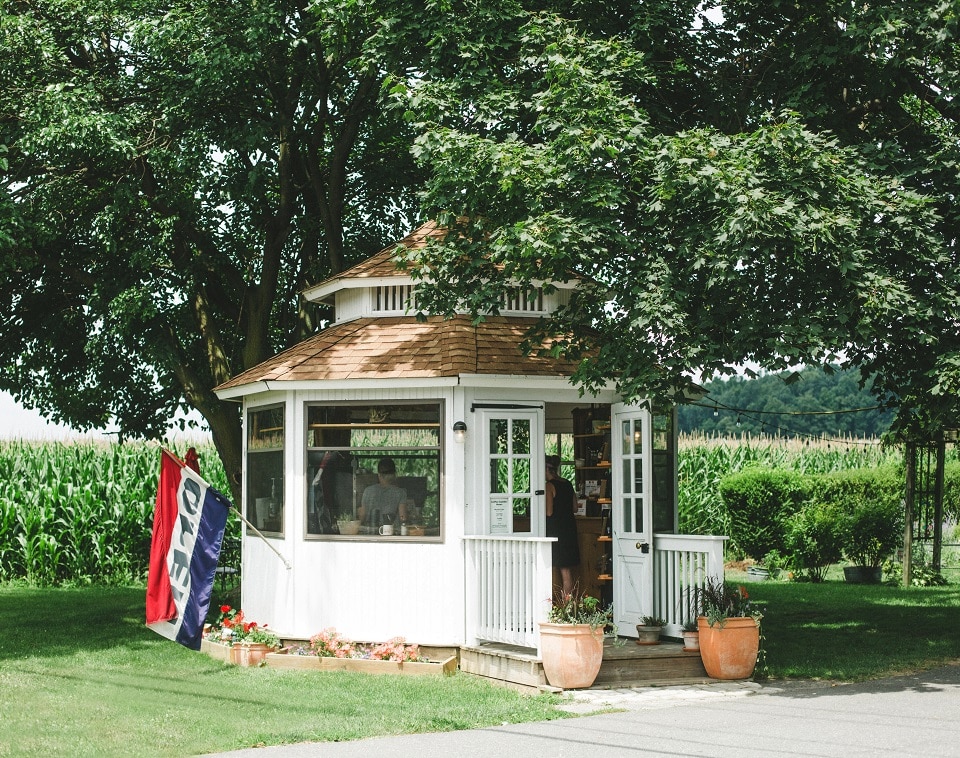 Heading east toward home along Route 23, near the Morgantown exit of the PA Turnpike, after six long hours on the road, all I could think about was a nice, hot cup of coffee to keep me going through those last few miles. I surveyed my surroundings: Off to my right was the blaring collage of neon fronting a corporatized strip center: Walmart … Sonic Drive-In … Dunkin' Donuts.
"Okay, Dunkin' it is," I sighed to myself in resignation. Personally, I'm not a DD coffee fan (to me, it lacks complexity), but my weary eyes and brain craved the quick caffeine buzz, so I hit the turn signal anyway, before pulling into the lot.
Suddenly, off to my left, I spotted a shimmer of glass pump dispensers, the kind you'd see in any upscale coffee house, through the windows of a tiny pinewood gazebo huddling cheerily along the side of the road. If the sign out front reading Twin Valley Coffee was like a mirage to me, then that adorable gazebo was my oasis.
I quickly U-turned and pulled in. Little did I know that I was about to have one of the best cups of coffee in the entire Delaware Valley (Sorry, Dunkin'!).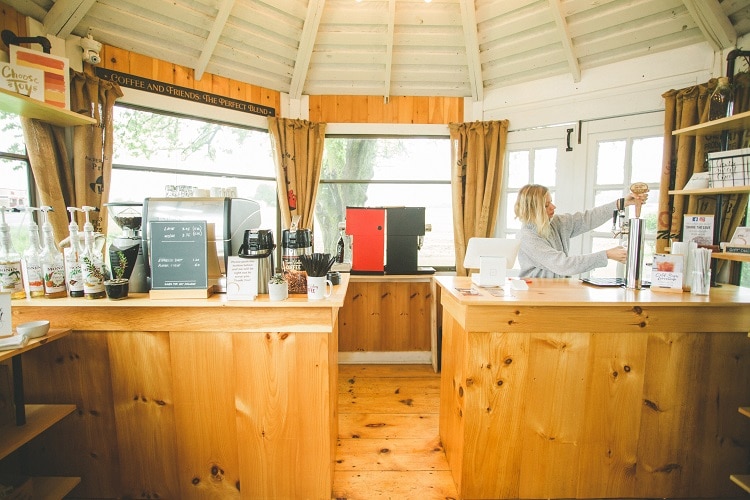 The Brains Behind the Beans
He's Lynn and she's Lynne — together they're the Burkholders, a happily married couple, 50-somethings who each share a mutual affinity for family, coffee and their Elverson community. Their affections are returned via strong sales from satisfied customers — Elversonians (especially the Twin Valley High School kids who line up in droves each weekday afternoon for their java fixes), fans from afar and jonesing passersby like me.
The Backstory
"We're entrepreneurs," Lynn stated. "It's what we do. I had started a visual marketing and commercial photography company. I specialized in trade show exhibits, graphics and interactive touch-screen computers."
"Don't forget the messenger service," Lynne chimed in.
"Oh, right," he acquiesced. "We also had a small parcel delivery company."
"Yes, I used to hop in my car and off I'd go making deliveries to businesses throughout the region. And then came coffee."
"Yes," Lynn said, smiling. "And then came coffee."
A Family Affair
Along with Mom and Dad, their six children are a vital part of the payroll: daughter Robyn serves as Twin Valley Coffee's marketing manager, while eldest son Christopher is the head roaster. Kathryn is the onsite operations manager, Geoffrey assists with producing in-store demos, Nicole helps with shipping and Jesse, who's 13, works the gazebo when he's not BMX-ing or skateboarding playfully around the parking lot.
Good from the First Drop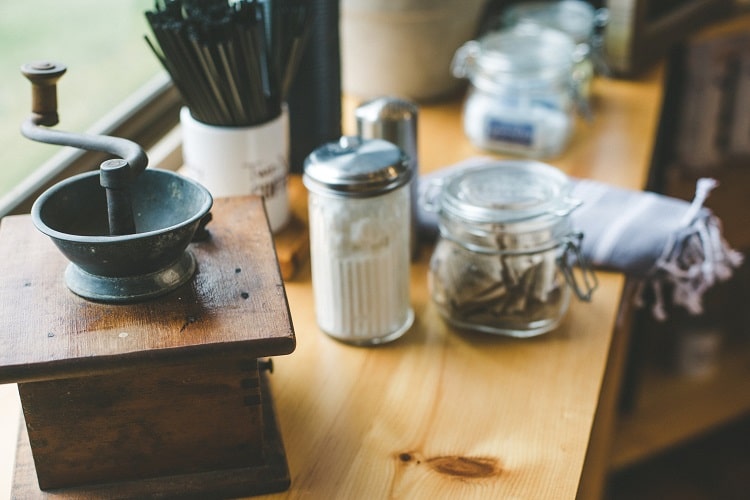 In 2004, the Burkholders had friends over for dinner — coffee aficionados who had brought some choice beans with them. "Our eyes were opened," Lynn recalled. "Till then, we had no idea that coffee could be this good."
Lynn began roasting small batches of beans in his garage, in a hot air popcorn popper. It was a fun hobby for a while; that is, until the couple began to see and taste the potential opportunities they had brewing before them.    
In 2010, Twin Valley Coffee began percolating from that very same garage, and in the summer of that year, they started selling their coffees locally at the Elverson Farmer's Market. By September, Lynn had set up a small roadside stand outside the couple's home along busy Route 23, and directly across from (you guessed it) Dunkin' Donuts.
A Hill of Beans
"We work with amazing importers, delving into their incredible stock," said Lynn. And all beans are roasted onsite.
"Fair trade is important in this business, but we're also into direct trade—buying directly from the farmer through one transaction. Our goal is to minimize the steps between the picking of beans and enjoyment by the consumer."
Twin Valley Coffee varieties include the following:
Single Origins: Brazil Santos, Costa Rica Tarrazu, Costa Rica Decaf, Ethiopia Yirgacheff, Kenya AA, Nicaragua Café Diego, Peru Chanchamayo Highland, Papua New Guinea, Sumatra, French Roast

Blends: Breakfast Blend, House, Espresso

Flavors: Jamaican Me Crazy, Scottish Grogg, Maple Walnut, Jazzy Java, Toasted Coconut Crème
Coffee Klatch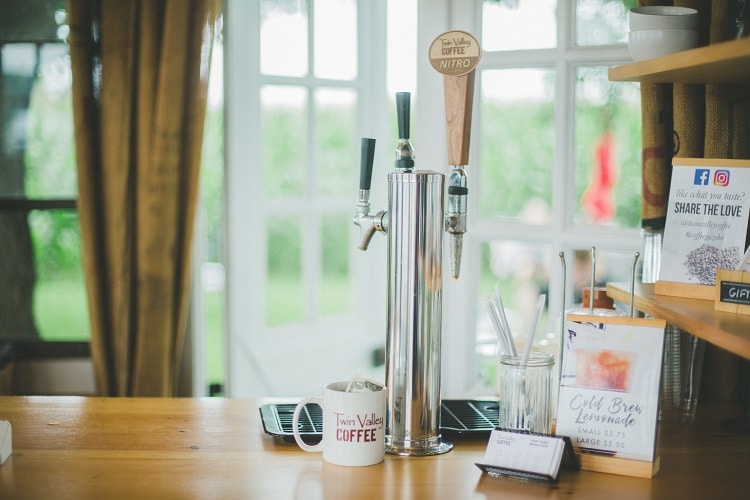 Along with finding Twin Valley's coffee for sale in the gazebo, one can also purchase its beans at area Whole Foods stores in Devon, Glen Mills, North Wales, Plymouth Meeting and Wynnewood. Amazon.com carries TVC's House Blend online, as well.
What really sets Twin Valley Coffee apart—the company's hook, if you will—is its nitro cold brew, which is served on tap at several area venues, including the gazebo and at Weaver's Market in Morgantown. It's also featured prominently at Suburban Restaurant and Beer Garden in Exton. With the smooth and creamy consistency of Guinness (that's the nitrogen in action) and possessing a similar frothy head and a deep stout coloring, the infinitely robust nitro cold brew has garnered a year-long fan base.
If the cold brew is for purists, then Twin Valley's iced toddy (nitro cold brew served with rich caramel syrup slurrying the cup, then chunked with ice cubes) is for coffee lovers with a sweet tooth. It's even more decadent when adding a flavored cream.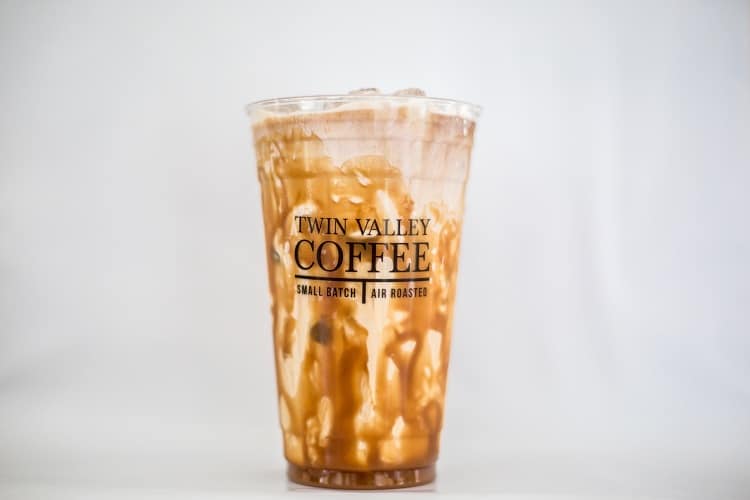 This satisfying beverage has become a serious favorite of Twin Valley. Proof to this assertion is in the peppy customers who line up happily within the gazebo each day.
Then, there's the newest addition to the drink lineup: cold brew lemonade. This pucker-y concoction's base is the nitro cold brew, floated amid housemade lemonade and topped with a slice of lemon. It's uniquely creamy (without any cream) and tangy yet smoky, all at once. "You'll either love this one or you won't," Lynn conceded. "It's not for everyone's tastes, but if you enjoy tart and you're a coffee drinker, then it's definitely for you."
Mission Statements
From helping with fundraisers and brewing strong pots of coffee for the local police and volunteer firefighters when they're in need before or after an urgent call, to supporting missionaries across the globe, Twin Valley is doing more than simply roasting, serving and selling. "Community comes first" is this family's mantra, a statement the Burkholders strive to live by each day.
Gazebo of Love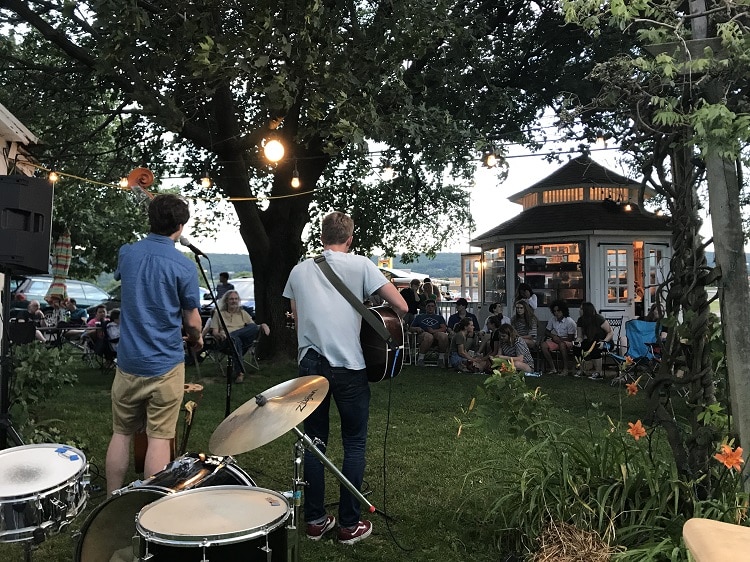 With a few random picnic tables, chairs, umbrellas and Lynne's colorful gardens out back, the scene outside Twin Valley Coffee is an airy adjunct to the warm and vibrant gazebo. There, every fourth Friday in summertime, TVC stays open into the evening hours and features live music by Christopher, a prolific songwriter who performs locally.
Some equate the scene in and around the gazebo as "the antithesis of a Starbucks." Others, like Lynne, consider it her customers' home as much as it is her own. "With family that's always around, there's just a relaxed feeling here. It's very real. Uncontrived."
What about having one of the nation's largest coffee sellers being located directly across the street from tiny Twin Valley?
"No worries," Lynn smiled coolly. "They don't play in our league."
Twin Valley Coffee's gazebo hours are 6 a.m.–5 p.m., Monday through Friday; 8 a.m.–2 p.m., Saturdays and closed Sundays.
Find Twin Valley Coffee at 4043 Main St., Elverson; phone: (610) 286-6500.
Photos:

Twin Valley Coffee