It's no secret that an influential component of small-town revitalization in Pennsylvania has been the opening of breweries, distilleries and cideries. Not only do these businesses bring jobs to communities, but they also help give towns a sense of place, a space where people can gather, and they provide tourism opportunities. This concept was a driving force behind the decision that Kevin Smith, the founder of Under the Bridge Cider, made to open his cidery in downtown Lebanon, PA.
Smith, a US Coast Guard veteran, is Lebanon County born-and-raised and he believes strongly in what he calls "Lebanon's massive resurgence." While maintaining a full-time job at the Lebanon VA Medical Center, Smith has been running Under the Bridge all throughout COVID-19 — in a case of truly unfortunate timing, UTB was only fully open for about two weeks before the pandemic shut everything down. But that hasn't stopped this newcomer to the PA cider scene from forging ahead, with a robust online sales platform, and in-person sales at its taproom on Wednesday afternoons and Friday evenings.
We were able to catch up with Smith about the experience of running a brand-new business through a global pandemic, his connection to Central PA, and his journey from hobby homebrewer to pro cidermaker. Learn more in our Q&A with this PA artisan:
PA Eats: How did you become interested in craft cider?
Kevin Smith: For me, the idea of cider for me has always been something I was drawn to. One of my first underage, illegal alcohols was probably a Woodchuck, to be honest. It was like: first bite, first taste, first love. When I was in the service, we'd pull into port calls and I'd usually try to find somewhere with decent cider on tap. Seattle, Alaska, Hawaii or wherever, I'd always seek out cider.
How did you go from cider fan to cider maker?
I started this whole thing with home brewing. My background doesn't have anything to do with food or beverage. I joined the service in 2001, and was a mechanic in the Coast Guard. I got out in 2011 and came back to Pennsylvania, which is where I'm from. I got into homebrewing and so was everyone else! I wanted to do something different so I started making cider at home. It was going well! I was giving a lot of it away and started entering homebrew competitions. I was maybe one out of of two cideries in these competitions, and was regularly getting a podium finish.

My business partner Dave is someone I was stationed in Washington, DC with. That's where we met. After that, we kind of lost touch. Then, in 2012, our on-base barber got sick and I went down to see him in the hospital in the Virginia area. Dave met me there and, afterwards, we got a drink to catch up. I told him about the homebrewing thing and how the cider had this draw to it. He was in the tech industry at the time and he was having a hard time wrapping his head around it. His industry was cut-throat and there was so much competition, while I was telling him how in the cider world people help each other and share everything. He didn't understand that it's everyone trying to lift the industry, it's not competitive. We started talking about starting a cidery, and then one day we did it! We formed an LLC, got all of our permits, and found a building right on the main drag of Lebanon.
Can you talk a bit more about why you chose Lebanon as Under the Bridge's home?
It was important to me to be in Lebanon. We got a place on Cumberland Street right in the middle of downtown, it is our production facility and was our taproom.

Lebanon was a booming steel town from World War II to 1972, when Hurricane Agnes came in and wiped out the mines. There wasn't the backing to rebuild everything. From the mid-70s on, a lot of the big plants here closed or moved away. Lebanon was the birthplace of a lot of things, like San Giorgio pasta, and the founder of Burger King is from here! It's such a manufacturing hub, a very important place. Everything went to hell in the 70s, we went into a nasty nosedive well into the 90's. For a little while, we kind of leveled out and now we're starting to rise back up. I was born in this city, I like this city. It's heading toward a pretty massive resurgence, but right now it needs all the help it can get.
So you opened right before the pandemic changed everything?
We officially opened the first Friday of December in 2019. We could only do growler fills because we were still working on permits with the city. We got those permits only two weeks before COVID shut everything down. We switched to 750-ml bottles and signed up for VinoShipper. We're staying afloat, but we're not growing in a way we expected our first year to be.

Let's talk more about Under the Bridge's ciders! What styles are you going for, and what inspires you?
We make dry, modern-style ciders. I wanted to take cider and dry it out, because that's how I like it. If you get two counties away from Lebanon there are some really nice ciders, but what's available right around here is macro cider that's sugary, syrupy sweet. So there's a lot of education that goes along with this. A lot of people, that's what they think of a cider: a cloyingly sweet product. If the only beer you ever had was Coors Light and that's what you thought all beer was, you wouldn't be too excited to try it. But I can always find one of our ciders that someone will like. And we're not competing with other cideries! It's more like, if someone's coming through this area and they try our cider and like it, but they don't live around here, they might start seeking out more cider when they go home.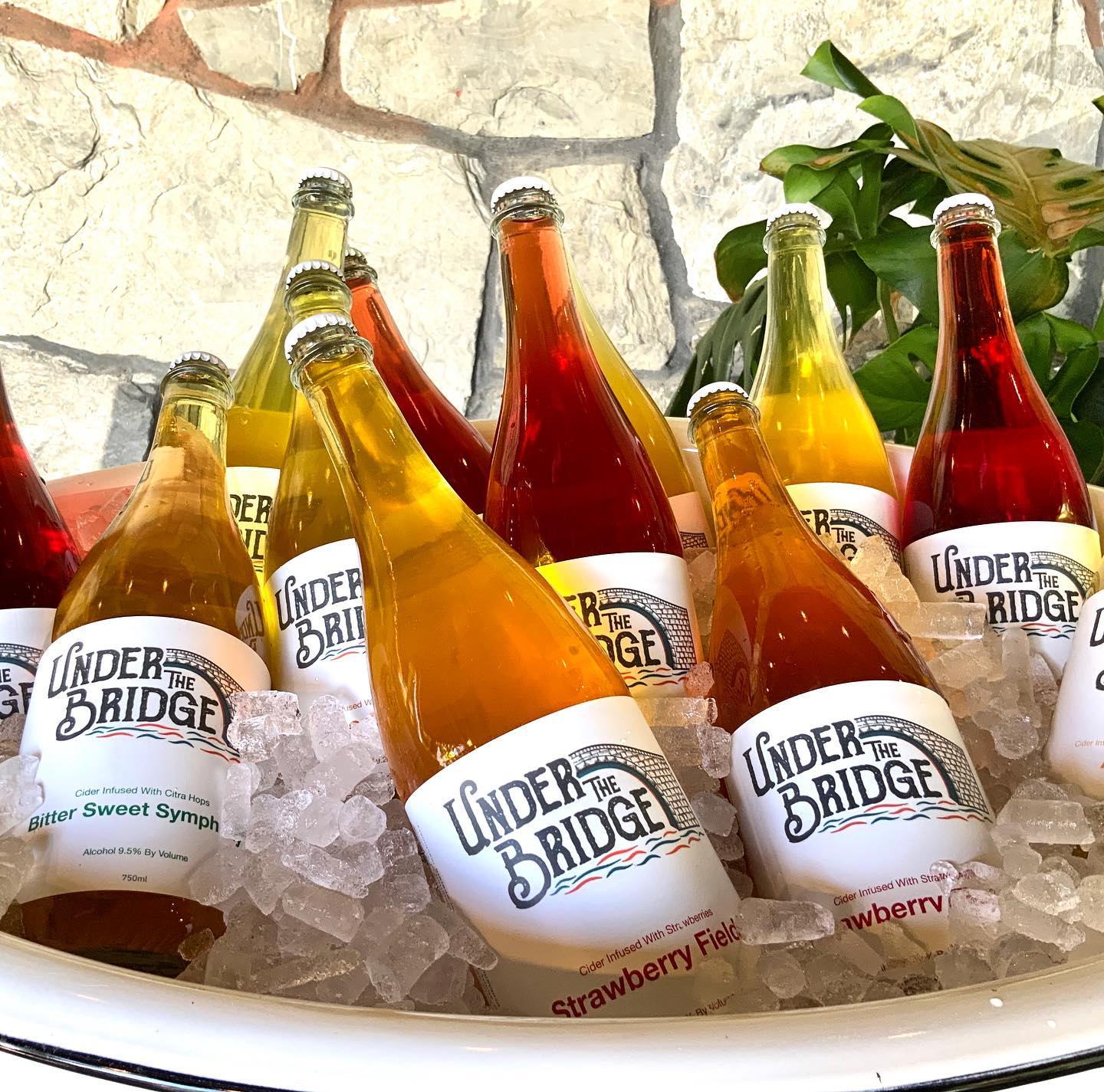 We're not apple purists, and we don't have an orchard. We're sourcing juice from wherever we can get it, but we try to stay as local as possible. We do a lot of infusions and make quite a few ciders that include teas, herbs and flowers, and have a local supplier for that, East Indies Coffee and Tea. They do their own tea blends and coffee roasting. We're working towards consistent suppliers, and as we scale up, that will be easier to do. For instance, we'd love to find a local farmer to buy strawberries from for our Strawberry Fields cider. That's our best-seller and our most award-winning. It usually catches people off guard because it isn't what they expect. It's dry! We also don't pasteurize, filter or add sulfites.
What's the name Under the Bridge all about?
All of our ciders are named after songs, and our name, Under the Bridge, is a reference to the Red Hot Chili Peppers. I also grew up playing in a creek under a bridge. As time moved on, I always liked the phrase, "water under the bridge." Also, the acronym UTB is actually a type of utility boat I used to use in the Coast Guard, which is a kind of cool coincidence.
Congrats on your one year anniversary, even though it's been such a crazy time! How is 2021 looking for the business?
For this spring, we got permitting from the mayor to put tables on the sidewalk, and that will be one of our first steps to reopening. We are going to start doing some outdoor festivals, shows, that circuit that got closed down last year. Our plan has always been that the tasting room is the opposite of a BYOB: We serve the ciders, you can bring food from wherever you want. If we had our full seating inside, we could easily seat 60 people. The space has games, chill spaces, it's a place you want to hang out! We have enough space to do indoor cornhole and shuffleboard. We'll be able to do all of that eventually!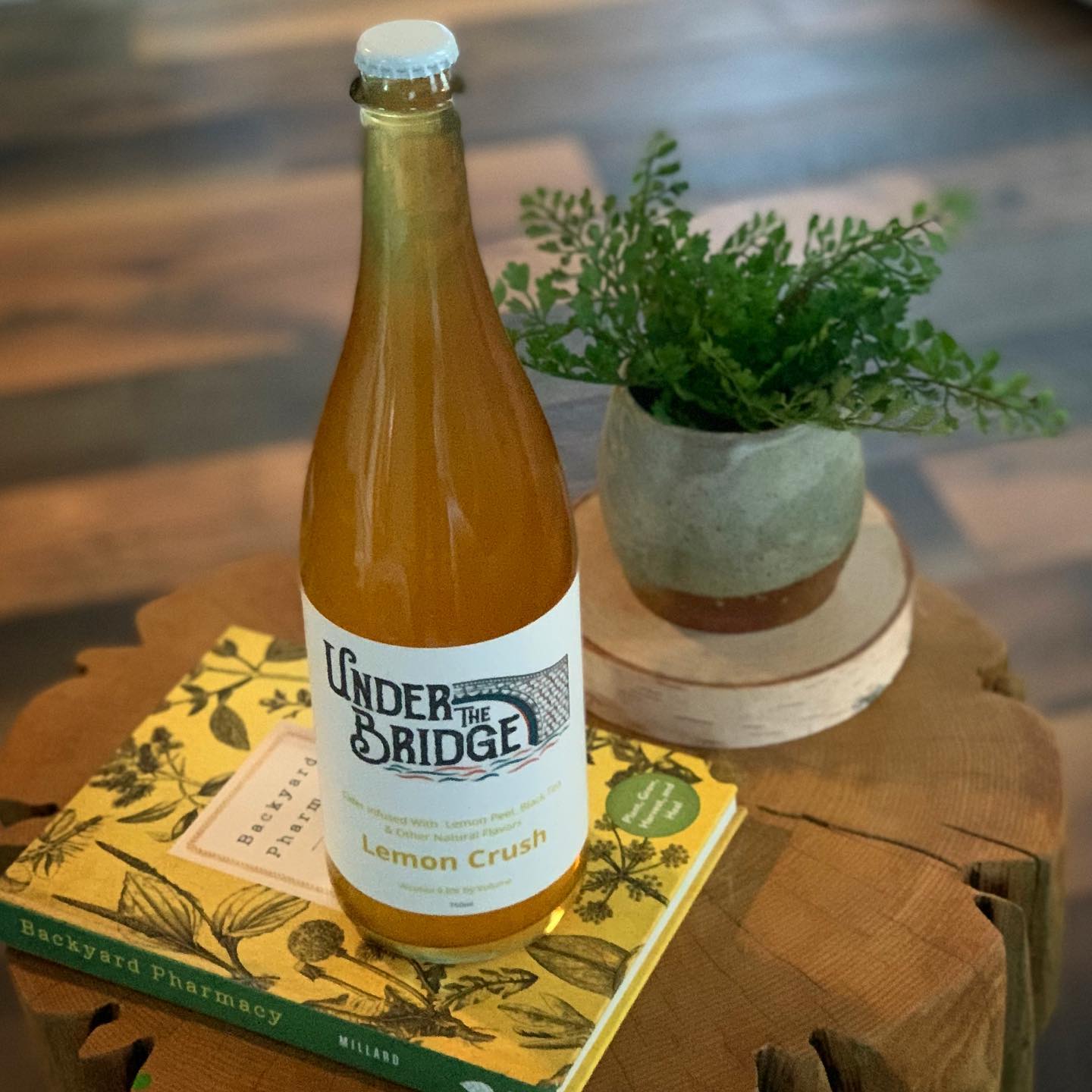 To try Under the Bridge ciders for yourself, check out its online shop or stop by the tasting room Wednesdays between 3 and 5 p.m., and first Fridays between 5 and 8 p.m. UTB ciders are also on draft at some area spots, like Snitz Creek Brewery, Mt. Gretna Craft Brewery, the Gin Mill and The Fridge in Lancaster; hopefully they'll be expanding this spring to include more locations into Harrisburg, Gettysburg and York. Keep up with all the news, including updates on outdoor seating and hours, through Under the Bridge's Instagram and Facebook pages.
Find Under the Bridge Cider at 750 Cumberland St. in Lebanon, PA; no phone.
Photos :

Courtesy of Under the Bridge Cider