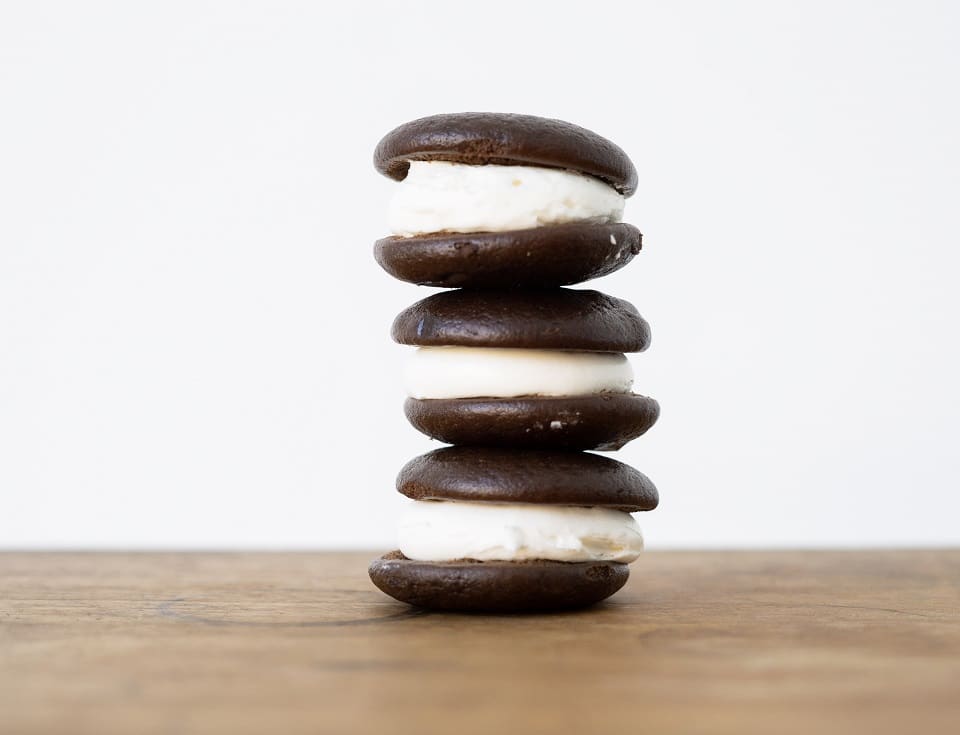 There are few treats as genre-defying as the whoopie pie. Is it a cookie sandwich? Little cakes in cookie form? Somehow a pie, as its name portends, even though it doesn't really resemble a pie at all? It's a fun little contradiction that a food as relatively straightforward as a whoopie pie can also be rife with questions — and historical controversy.
Those of us from Pennsylvania know the whoopie pie as a native delicacy, originating with the state's Amish and Pennsylvania German (sometimes called Pennsylvania Dutch) culture. While it is a bit of a head-scratcher that a dessert so, shall we say, "sugar-forward" came from the austere and pleasure-negative Amish, it can't be denied that we've seen whoopie pies at Amish farmers markets for as long as we can remember. Packaged tightly in plastic wrap, these perfect single-serving delights are the best reward after loading up with farm-fresh veggies and proteins. For people who experienced whoopie pies as children, there remains an almost ritualistic moment of carefully unpeeling the plastic, trying not to disturb the frosting center, and licking around the edge before taking the first heavenly taste. The pie squishes together ever so slightly as you bite through, the cake-y texture and creamy, super-sweet filling melding gloriously.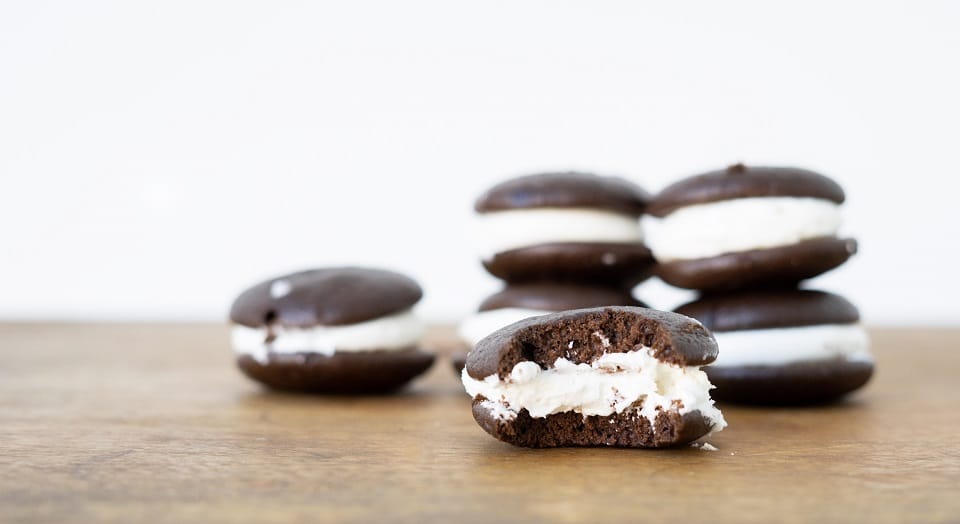 Other states, however, also lay claim to the invention of the whoopie pie, including Massachusetts, Maine, New Hampshire and Virginia. Though it's extremely hard to prove who did it first, Maine seems to express the most pride: Whoopie pies are Maine's official "state treat"; a bakery in South Portland set the record for the world's largest whoopie pie in 2011 (1,062 pounds!); and the town of Dover-Foxcroft has been hosting the annual Maine Whoopie Pie Festival since 2009.
Squabbling about which state gets to "own" the history of the whoopie pie doesn't detract from the fact that it is inextricably linked with Pennsylvania's identity, and that, in nearly every corner of the state, you're likely to find them on the shelves of local bakeries.
Elizabeth Halen is the owner/operator of Flying Monkey Bakery, in Philly's Reading Terminal Market, well known for its fun, throwback-style treats, including whoopie pies. Halen says she grew up with whoopie pies (though she and her family called them "black moons"); she and her brother would get them for birthday celebrations instead of cakes. "To this day, I still think my Mom's taste better than mine!" she says.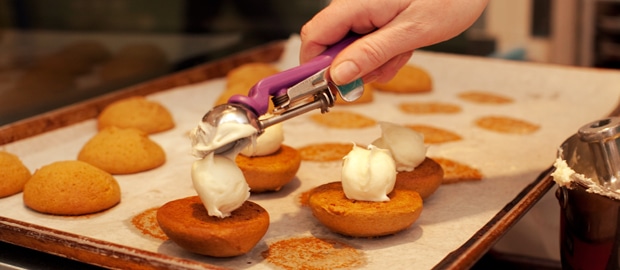 She thinks that whoopie pies still resonate with customers at her bakery because they "are a piece of Pennsylvania history. They're a light and sweet snack that's easy to transport, indulge in by yourself or share with a friend. They have generations of staying power."
When Halen was developing the whoopie pie recipe for Flying Monkey, she says her main challenge was "mixing them right and portioning them correctly to produce a consistent product that customers can rely on, visit after visit." She also notes that, because Flying Monkey uses only butter — and many whoopie pie recipes call for shortening — her whoopie pies tend to have a shorter shelf life than some other brands do.
How does she deal with that challenge? "In order to compensate for that diminished shelf life, we try to make them so delicious that you can't help but eat them right away, rendering the shelf life of them as not that important," she says.
You'll always find classic chocolate and vanilla whoopie pies at Flying Monkey, but Halen is not shy about taking creative license with other flavors, too. On any given day, you might find chocolate mint, Kahlua, vanilla honey lavender, bananas foster, strawberry champagne and pumpkin chai on offer. Seasonal vegan versions (pumpkin in fall/winter and lemon poppy in spring/summer) are also available. Whipped Bakeshop does a nice oatmeal version.
Another small bakery with a great whoopie pie reputation is Sugar Whipped Bakery in charming Lititz, Pa. For owner Stephanie Samuel, there was no question about whether or not whoopie pies would be on the menu when she opened her storefront in early 2015.
"I felt like not having them would be a disservice to my business," she says. "Especially when I was at farmers markets before opening my shop, people were always looking for whoopie pies. And, now with my shop, tourists are always coming in wanting to try the famous whoopie pie."
A Pennsylvania native, Samuel grew up with whoopie pies, and while she offers the classic chocolate and vanilla version, on any given day, you're bound to find all kinds of gourmet versions in Sugar Whipped's brightly lit case. Whether you are a chocolate lover (try the Death by Chocolate), into fruity flavors (Lemon Raspberry might be up your alley) or looking for a decadent treat (Salted Caramel, anyone?), there is a Sugar Whipped whoopie pie for you!
What bakeries are making your favorite whoopie pies? Let us know in the comments!
Photo of whoopie pies being filled:

Flying Monkey Bakery

Whoopie pies on plate:

Sugar Whipped Bakery

All other photos:

Dish Works