For all intents and purposes, venison should be as common in our kitchens as beef and chicken. It's high in protein, low in fat, sustainable and delicious! But for many reasons, venison is foreign — exotic, even — to many home cooks. Part of that reason, as we note in our PA Food Icons feature about venison, is that hunted meat meant for retail first must be inspected by the USDA, and there are very few abattoirs which process deer in North America. This is why we don't see venison in the grocery store beside pork and poultry. But, as hunting is a popular sport in PA, venison is a familiar food to a lot of us. And to those for whom it still feels inaccessible, there is a local food blogger ready to help.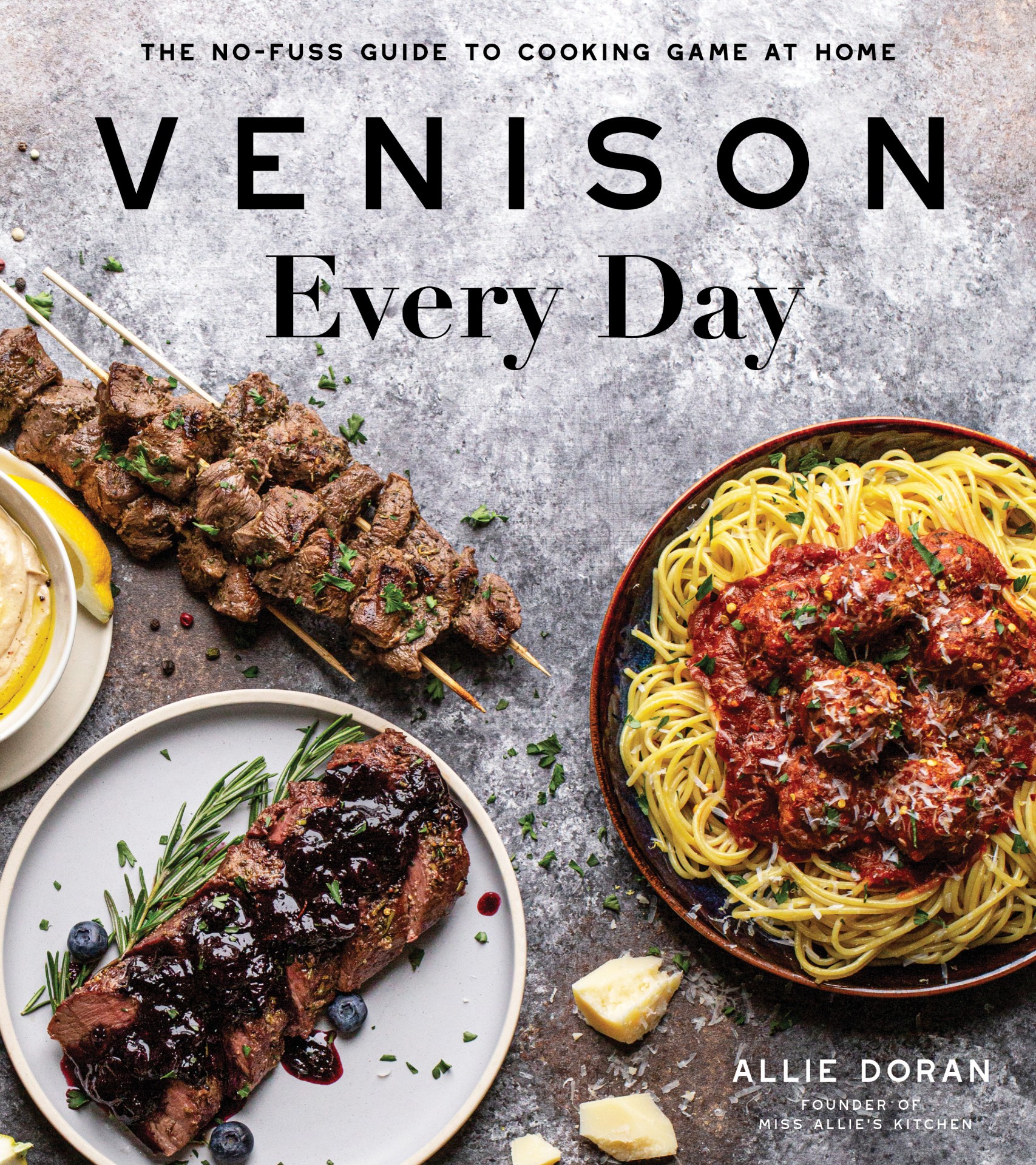 Allie Doran, the blogger and photographer behind Miss Allie's Kitchen, has just released a new cookbook, "Venison Every Day", a collection of her best venison recipes, tips and tricks. Designed to span from weeknight dinners to celebratory feasts, "Venison Every Day" brings a fresh, modern approach to venison that we think could be a real game-changer for this n0t-so-mainstream protein.
We were thrilled to get a chance to chat with Doran to learn more about her connection to Pennsylvania and her love of venison.
PA Eats: Hi, Allie! Before we dig into your new book, we'd love to learn a little bit more about you. What part of PA are you living in, and where did you grow up?
Allie Doran: I grew up in Harleysville, PA, in Montgomery County. Funny enough, I didn't grow up in a family of hunters and didn't start eating wild game until I met my husband. I lived in Alabama for five years during and after college, and then moved to Pottsville, PA, where I live now with my husband, Jared, daughter, Madison, and dog, Sadie.
What's your favorite thing about where you live?
The landscape and open space. I grew up in a more suburban area, and out here, there's a never-ending list of things to do outside and places to explore. Right now, the trees and landscape are gorgeous in the fall.
Where does your love of cooking come from? What inspires you?
Growing up, life revolved around the kitchen. My parents always said, even as a baby, all I wanted to do was sit at the table and eat. I was encouraged to try a variety of foods, and really, there's not much I don't like! I come from a family of athletes, so mealtime was always a time to sit together, and fuel up for the next day. My dad taught me to cook and my mom taught me to bake and to eat to be well. On Sundays, my dad and I would roam the grocery store and come home to make dinner. When I came home from school, my mom often made loaves of pumpkin or banana blueberry bread that we'd snack on in the afternoons. Food (and wine) are so full of beautiful memories for me, being in the kitchen is such a celebration of life. The seasons are where I gain the most inspiration!
You said that venison was new to you when you and Jared first got together. What were some specific challenges that you came across? How did you start to figure them out?
The first time I tried to make a meal at home with venison, it was dry, hard, and metallic (or gamey) tasting. I was really disappointed because the first time I had venison was when Jared and I were camping, about two years prior to me trying to work with it, and it was delicious. What I learned was that I overcooked the meat and prepared it incorrectly (no seasoning or marinade). It was honestly a lot of trial and error.
Do you ever join your husband hunting?
I don't right now! I'm an equestrian and I love fitness, so most of my free time (aside from running my business and now being a new mom) is spent at the barn, at the gym, or outside hiking and walking. But, I'm open to the possibility!
Tell us more about the book! How/when did the idea come to you to create an entire cookbook around venison?
When I started learning to cook with deer meat, I noticed that a lot of the recipes I found were really technical and time-consuming or outdated and unhealthy. So, being a recipe developer, I started creating my own recipes. When I created a few really good ones, I quietly posted them on my blog and a few went viral! So, I did more and more. And talked about wild game more.
Then, I started connecting with people in person and online about how they had all of this deer meat, but thought it was gross, [they] didn't know good recipes, or they were sick of the same old thing. Over the span of a year, I pivoted the focus of my blog to be on wild game recipes, and venison is my "bread and butter," if you will. I wanted to write a book that gave any person out there exactly what I wish I knew five years ago.
How was the process of putting the book together different from the work you do for the blog?
With the book, I felt like I had the ability to put exactly what I wanted into it. That might sound strange, but when I create content for the blog, I work off of what is already going well. Some of the recipes are more creative, and some are really really basic weeknight staples that may be too simple to put on the blog, but they had a place in the book. A book just feels so personal, you know? Something you hold in your hands, as opposed to putting on a screen. As far as the recipes go, they still get the same testing process, so about 2 or 3 tests. I didn't take process photos for the book, but I was awarded the photography portion of my book as well, so each recipe was photographed.
What's something about cooking with venison that might come as a surprise to home cooks? Any common misconceptions or myths that you'd like to bust?
You can't cook venison like you cook beef! I think a lot of people directly swap it out in recipes, and that's where they're left disappointed. You really can't overcook venison and it needs the right amount of seasoning and acid to be really delish.
What do you say to people who are weirded out by venison, as opposed to more familiar meats?
If you're eating animal protein, wouldn't you rather eat an animal that you knew was harvested ethically, was "free-range" or wild and had a balanced diet? It's not the "norm" these days, but most hunters are huge conversationalists and adhere to strict laws, rules and regulations to promote healthy deer population levels. If you taste it prepared well, your apprehension may go away!
Any favorite recipes from the book?
Oh man! That's like choosing a favorite kid! But, I love the Asian Chop Salad, the Charcuterie Board Tutorial, Short Ribs and the White Bean and Kale Sausage Soup.
If people are interested in venison, but aren't hunters (or don't really know any), do you have tips on where they can find locally harvested venison?
You can't usually find it in stores due to USDA regulations. However, there are a few companies that sell it online that are reputable. I've worked with The Honest Bison. Or, you can buddy up with a hunter that doesn't use much of their supply and offer to buy them a copy of the book in exchange for some venison!
You can purchase a copy of "Venison Every Day" through online retailers such as Indiebound, Amazon and Barnes & Noble. For more delicious recipes featuring venison, as well as pies (Doran's other specialty) and other dishes and desserts, check out her blog, Miss Allie's Kitchen.
Photos:

Courtesy of Page Street Publishing and Allie Doran