Venison, the meat from deer, is flavorful, rich and abundant in the wild. With super-high numbers of white tail deer in the state, hunting is a popular sport for many Pennsylvanians: According to a report by the York Daily Record, based on data from the Pennsylvania Game Commission, there were over 333,000 deer harvested across the state in the 2016-2017 season. Hunters who process their game know that a chest freezer full of venison means many hearty meals to come throughout the year, from burgers to chili to meatballs.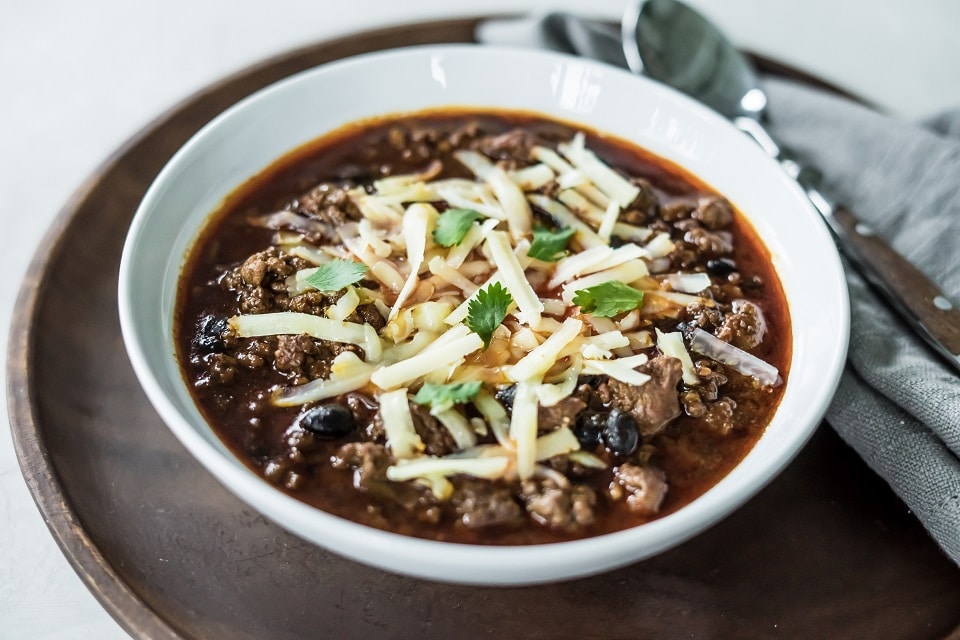 So, why don't we see PA venison in more markets, and on more restaurant menus?
Greg Vernick, chef/owner of the highly acclaimed restaurant Vernick in Philadelphia, says that venison's status as a less-mainstream meat is partially due to its accessibility.
"Venison is not a 'grocery store' protein, which is why it maybe isn't as popular as [other types of meat]," he notes. "It tends to be a bit expensive and exotic, which can turn some folks off. But high-quality, well-sourced venison is so good."
Part of the reason that we don't see venison in more grocery stores is because hunted meat meant for retail must be first inspected by USDA inspectors, and there are very few abattoirs which process deer in North America. Most of the venison that is processed is destined for restaurants. In fact, most venison sold through retail in the United States comes from New Zealand and Tasmania.
Vernick features venison on his menu, though the composition of the dishes changes with the season. One recent version included a cocoa-cured venison loin with roasted cauliflower, pear and foie gras-blackcurrant sauce. Vernick says that this method — rubbed in black pepper and cocoa powder, then roasted and rested to a nice rare — is his favorite way to prepare this protein, although, he says it's also "great raw, cooked, braised, or stewed."
As reported in a story in Modern Farmer, deer farms are on the rise. As consumers look for alternatives to conventional meat, both for health and environmental sustainability, the U.S. deer market has seen increases of up to 30 percent annually. "In fact," the article's author, Kristen Schmitt notes, "the cervid livestock industry, which encompasses elk, reindeer, axis, sika, red, whitetail and fallow deer, is one of the fastest-growing industries in rural America."
Pennsylvania is home to a few notable venison farms, including Shaffer Farms, a family owned and operated farm that's been in operation for 15 years in Herndon, PA in Northumberland County. Shaffer Farms is committed to offering high-quality venison and elk products that are free of any stimulants, such as growth hormones or other chemicals, Shaffer offers fresh cuts of meat, sausages, jerky and other meat snacks and dog treats.
Highbourne Farm in Dallastown, PA raises its deer without chemicals or growth hormones, and, according to its website, its animals are "slaughtered with a minimum of stress after which great care is taken to process the meat and package it to ensure the best possible quality." All of its meat cuts and processed venison products are USDA-inspected. Shop online for products like venison burger patties, steaks, loin chops, bologna, jerky and more.
In Catawissa, PA, Rolling Hills Red Deer Farm raises over 400 deer each year which it processes into federally inspected, USDA-approved venison cuts and products. Whole animals are also available. During the summer and fall, Rolling Hills Red Deer Farm is open to the public for tours where guests can enjoy hayrides, hand-feed deer and take photos. In 2017, Philadelphia gastropub Standard Tap sourced a whole deer from Rolling Hills to feature in special entrees. The pub, which largely focuses its menu on local, seasonal food, rotates venison onto its menu rather frequently, such as the venison tartare it served last November.
Other restaurants where you may find venison on the menu include Bibou BYOB, Townsend Restaurant and Fork in Philadelphia, Garryowen Irish Pub in Gettysburg, The Left Bank in York and Gateway Lodge in Cooksburg in the PA Wilds.
For those who prefer hunting their own game in PA, there are plenty of resources on the Pennsylvania Game Commission's website, including general info on white tailed deer, instructions on how to buy a license, information on Chronic Wasting Disease and harvest data and maps.
If you plan to eat your game, take a moment to review this helpful guide from Penn State Extension on how to properly care and handle venison from field to table. This is essential to reduce the risk of foodborne illness and for best flavor. There are also a number of facilities that will process hunted venison for you, such as Kip's Deer Processing in Carnegie, PA, Bill's Deer and Game Processing in Langhorne and Pacileo's Great Lakes Deer Processing in Erie.
And if you do end up with more venison than you know what to do with, consider donating to Hunters Sharing the Harvest, a Harrisburg-based non-profit that coordinates the processing and distribution of donated wild game from hunters and municipal herd reduction sources to the nearly 1.8 million Pennsylvanians who are food insecure. Did you know that an average-sized deer will provide meat for 200 meals? Each year, Hunters Sharing the Harvest channels approximately 100,000 pounds of processed venison through PA's 21 regional food banks. As they say: "Don't waste that buck — give it to us!" It's a great way to give back to the community.
Do you hunt for deer in PA? Do any of your favorite restaurants or butchers ever serve venison on their menus? We'd love to know, so join in the conversation here or on the PA Eats Facebook page!