As much as bars and restaurants offer hospitality and a place to unwind from life's stresses, they can also be the sites of harassment, abuse and assault. For decades, restaurant and bar culture was somewhat removed from the rules and expectations of office and corporate culture, with a sort of "anything goes" attitude that often resulted in harmful situations. From well-documented cases of big-name chefs verbally abusing the staff, to ongoing micro-aggressions between co-workers, for too long restaurant workplaces had a lack of accountability and oversight in these matters.
And, because of the long-standing — though now somewhat more dismantled — philosophy that "the customer is always right," many front-of-house employees have had to deal with unwanted advances, non-consensual touching, and other kinds of harassment from guests. This power dynamic can also make it extremely difficult for restaurant/bar staff to know how to intervene in problematic or dangerous interactions between guests.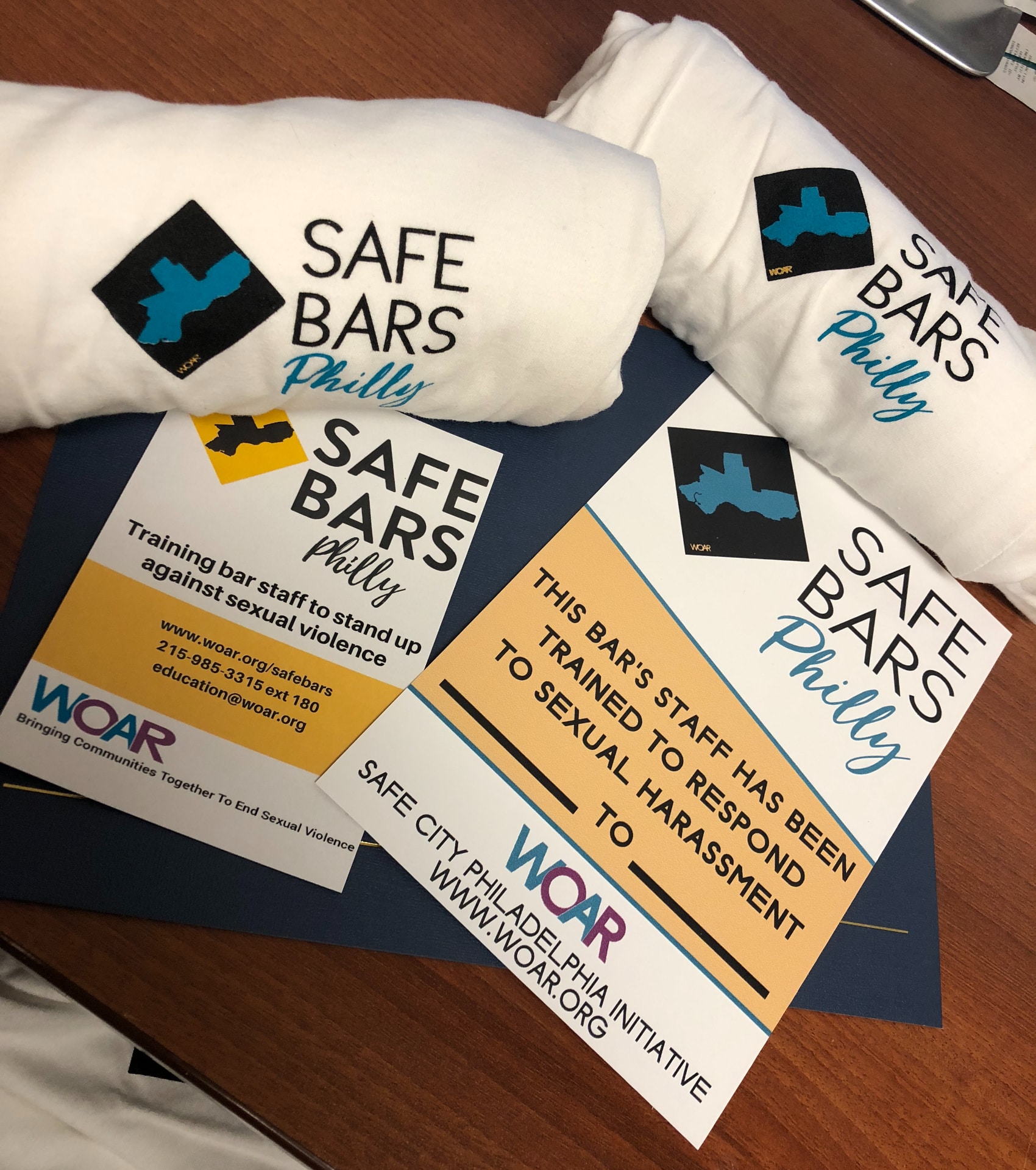 The Safe Bars Philly Program, run by WOAR-Philadelphia Center Against Sexual Violence (formerly known as Women Organized Against Rape), was created to address these issues head-on. It's a staff training program, where WOAR representatives teach bar and restaurant teams to identify harassment and other inappropriate behaviors, and recognize and respond to problematic and abusive behaviors by safely and effectively intervening. Safe Bars Philly, which was founded in 2017, has now certified 7 bars, 3 collectives and 50 individuals!
Currently, the program is headed up by LaQuisha Anthony, a Program Lead/Advocacy Coordinator at WOAR. Safe Bars Philly was initially modeled on a similar program started in Washington, DC; educators from that group came to Philly to train WOAR staff.
"We are always looking for innovative ways to enhance our prevention work, and we'd gotten specific requests for bystander intervention," Anthony says. "This training is the ideal way to implement all those things together in one."
The three-hour training session is designed for the entire staff, including servers and bartenders, owners, back of house, bouncers, etc. Anthony goes over things that are happening within the industry, if not in that specific business, and covers bystander intervention tools. She walks the staff through role playing and how to recognize sexual harassment or abuse warning signs through body language. She also lays out a spectrum of sexual violence, which charts specific behaviors, such as transphobic comments or unwanted touching, from more to less severe.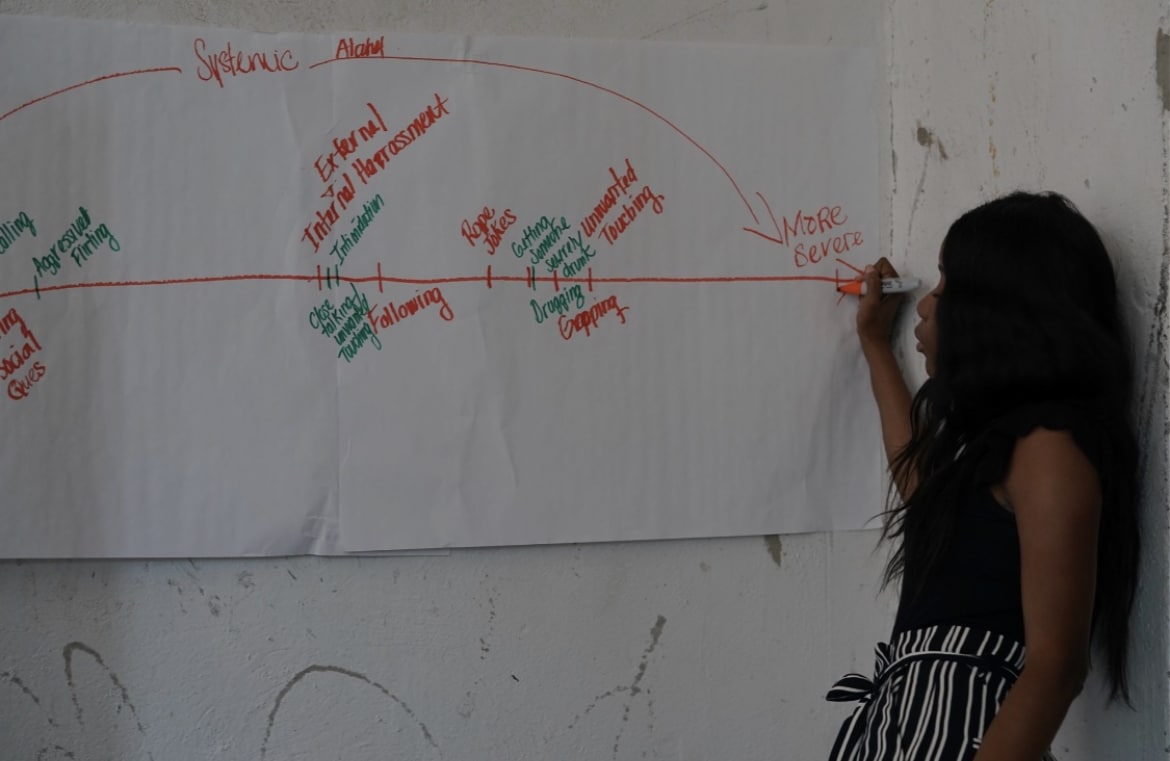 "We talk about those behaviors and how people might view things in different ways," she says. "We talk about how, with all they're already doing at work, they can enhance their bystander intervention tools so this can be an environment where everyone feels safe, not just patrons but staff. Sometimes staff endures a lot."
Although the Safe Bars Philly training is geared toward restaurant and bar staffs, Anthony says that it isn't their job or responsibility to make sure harassment doesn't happen in their workplace.
"We don't put a lot of onus on the establishment to prevent things; it needs to be society adopting these changes and recognizing that certain behaviors are not okay," she notes. "We know that real prevention starts with behavior change for individuals, but what we can do is lessen risk factors."
Sometimes, Anthony continues, just having the Safe Bars certification visible in the space could be prevention in itself.
"People knowing that in these places, individuals have the tools to recognize sexual harassment and other behaviors before they even begin could be enough to deter those behaviors," she says.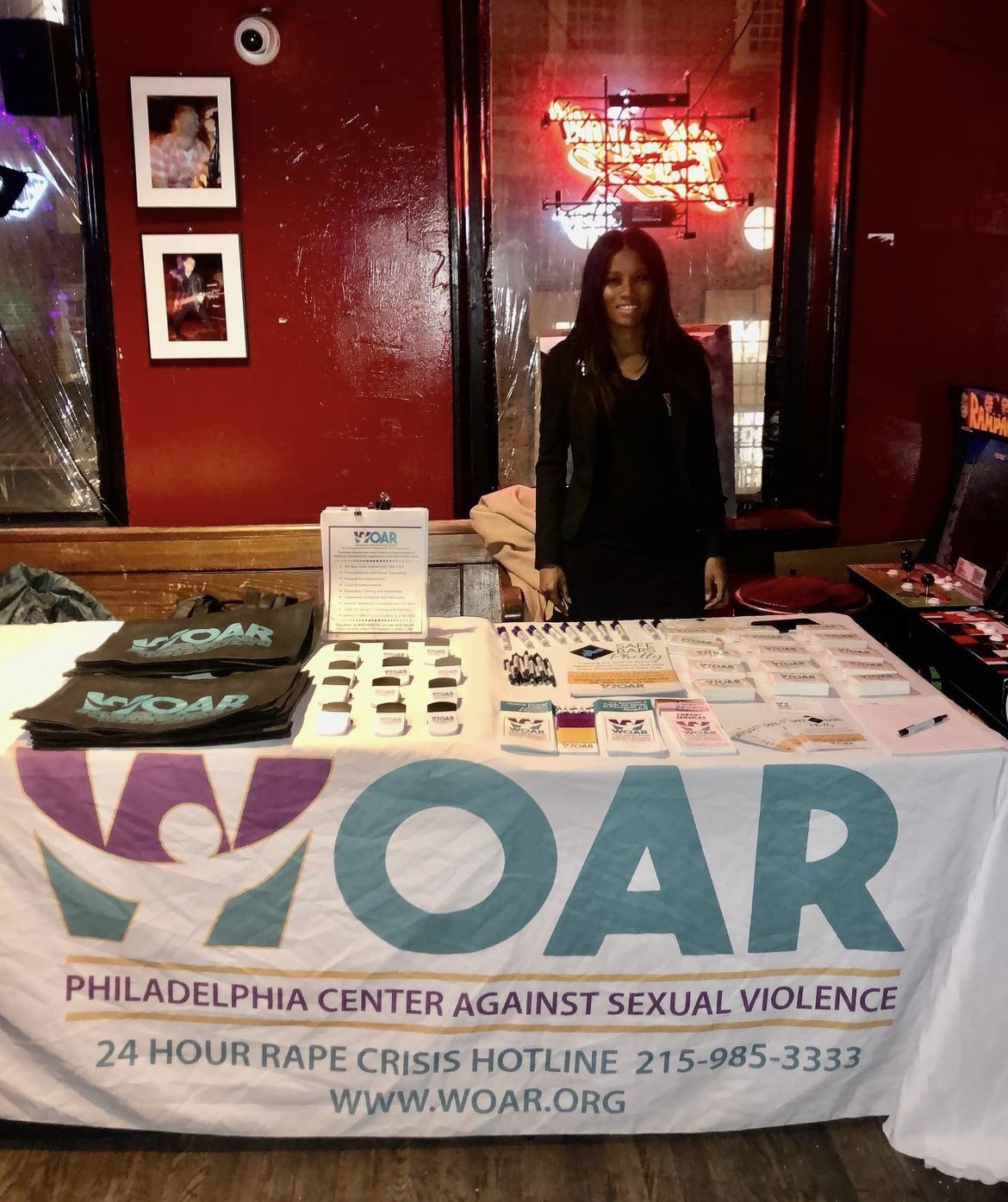 Anthony says that WOAR is still hoping to get many more bars in Philly Safe Bars certified. Their trainings are customized to fit the needs of each businesses' staff, and scheduling can be flexible. WOAR recently started offering a scholarship program for bars that might not have the means to pay for the training fee and pay their staff to attend.
But, she also suspects that there are other factors besides scheduling and money that are holding some restaurant or bar owners back from pursuing this type of training for their staff.
"I think sexual violence is a sensitive topic, there's still a stigma around talking about it, and some of the places we've tried to introduce this training to thought that there would be guilt by association if they participated," she says. "We've tried to change the messaging, making sure that people know this is preventative work."
The program continues to evolve, as well. The Safe Bars Philly team is in regular contact with similar programs in Washington DC, Arizona and Boston, updating the curriculum based on current events, as well as the shifting demographics of the staffs taking the training. And, even though some in the industry are hesitant to adopt this model of training, Anthony says that interest in Philadelphia is growing.
"Many of the industry leaders who have decided to take on this training have been women owners, because they've seen a lot of things and want to be part of the change," she notes.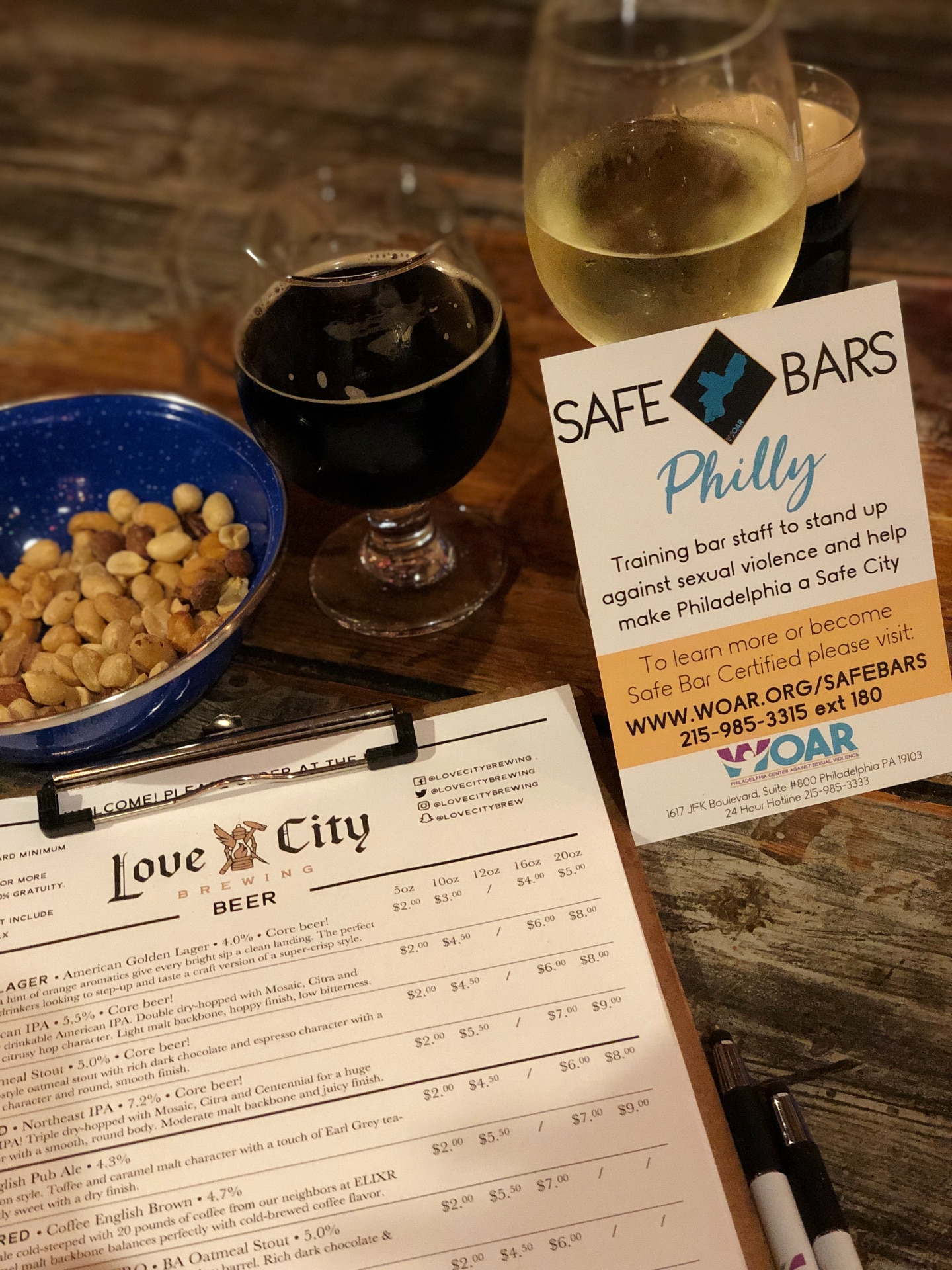 One of the first breweries to get Safe Bars certified was Love City Brewing, which first did the staff training in 2019. Melissa Walter, Love City's co-founder, worked as a therapist before opening the brewery, and was familiar with WOAR's various initiatives. She said that she always knew she'd want to do sexual harassment prevention training for her team once the business was up and running. The experience was an overwhelmingly positive one, thanks to the expertise of the WOAR staff, she says.
"[During the training] there were some difficult, nuanced questions, and both of the trainers from WOAR were experts, they really navigated that well," Walter remembers. "One of the biggest things for me was watching our male-identifying staff process all of this information on a different level than maybe they had before."
The Love City staff did a re-training in 2022, and Walter notes that, even though there aren't many problems with harassment among guests visiting the brewery's taproom, she find the trainings so valuable for the staff.
"Even if you know what the risks are and you know what signs to look for, actually intervening is hard in a lot of instances," she says. "This Safe Bars training is very interactive, so it's at least one opportunity to practice your skills, to know, like I can say these words in these situations."
For more information on WOAR's Safe Bars Philly program, or to sign up, head here. To learn about WOAR, which is celebrating its 50th anniversary of serving survivors and is always looking for new innovated ways to end sexual violence and support survivors, or to explore its events calendar and more resources, visit its website.
Photos:

Courtesy of WOAR Safe Bars Philly