For as long as anyone can remember, the Eagle Tavern & Taproom has been a mainstay of social life in Chester Springs. With historical roots dating back to Pre-Revolutionary War times, its location on Route 100, which in those times connected Pottstown with West Chester, made it a popular pit stop for travelers, and a watering hole for locals. The original building, believed to date back to at least 1727, is now buried inside the existing 4-story structure, which itself dates back to 1799. All this to say that, in over 200 years of existence the building and business housed inside have changed hands a number of times. The newest chapter in this saga began at the start of 2018, when the Eagle Tavern came under new ownership.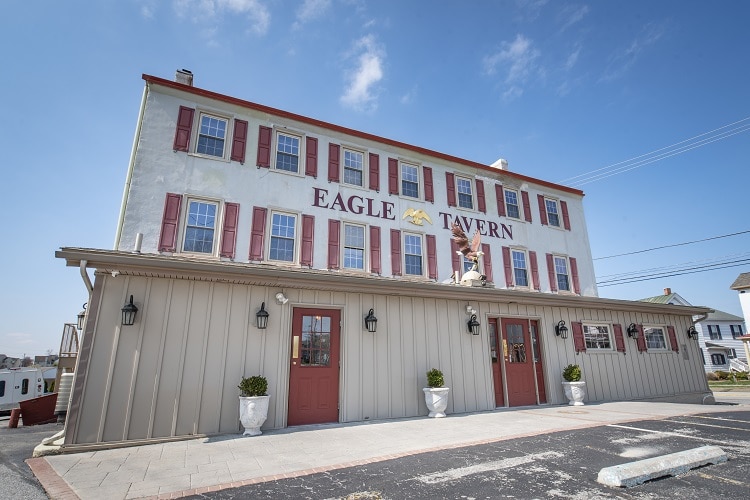 Matt Krueger, formerly of Victory Brewing Company, has taken over, and he has brought with him a solid team of hospitality pros. General Manager Lauren Heald is the director of operations, Greg Pearse runs the front of house and the revamped bar program, and Chef Owen Kolva is turning out truly impressive food from the small kitchen.
"The thing that I love more than anything is building teams," Kruger says. "The working relationship I have with Lauren, Greg and Owen, honestly, it's a dream come true."
Soon after taking over the building, Krueger had the interior gutted and rebuilt from the inside out. His team installed a new bar, opened up the kitchen and renovated the former banquet space on the second floor into a cozy private dining room and a casual taproom space. The taproom is open Thursday through Saturday, and plenty of high-top tables, brand-new TVs and a sharp new sound system and frequent live music all create a lively bar atmosphere. The Eagle Tavern team also plans to use this area for more community-minded events, such as the recent beer dinner they held in collaboration with East Branch Brewing Company.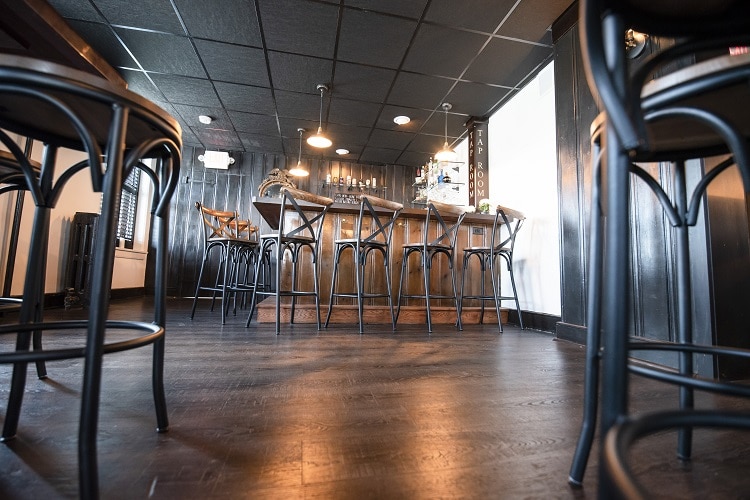 The beverage program features local and national craft beer and cider brands on draft and in cans, classic and creative cocktails, and plenty of red, white and rosé wine.
Chef Kolva keeps the menu approachable and diverse, but he is committed to using quality, fresh ingredients and making things from scratch whenever possible. Even the starters and sides that so many chefs phone in, like hummus and french fries, are simply perfect coming out of Kolva's kitchen. Lunch specials especially offer vegan and vegetarian-friendly options, and weekly specials like Oyster Mondays and  Taco Tuesdays provide reasons to visit nearly every day.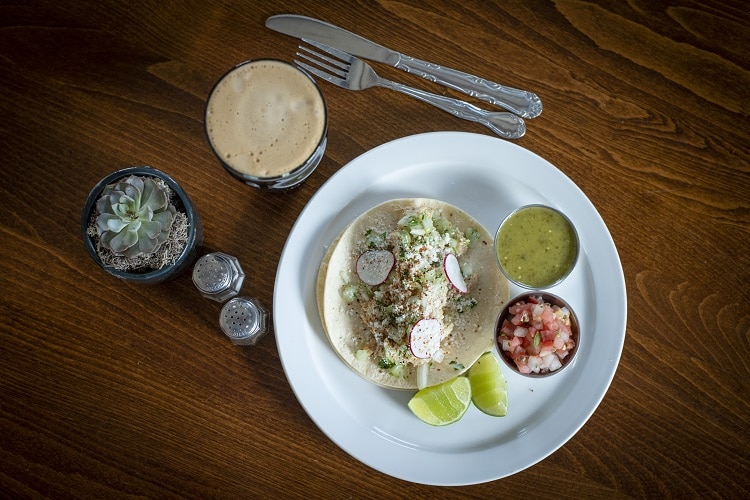 Kreuger notes that there are traces of the tavern's long history in the new menu. "There's definitely a nod to some Northern European flair, there's some French, English and Irish influences there," he says. "But the real focus is, as much as we possibly can, that this is a scratch cooking, chef-driven place. Chef is so hands-on, he's constantly grinding away."
Part of the reasons they've decided to keep those traces of history there is to help keep regulars feeling comfortable in a space they've enjoyed for so long. Kreuger also offered the staff from the former iteration of the Tavern to stay on in their jobs as servers and bartenders, and many of them took him up on it.
Heald agrees that the main goal of this new team is to artfully blend the history of the Eagle Tavern with a real desire to help it evolve into a place that feels modern and relevant. "We're trying to keep what this building, this business, has been for 300 years … the history here is just undeniable," she notes. "The transition can be difficult for the people who've been coming here for a long time … but when they come back and get a taste for our menu, the cocktails, the craft beer that we're bringing in, they get really excited, because they get to be in a space that's familiar but has new life."
Find the Eagle Tavern & Taproom at 123 Pottstown Pike in Chester Springs; phone: (610) 458-5331.