One thing we know for certain: Downingtown brewpub fans are a loyal bunch. They're from a hard-working, hard-playing mix of neighborhoods — both old and new — and they've blended together to create a community of aficionados who know what they like to drink. And, with evolving dining options continuing to embrace the borough, they know what they like to eat.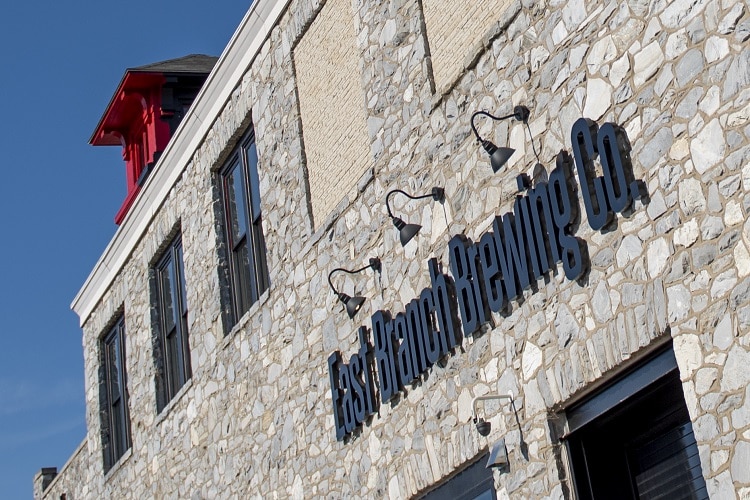 We informed you of East Branch Brewing Company's opening in the fall of last year, and we also mentioned how much we love the beer flowing out of this place with our Town Dish staff picks on National Beer Day in April. Now, we are pleased to announce a second-floor expansion that will not only help to continue to satiate your thirst, but will also help to blow your mind with East Branch Brewing's exceptional menu.
Chef Kevin Welch (who honed his own skills at Amani's and Station Taproom) mirrors the sentiment.
"We nudge comfort food in a way that pushes it a bit out of the guests' comfort zone," he says.
We couldn't agree more! The uniquely creative Southern/Korean-inspired menu includes Pa. oak-smoked Angus prime fall-apart brisket, fried pimento cheese salad and 'shrooms n' grits. Don't skip the gluten-free fried chicken — we're hard-pressed to find that anywhere else in the area.
Indulge in the innovative salads, fresh oysters on the half shell or a seriously kickin' brisket noodle dish that includes smoked brisket over kimchi, sesame noodles, peanuts, scallions and a spicy Szechuan chili oil (a vegan version of this is available, too!). All sauces and pickles are house-made.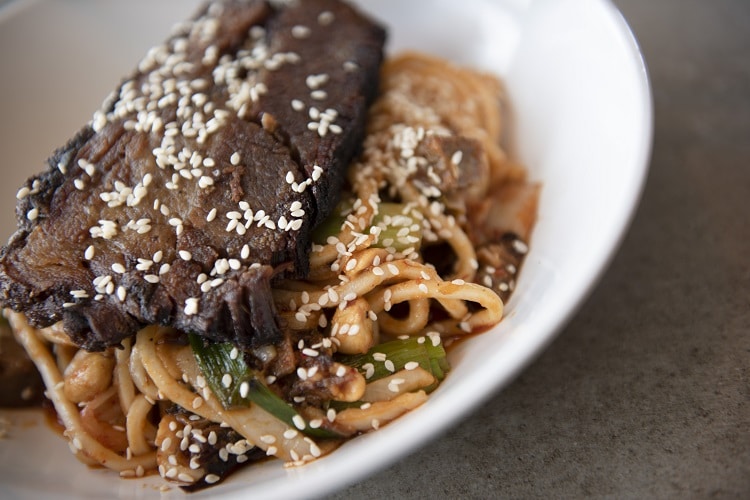 Sandwiches on toasted potato rolls include blended toppings (think malted garlic aioli and Napa slaw) and sides/shareables boast kimchi collard greens, black-eyed peas salad and cashew grits — certainly not afterthoughts. Kids have choices too with (gluten-free) chicken fingers, tater tots, grilled cheese and buttered noodles.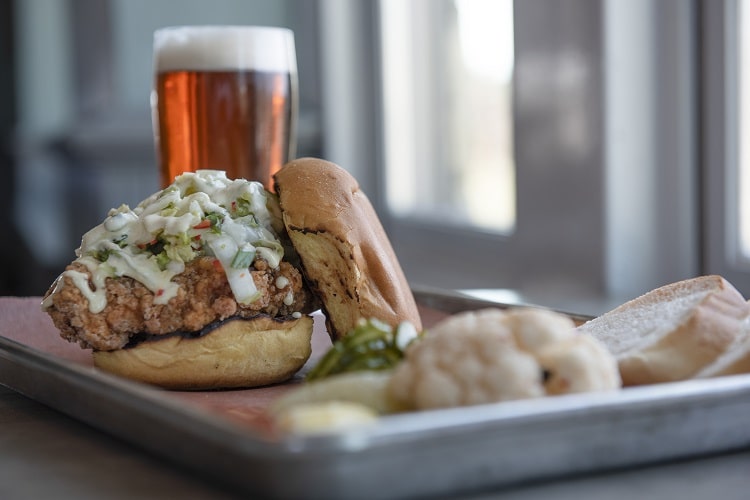 The brews that made the initial first-floor bar space (which is now closed to the public and being converted for expanded fermenting) popular continue to please, with a nice mix of IPAs, ales and lagers. Having recently acquired two, 20-barrel fermenters, Dylan Meanix, co-owner of East Branch Brewing Company, says, "We'll have the ability to double our output." Two additional taps have been added to the upstairs bar, as well, bringing the total to 12 drafts. Get ready for a new maibock seasonal to be released in early May.


Pennsylvania distilleries, including Manatawny Still Works, are used to create signature craft cocktails (Manhattans, old-fashioneds, gimlets and mules) with house-infused syrups. Wines from local Wayvine Vineyard (cab franc, rosé, unoaked chardonnay and merlot) and ciders from Downingtown's own Dressler Estate round out the list of lively libations.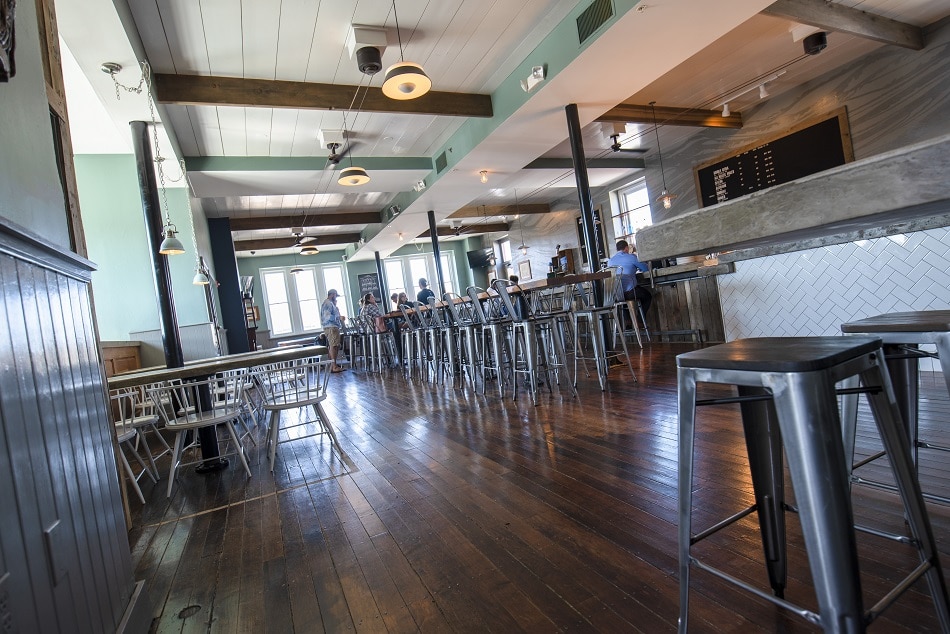 The feel-good vibe that began and was nurtured in the original first-floor bar has risen well into the second floor. The lovely renovation was overseen by East Branch's General Contractor, J. McGettigan, LLC. Plenty of streaming natural light from the larger-than-life windows in the historic fire station renovation highlights the long room with seating for about 60 guests. Original dark plank floors create a speakeasy-like space, flanked by booths to the left and a welcoming room-length bar on the right wall.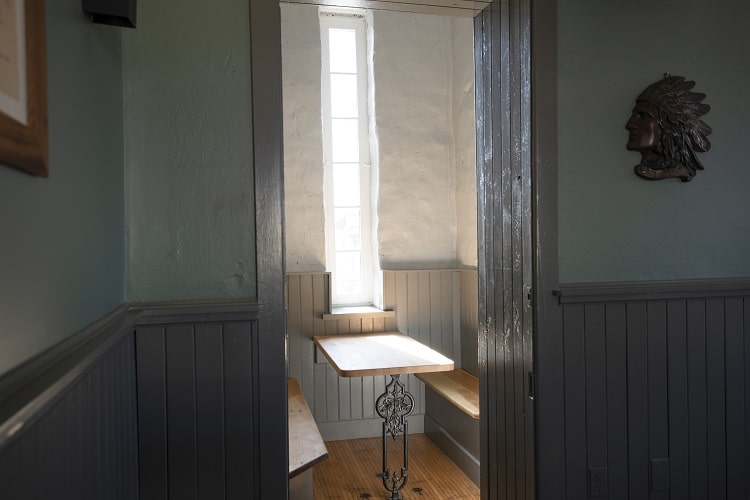 Two pub-height beer hall-style tables provide plenty of seating to take in all the action overlooking an angled pool table and a few playable vintage video games throughout the floor, as well.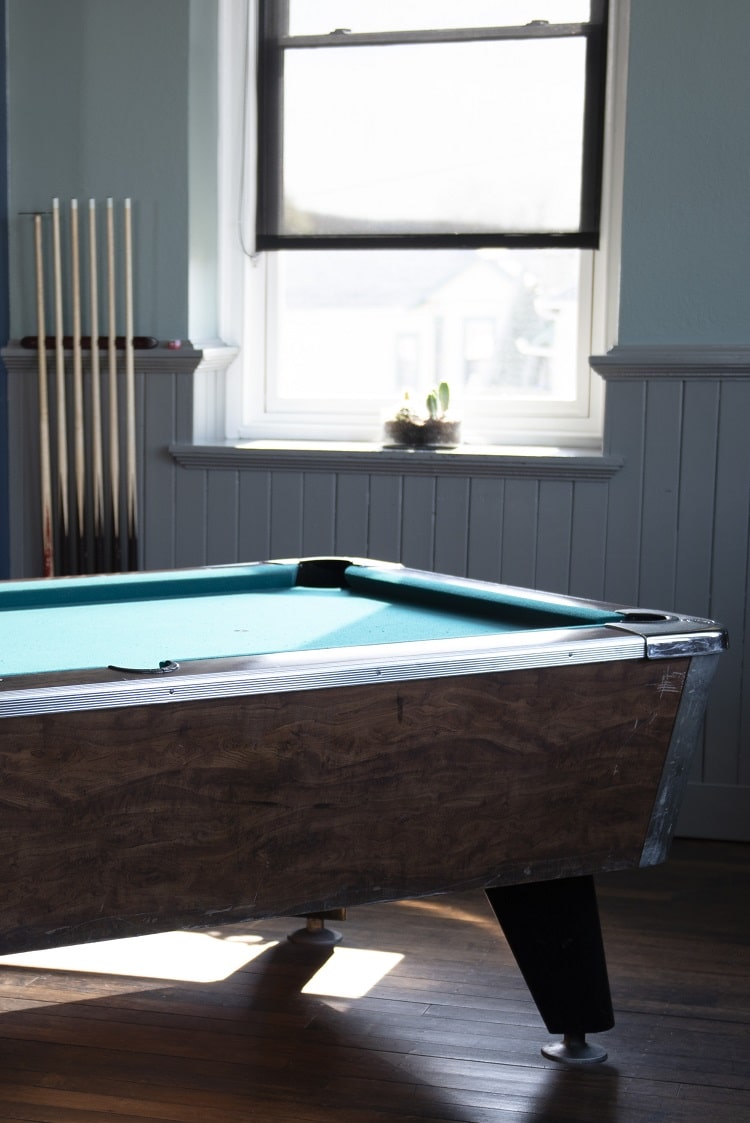 General Manager Jacob Wallace (who's worked at both Station Taproom and Bottle Room) says, "The expanded space has all the right ingredients to provide Downingtown and the surrounding area with a family friendly place to grab great beer while indulging in a menu that takes typical brewpub fare to a whole new level."
Be on the (literal) lookout for the outdoor, third-floor rooftop space to be open for the season. Construction has begun on what promises to be one of the highest points in Downingtown, as the building was a former fire station and visibility was critical in the early 1900s. The view overlooks several miles of bucolic Chester County, and it will provide the perfect way to unwind while imbibing in this newest brew and grub destination. Stay tuned and follow along on Facebook and Instagram for updates on this exciting development.
Parking is free on site, and there's a large metered lot across the street that's free after 5 p.m. Hours are Wednesday and Thursday, 3–11 p.m., Friday and Saturday, noon–11 p.m. and Sunday from noon–9 p.m.
East Branch Brewing Company is located at 202 E. Lancaster Ave. in Downingtown; phone: (484) 593-0815.