We think any time of year is the right time to crack open a local hard cider, but we get it: The autumn feels extra right. Pennsylvania apples abound in the fall months, and the crisp juiciness of a cider is the perfect compliment to cool nights by a bonfire, or as a little reward for raking up a yard full of leaves. While you probably already have a four-pack of your favorite go-to Pennsylvania cider in the fridge, why not use this fall as a chance to try something new? There are plenty of ways to celebrate local cider and local cider makers, and we've found seven opportunities that you just can't miss:
Plan Your Schedule for the 2nd Annual Philly Cider Week (Philadelphia)
Philly Cider Week is back for its second year of repping orchard-driven ciders via a huge slate of events throughout the city. Running from Thursday, October 31 (yes, The Night of the Living Ciders is back at Kensington Quarters) to Friday, November 8, there will be tastings, parties, happy hours, cocktail competitions and even history nerd-type stuff to explore! Whether you're a cider fanatic or just like to dabble from time to time, there is bound to be an event that appeals to you. Check out the full calendar and start planning your 2019 Philly Cider Week!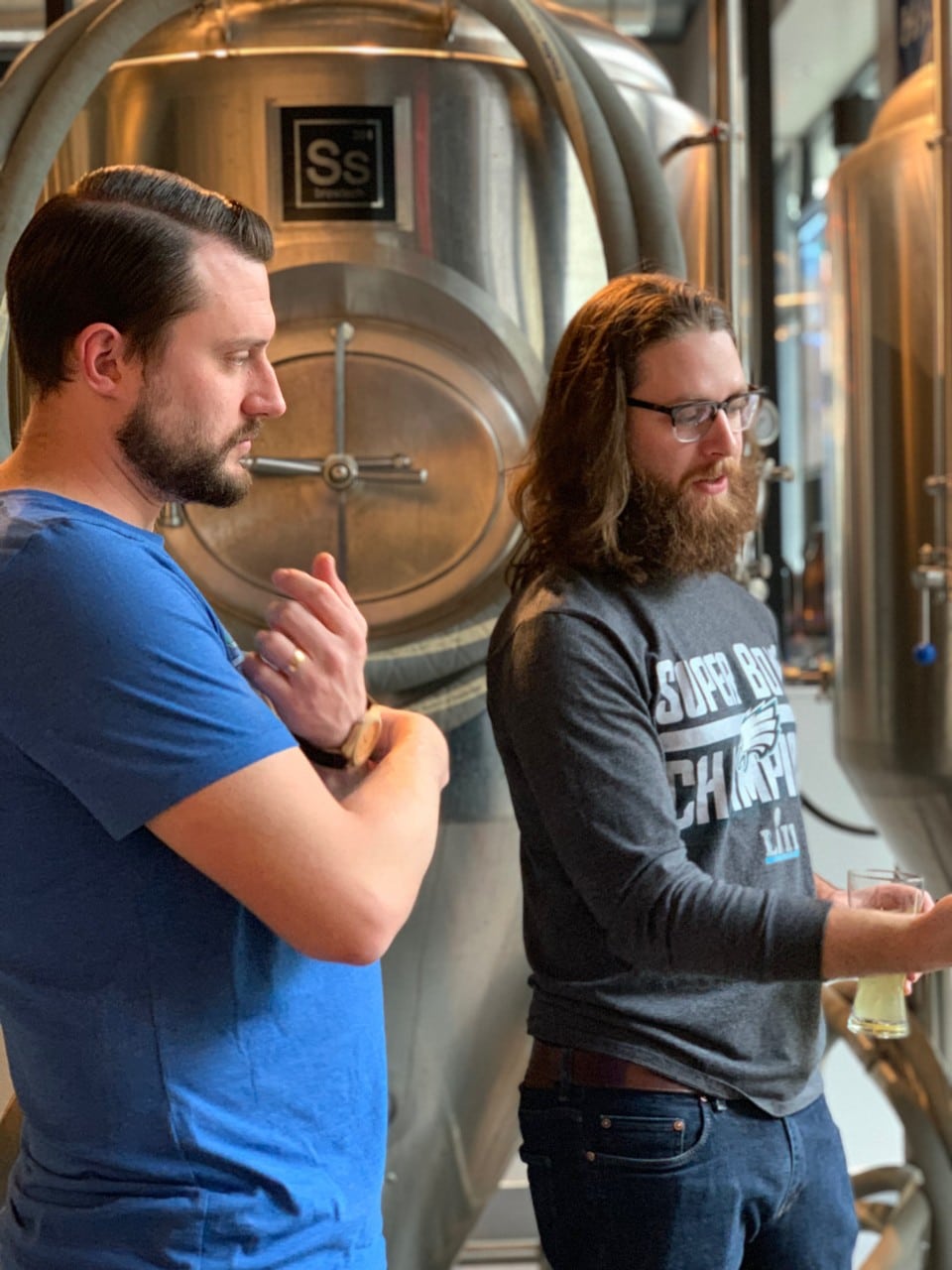 Hale & True Cider Co., with a taproom in Philadelphia's charming Bella Vista neighborhood, is a great place to kick back with a house-made cider (we can't get enough of Hail to the Hop!). It's also a great place to learn about making cider, and we're not just talking a standard behind-the-scenes tour. Throughout 2019, Kerry and Risa McKenzie, the owners of H&T, have been offering 3-part courses, open to anyone who wants a 101 lesson in making cider. The courses cover getting fresh pressed juice and pitching yeast; racking and clearing cider; and bottling cider and naturally carbonating. Everything is provided for participants to make, bottle and take home one gallon of cider (that's about six 22-ounce bottles), and of course, plenty of cider will be shared and sampled along the way. Registration for the late fall session is open now; classes will meet from 6:30 to 8 p.m. on Tuesday, October 29, Tuesday, November 12 and Tuesday, November 26. Can't make the late-fall session? Keep an eye on Hale & True's Instagram for future course announcements. 613 S. 7th St., Philadelphia; (267) 639-4334.
As you can probably guess, Grand Illusion Hard Cider has a certain affinity for all things tricky and magical. Even its house-made ciders have names like Street Magic, Mystic Citra Pineapple and Hocus Hibiscus. On Monday evenings, this Carlisle-based cider, wine and beer bar takes it a step further with free tableside magic from 6 to 8 p.m. The magic tricks are always family-friendly, so bring the whole brood! Grand Illusion offers custom flights of anything it has on draft, including craft sodas, which is another fun way to help the kids feel included. On your way out, don't forget to stop by the fridge to create your own mix-and-match six-pack of Grand Illusion's own ciders! 26 W. High St., Carlisle; (717) 462-4716.
A Few Bad Apples is the project of Pittsburgh-based cider fanatic Mike Sturges and some friends. Over the years, Sturges has made experimental small batches of cider with foraged and forgotten fruits, like mulberry, knotweed and serviceberry, that he finds on roadsides and collects from neighbors. Since 2005, Sturges and his band of cider-loving friends have used A Few Bad Apples to connect their community and fruit that would otherwise go to waste, by turning that fruit into cider and then sharing it at events like fundraisers. Their efforts culminate in their annual cider festival, A Few Bad Apples Cider Fest, (now in its 5th year!) which is coming up on Saturday, October 19, 2019 at the WBU Event Space. Sturges and friends will sample out cider, local bands will provide live music, and food from Asado (chefs at Gaucho Parilla Argentina) and Wise County Biscuits, and beer from Spring Hill Brewing will be available for purchase. A portion of the proceeds will benefit Allegheny CleanWays. Tickets are limited, so scoop some up before the event sells out!
Get Your Fall Spice on at Threadbare Cider (Pittsburgh)
Never mind the haters — this is the season of cozy baking spices and their special guest appearances in all of our food and drinks! Local craft cider is getting into the fun, like Threadbare Cider's Fall Spice Cider, an homage to the Pennsylvania fall season: a blend of pressed tart early-harvest apples which are fermented with Threadbare's house English yeast before being spiked with a balanced blend of cinnamon, ginger, nutmeg and clove. The tartness of the apples and sweetness of the spices remind Threadbare of, "the cooler weather, beautiful foliage, and apples that are so plentiful this time of year." Sounds pretty perfect to us! Look for bottles of Fall Spice Cider at Threadbare's Cider House in Pittsburgh, or shop online! 1291 Spring Garden Ave., Pittsburgh; (412) 322-5100.
While we're always down to hang at an urban cidery, there's something so special about getting to drink cider on an actual farm! Arsenal Cider House, which has a location in Pittsburgh, also has two country outposts: one at Soergel Orchards in Wexford; and the other at Trax Farms in Finleyville. Head to Trax to experience its 50th Annual Fall Fest (taking place until the end of October), or go apple picking at Soergel, and cap your adventure with a cold glass of cider! Both locations feature mini Arsenal Cider House taprooms, with multiple varieties of hard cider (and other adult beverages), available by the glass or growler-fill! Soergel Orchards: 2573 Brandt School Rd., Wexford; (724) 935-1743;  Trax Farms: 528 Trax Rd., Finleyville; (412) 835-3246.
Have Cider for Dessert
Have you ever heard of pommeau? This strong dessert wine originated in and around Normandy, France. It's typically made by blending apple must (unfermented apple juice) and Calvados (or another type of apple brandy) and allowing the mixture to age in barrels for two to three years. The proportions are usually two-thirds apple juice to one-third brandy, for a result of 16 to 18% ABV. It's lovely as an apéritif or digestiv. Pennsylvania pommeau isn't too hard to find: Deep Roots Hard Cider in Sugar Run, PA, makes a luscious Honey Pommeau, a blend of fresh cider and apple brandy, aged in charred American oak barrels with a touch of local honey. It's sweet and aromatic, perfect over ice for a sweet post-meal quaff. Conneaut Cellars in Conneaut Lake, PA, produces a pommeau made from its own distilled apple-jack, aged 2 years in French oak barrels and rough filtered.
There's another category of dessert-appropriate ciders, as well, called "Ice Ciders." Similar to ice wine, ice ciders are made from the juice of frozen apples, which concentrates the apples' natural sugars and results in a higher alcohol content than traditional cider. Usually, the flavors are very rich and intense: apples, caramel and spice with a bit of alcoholic heat. Stone and Key Cellars in Montgomeryville, PA, makes a lovely dessert ice cider with a special blend of apples grown and pressed by Solebury Orchards. SpringGate Vineyard in Harrisburg, makes plenty of cider in addition to wine, including what it calls Cider Royal, cider that is blended with brandy; some is aged, some is not, but all of its Cider Royals would make terrific dessert ciders!
What are the Pennsylvania ciders you're excited to try this fall? Any new discoveries? Let us know on the PA Eats Facebook page!
Feature photo and Cider Course photo:

Hale & True