For many food-lovers, French cuisine holds a special fascination. In a bygone era, French bistros and restaurants epitomized "fine dining" in the US, and although that Euro-centric cultural viewpoint has evolved in the 21st century, France continues to have an outsized influence on both the food served across the globe, as well as on how restaurants and professional kitchens operate. For instance, the hierarchical brigade-style organization of many restaurant kitchens, with the chef at the top and the chef de cuisine, sous chef, etc. below them, can be traced directly back to France (it was invented by the famous French chef, Georges Auguste Escoffier, at the turn of the 20th century).
There's also the simple fact that French food, with its ample use of butter and wine, is both delicious and romantic, a specific kind of decadence that feels at once familiar and foreign. There are plenty of places in Pennsylvania to enjoy French cuisine, from classics like moules frites and beef bourguignon, to more obscure regional dishes and modern plays on the standards. Though by no means a comprehensive list, here are 14 French restaurants in Pennsylvania to explore!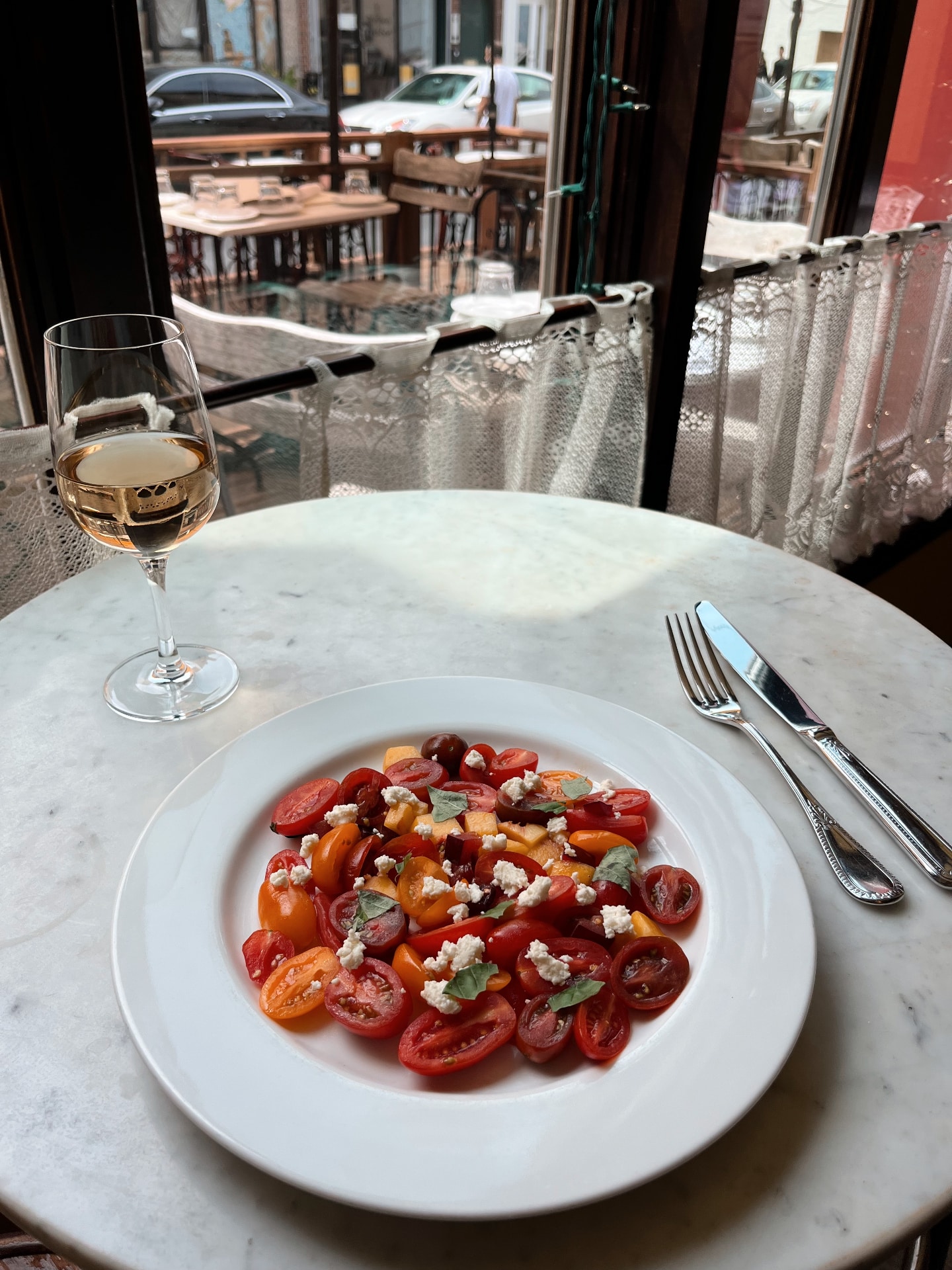 A longtime stalwart located right off busy South Street in Philadelphia, Bistrot La Minette has been serving up crave-worthy French food in a cozy dining room since 2008. At dinner, find vichyssoise, escargot in garlic butter, a ratatouille tart and much more; a jumping happy hour (Monday through Friday, 5:30 to 7 p.m.) offers discounted cocktails, beers and snacks, and weekend brunch incorporates egg dishes, like omelettes and steak and eggs. Don't miss the extensive wine list and dessert menu, as well! To keep the French-y times rolling, check out owners Peter and Peggy Woolsey's other restaurants, Gabi and La Peg. 623 S. 6th St., Philadelphia; (215) 925-8000.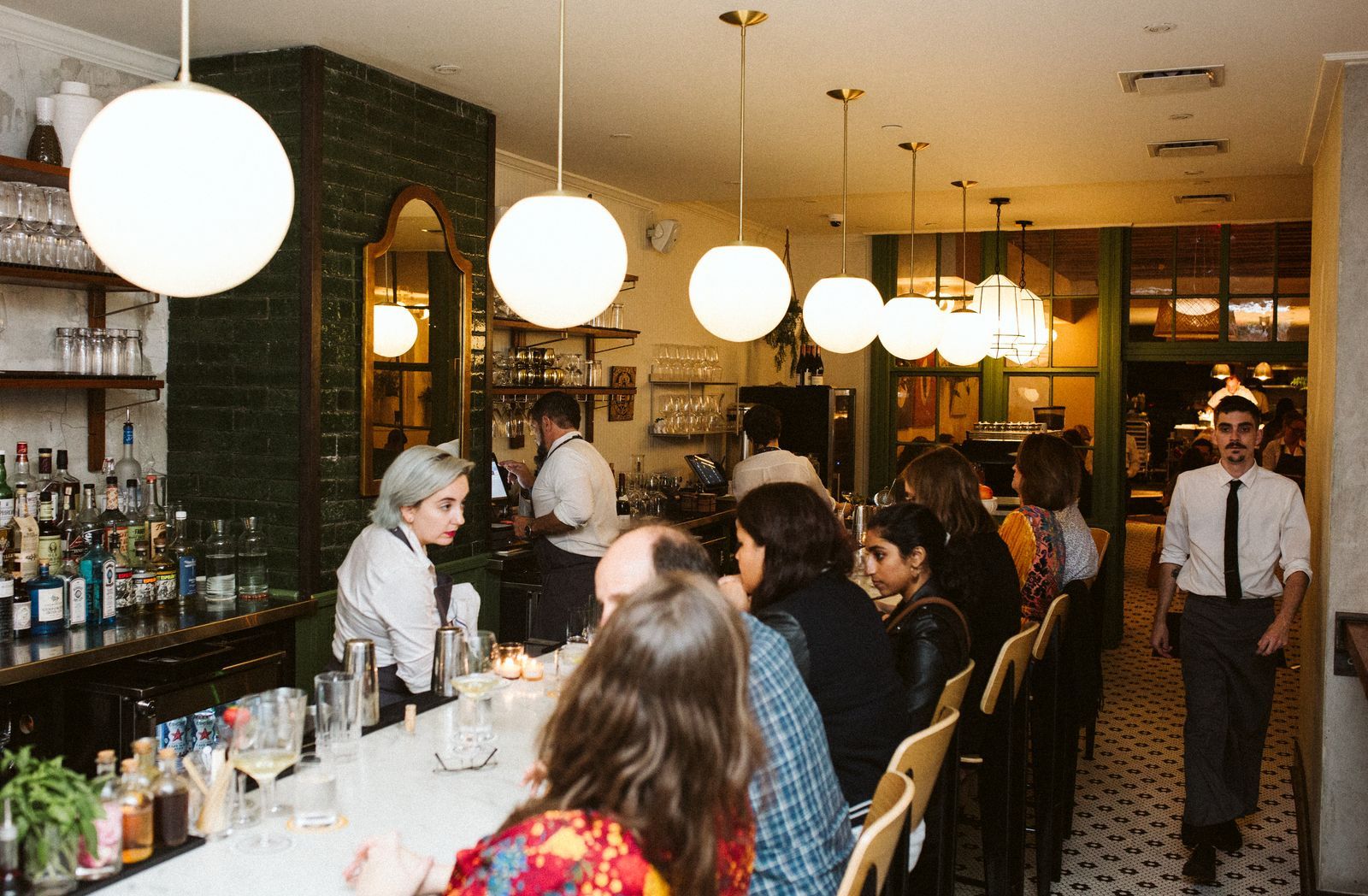 When acclaimed Philly Chef Christopher Kearse opened this contemporary French bistro in 2019, city diners waited in anticipation to see how he would carry on the legacy he started at his first restaurant, Will BOYB (now shuttered). They were not disappointed, as this charming spot in Old City has become a popular destination. From indulgent apps, like foie gras mousse, to hearty entrees, like a 10-day dry-aged whole duck, each dish here is considered and executed beautifully. Don't miss the French AF series, a monthly prix fixe dinner with a different theme each go-round, like La Fête du la Côte d'Azur and La Fête du Cochon. 233 Chestnut St., Philadelphia; (215)  644-9395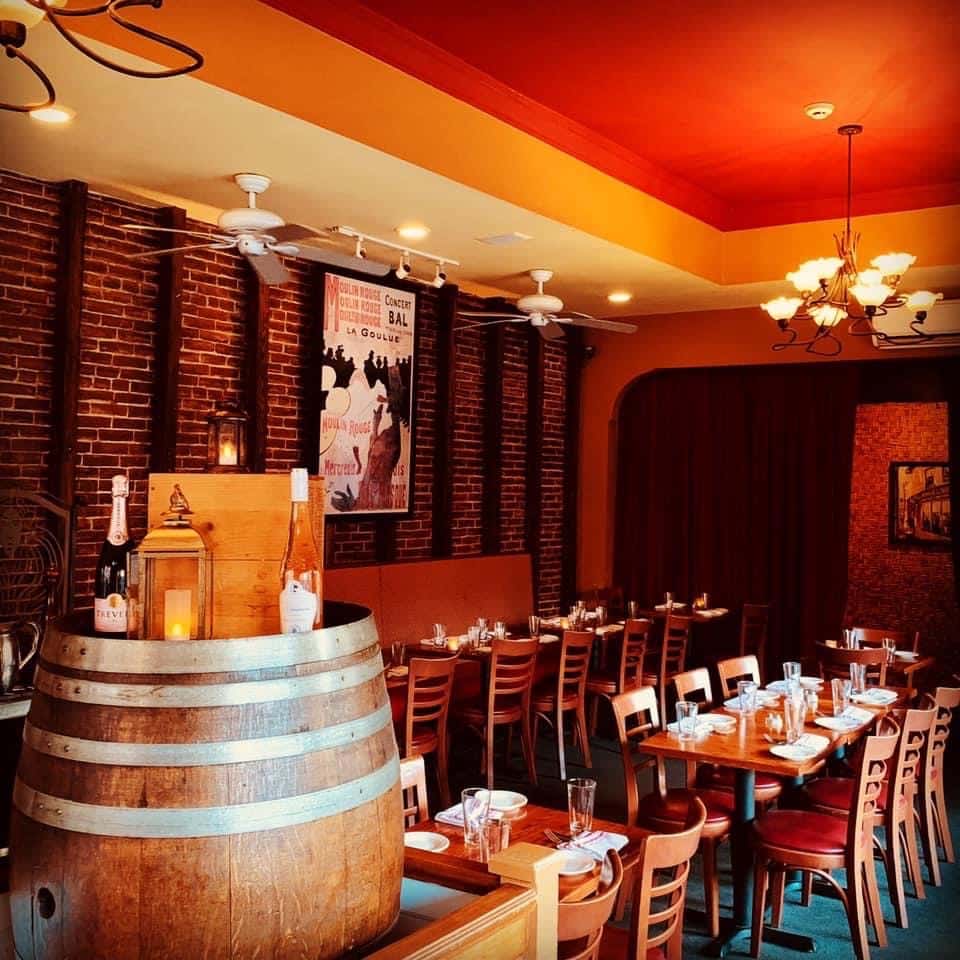 Chef Loic Barnieu, the owner and self-taught chef at La Belle Epoque Bistro in Media, grew up in a small village in Burgundy, France. Not only has he brought his home culture to the Media food community, but he also portrays the French Patriot Marquis de Lafayette for the American Historic Theatre! His passion for food, though, is not to be outdone; La Belle Epoque's dinner menu is a joyful tour through France's most iconic dishes: Truite Amandine, Salade Niçoise, Carpaccio de Boeuf and much more! There is a full bar, featuring after-dinner cocktails and wine; Sunday brunch is also available. 38 W. State St., Media; (610) 566-6808.
After the success of their restaurant Vida & Comida, Manuel and Cindy Jiménez opened a French restaurant, La Provence, in downtown Ambler. With experience gained around the globe, Chef Manuel brings his knowledge of haute cuisine and fine dining to the borough. Cozy up to a table and explore the rustic-yet-refined dinner menu, with starters, like raw oysters, salade lyonnaise and a well-appointed cheese plate, as well as plats principaux to the tune of dover sole mueniere and confit de canard. Heads up: La Provence keeps a dress code! 27 West Butler Pike, Ambler; (215) 390-1767.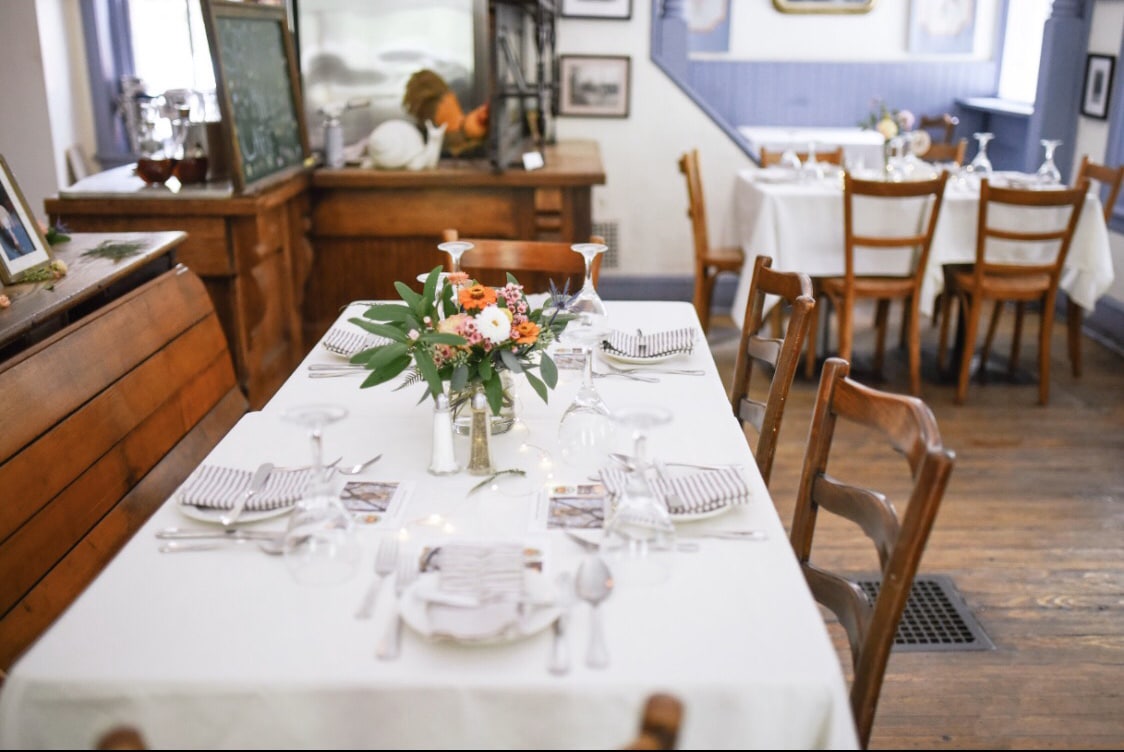 Country French cuisine in a beautiful converted farmhouse? We can't think of anything more dreamy, and would you believe that the Spring Mill Café isn't located in the countryside, but is in fact just on the outskirts of Philadelphia on the southern edge of Conshohocken? Yes, since 1978, this charming, historic spot has been serving dishes passed down from owner Michele Haines' family, including hearty fare like pâté de campagne and salmon niçoise, as well as fabulous desserts. Dinner and brunch service are available in the eclectic dining room, or on one of the gorgeous outdoor spaces on the property. Spring Mill Café is also an incredible wedding venue! 164 Barren Hill Rd., Conshohocken; (610) 828-2550.
While C'est La Vie isn't a proper sit-down restaurant with white tablecloth service, its authentic pastries, quiches, breads and other desserts are too good not to include here! The glass display cases of this boulangerie are filled to the brim with all manner of decadent, buttery treats, like flaky, tender croissants, glistening fruit tarts, and feather-light cream puffs. Coffee is on offer, as are some savory options, like sandwiches, bagels and puff pastries. 20 S. Main St., New Hope; (215) 862-1956.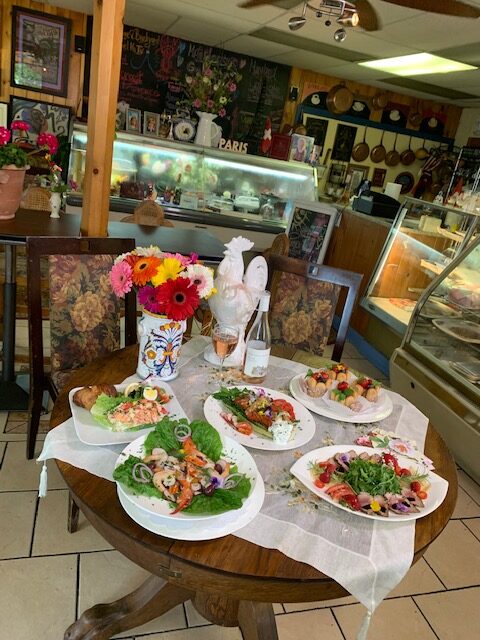 Tucked in the up-and-coming town of Honesdale (part of the greater Poconos region), you'll find Branko's Patisserie du Jour, a comfy little French spot serving artful but unfussy food created by European Master Chef Branko. French onion soup? Check. Nicoise salad? You bet. Superb eggs Benedict for brunch? Most definitely. Coffee and pastries are also available. 501 Main St., Honesdale; (570) 253-0311.
Hailing from Dijon, France, the French Express' chef Christophe Fichet brings authentic French flavors to this casual to-go cafe's menu. These include baguette sandwiches and panini, fresh salads, soups, quiche and sweet and savory crepes! The daily specials menu offers a rotating selection of gourmet options, as well; recent examples include ricotta and lemon curd crepes, potato leek soup and a vegetable and asiago cheese quiche. The cafe also includes a small market space, stocked with delectable French products, like jams, mustard, chocolates and more! 1020 Latrobe 30 Plaza #429, Latrobe; (724) 739-3663.
Au Bon Lieu (Hershey & Harrisburg)
 

 

View this post on Instagram

 
Crepes are an iconic facet of French cuisine; whether stuffed with sweet or savory fillings, they are impossible not to love! At Au Bon Lieu, with two locations in Central PA, there are dozens of crepes to try, each one made with fresh ingredients sourced from local farmers markets. From ham, spinach and brie, to Nutella with blueberries, there is something for everyone to enjoy here! Coffee, salads and daily specials are also available. 110 W. Chocolate Ave., Hershey; (717) 533-4074; 1 N. 3rd St., Harrisburg; (717) 236-7875.
 

 

View this post on Instagram

 
Chef Cederic Barberet's culinary story began at his family's bakery in Villefranche-sur-Saône, France, called Patisserie Barberet, where he started out as an apprentice. After working at reknowned restaurants like Le Bec Fin in Philadelphia, he's established himself with Bistro Barberet in Lancaster, which has been in business for over 25 years! This warm, welcoming cafe is a must-visit for heavenly pastries and desserts, and is also a great place to meet up with friends for lunch or happy hour. Don't miss the $40 weeknight dinners (available Tuesday through Thursday), which include an appetizer, entree and dessert. Fun fact: In the spring of 2020, it was announced that Chef Barberet was the winner of the Food Network dessert competition show, Chopped Sweets! 26 East King St., Suite 1, Lancaster; (717) 690-2354.
 

 

View this post on Instagram

 
Frederic and Lori Rongier bring an authentic French dining experience to Pittsburgh in their restaurant Paris 66. Since 2011, this charming, intimate bistro has been serving guests food and beverages inspired by the City of Lights. On the drinks list, find aperitifs, cocktails (including a very good Boulevardier), beer and beaucoup wines by the glass and bottle. For dinner, there is so much to choose from, including three kinds of moules-frites, savory buckwheat galettes, filet mignon au poivre and much more. Brunch is also offered on Sundays. 6018 Centre Ave., Pittsburgh; (412) 404-8166.
 

 

View this post on Instagram

 
This farmhouse-style eatery in Pittsburgh's bustling Lawrenceville neighborhood fuses the concepts of French and American bistros, to a lovely effect. The dinner menu features many dishes firmly rooted in French tradition (duck confit, pommes frites), as well as a number of forays into American fare, like chips with dip and salmon roe, a loaded bistro cheeseburger, and a baby kale Caesar salad. Do yourself a favor and check out the well-balanced wine list. 3517 Butler St., Pittsburgh; (412) 325-3435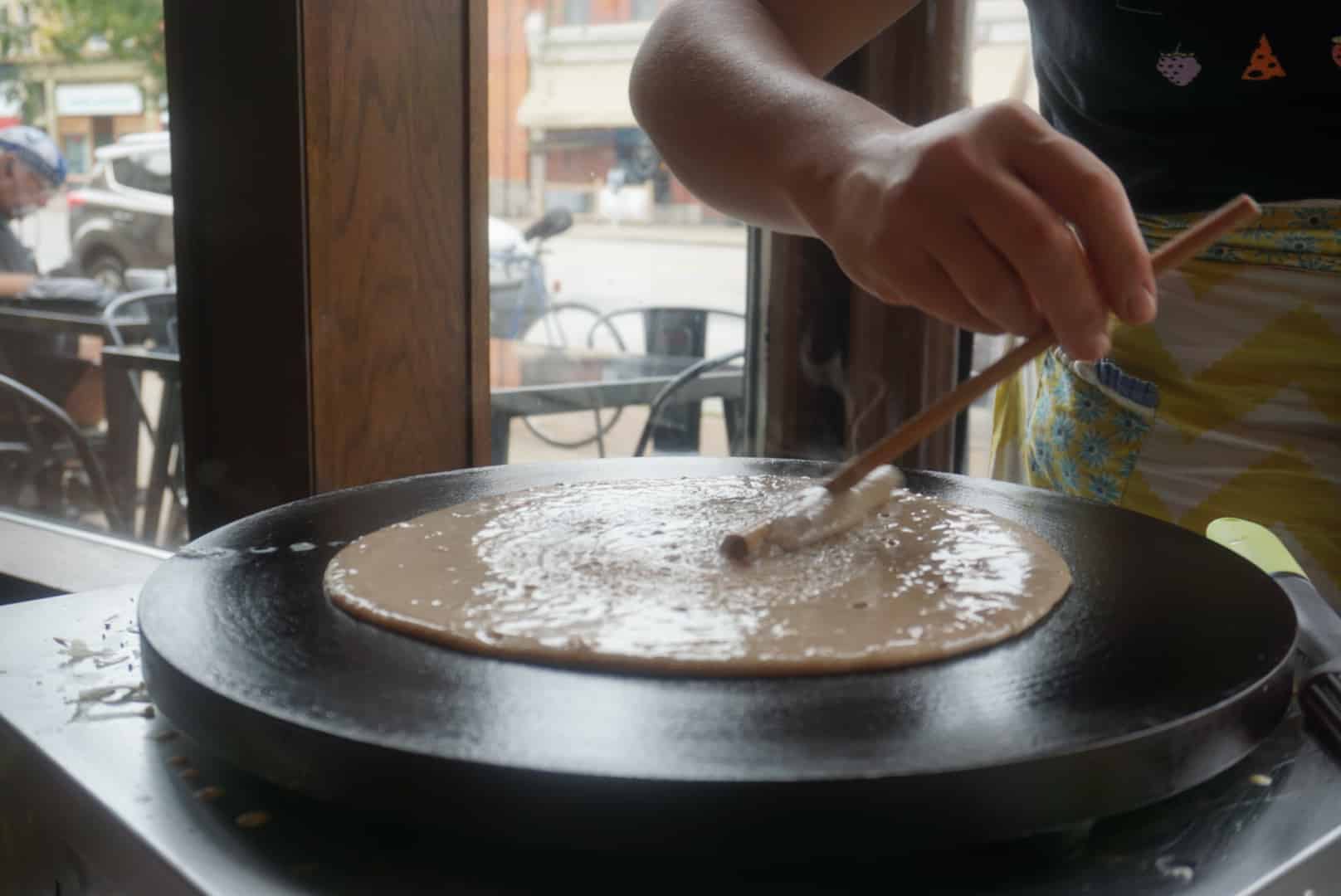 How we love a crepes and food pun: And Give a Crepe/The CrepErie has both! This cute cafe in downtown Erie takes this craveable street food sweet-and-savory; its menu is concise and well-curated. We recommend the Mr. Sir (ham, gruyere, spinach, bechamel) and the Citron (house-made lemon curd and citrus-spiked butter). This spot is only open from 10 a.m. to 2 p.m., making it an ideal stop for brunch or lunch. 2431 Peach St., Erie; (814) 840-1466.
Though it's not opening until the fall of 2022, we wanted to include the exciting new French diner, Ouef Boeuf Et Bacon coming to State College. The newest project of Chef Gillian Clark, this new venture in the old Baby's Burger location will reportedly serve American classics with a French twist, including omelets, crepes, steak and eggs, rotating "Sacre Bleu Plate Specials," like meatloaf and bouillabaisse. A soda fountain will complete the retro-inspired experience. 131 S Garner St., State College.
Okay, now it's your turn: Where do you go for incredible French food and Parisian vibes in Pennsylvania? We want to know! Join in the conversation on the PA Eats Facebook page.
Photos:

Courtesy of their respective restaurants