November 9 is National Scrapple Day and it's worth celebrating this famous Pennsylvania breakfast food. Not sure about scrapple? Don't worry, you're not alone. We've got a few videos to take you on a scrapple journey! Watch the reaction when people try scrapple for the first time and see how it's made! To all of our Pennsylvania foodies, Happy Scrapple Day!
Scrapple Road Trip
What is Scrapple?
"Scrapple, also known by the Pennsylvania Dutch name Pannhaas or "pan rabbit", is traditionally a mush of pork scraps and trimmings combined with cornmeal and wheat flour, often buckwheat flour, and spices. The mush is formed into a semi-solid congealed loaf, and slices of the scrapple are then pan-fried before serving.

"The roots of the culinary traditions that led to the development of scrapple in America have been traced back to pre-Roman Europe.[9] The more immediate culinary ancestor of scrapple was the Low German dish called panhas, which was adapted to make use of locally available ingredients, and it is still called "Pannhaas," "panhoss," "ponhoss," or "pannhas" in parts of Pennsylvania.[10] The first recipes were created by German colonists who settled near Philadelphia and Chester County, Pennsylvania in the 17th and 18th centuries.[11] As a result, scrapple is strongly associated with areas surrounding Philadelphia, Baltimore, Washington, D.C.; Eastern Pennsylvania, New Jersey, Maryland, Delaware, Southern New York, and the Delmarva Peninsula."
Reference: https://en.wikipedia.org/wiki/Scrapple
Watch People Trying Scrapple for the First Time
Scrapple can be a tough sell for the uninitiated. Check out this fun article from The Morning Call about the Scrapple Summit, a locally organized event in 2018, when newcomers to the Pennsylvania Dutch specialty give scrapple a try.
Watch Scrapple Being Made in Central Pennsylvania

Watch as Central PA local Randy Barger and his friends make a homemade kettle of Scrapple on a winter morning.
Make Your Own
Love a DIY kitchen adventure? Try Extra Crispy's tutorial on How to Make Scrapple, the Hearty Pennsylvania Breakfast.
Make a Classic PA Breakfast
Josh Fidler, a Central PA chef currently helming the ship at Mela Kitchen in Gettysburg, was the very first guest at our Pennsylvania Kitchen video series. He shared a simple, satisfying recipe for a classic PA breakfast: scrapple with dippy eggs and toast.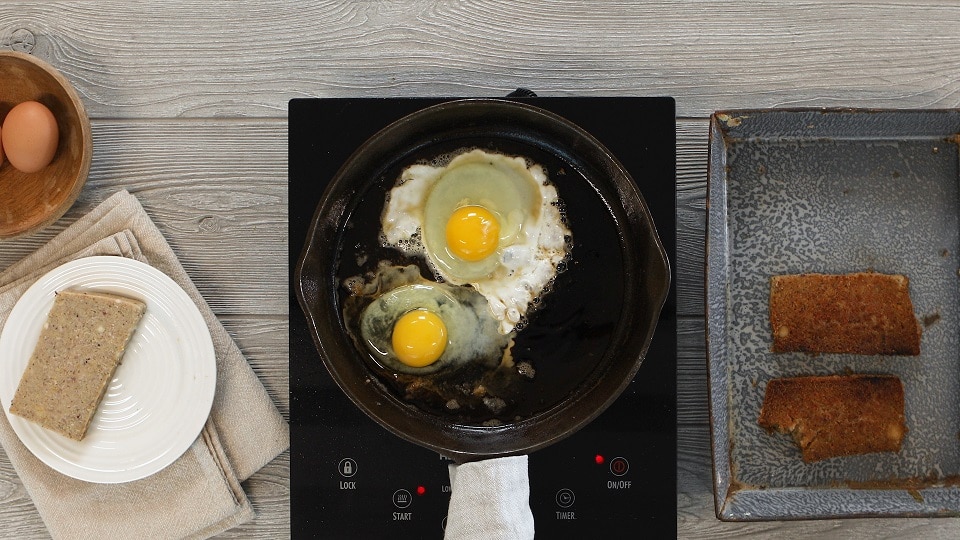 "Dippy" eggs are common Pennsylvanians parlance for over-easy eggs because the runny yolks are meant for dipping toast in! Thick slices of scrapple (like the local stuff from Bucher Meats in Adams County) are fried til crispy and paired with local farm fresh eggs, a swipe of apple butter and a toasted Martin's Potato Bread.
Check out the video above for the technique, then head here to try Chef Fidler's full recipe.
What are your favorite ways to enjoy scrapple? Who makes the best scrapple in PA? Let us know in the comments or on the PA Eats Facebook page!
Feature video and photos:

Dish Works

Making Scrapple in Central PA video:

CoolPixxMedia1