Have yet to explore Northeast PA? It's time to change that! The region surrounding Scranton — the sixth-largest city in Pennsylvania — boasts a rich history as a top industrial hub of the Commonwealth, and today it offers a plethora of exciting things to see and do.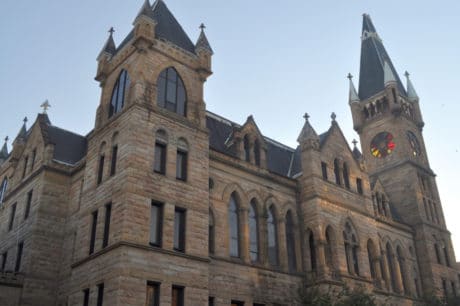 Follow our lead and discover award-winning local wines, craft beer, a one-of-a-kind fragrance shop, and amazing sightseeing experiences that you won't find anywhere else. We'll show you some of the sparks that make "The Electric City" and the NEPA region truly light up.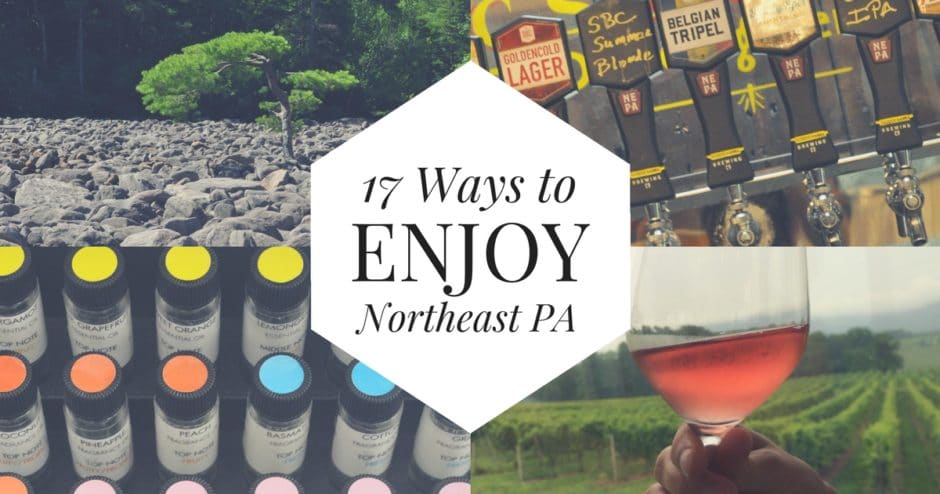 1. Visit the Pizza Capital of the World In Old Forge PA
Yes, it's true. There's a tiny town in Pennsylvania that has proudly claimed the title, citing the high concentration of pizza shops in its 3.5-square-mile downtown area.
Forget Chicago style or New York style. In Old Forge, they make pizza the Old Forge way, complete with their own local lingo: instead of pizza pies, you order rectangular "trays," and instead of slices, you order "cuts." The pizza comes in two main varieties: red, which carries sauce and ingredients on top, and white, which is sans tomato sauce, with cheese and ingredients layered between top and bottom crusts.
Options abound, so ask locals which is the best. The answer you'll get depends on who you ask. Everyone has their favorites. On the corner of Main and Grace Streets, you can hit two of the most famous: Arcaro & Genell and Revello's Cafe Pizza. Described as the Old Forge equivalent of Philadelphia's cheesesteak rivals Pat's and Geno's, each has its own character, and neither disappoints.
Arcaro & Genell


Tents outside offer seating and some curious rectangular courts where visitors can try their hand at bocce. Step inside for a homey Italian vibe, with dim lighting, high-backed booths and colorful murals on the walls.
Order both red and white cuts for the full experience. Homemade dough is a foundation for both styles. The red delivers a crispy crust with a hit of sweet, tangy sauce and a gooey cheese blend. The white — even cheesier and more filling than the red — is seasoned well with rosemary and pepper and packs a powerful garlicky punch. 443 S. Main St., Old Forge; (570) 457-5555.
Revello's Pizza


Find a completely different atmosphere at Revello's. This family-friendly, upbeat, retro diner-style spot offers bright red vinyl chairs and eye-catching lights and decorations. Grab a seat at the popular chess table by the door and try a game while you wait for your pizza (which won't take long).
Revello's prides itself on making all its ingredients from scratch, by hand, including grinding and seasoning tomatoes in-store to make the sauce. The recipe hasn't changed in over 45 years. An impressive selection of craft beer and growler fills are also available.
The white cut is warm, buttery and full of cheese (think grilled cheese), with a crispy crust and seasoned with rosemary and onion. The red is low on sauce but big on flavor with a unique cheese blend and a soft crust. 502 S. Main St., Old Forge; (570) 457-9843
Visit Old Forge and try both red and white cuts at as many shops as you can. Which will be your favorite? We'll let you decide.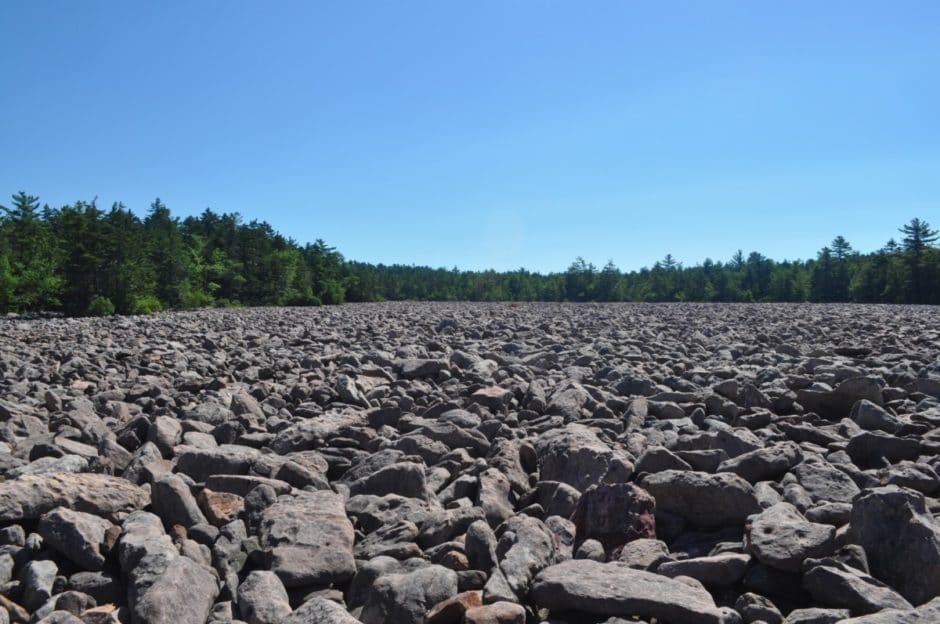 Butterflies flit and bees zoom along a narrow, unpaved gravel road that winds through the sun-dappled, fern-laden forest of Hickory Run State Park. The trail leads to Boulder Field, a 15,000-year-old expanse of 16.5 acres of boulders with a view that will take your breath away.
This National Natural Landmark was formed 20,000 years ago during the most recent glacial period, leaving red sandstone and quartz conglomerate boulders as far as the eye can see. Consider how thrilling it would have been to be the first to happen upon this unique landscape.
Hop carefully from rock to rock and listen to the clacking sounds of shifting stones echo across the field. Wear some good hiking shoes, explore at your own pace and leave no trace; if you bring snacks along, be sure to carry all your trash out with you. 3613 State Route 534, White Haven.
3. Drink Locally Made Wine & Craft Beer at Nimble Hill Winery
Along the side of US-6 in Tunkhannock you'll find an unassuming building housing the tasting room for Nimble Hill Winery & Craft Brewery, a true family operation. Gary and Ellie Toczko started the business in 2007 so they could work with their four children. Teaming up with winemaker Kevin Durland, they've been able to craft some truly local wines that shine. Inside you'll find a treasure trove of tasting potential. Stop for a tasting, grab a glass of red or white and relax in the comfy chairs of the Wi-Fi Lounge.
Nimble Hill produces outstanding wines for any tastes — from dry to sweet — made with grapes sourced from PA vineyards. The family's namesake wine, Toczko Vineyard Riesling, is a must-taste semi-dry white made entirely with grapes grown at Nimble Hill. Find herbal notes and just the right balance of sweetness with hints of lime and nectarine.
Craft beer fans rejoice! The Toczkos have teamed up with brewmaster Mike Simmons to bring craft beer to the NEPA region via Nimble Hill Brewing Company. After successfully testing their beers through local restaurants, they've now opened a beer-tasting room, where they offer six-packs and growler fills of their best-selling IPA and lager.
Taking another step toward keeping it local, Nimble Hill has been growing its own Cascade and Centennial hops in their vineyard for several years! All of the hops go into the seasonal harvest ale, a wet-hopped pale ale with an intense hop aroma but low bitterness. 3971 US-6, Tunkhannock; (570) 836-WINE.
4. Visit a Perfume Studio and Craft a Signature Scent at NOTE Fragrances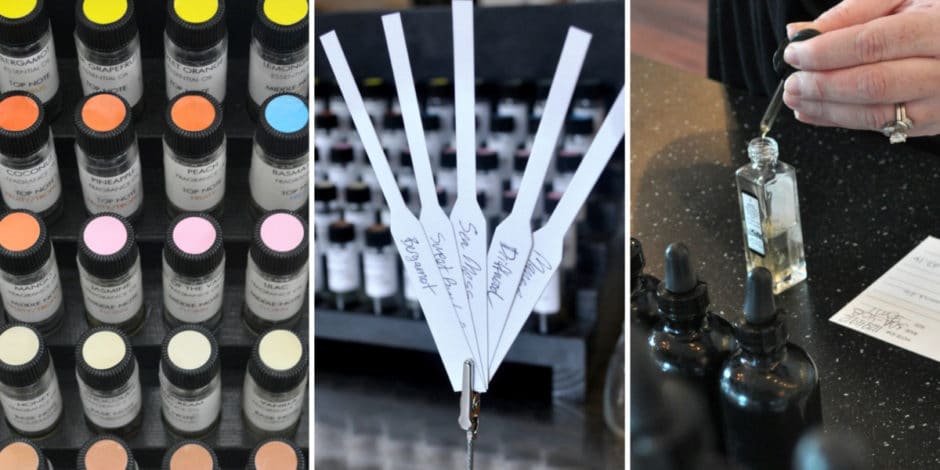 One of the most unique experiences you can have in Scranton is inside NOTE Fragrances. Owner Danielle Flemming has spent years studying the art, science and psychology of scent and founded NOTE to give men and women, alike, the chance to craft their own completely unique fragrance.
Choose from 50 component scents, arranged in small color-coded bottles on a "scent organ". Sniff scents from various families (such as "sweet and spicy," "herbal" or "fruits and berries") and gradually find three to five that pair perfectly for you! Build from fragrances like sandalwood and frankincense, or jasmine ,or strawberry; there are even amazing choices like coconut, ocean, honey, tomato leaf and lavender.
The process is step-by-step and delightfully easy to follow with a patient and happy staff ready to make suggestions. Take home a 30-ml or 60-ml spray-bottle of your fragrance for a surprisingly affordable rate, comparable to store cologne and perfume prices. Be sure to name your recipe and when you run low, you can re-order it online any time!
Tip: Plan a private party at NOTE, bring your favorite local PA wines and sip while you sniff. NOTE recently hosted its first bachelor party, which yielded some creatively inappropriate names for fragrances. 401 Spruce St., Scranton; (570) 343-2100; 312 S. State St., Clarks Summit; (570) 319-1111.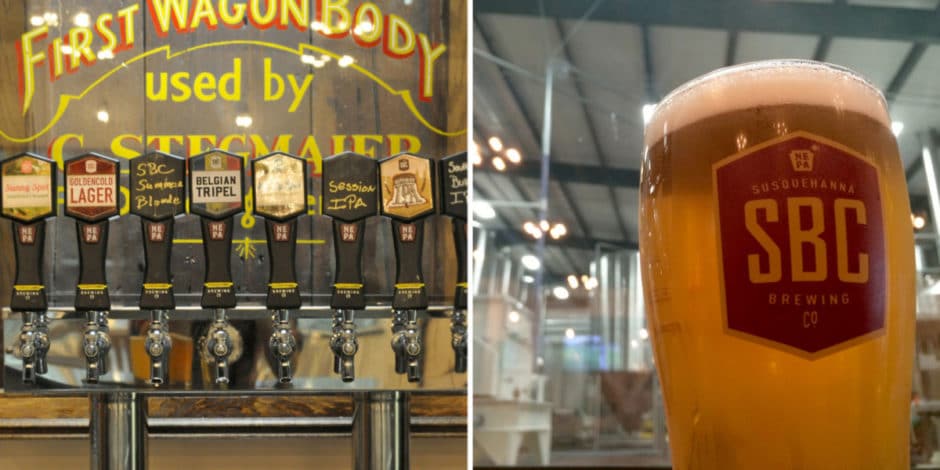 Drop in to Susquehanna Brewing Company's tasting room, located right inside its state-of-the-art brewery. Grab a seat at the bar to sample favorites from the brewery's core line, like Hop 5 IPA, seasonal specials, like Pumpkin Ale, and special batch brews, such as Orange is the New Ale and Susquehanna Tripel Ale.
The tasting room features huge picture windows offering an insider's look at the German-engineered brewing facility. Free tours that include tastings, available Saturdays and Sundays, will get you even closer to the action.
SBC is a young brewery with a long Pennsylvania history. We could tell you all about it here, but we suggest you hear the story of the Stegmaier and Maier families firsthand (with a pint in hand). Spoiler alert: It involves beer. Lots of it! 635 S. Main St., Pittston; (570) 654-3557.
Maiolatesi Wine Cellars is a fruit wine paradise featuring an extensive list, including Strawberry Cayuga, Just Peachy, Blueberry Chancellor and Lemon Sweet Tea wine.
Not into fruit wines? Explore the selection of dry reds and whites in the large, well-lit tasting room with a beautiful hand-made cherrywood bar, handcrafted by the winemaker's father. Or settle in on the expansive porch and enjoy the gorgeous views over the wooded hillside. Try the 2012 Meritage (it's well-balanced and smooth) or the 5 Shades of Rose, made from the skins of five different grapes.
Sal Maiolatesi and his father found an old wine press made in the 1900s by his great-grandfather. Intrigued, Sal decided to give winemaking a try. An electromechanical technician by trade, it wasn't long before Sal was building his own winemaking equipment, eventually opening his first winery in 1999 as one of the youngest sole proprietor winemakers in the state.
Visit on a Friday evening to try the gourmet wood-fired pizza made by Sal's sister and brother-in-law in the on-site brick oven! But be sure to call ahead for reservations — tables fill up weeks in advance, especially during summer months. 32 Cabernet Dr., Olyphant; (570) 254-9977.
7. Relax in Boutique Bed & Breakfast Style at The Colonnade
Opt for elegance and comfort and stay at The Colonnade. This stunning and swoon-worthy gem of an event space and boutique hotel has three suites featuring private sitting rooms, chic bathrooms and high ceilings on the second floor.
In 2006 owners Joshua Mast and Paul Blackledge left the fashion industry in Brooklyn and returned to Paul's hometown of Scranton, where they saw historical architectural significance and potential. After acquiring a magnificent and stately home from the 1870s that had fallen into disrepair, they spent over two years renovating it, bringing their keen sense of design to every detail. The result is a gift to each guest.
To book your room, dial The Colonnade's main phone number. 401 Jefferson Ave., Scranton; (570) 342-6114.
Whether you're coming off a great day of skiing at Camelback or are exploring the Poconos in the summertime, refuel with lunch at Zack's Taco Shack, a charming actually a shack with a cute outdoor patio. Each Zack's fresh, made-to-order tacos come topped with queso fresco, shredded Nappa cabbage, pickled red onions and smoked cayenne sour cream, cilantro and a lime wedge. The standard fillings are pork carne asada, slow-braised chicken, or vegetarian three bean. Shrimp, beef and fish tacos rotate through as specials. Heads up: Zack's is closed on Wednesdays. 145 Camelback Rd., Tannersville; (570) 664-8282.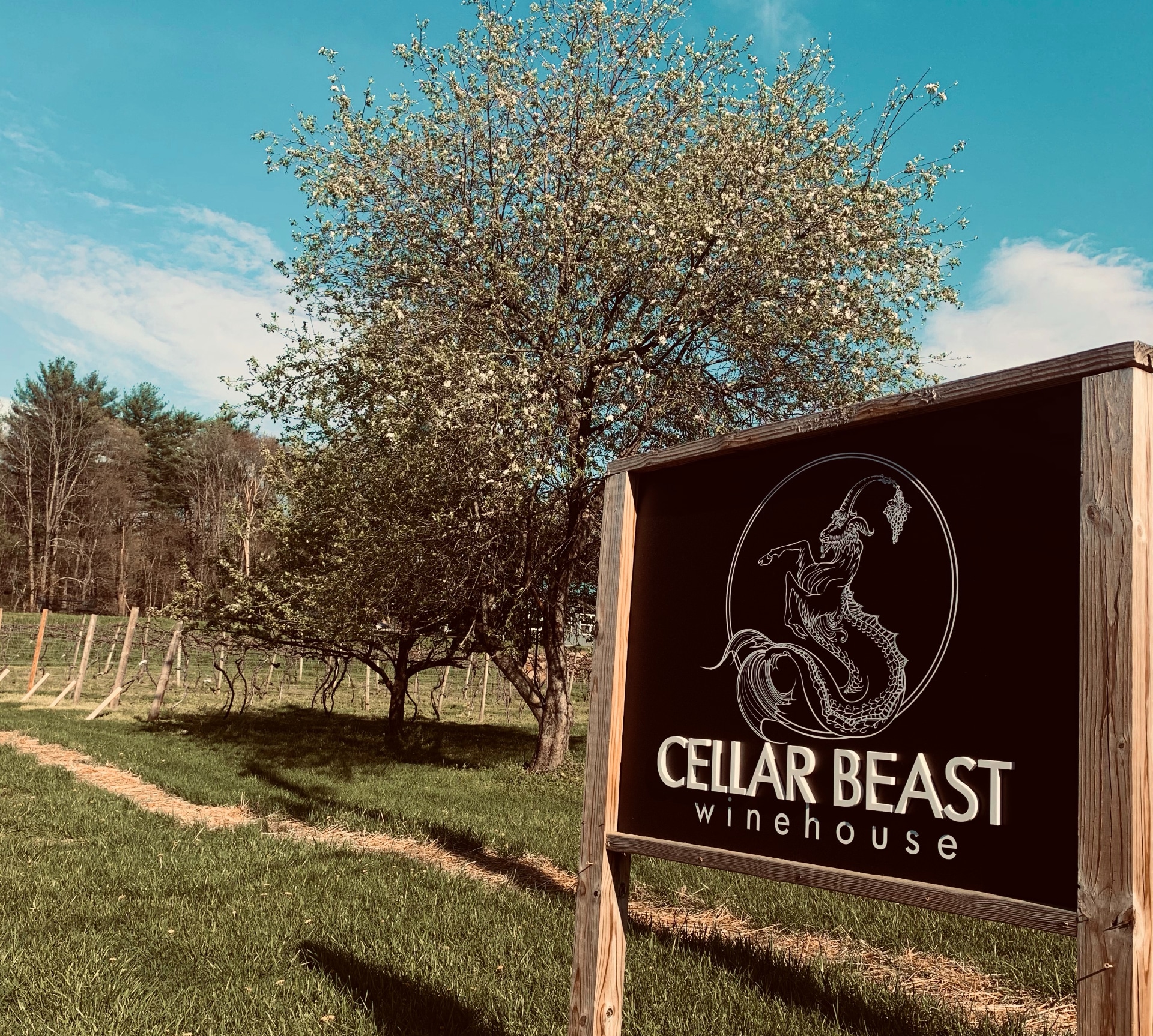 A newcomer to the PA wine community, Cellar Beast is the collaborative project of Karin Kozlowski, co-founder and vineyard manager and Matt Check, co-founder and head winemaker, with the support of their friend, Brian Crew. Open since the Spring of 2021, Cellar Beast makes sustainably crafted wine and cider using minimal intervention; varietals include Cab Sauv, Riesling, Merlot and more. Currently, they are using mostly purchased fruit to make wines, though they are tending to vines and apple trees on-site, with plans to produce estate-grown cuvees in the future.
The Cellar Beast tasting room is open from Friday through Sunday, noon to 8 p.m. Swing through for glasses or bottles of wine and cider, local beers and scratch-made frozen cocktails imbued with local spirits. Cozy up indoors or enjoy a patch of sunshine on its outdoor patio. Tours and guided tastings are also available! 139 Ash Circle, Andreas; (484) 613-2136.
Keep the night going after dinner with a stop at Backyard Ale House (one of our favorite places for burgers in NEPA), a casual after-hours bar near the glow of Scranton's famous "Electric City" sign. This is a place where locals grab drinks after a shift. The bar boasts a wide selection of craft beer on tap, including rotating local options available at the inside bar only, so grab a pint there and carry it outside to the backyard area, which is open to the sky day and night. 523 Linden St., Scranton, (570) 955-0192
Need coffee? The name to remember is Electric City Roasting Company. This growing local roastery is stocked not only in many local cafes but also in bigger regional grocery stores, like Wegmans and Weis Markets. It also operates its own coffee bar, ECR Park, in Peckville, PA.
Electric City Roasting Company and its founder Mary Tellie bring an unparalleled passion for quality and sustainability to every step of the coffee production process. With an emphasis on social responsibility (through direct-trade relationships with coffee producers) they give back to farmers and communities where they source their beans. Mary is the current chair of the Roasters Guild Executive Council, an SCAA Certified Barista and a Coffee Quality Institute certified Q Grader.
Mary and her team scientifically test every batch of beans in the SCAA-certified coffee lab in Throop, PA (not open to the public), and the resulting quality is no accident. During the rigorous cupping process, they carefully regulate all the variables of roasting and brewing to enable their highly trained noses and tastebuds to detect any off flavors or aromas. 101 Keystone Ave., Peckville.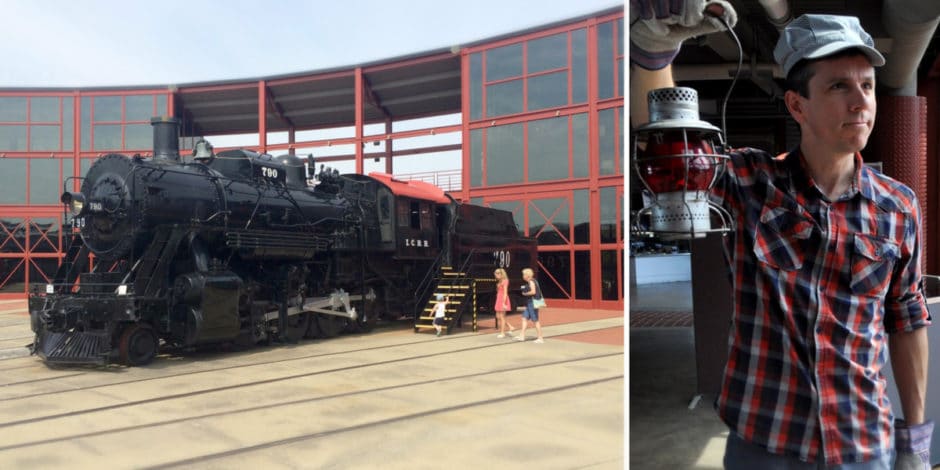 Next stop? The Steamtown National Historic Site. Get on board with first-hand facts about the railroad industry during the era of coal, iron and steel in the late 19th and early 20th centuries.
Kids of all ages can dress up in period garb, ring the bell on a train engine and climb aboard hulking locomotives, freight cars and passenger cars. The sheer size and strength of these machines will impress anyone. If you're lucky, you can catch a demonstration of the 90-foot-long turntable, which moves trains between the bays of the roundhouse.
The nation's first continuously operating electric trolley system, established in 1886, earned Scranton the nickname "The Electric City." Take a trip down memory lane on your own trolley car excursion. Trips depart several times a day during warmer months, but check in ahead of time to ensure they're running on schedule. 300 Cliff St., Scranton; (570) 340-5200.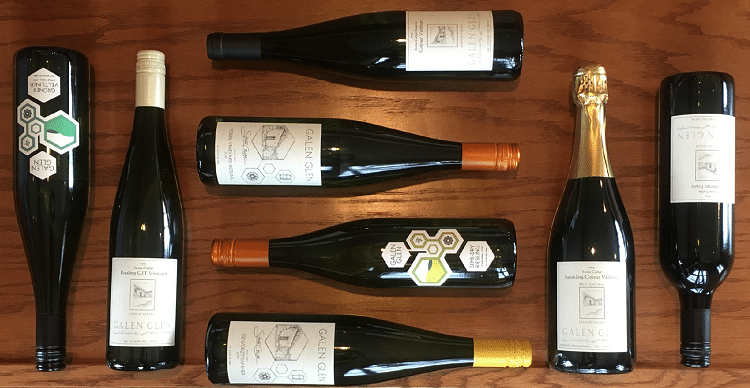 Cue the panoramic photo setting on your phone to capture the remarkable landscape around the quaint hilltop tasting room of Galen Glen Winery. When you close your eyes and imagine a winery surrounded by vineyards, this is what it looks like. Vines are always in view on the back patio and through the broad windows. If it rains, you're covered, literally, with a fully enclosed and air-conditioned porch area with the same sweeping views.
Galen Glen has been recognized nationally and internationally for its Grüner Veltliner — the favorite varietal of winemaker Sarah Troxell — which earned the winery a double gold medal at the 2015 Six Nations Wine Challenge in Australia, often called the "Olympics of Wine".
The tasting room is open Friday through Sunday, noon to 5 p.m. each day. Indoor and outdoor seating are offered; find a table and enjoy a glass of wine, or a guided or self-guided tasting. 255 Winter Mountain Dr., Andreas; (570) 386-3682.
14. Eat the Third-Best Hot Dog in America at Coney Island Lunch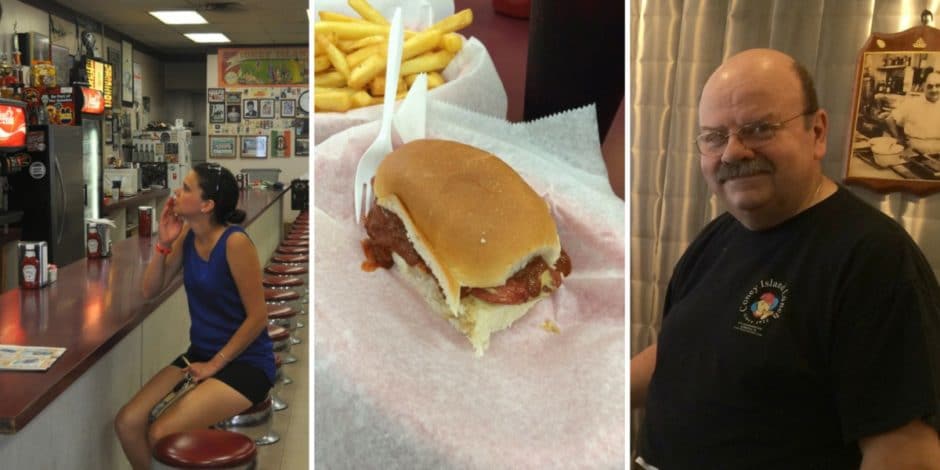 The small storefront of Coney Island Lunch in downtown Scranton has a distinctly old-school diner vibe, with walls covered in fun memorabilia. Brothers Pete and Bob Ventura, happy to strike up a conversation, are the fourth generation to serve their family's take on the Texas Wiener (which apparently has nothing to do with Texas).
Over the years, their Texas Wieners have attracted national attention and have made numerous lists of "Best Hot Dogs" — including an oft-cited Fox News piece that pegged them as third-best in America.
The Texas Wiener is an all-beef dog, split down the middle, fried on the grill, topped with Düsseldorf mustard and fresh diced onions and slathered in Coney Island's famous chili sauce — the key ingredient, prepared daily by Bob. The recipe is a family secret, but if you want to re-create the magic at home, order pints or quarts of sauce to bring with you. Note: Coney Island Lunch is closed on Mondays. 515 Lackawanna Ave., Scranton; (570) 961-9004.
Want to see a T-Rex skull in Scranton? The Everhart Museum's got it. This small, stately museum offers a variety of exhibits, including minerals, fossils and a small but impressive variety of modern American art pieces on the second floor and rotating special exhibits.
The jewel of the museum, the Bird Room, displays a gaggle of taxidermied birds of all types and from all areas of the world — from tiny colorful songbirds, to the surprisingly large golden eagle specimen. Dr. Isaiah Fawkes Everhart, an avid naturalist who taxidermied some of the birds himself, founded the museum to show off this amazing collection.
Bonus: If it's not too hot outside, enjoy a picnic and a stroll in neighboring Ney Aug Park, which boasts a treehouse, a water park, a gorge, a garden and playgrounds throughout. 1901 Mulberry St., Scranton; (570) 346-7186.
Every town needs a good ramen shop, and in Scranton, that place is Peculiar Kitchen (formerly Peculiar Slurp), which opened its doors in Spring 2018. Husband-and-wife team Gene and Miranda Philbin started the concept as a series of pop-up dinners, then transitioned to a food truck before settling into its brick-and-mortar space. Bowls of steamy ramen are definitely the highlight of the menu (the pork belly shoyu is the top seller), bolstered by other great Asian fusion bites like poke bowls, bao buns, stir fries and small plates.
The quirky, lively spot is a go-to spot for lunch and dinner (just know that it's closed Sunday through Tuesday), and offers a number of great beverage options from its full bar. For a casual, wildly delicious meal out, Peculiar Kitchen is a must-visit. 307 Penn Ave., Scranton; (570) 800-1900.
What's a vacation or staycation without one hangover-curing brunch? Snag a table at Henry's on Clay (it's worth a Sunday morning wait) and get ready to order way too much from its creative bistro menu. If you want to keep it light, try the The Gemini salad, a cool mix of sweet and savory, with arugula, granola, mixed berries, waffle croutons and goat cheese, tossed with wild honey Greek yogurt vinaigrette. And if you use brunch as an excuse to eat your wildest meal of the week, go for the Chic + Waffle, with cornflake crusted chicken, chorizo sausage gravy, maple drizzle and a fried egg or the Greenridge Mac + Cheese, with sautéed potato gnocchi, roasted broccoli, cheddar bechamel and fried shallots.
Opened in December of 2018, Henry's on Clay has already become a community staple for a no-fail, great-every-time brunch spot! 1600 Clay Ave., Scranton; (570) 800-1839.
Ready to start packing your bags? Where are some of your favorite places in NEPA? Let us know on the PA Eats Facebook page!
Galen Glen photo:

Galen Glen Winery

All other photos:

Jason Tremblay