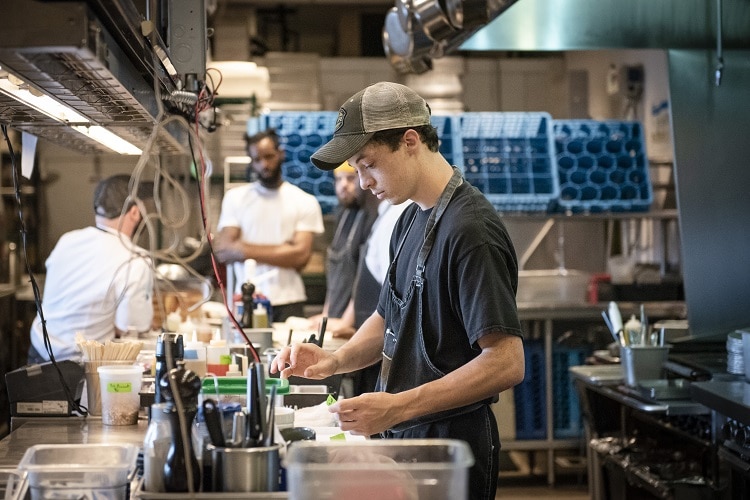 The kitchen is the heart of every restaurant, and though you may get an occasional glimpse of the action in an open kitchen or through the swinging doors as your server whisks out plates of food, most diners never get a good look at how things actually work back there. Of course, kitchens range in size and style, depending on the type of restaurant. Some are staffed by just one or two people in a room no larger than a walk-in closet. While others are expansive, gleaming with stainless steel and staffed by a classical European "brigade" staff in freshly laundered chef's whites. The chef also helps to set the tenor of the kitchen, creating a workplace culture that can be inclusive and encouraging, an incubator for young talent. Or, as more often seems the case, the kitchen can be a stressful, sink-or-swim bastion of machismo with a cutthroat Darwinist streak.  
We wanted to give you a peek into a restaurant kitchen that puts out consistently fantastic food and is staffed by passionate chefs who, while still exacting perfectionists (as nearly all chefs are), disrupt the stereotype of the domineering, authoritarian chefs that (we hope) the industry, as a whole, is evolving past.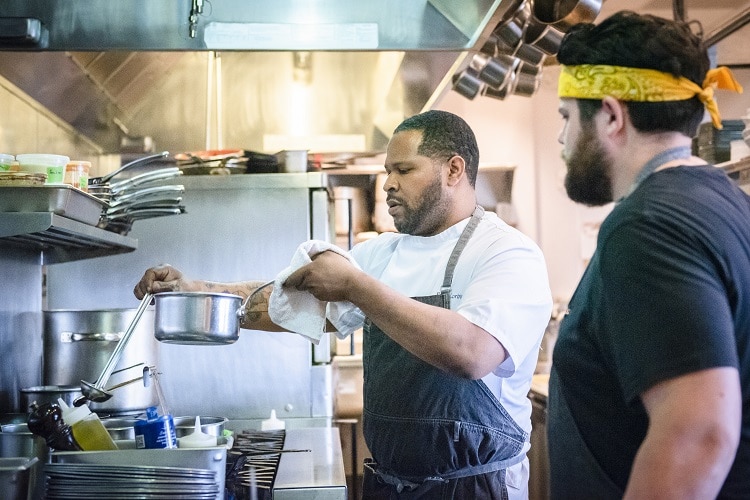 Come with us into the kitchen at Mistral KOP, the year-old New American concept located among the packed food courts and hectic sidewalks of the behemoth King of Prussia Mall. Award-winning Owner/Chef Scott Anderson (a four-time James Beard Award semi-finalist for Best Mid-Atlantic Chef) brought a taste of his first restaurant, Mistral Princeton New Jersey, to the Main Line, and his arrival has completely challenged and exceeded our expectations of what a "mall restaurant" can be.


Seated at Mistral's sleek bar or in the airy dining room, it's easy to forget that just a few feet away, there's a well-conducted orchestra of fire, sweat, music and the errant curse word, all coming together to bring flavorful plates to your table.
The conductors of this team of culinary experts are Chefs de Cuisine (CDCs) Chris Boyce and Ryan Corbin, both of whom have been instrumental at the mall location since it opened.
Nailing 50-80 hours per week is common for the duo, but they truly enjoy what they do and are quick to pin accolades on the four-person staff of line cooks on their team. "We encourage every voice, when working the menu here," says Boyce.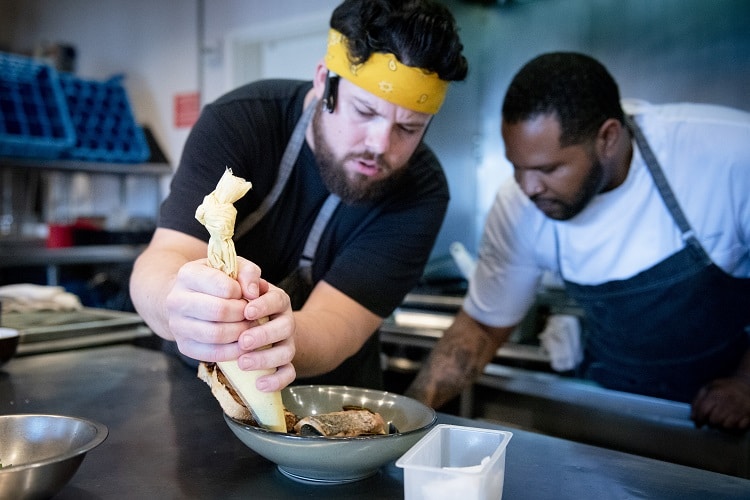 Boyce and Corbin plan the seasonal menus of the restaurant, order ingredients, create line cook prep sheets and descriptive sheets for the servers, as well as maintain a quick, efficient flow within the kitchen.
Each day, the line cooks are expected to open up stations, heat up sauces and soups, review prep lists and ingredients and make sure containers are well stocked.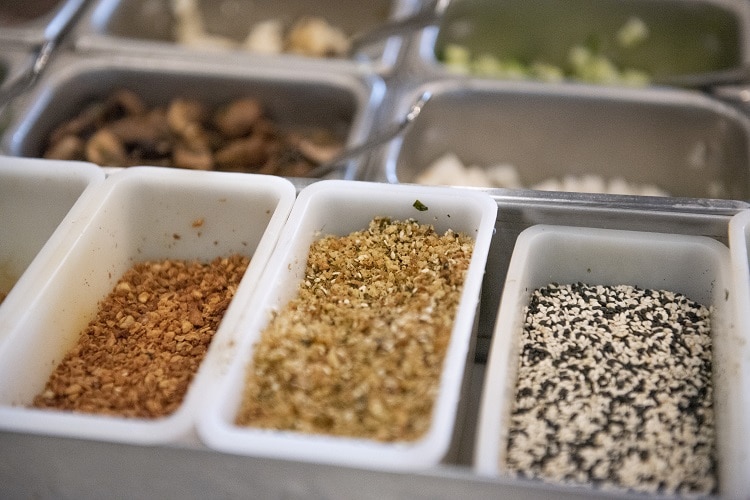 Several workstations in the kitchen are staffed by all members of the team. They are active during down and peak times and include:
Garde Manger: This station (translates to "keeper of the food") is the first line of defense and includes split prep space with cutting boards for finishing salads (like Mistral's spring pea tahini) and desserts. This station abuts to the Chef's Counter, where guests have a front row seat to the excitement of the open kitchen while dining.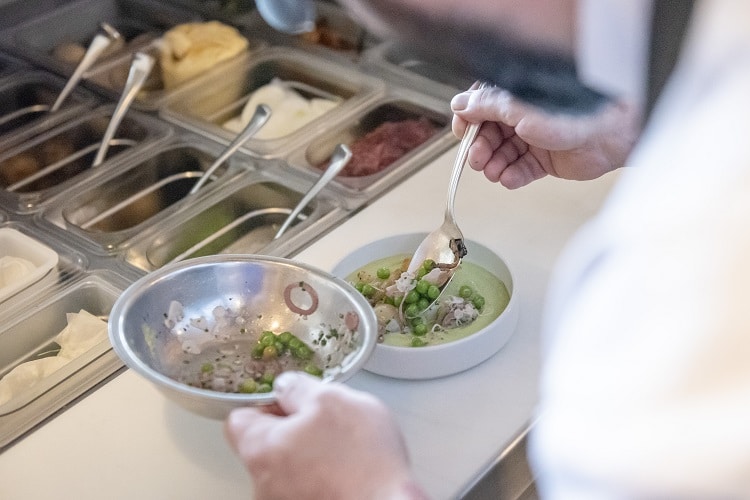 Fry Station: Located along the back wall, you'll find four, deep-basket temperature controlled fryers for dishes like seasonal beignets (currently shrimp beignets with creole remoulade sauce).
Protein Station: Also located against the back wall, this is where fish, poultry and beef are seared, sauteed and prepped. An eight-burner stove makes searing, sauteing or braising is where the Grill Cook rocks out the proteins, like chicken breast (to be served on porcini puree).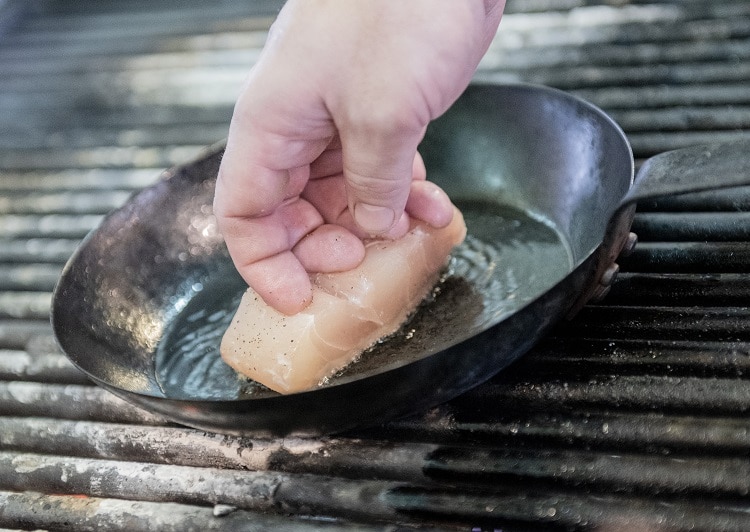 Pasta station and C-Vac station (a high temperature vacuum oven) are against the back wall, as well.
Veg: The vegetable station is more of a prep island where entrees are composed by the chefs with starches, sauces and any decorative (and edible) garnishes which are added. Servers pay close attention to the front of this area, so there's no delay in the ferrying of dishes that are earmarked for specific seats at numbered tables within the restaurant. This way, any available server can make sure to deliver hot plates.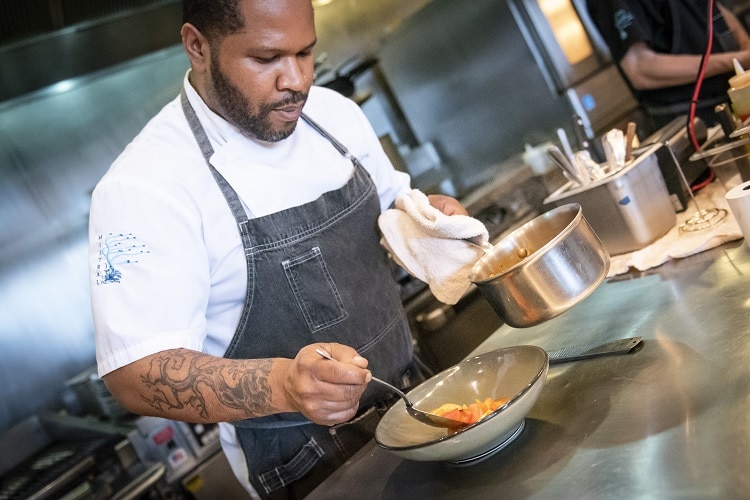 Three large walk-in refrigerators are at the rear of the kitchen and are loaded with fresh produce, herbs, soups and anything required for prep work in the kitchen stations.
When asked how important the size of the kitchen and layout are, both Boyce and Ryan revel in the state-of-the-art equipment at Mistral. "I've worked in smaller kitchens where one can learn to deal with equipment restrictions, but lack of storage space makes things difficult. We have plenty of storage here," notes Ryan, "and we take full advantage of that."
Background playlists thump nonstop to keep the atmosphere moving. Music varies in the kitchen, where Boyce prefers reggae and hard rock.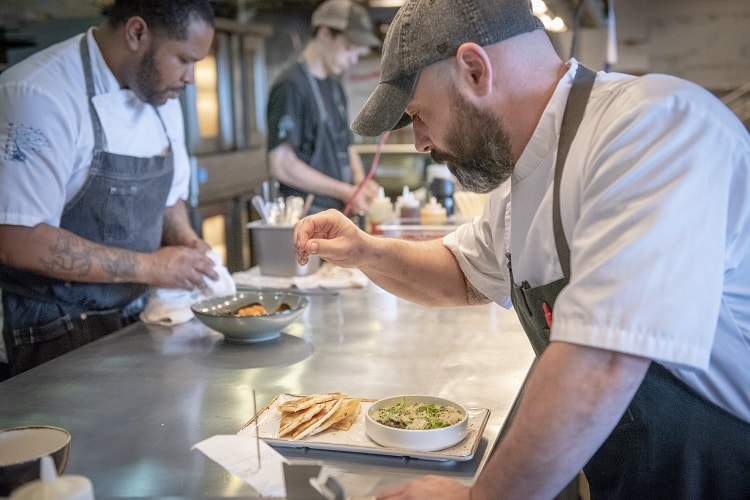 During our visit, we couldn't resist asking for a few tips from the kitchen experts on cheffing at home. Ryan says, "Don't overcook meat and poultry," and Boyce says that, "high heat is not always required to sear (for example, the skin on chicken) — especially useful when hood systems at home are limited." Both say food safety is important, so proper labeling and dating of ingredients is key.
Don't skip signature dishes at Mistral, like the 48-hour short rib, tuna poke, Schezuan wings and an amazing roast chicken ramen with scallion, kimchi, menna and a soy egg.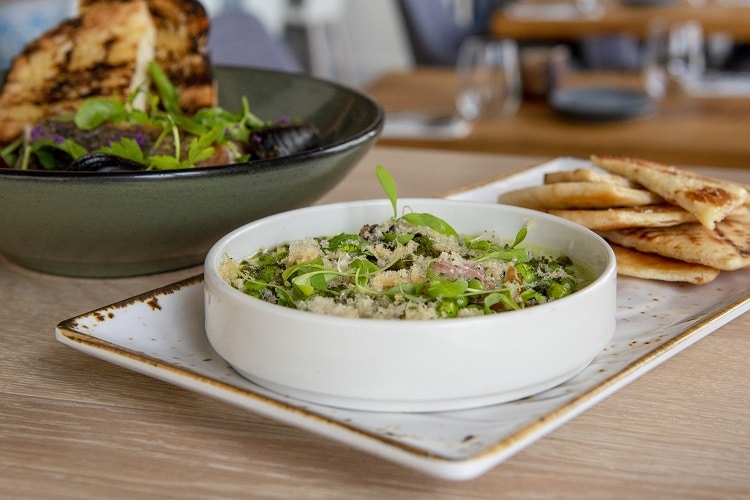 As you admire the beautiful plate carefully set down in front of you, next time you're at Mistral — or any other restaurant, really — remember the hours of planning, prep and passion that go into that food. It makes it taste even better, we promise!
Mistral KOP is located at 160 N. Gulph Rd. in King of Prussia; phone: (610) 768-1630.