For many of us trying to do our part to reduce waste and curb our reliance on single-use plastics, food storage is the final frontier. When storing things in the fridge or packing snacks or lunches to-go, you can't just have loose items rolling around! And lots of perishable foods, especially cheeses, breads and some produce, degrade quickly if not tightly wrapped up. A roll of plastic wrap or plastic sandwich baggies are an easy fix, though sadly add nonbiodegradable matter into the waste stream.
How do we finally kick the plastic-wrap habit? In the past few years, a spate of new products have come to the market to provide sustainable food storage options. One such item is made right here in Pennsylvania! Bee Our Guest, based in Kennett Square, PA, is an artisan beeswax food wrap brand founded by husband-and-wife team Adriana and Peter Fitzgerald in 2019. If you've never encountered them before, beeswax wraps are washable, reusable and create a tight seal around food, and they are a great alternative to plastic! Beeswax is naturally antibacterial, antimicrobial, and antifungal, so you use them to wrap up fruits and veggies (which can extend their shelf life by days), to cover food storage containers like a lid, or you can fold them into bags or pouches. You can use them for freezing, too!
Before embarking on their entrepreneurial adventure together, the couple lived in New York City, where Peter produced commercials, and Adriana was a classical trumpet player. They relocated to Pennsylvania after realizing that being closer to family (Peter grew up in Radnor, PA) better fit their future plans for starting a family.
We were able to catch up with the Fitzgeralds to learn more about how they came to start Bee Our Guest, what plans they have for the future, and where you can find their awesome, eco-friendly, reusable food wraps!
PA Eats: So, how did you two come upon this concept as the thing you wanted to start a business around?
Peter Fitzgerald: In February and March of 2019, we went on a six-week journey through Australia on our honeymoon. It was an amazing road trip, and at the beginning, we challenged ourselves to not use any single-use plastic.

Adriana Fitzgerald: It was a pinky promise!

Peter: Besides refusing single-use bags and selecting glass bottles, it was a change that required some thought, intention and planning. But we found we could easily live without single-use plastic! Toward the end of the trip we found ourselves under a farmers market tent with a couple selling these beeswax food wraps. We'd seen those kinds of wraps before then, but this was like, "Wait a moment: here is someone presenting us with a natural solution to all the things we were complaining about single-use plastic.

Adriana: When I found these wraps, I held them in my hand and literally said, "I want to do this."

Peter: We started to talk about it when we came back to Kennett. We had an opportunity to work with our local beekeepers association in Chester County, and we met a bunch of them to start sourcing our beeswax. We ended up going out towards Lancaster to source our fabrics. We got all of our cotton fabric from a family company out there. We wanted to minimize our footprint from the very beginning, to build reducing waste into our company's structure. We take that even to our packaging. For our first year we didn't even have packaging, and the only reason we do now is because of COVID. We knew we'd have to take it to that level in 2020. But we keep it minimal, and it's all recyclable and it's all biodegradable. We feel strongly about that.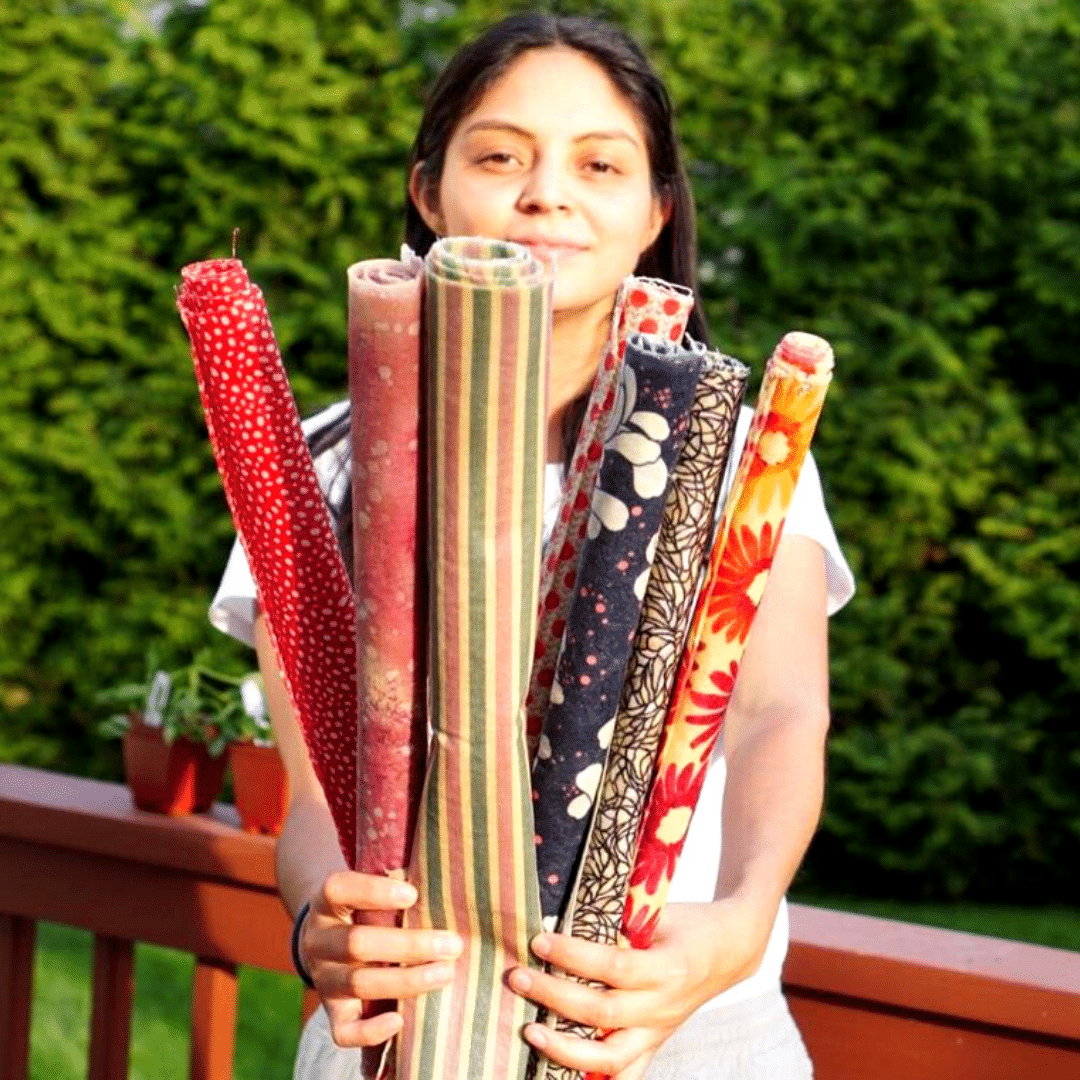 Can you explain a bit more about how the beeswax wraps are made, and how they work?
Peter: At its very essence it's cotton fabric with beeswax infused into it, with sustainably sourced pine resin and jojoba oil. Finding the balance of ingredients was the biggest challenge. You want them to look and feel the same way in six month's time, and you want them to work very well in a year or even a year and a half. We wanted them to be presentable to sell, but also so they uphold their utility. To make them, the process is basically to wash and iron the fabric, cut it into different sizes and infuse it with the liquid mixture. Then we dry it, fold it, package it. It's small-batch! We think that's the secret to making these high-quality wraps.

What was the reception to the wraps? Were people familiar with the concept already?
Peter: 2019 was an amazing first year at our farmers markets. We did 25 to 30 markets each month, and on many days we did two markets. I would do one and my mom and Adriana would do another. It was grassroots level! After a busy year, we thought we could really dedicate ourselves to it and make a mission out of it, and support our family doing this.

At the market, we were explaining to everyone what the wraps were. Probably 95% of people who came up to the table had no idea what they were. Now, maybe 50% of people don't know, but there are regulars who come to each market and almost give testimonials to new potential customers. That education we laid the groundwork for is starting to pay off.
Does Bee Our Guest only make beeswax wraps?
Adriana: We started making masks in 2020! And we have thought of doing other things, but other local businesses are doing candles and so on, but not many people are doing these wraps.

Peter: In addition to selling, we also service the products. They should last for at least a year, probably even 18 months. But at any point in time if it needs a re-waxing, we'll put a fresh coat of beeswax on it for half price. That continues their utility for the future.

Adriana: When I was a kid growing up in Mexico, if your iron didn't work, you would take it to the market where people have all of these tools to fix your stuff. I started to rewax some wraps for myself and thought we could offer this service to people. Then, when they are done, they are compostable and biodegradable. Or, I use old wraps for traveling, I'll put bar soap in there or a toothbrush. I also like to give them to kids instead of play dough, so they can do some sculptures with it.

Peter: They also make amazing fire starters! These little strips of paper make the best campfire starters you can imagine.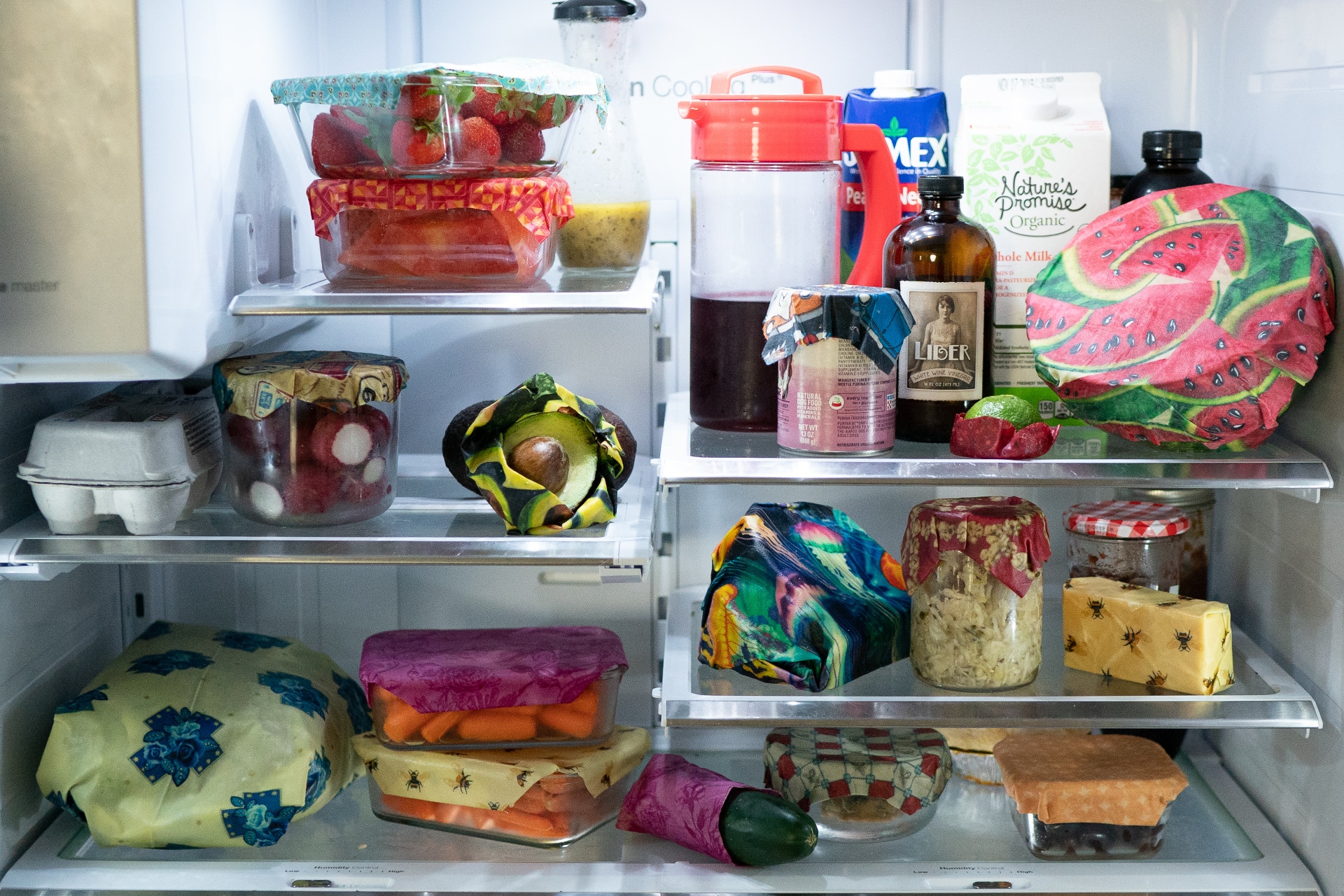 To learn more about Bee Our Guest or to shop for beeswax food wraps, check out its website or say hello to Peter and Adriana in person at one of the many farmers markets in the Greater Philly area where they frequently set up shop. On the first Saturday of the month, they are at the Swarthmore Farmer Market; the second Saturday of each month, you'll find them at the Chestnut Hill Farmers Market and New Garden Growers Market; third Saturday, they're at the Phoenixville Farmers Market and West Chester Growers Market farmer market; and the fourth Saturday of the month they set up at the Bryn Mawr Farmer Market. Quite a hustle, right? Don't forget the Kennett Square Farmers Market, where you can catch Bee Our Guest every other week.
Photos and video:

Bee Our Guest