There's something about enjoying a drink outside that's universally beloved. Maybe it's the contrast of the sun on your face and a cool beverage in your hand, or the sense of connection with your community, while sharing outdoor space after so much time spent cooped up inside in cold-weather months.
Whatever your favorite thing about al fresco imbibing is, one thing is certain: There are more places than ever in PA for you to do just that. Beer gardens, whether they're scrappy little pop-up affairs, or elaborate permanent structures complete with food, games and live music, are all the rage these days, and there are so many to explore in our state.
Here are 13 beer gardens in Pennsylvania that you simply can't miss this season!
Wilkes-Barre
During the spring and summer each year, Benny Brewing Company, a craft brewery in NEPA, opens its seasonal Biergarten Patio, where guests can enjoy pints of its signature beers (the Hopenstein IPA is a big favorite) and snacks from its pub menu, relaxing at communal picnic tables, or facing off with friends over cornhole, giant Jenga and other lawn games. 429 Sans Souci Pkwy., Wilkes-Barre; (570) 235-6995.
New Hope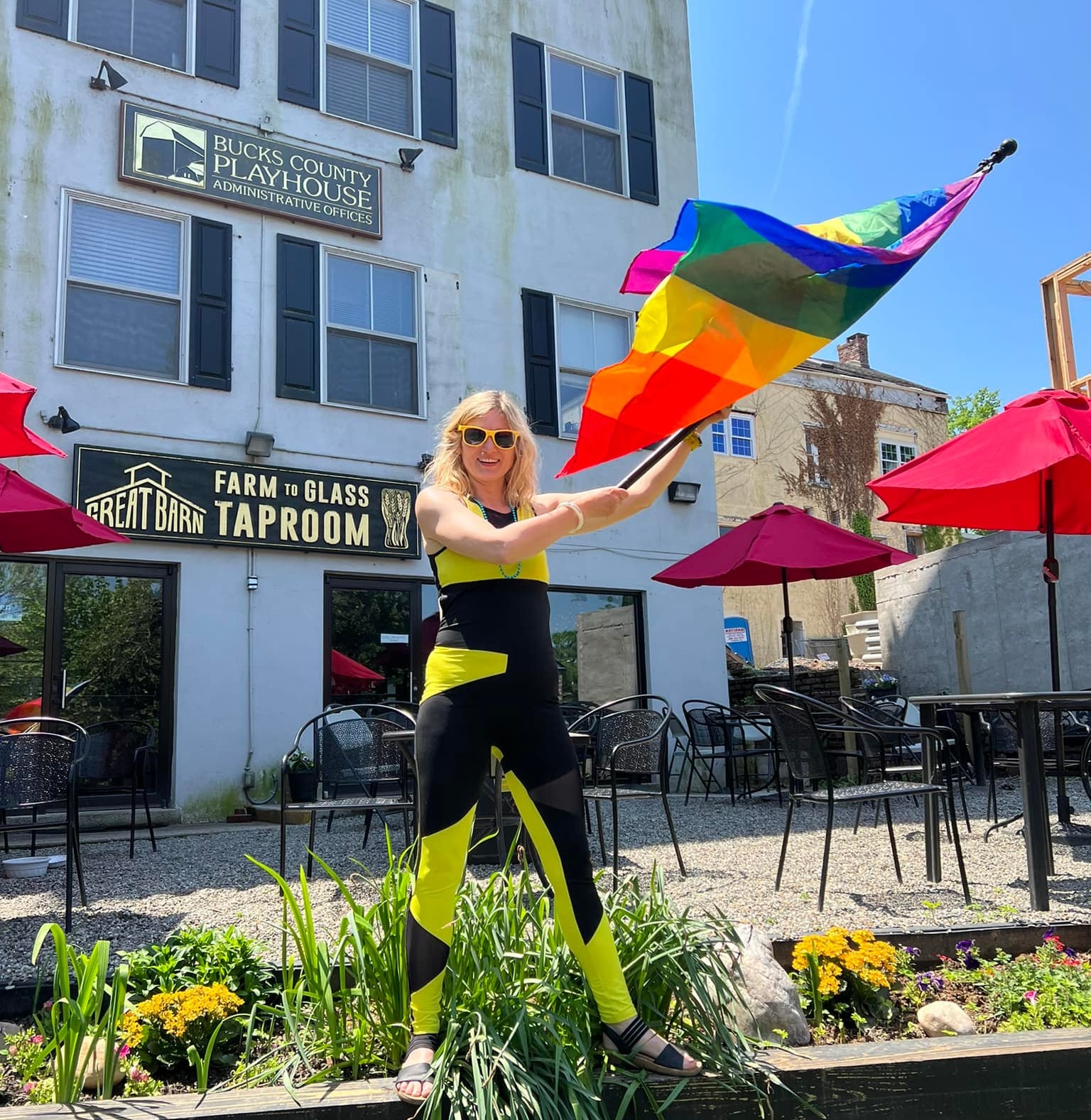 Nestled along Aqueton Creek in this charming river town, find an outpost of Great Barn Brewery, the Great Barn Taproom, complete with a lush, green outdoor patio. Tables with umbrellas are the perfect place to get comfy with a pint of Cucumber Lemongrass Kolsch or GrassHoppa pilsner, or and enjoy the live music that so often fills the space. 12 W. Mechanics St., New Hope; (215) 803-1592.
Pottstown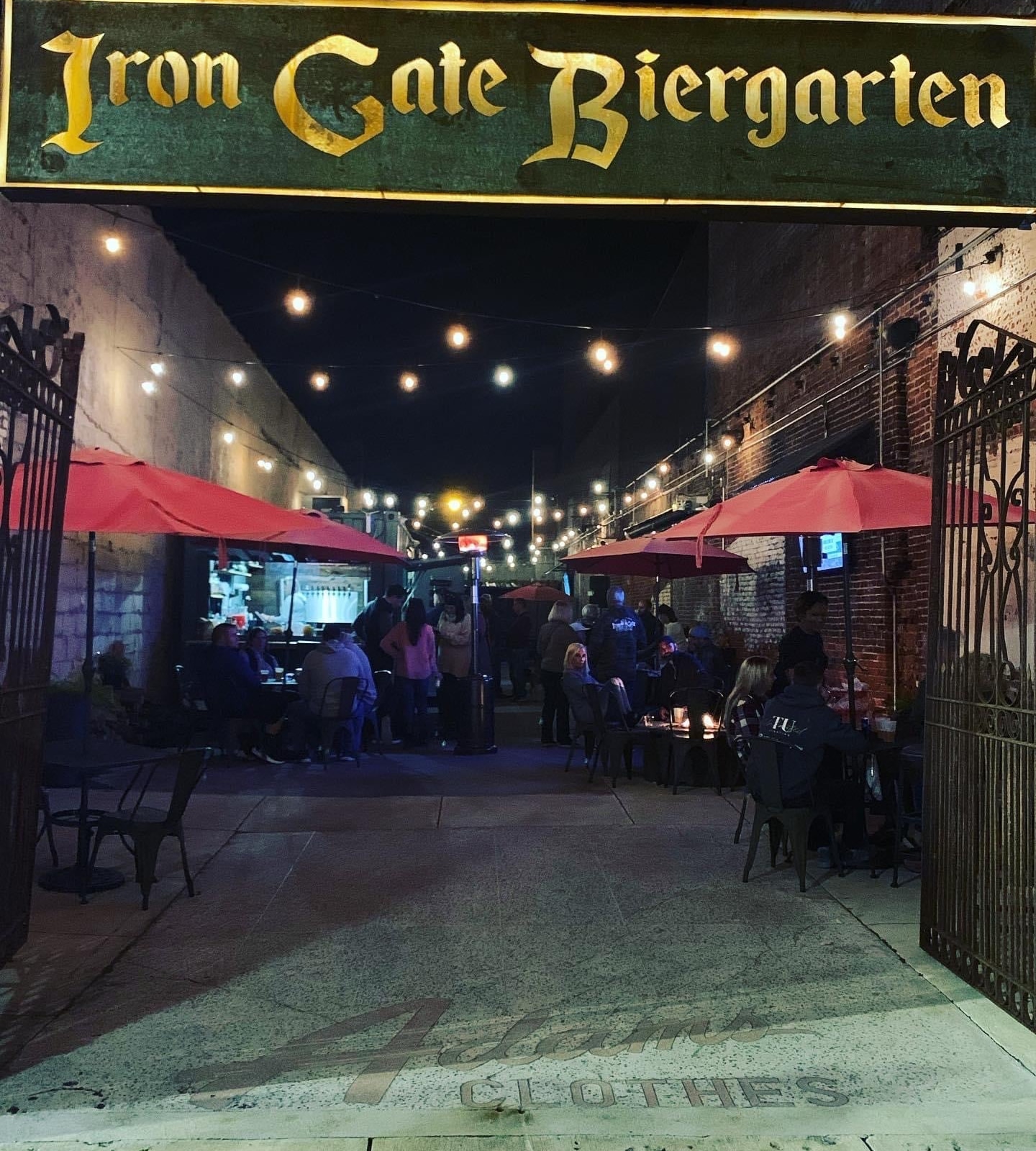 Iron Gate Biergarten is an open-air beer garden tucked into a little alley in historic downtown Pottstown. A rotating list of local restaurants provides free food delivery, and the beer and spirits list is 100% Pennsylvania producers! Fun events, like DJs, Bourbon & Cigar night and live music, make this a convivial place for the community to gather. 230 E. High St., Pottstown; no phone.
Bensalem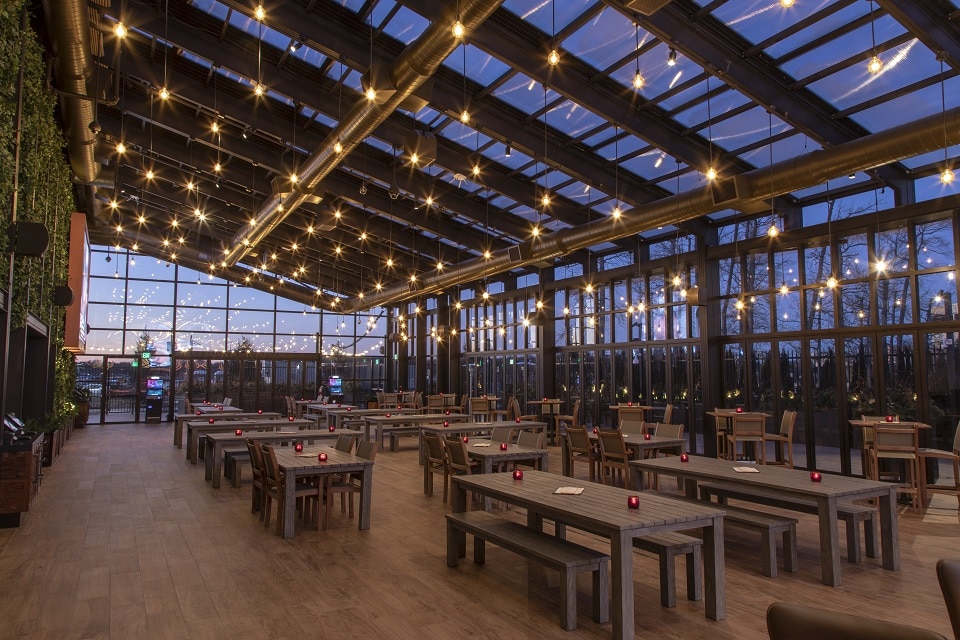 At Parx Casino in Bucks County, a huge, state-of-the-art Liberty Bell Beer Garden opened in 2019, offering over 7,600 square feet of space with 24 rotating craft drafts, fine wines, specialty cocktails, a full bar, and a food menu of signature, chef-inspired dishes. A retractable glass roof opens during warm weather to create an awesome hybrid indoor/outdoor space. Outside the garden, find two patios with plenty of plants, modern furniture and firepits. Find the Parx Beer Garden's entrance by walking through the dining room of the Liberty Bell Gastropub. 2999 Street Rd., Bensalem; (888) 588-7279.
Philadelphia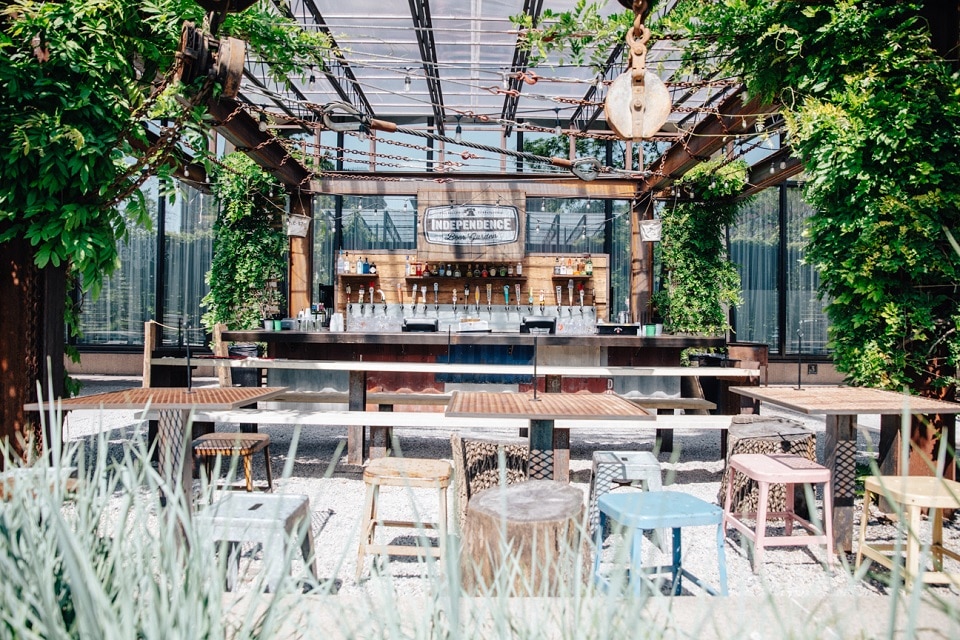 Independence Beer Garden is right in the heart of one of Philadelphia's most-visited neighborhoods, just steps away from the Constitution Center, the Liberty Bell and Independence National Historic Park. Open for the 2019 season on April 25, this massive, 20,000-square-foot park offers plenty of outdoor and partially covered seating, 40 tap lines, a full menu (don't miss the cheese curds) and games, like cornhole and bocce, all make this family-friendly gathering place perpetually lively and exciting. 100 S. Independence Mall W., Philadelphia; (215) 922-7100.
Parks on Tap is a traveling beer garden that hits up public parks throughout Philly all spring and summer long. Its 2022 season launched on May 20 in the gorgeous Fairmount Water Works adjacent to the Philadelphia Museum of Art, and after August 31, will make its way across town, hitting smaller neighborhood parks. This family- and dog-friendly roving hangout is a partnership with Philadelphia Parks and Recreation and FCM Hospitality, that aims to engage Philadelphia communities and give back to the neighborhood parks. Guests can enjoy food, beer on tap, wine, snacks and non-alcoholic beverages in comfortable chairs and hammocks and clean restrooms, as well as activities and weekly programming. Various locations.
Each third Thursday of the month, from May through October, East Falls Beer Garden pops up under the twin bridges in East Falls, transforming an otherwise quiet neighborhood into a giant block party! Craft beers are plentiful, local businesses are invited to promote their wares and services, and makers and artisans table specialty goods. A number of food trucks line up to provide tasty, beer-friendly meals, and live music keeps the vibe festive. Bring a blanket or lawn chair to make a whole evening of it. 4100 Ridge Ave., East Falls; no phone.
Media
Tucked into a tiny courtyard next to the popular Italian restaurant, Spasso, Media Beer Garden channels a secret garden vibe, with its twinkly lights and ivy crisscrossing overhead. Beer and pizza are on offer, with great happy-hour specials and game-day deals. On warm evenings, expect half the borough to be there after work! One West State St., Media; (610) 565-7803.
Kennett Square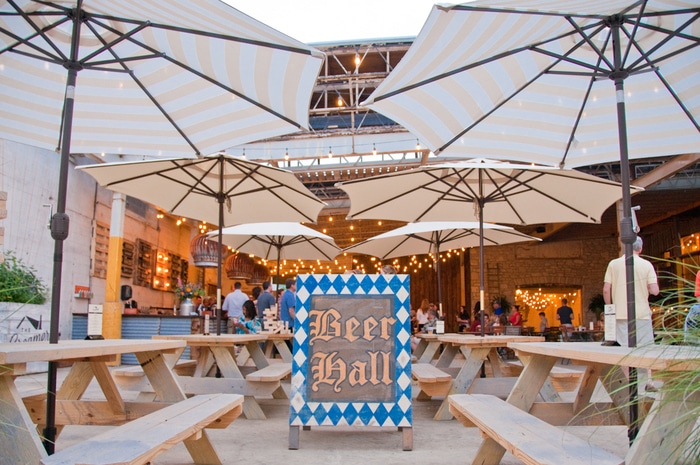 Since 2016, The Creamery (on the site of the former Eastern Condensed Milk Company, which was founded in 1902) provides a fun, dynamic space for the Kennett Square community to gather. A combination beer garden, community center and art space, The Creamery offers plenty of places to hang out in its expansive outdoor area, complete with picnic tables, lawn games, live music and a rotating list of craft beers. In the Fall of 2018, The Creamery became a year-round venue with the addition of a permanent indoor space and with a kitchen in a repurposed shipping container, serving pizza and barbecue, and also the addition of a brand-new bar. The outside space (which is dog-friendly!) is still open, when weather permits, and The Creamery is gearing up for its biggest summer yet! 401 Birch St., Kennett Square; (484) 732-7040; no phone.
Lancaster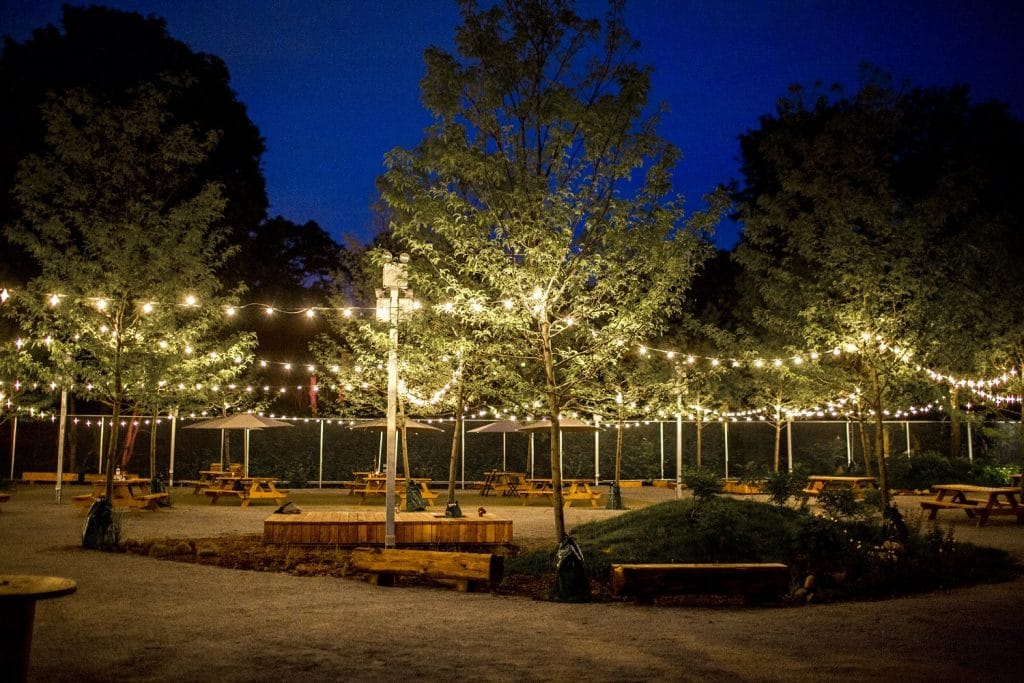 In Summer 2022, Tellus360 and Lancaster Rec are partnering up on a series of traveling beer gardens in parks throughout the city. Beer, wine, cocktails and food are available for purchase, and kids and dogs are welcome! Locations include Buchanan Park and Reservoir Park, and each set up includes lawn games! Proceeds will help support Lancaster Rec programs and invest in local parks and green infrastructure. Various locations.
Carlisle
Market Cross Pub & Brewery is an English-style pub in downtown Carlisle, with plenty of cozy corners and nooks inside, and a sun-drenched patio nestled into an alley behind it. It's so tucked away, in fact, many regulars don't even know it's there! Open during the warmer months, the mini beer garden offers the same great food (boneless wings and soft pretzels are a must), beer, wine and cocktails from the bar indoors that locals know and love. 113 N. Hanover St., Carlisle; (717) 258-1234.
Sayre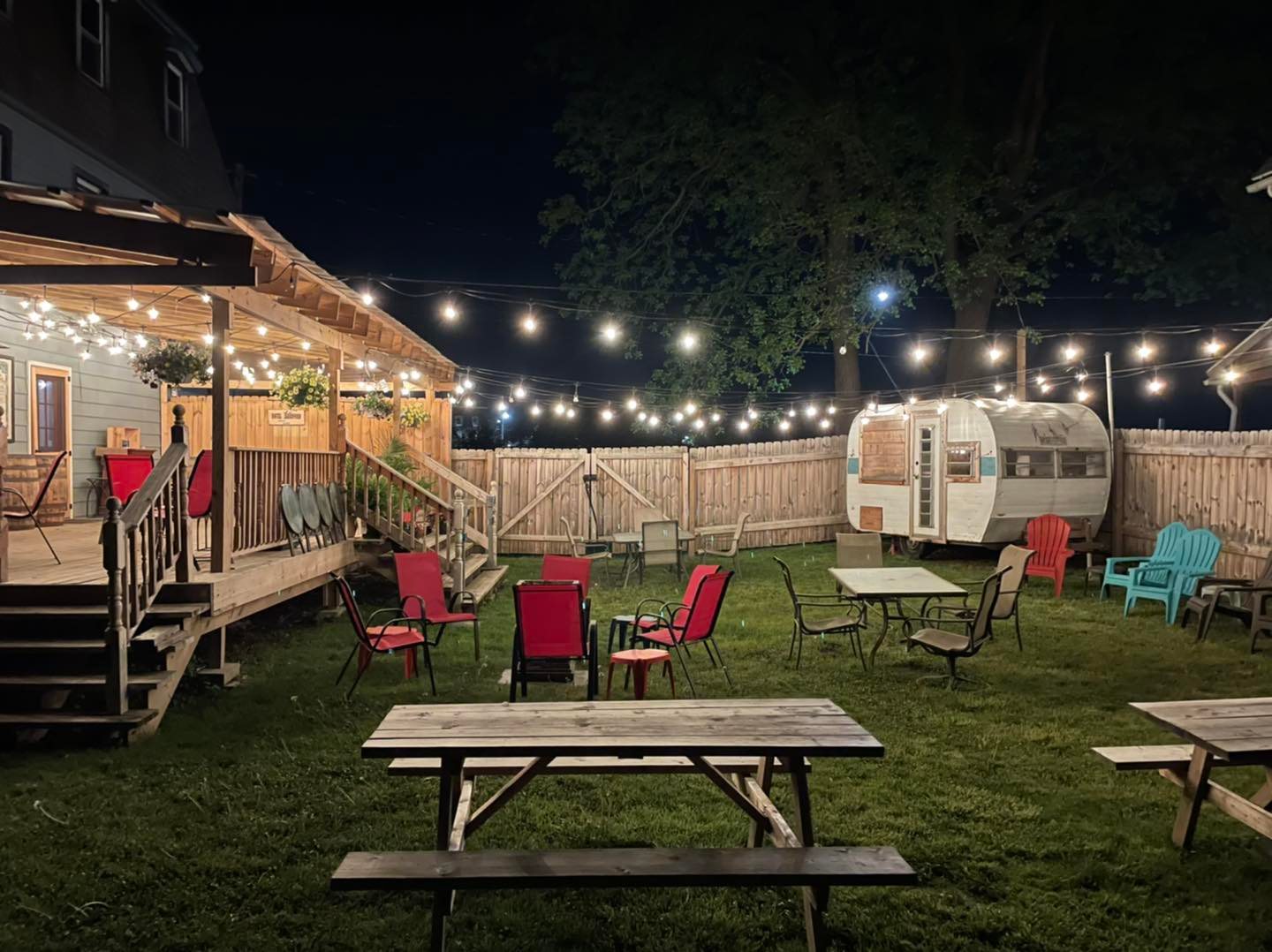 Way up north in Sayre, close to the border of Pennsylvania and New York, find the Hotel Bradford and Beer Garden, a cozy gastropub with an epic back patio. Picnic tables are great for bigger groups, and the space hosts events each week, like live music and a cornhole league. 108 N. Thomas Ave., Sayre; (570) 890-9111.
Pittsburgh
Roundabout Brewing gives its fans a way to enjoy beer and nature together each spring/summer with its pop-up outdoor beer garden. Located on the North Side portion of the Three Rivers Heritage Trail, it offers an epic view of the Ohio River. Guest food vendors and four rotating taps of its beers, plus games and festive bistro lights adding to the atmosphere, make this one of Pittsburgh's best-kept secrets. 1836 Oxline St., Pittsburgh; no phone.
Do you know of other pop-up beer gardens around PA? Let us know in the comments here, or on the PA Eats Facebook page!
Feature photo:

Neal Santos for Independence Beer Garden

All other photos:

Courtesy of their respective locations