Brunch: the in-between-meals meal that's captured the hearts of nearly everyone who's experienced it (sorry, brunch-haters, this one's not for you). Generally seen as a way to recover from a weekend night out, with indulgent food and socially acceptable day drinking, brunch can also be a great time to catch up with family, or to enjoy a quiet, solo venture with a crossword puzzle in hand.
Whether you like to brunch to get Sunday Funday started on the right foot, or you look forward to it as a respite from the daily grind, there is certainly no shortage of places to find banging brunch menus across Pennsylvania. Some are Sunday-only, and some run seven days a week; some are wildly over-the-top, and some are more restrained and sophisticated. Whatever your brunch style may be, we bet there's an awesome spot in your town or close by. Here are some of the best brunches in PA that we think you simply cannot miss:
Northeast PA
Henry's on Clay, in downtown Scranton, is a quintessential brunch-y bistro: a cute corner spot with outdoor seating, a well-designed, minimalist interior, and a menu packed with a range of delectable dishes. Food options range from creative and fresh (BLT panzanella salad, seasonal Dutch baby pancakes, and gyro-inspired fancy toast) to straight-up classics (pot pie soup and hangover hash). Bonus points for a B.Y.O.B.S. (Build Your Own Breakfast Sandwich) menu, offering guests a chance to create their ideal sammy, with numerous combos of eggs, cheeses, proteins and veggies. Opened in December of 2018, Henry's on Clay has already become a community staple for a no-fail, great-every-time brunch spot! 1600 Clay Ave., Scranton; (570) 800-1839.
Sometimes you can judge a book by its cover, or, in this case, a restaurant by its name. Much as you might expect, Julie's Cozy Cafe is a homey little breakfast spot tucked into a storefront on West Chestnut Street in Wilkes-Barre. The menu is nothing fancy, just straightforward and expertly-made breakfast and brunch fare, like scrapple and eggs, silver dollar pancake and all sorts of omelets. Grab a stool at the tiny counter and order to your heart's content (prices are very, very reasonable) – we suggest peanut butter and banana stuffed French toast with a side of extra-crispy bacon. 95 W. Chestnut St., Wilkes-Barre; (570) 824-2233.
Southeast PA
With three locations in the Greater Philadelphia area (University City in Philly, and Haverford, and Wayne on the Main Line), White Dog Cafe serves a killer brunch each weekend. Settle into the sophisticated, beautifully designed space, and kick things off with a drink, spiked (try the Basil Bloody, with locally distilled Revivalist Spirits Dragon Dance Spicy Gin) or non-alcoholic (there are four handcrafted mocktails to choose from!). Then it's time to tackle the extensive food menu and decide whether you're going to veer sweet or savory. If you like a sugary brunch option, White Dog's warm doughnuts and bananas foster French toast are not to be missed, and if savory is more your speed, you have so much to choose from. Standouts include the avocado BLT on toasted brioche, the fried chicken Benedict and the pupusas with sunny-side-up eggs. No matter what you order, feel good knowing that most of the ingredients come from nearby PA farms and producers! 3420 Sansom St., Philadelphia; (215) 386-9224; 379 Lancaster Ave, Haverford; (610) 896-4556; 200 W. Lancaster Ave., Wayne; (610) 225-3700.
Like most major cities, Philadelphia has no shortage of perpetually packed bruncheries. Fan favorites include Sam's Morning Glory Diner in Bella Vista, Café Lift in Spring Arts and Green Eggs Cafe, with multiple locations around town. While we can't really dub one the best, a spot that we've come to love for its eclectic menu and over-the-top presentation is Cafe La Maude, a beloved French/Lebanese brunch cafe in Northern Liberties. Whether you want to start a lazy weekend with a simple croissant and coffee, or you want to go big with the Pomme Caramel (lemon ricotta pancakes and poached apples topped with caramel sauce, shaved chocolate and pistachios) or the Croque Maude (French ham, bacon and cheese on grilled pain de mie with Mornay and avocado sauces and a sunny-side-up egg), you really can't go wrong. On the Lebanese side of things, the Green Shakshuka, a mess of tasty veggies topped with carrot tahini sauce, almonds, feta cheese and eggs, and the Foul Moudamas, hummus topped with marinated fava beans, scrambled eggs, chopped tomatoes, parsley and za'atar pita, are popular choices. 816 N. 4th St., Philadelphia; (267) 318-7869.
A cozy, comfy English-style pub in the heart of Chester County, The Whip Tavern is a true community favorite. Brunch, only served on Sundays from 10 a.m. to 2 p.m., offers British specialties, like Welsh Rarebit (melted English cheddar and Stilton cheeses and Smithwick's Irish Ale, served with crostini), Bangers and Mash (roasted pork sausages with garlic whipped potatoes and onion gravy) and watercress salad. If these hearty dishes, paired with a pint of ale, don't cure your hangover, we're not sure what will. FYI: The Whip's bar only serves beer, though you can BYO wine and spirits for a $2.50 per bottle corkage fee. 1383 N. Chatham Rd, Coatesville; (610) 383-0600.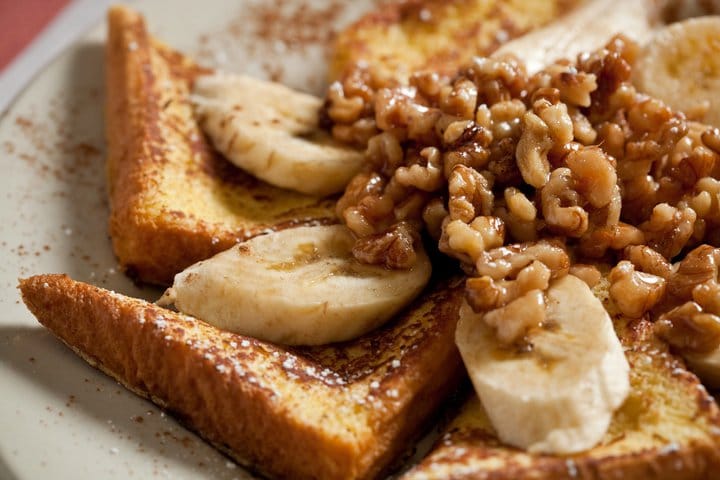 Nudy's Cafe is building a small empire in Southeastern PA, with nine locations and counting. After 40 years in the business, Nudy's knows a thing or two about how to make a fantastic brunch; all of its locations are casual, family-friendly and affordable, with a crowd-pleasing menu that truly has something for everyone. The breakfast menu, which is available all day, has tons of eggy options (including five kinds of eggs Benedict), loaded pancakes (with a gluten-free option) and French toast and house specialties, like cream chipped beef, Belgian waffles and Nutella crepes! Multiple locations.
South Central PA
At the music-themed brunch joint, The Tomcat Cafe, there's no shortage of creative and fun dishes to explore, all with cheeky names to match the theme. There's I'll Stop the World and Melt With You, an open-faced lump crab melt, Carolina in my Mind, with shrimp, andouille sausage, corn, roasted red peppers, Old Bay cheddar, potatoes and eggs, Blues Traveler, a wrap with scrambled eggs, bacon, cheese and deep-fried jalapeno slices, and too many more to list here! The breakfast bowl section of the menu is entirely based around quotes from the movie, The Big Lebowski – can you tell yet that these folks like to have fun? An entire vegan section of the menu ensures that everyone has something amazing to eat, regardless of dietary restrictions. A long list of vegan options — French toast, sandwiches and scrambles made with JustEgg vegan egg substitute, hashes and wraps — go above and beyond almost any cafe we've seen in terms of meat-free options. 3998 Penn Ave., Sinking Spring; (610) 678-1098.
With locations in Harrisburg and Lititz, Tomato Pie Café is the perfect little slice of Americana goodness, with an updated twist. Breakfast, which is served every day until 2 p.m., is as customizable as you wish. Simple black coffee with two eggs with toast or a blueberry muffin can make for a straightforward, classic breakfast. Or choose from Tomato Pie's creative, new-school beverages, like a white lavender mocha latte or a Velvet Beet steamer, and explore its modern menu items, like the quinoa breakfast bowl, mango curry hummus toast, or fried eggs with brie with bacon and arugula. The house special is a slice of tomato pie – not the square pizza, but a flaky pie crust stuffed with savory stewed tomatoes. It might just be your new favorite brunch dish! 23 N. Broad St., Lititz; (717) 627-1762; 3950 TecPort Dr., Harrisburg; (717) 836-7051.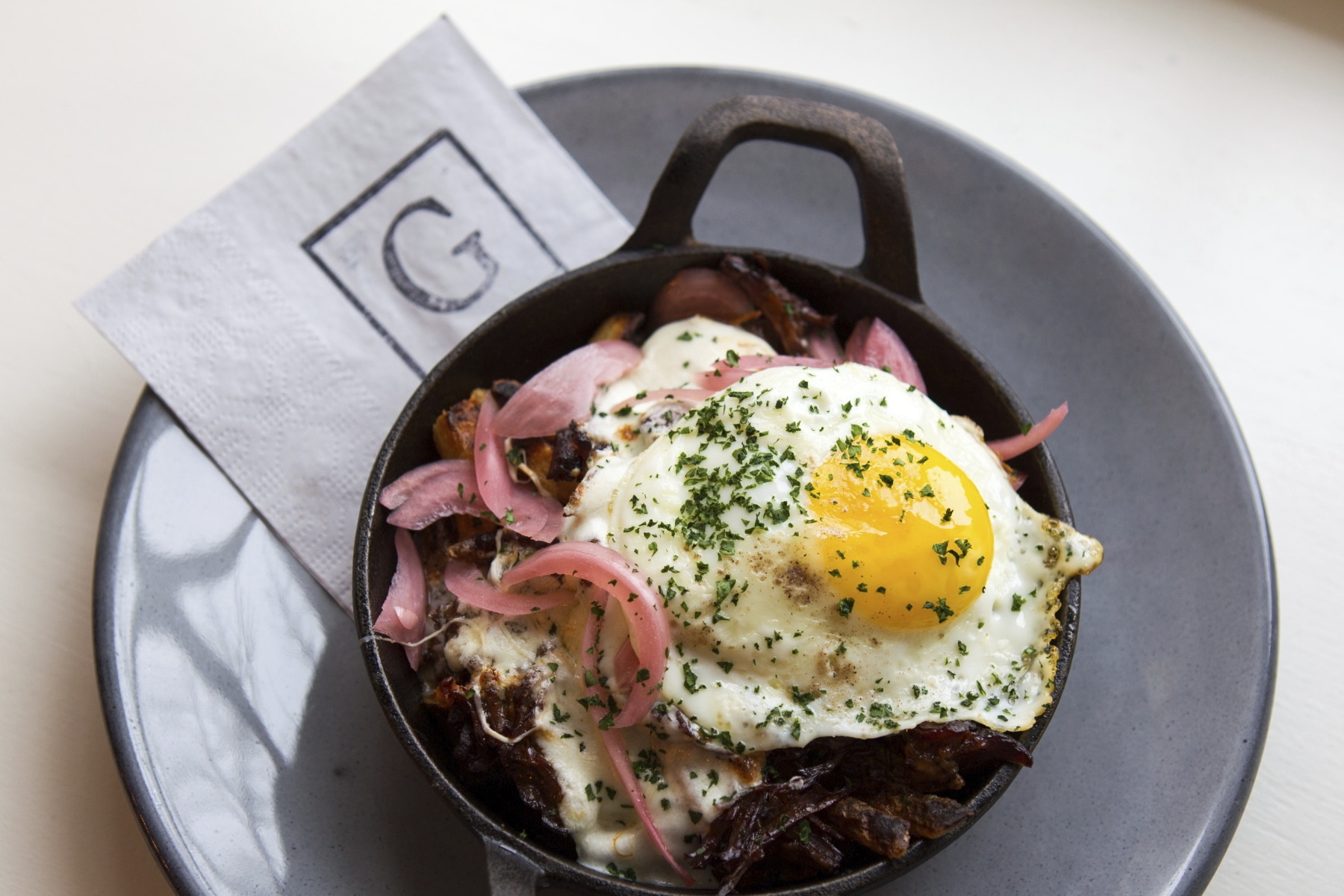 Greystone Public House, located in a historic tavern that's been in operation (under various owners) since 1805, partners with local farmers to source fresh, high-quality products for its seasonally-updated menu. These ingredients are on fabulous display at brunch in dishes like salt roasted beets with green garlic labneh, confit lemon caper relish and mint, the Farmers Market Omelette with local, seasonal veggies and cinnamon monkey bread with sweet butter and cream cheese. There are plenty of brunch cocktails to explore, as well, including some fun spins on classic favorites: a blueberry lavender mimosa and a pepper bacon bloody mary. 2120 Colonial Rd., Harrisburg; (717) 829-9952.
Serving breakfast, brunch and lunch every day in the heart of Lancaster City is Commonwealth Kitchen & Cafe, a "farm-to-fork" cafe (formerly Commonwealth on Queen). Pretty much every single thing on the menu is tempting, from the breakfast sandwiches to the smoothies, to the fancy toasts. Vegetarian options are plentiful, including a Truffle Mushroom Benedict and the Tex Mex Sweet Potato Hash. Sweet tooths can get down with homemade Belgian waffles in a variety of flavors, including Banana Nutella. Don't forget the drinks! Pair your plate with specialty latte (like salted maple or turmeric) or a classic cup of joe. 420 Pearl St., Lancaster; (717) 517-9413.
North Central PA
The Sawhorse Cafe is everything we want in a brunch spot. Showcasing local fruit, vegetable and dairy farmers, as well as local artisan products, the seasonal menu evolves and updates each week to reflect the Pennsylvania produce that's at the height of freshness. The coffee from in-house roastery, Buzzsaw Coffee, is also quite possibly the freshest, high-quality stuff you'll find in the region. The pastry case brims with gorgeous creations, like maple and apple galettes and hazelnut vanilla sweet rolls, and everything else, from fruit-topped waffles to the egg-topped Georgian cheese boat, and just as delicious as they sound. 303 Washington Blvd., Williamsport; (570) 666-3803.
An indie book store might not be the first place you'd think to head for brunch, but in State College, Webster's Bookstore Cafe has your breakfast and brunch needs covered. The menu is fully vegetarian, with plenty of vegan and gluten-free options available, like egg sandwiches, tofu scramble and vegan mac and cheese.  133 E. Beaver Ave., State College; (814) 272-1410.
Western PA
Oh, how we love an all-day cafe, where the coffee never stops flowing, and the menu is full of light, tasty snacks. The Vandal in Pittsburgh's Lawrenceville neighborhood, executes the concept perfectly, with an exceptional weekend brunch, to boot. From 9 a.m. to 2 p.m. on both weekend days, settle in for a delightful experience; first, cocktails (perhaps an Aperol Spritz or a classic mimosa), and then dig into an elegant plate of chanterelle tart, latkes with smoked trout, radish salad or bacon biscuit. For the win: Share a Slightly Extra cinnamon roll with the table. 4306 Butler St., Pittsburgh; (412) 251-0465.
At The Speckled Egg, brunch is the love language, with a daily breakfast menu that goes on and on. Fancy toasts, fresh salads and hearty mains are almost too hard to choose between. Should you go for the buttermilk poppy seed pancakes or the brown butter french toast? What about the fried chicken biscuit with local honey and pimento cheese or the eggs in a basket? It's probably best to go with friends to order a bunch of plates to share. Add a cold pressed juice, kombucha or boozy cocktail (how about a Matcha Martini?) to top things off. 501 Grant St., Pittsburgh; (412) 251-5248.
For an old-time, no-fuss place to get a great breakfast in Western PA, there's nowhere quite like Venango General Store. The building, which has been standing since the late 1800s, has housed the general store, library, US Post Office and a furniture shop. In the late 1980s it fell vacant and remained unoccupied until 2011 when it was reimagined as a general store and cafe by Mark and Tracey Olenick. The food menu features pub grub, steaks and seafood, and for breakfast and brunch, there are all kinds of treats. Highlights include chicken fried steak, deep-fried strawberry cream French toast and Cinnfully delicious pancake rolls. 21747 Cussewago St, Venango; (814) 422-5323.
Situated just a stone's throw from the beautiful Conneaut Lake, Miller's Food Factory is the area's go-to for hearty, crowd-pleasing brunch options. A casual diner interior welcomes locals and visitors alike for classic breakfast platters, stuffed omelets, pancakes, egg sandwiches and more. It's also open for lunch and dinner, with ample options and nightly specials. 12685 Conneaut Lake Rd., Conneaut Lake; (814) 382-3663.
Where are you brunching in PA? Let us know!
Feature photo:

Casey Martin Photography for PA Eats

Nudy's photo:

Nudy's Cafe