Despite all of the beautiful bottles of spirits crowding the shelves at wine and spirits shops, a really special product is still hard to find. While many liquor brands sink money into intriguing packaging in an attempt to appear "artisanal," so many of them have very little to offer once you look past the pretty designs. When we taste a spirit, we want it to have a little soul, to say something about the people who crafted it. We want it to stand apart from the crowd. And, if it just so happens to make superb cocktails, well, that's an excellent bonus!
The gins that Brandywine Branch Distillers makes under its Revivalist Spirits label are exactly what we mean. Behind each bottle shines the vision of the company's founders, bolstered by their commitment to craft and quality. To be clear, these are not just "nice" gins, with the usual notes of juniper and botanicals. This series of four New American gins, all made in Brandywine Branch Distillers' distillery in Elverson, Pa., tell a story, taking us through the sensory and emotional journey of the seasons.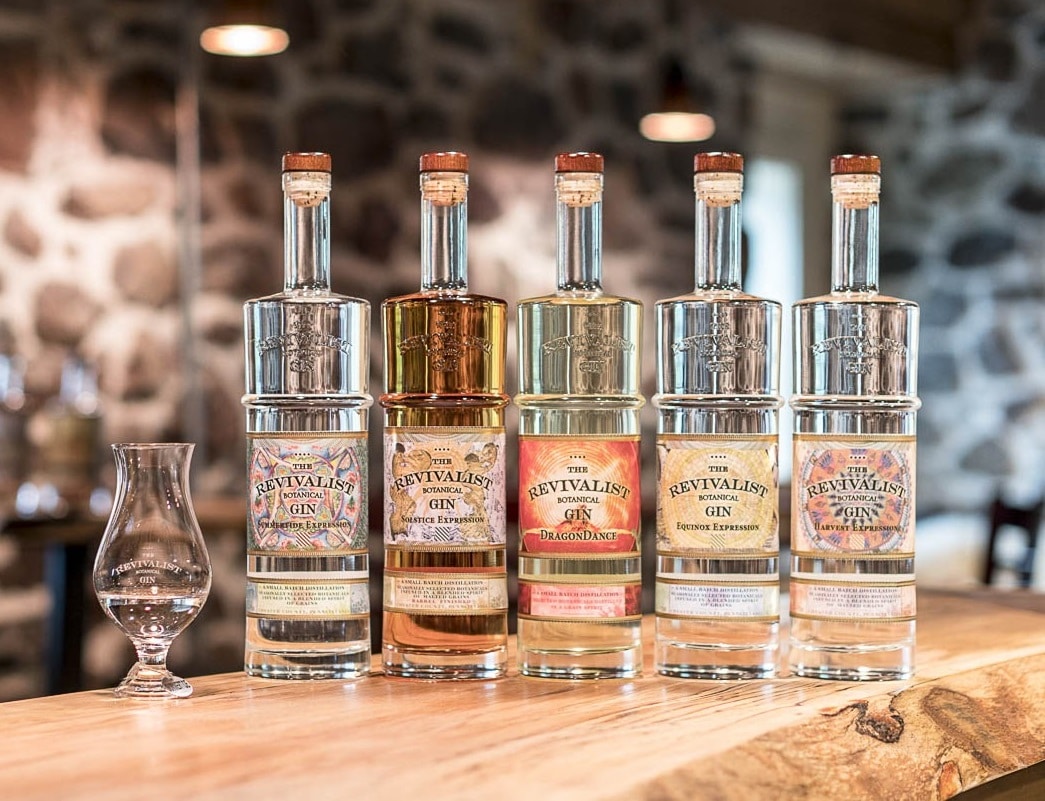 Each "expression," as its team refers to them, is an ode, not only to the spring, summer, autumn and winter, but to gin itself — to its versatility, mutability and ultimately, its beauty. A fifth expression, DragonDance, is a jalapeño-infused gin that's both mind- and tongue-bending. Starting with the finest botanicals, including herbs, flowers, spices and fruits, Brandywine Branch Distillers is helping to evolve gin past its juniper-based roots, and people are taking note.
Recently Solstice, the winter expression, was named one of the top 100 spirits of 2017 by Wine Enthusiast, which rated it 92 points out of 100. This gin is infused with dried cherry, anise, orange peel and ginger, with just a touch of juniper. Solstice is finished in oak barrels that were previously filled with red wine varietals, which lends layers of depth and complexity and gives the spirit a gorgeous blush color. It's a truly remarkable take on gin that, with its botanical warmth, is especially welcome right now, during this last gasp of winter.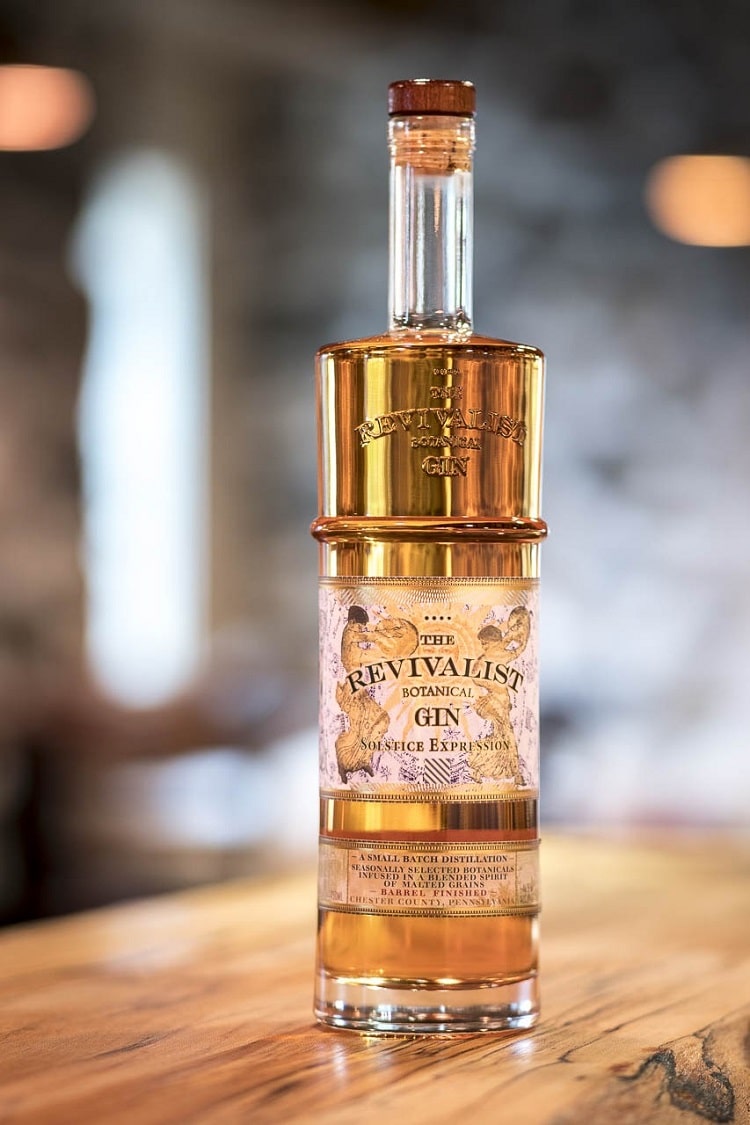 Not only are Brandywine Branch Distillers' spirits beloved by spirits critics like Wine Enthusiast, but also by the mixologists and bartenders at some of our favorite restaurants. Now, when it comes to spirits, these folks know their stuff! They work with hundreds of different brands every day to create the fabulous cocktail creations that keep customers coming back for more. We spoke to some of the best in the business about what it is that they find so special about Brandywine Branch Distillers and Revivalist Spirits.
The cocktail menus at this prestigious family of restaurants are divided between unique recipes and fresh takes on classic cocktail recipes. The classics provide guests with some familiarity, and the fresh takes entice more adventurous drinkers.
Boris says that the beverage programs at White Dog Cafe, Autograph Brasserie and Moshulu separates them from the pack, with friendly, knowledgeable staff who pay incredible attention to detail. "We always strive for a balanced cocktail. It doesn't matter how amazing the idea is if the balance between sweet, bitter, strong and weak is off. Bartenders should treat this balance the same way a chef treats acid, salt, and pepper in a culinary sense," he says.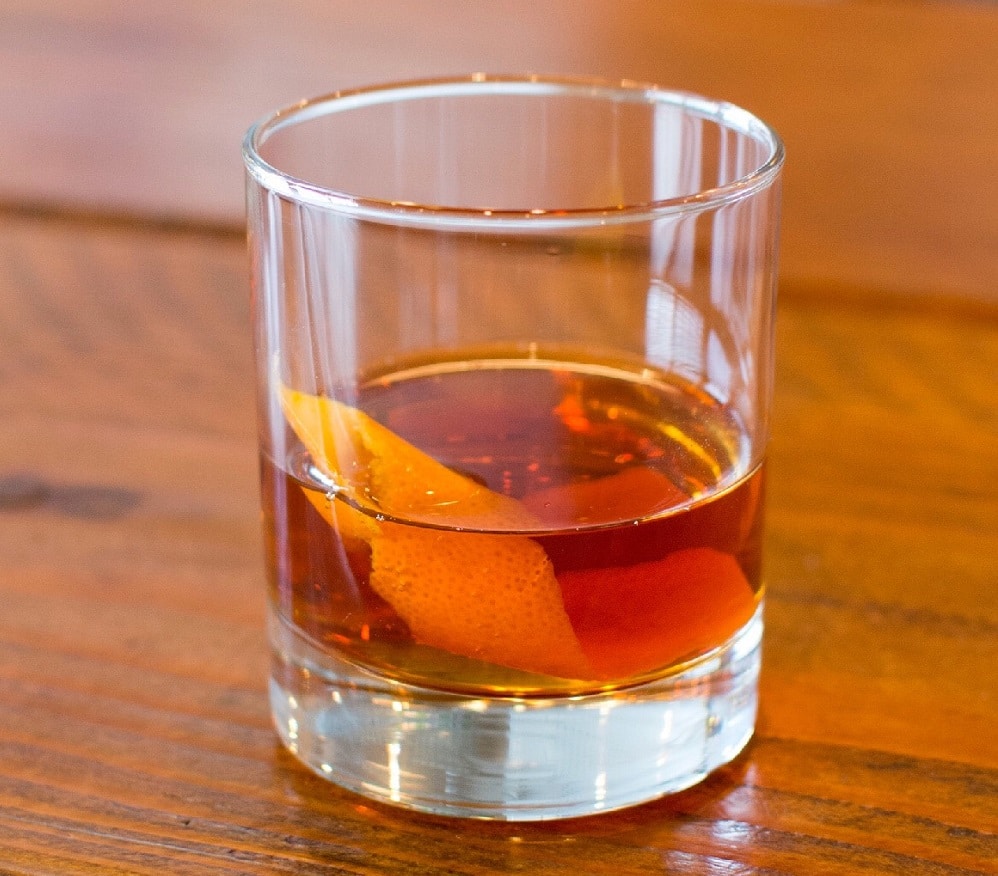 When it comes to Revivalist gins, he finds the seasonal gin line quite unique, and appreciates that Brandywine Branch Distillers is a grain-to-glass distillery, which, he notes, "nowadays is not the norm in the industry."
Boris says that his first impression of the seasonal gin line is that it would fit perfectly at White Dog Cafe where the cocktail menu changes every season. "Summertide was the first seasonal gin we used, and it is still my favorite. The floral and citrus notes allow me to make a cocktail that will cater to gin drinkers and non-gin drinkers, alike. Solstice gin is warm, spicy, and flavorful; perfect for when the sun gets low in the sky," he says.
"Revivalist gins have a following with bartenders because their flavors are not dull," he continues. "We need ingredients that are bright so they can shine when mixed with other powerful ingredients."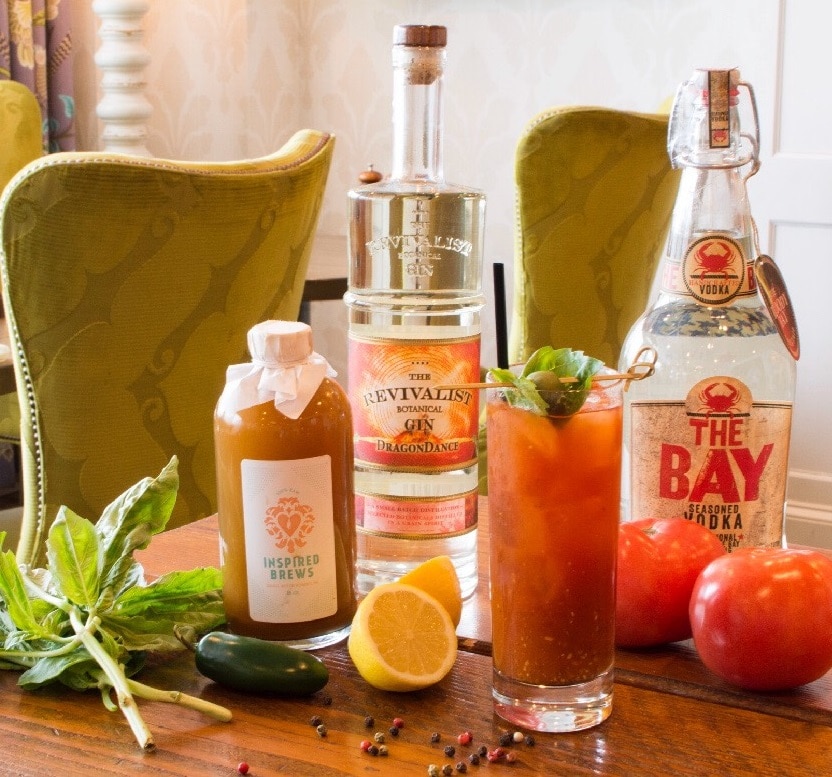 Boris' favorite cocktails to make with Brandywine Branch's gin are the Buster Negroni with Revivalist Harvest Gin, sweet vermouth, Aperol, chai and blood orange bitters and the Baysil Bloody Mary, the signature bloody mary from White Dog Cafe. This brunch classic combines Revivalist DragonDance with Philadelphia Distilling Bay Vodka, Inspired Brews' tomato and basil kombucha and bloody mary mix.  
Suburban, in Exton, Pa., may be known for its amazing craft beer program. But, Suburban's bartenders also know how to craft a mean cocktail, with a focus on local and house made ingredients. The staff there loves to geek out on scratch-made bitters, as well as infusions that mimic traditional cordials.
Gina Terra, manager at Suburban, remembers the first time she tried Revivalist Gins. "It was at Christopher's in Malvern. Their bartender, Rob, is a friend and a cocktail geek, as well, and he was excited to show them to me," she says. The first thing the duo did was experiment with each expression by making the classic cocktail Corpse Reviver #2 to compare each gin. (Summertide was the winner.)
When asked why she loves Revivalist Gins, Terra says, "They're a great tool for bartenders to play with. With most gins, you have a very narrow flavor profile to build upon, but the Revivalist Gins have such a depth of flavor. I like to consider them as 'a non gin-drinker's gin'; We've been able to have people who swear they never drink gin drink a cocktail featuring one of theirs."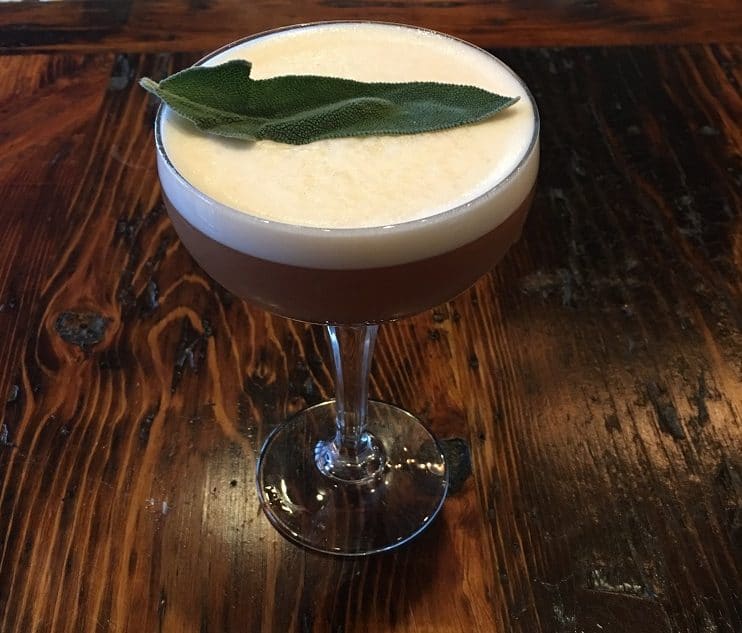 Terra also notes that some customers perceive gin and vodka as interchangeable in cocktails, because they're both clear spirits. But, because Brandywine Branch's gins are so distinctive, the bartenders are able to say, "No, keep it the way it is [on the menu], you'll love it, I promise!"
Right now, she's loving Solstice, which she describes as "warm, round and winter-y."
"The flavors of the Solstice are so much fun to play with in a cocktail! The barrel aging allows it to stand up to flavors I would normally pair with whiskey, or calvados, so you're able to do really interesting 'non-gin-like' things," she says.
Currently, Suburban is using it in the Solstice of Swing cocktail, made with Solstice, a house made apple cider shrub, local apple butter and a housemade sage tincture.
Savona's cocktail menu echoes the seasonally and quality-driven ethos of its food menu, and Revivalist Spirits gins make the base for a number of its drinks.  When we asked Savona's sommelier Michele Konopi, what makes its cocktail program special, she replied: "Creativity.  I think a lot of people are interested in classic cocktails, but all make them in a similar fashion. I like to think of unique ways of making them."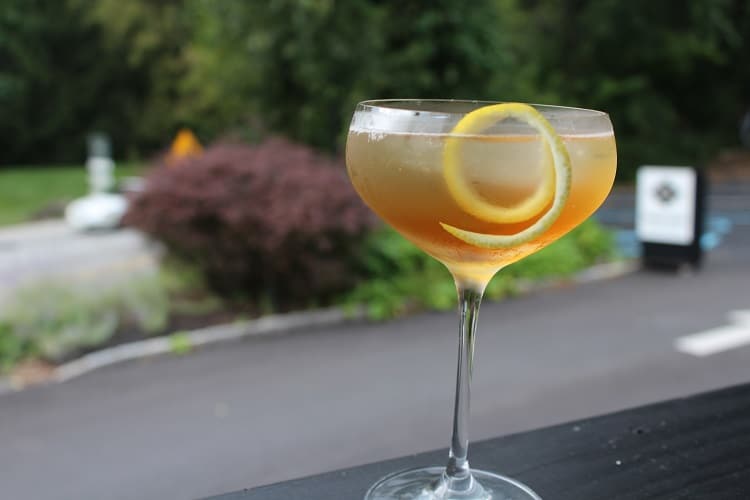 For example, she once made a Negroni using the Solstice gin and a sweet vermouth from Contratto. She steeped her Campari with grapefruit zest to add even more bitterness, then froze into ice cubes. The resulting drink was a Negroni that guests could control the final bitterness of — they could remove the melting Campari-cube, or let it melt completely, adding complexity and layered texture.
Regarding Revivalist Spirits gin, Konopi says she loves how the expressions are different enough to stand out, yet familiar enough for people to be comfortable trying them, and that they are so versatile. "Gin is normally such a bouquet of flavors, which makes it perfect for mixing with other spirits or liqueurs," she says. "Brandywine has such a range of botanical flavors, their spirit doesn't need much else in it. I could enjoy it on the rocks with just a lemon or lime."
Her favorite cocktail to make with Revivalist Gin is called The Last Word. It combines one ounce green chartreuse with one ounce Equinox gin, one ounce Luxardo and one ounce lime juice. "It might not be for everyone, but I am obsessed with it!" Konopi says.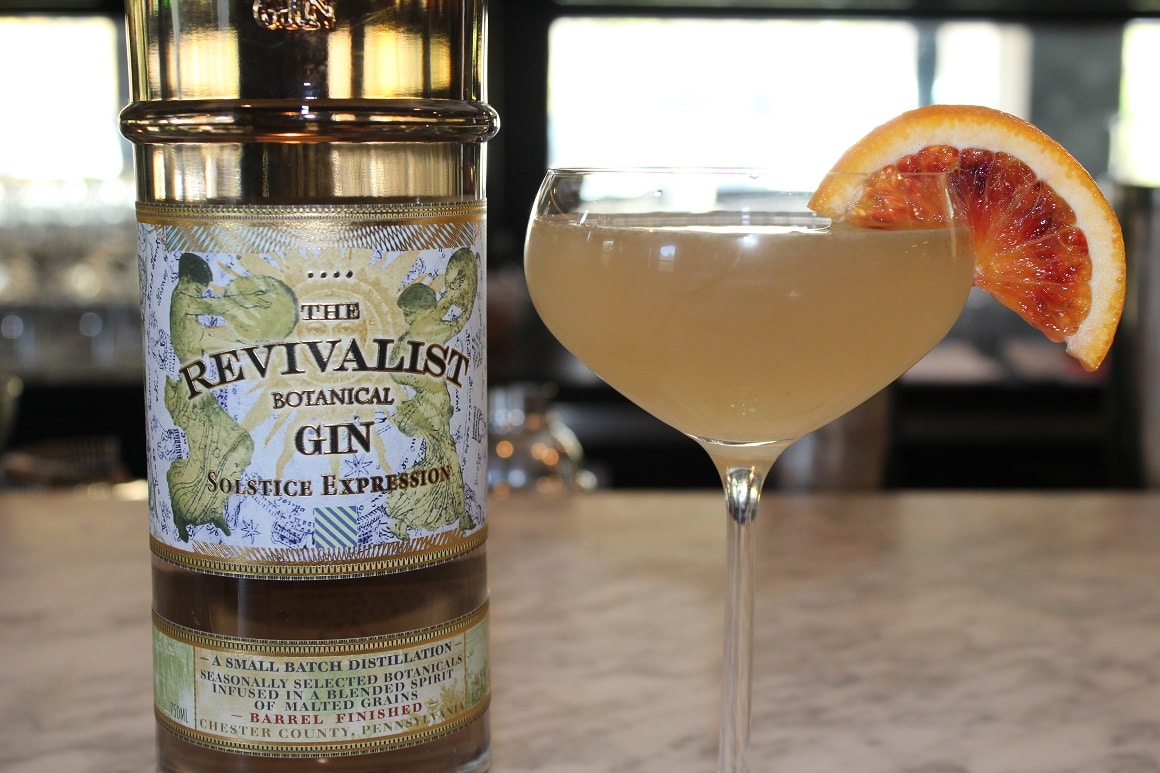 She also shared a cocktail recipe from Savona's menu, if you'd like to try your hand at some at-home mixology. It's called the Winter Burr, because Savona was Aaron Burr's Revolutionary Headquarters!
Winter Burr
Makes 1 cocktail
Ingredients
2 ounces Solstice gin

1 ounce Bauchant orange cognac liqueur
1 ounce lemon juice
Dash orange bitters
Slice of blood orange, for garnish
Method
Add all ingredients except thyme to a cocktail shaker filled with ice.
Stir, and then strain into a chilled martini glass. Garnish with a slice of blood orange.
Visit any of these restaurants to experience Brandywine Branch Distillers' Revivalist gins, or ask the bartender at your favorite bar to start carrying them, if they don't already! You can also pick up a bottle of your own at select PLCB stores, all except Harvest and Solstice. Harvest and Solstice can only be purchased at its distillery, where you can also sample Chef Natasha Yruel's menu of farm-to-table dishes in the cozy on-site bistro. Pair your meal with a cocktail, or a flight of Brandywine Branch's incredible gins.
Brandywine Branch Distillers is located at 50 Warwick Rd. in Elverson; phone: (610) 901-3668.
Feature photo:

White Dog Cafe

Revivalist Spirits gin & Solstice bottle photo:

Todd Murray

Buster Negroni photo:

Len Boris

Solstice of Swing photo:

Suburban Restaurant and Beer Garden

Outdoor cocktail and Winters Burr photo:

Savona