Mac-and-cheese: Name a more iconic duo! There is something almost sacred about the extreme deliciousness that comes from such a simple union of ingredients. And one of the best parts about mac-and-cheese is that you never know when you're going to stumble across your next favorite dish of it; it could be at a family barbecue, a vintage diner, a fancy brunch spot, or at a dark, cozy pub. The best mac-and-cheese of your life could be waiting around every corner!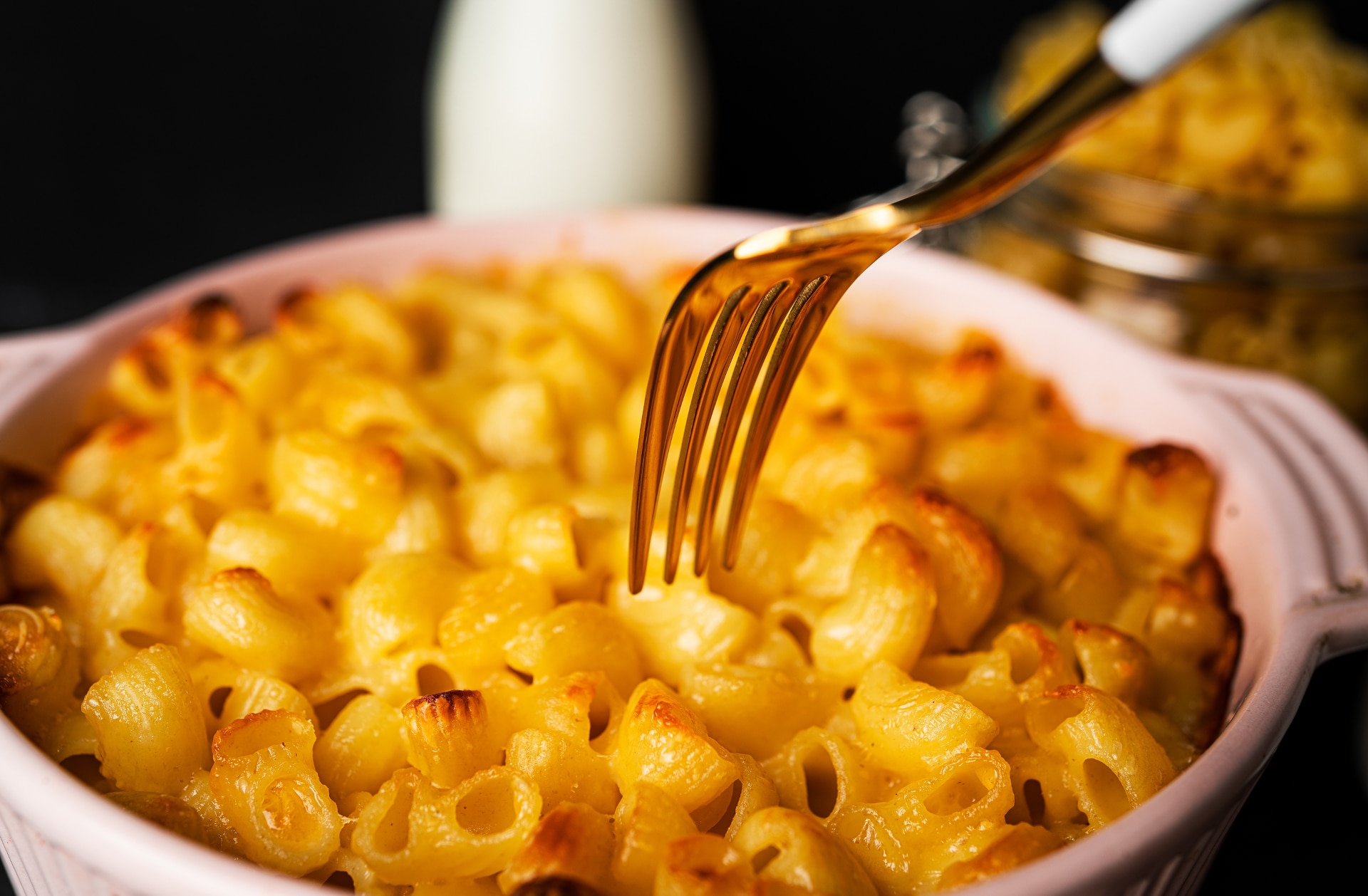 If there's nothing you'd like more than to dig into a gooey crock of mac-and-cheese, we've found the spots in Pennsylvania that you've got to check out! Whether you prefer a traditional shells-and-cheese situation, or a mac loaded to high-heaven with toppings, here is where to go for the best mac-and-cheese in PA:
Northeast PA
At Ale Mary's in the historic Bittenbender Building, you'll find Scranton's own build-your-own "mac & cheese bar"! Choose from different cheeses, sauces, toppings, proteins and veggies to make your own bespoke bowl. Want to keep it simple with cheddar and bacon, or load it up with queso, jalapeno crumble, short rib and tomatoes? You're in charge of this mac-and-cheese journey. 126 Franklin Ave., Scranton; (570) 955-0176.
Mac-and-cheese on a sandwich? Yes, it's a thing, and yes, it's totally worth a try. Nowhere in NEPA is doing it better than Scratch Kitchen & Anthracite Room, a quaint diner with extensive breakfast, lunch and dinner menus. An entire section of its menu is dedicated to Food Truck Mac-and-Cheese Sandwiches, each served with a cup of tomato soup for optimal dipping. We suggest The Main Cheese, stuffed with lobster claw meat, with creamy mac-and-cheese and a generous dusting of Old Bay. 1335 N. River St., Plains; (570) 550-9234.
At The Charcuterie in Stoudsburg, meat and cheese plates may take center stage, but don't sleep on the house mac-and-cheese. There are usually a few varieties available, including the 548 Mac & Cheese, a four-cheese blend topped with bread crumbs, and seasonal specials, like the Butternut Squash & Bacon Mac, with roasted squash and crispy applewood smoked bacon. 548 Main St., Stroudsburg; (570) 421-3222.
Twigs Cafe, a charming cafe in Tunkhannock, always features one kind of deluxe, gourmet mac-and-cheese in the entrees section of its extensive menu. Think: Beer and Bacon Mac with smoked paprika, cheddar and Gruyere, or Shrimp & Asparagus Mac-and-Cheese. If you prefer the classics, just-cheese house mac is also available. 1 E. Tioga St., Tunkhannock; (570) 836-0433.
Lehigh Valley
Copperhead Grille, a lively sports bar with locations in Allentown and Bethlehem, does not shy away from sports puns (the salad portion of the menu is titled "Field of Greens"). It also doesn't shy away from big, bold flavors that pair well with cold beer and a game on a big screen TV! Mac-and-cheese is available in multiple ways on Copperhead Grille's menu, with white and yellow cheddar options as side dishes, and a Crab Mac-and-Cheese entree, with claw crab, white cheddar sauce, old bay and a side of garlic bread. 5737 Route 378, Bethlehem; (610) 282-4600; 1731 Airport Rd., Allentown; (610) 403-4600.  
At The People's Kitchen in downtown Bethlehem, there is something wonderful on the menu called "Breakfast Mac and Cheese." This life-changing creation layers potatoes, mac-and-cheese, bacon and sausage for a powerful start to the day. Add a fried egg to take it over the top! 639 Linden St., Bethlehem; (610) 849-2080.
Gastropubs are generally good places to search for top-notch mac-and-cheese; a prime example of that advice is The Mint in Bethlehem. This spot is all about elevated comfort food, and there are usually three kinds of mac-and-cheese to choose from in the "Fork, Knife & Spoon" section of its menu. The Traditional Mac-and-Cheese is smothered in king koopa cheese sauce and melted cheese, and flavor combos, like Truffled Parmesan Shrimp Mac and Chipotle Bacon Mac-n-Cheese bring some extra thunder. Half portions, gluten-free mac and the option to add chicken or an eggs to the mac-and-cheese are also available. 1223 W. Broad St., Bethlehem; (610) 419-3810.
Killer tacos, guacamole and creative margaritas (hello, blackberry sage) are on deck at Mesa Mexican, but if you dig further into its dinner menu you'll find an unexpected treat: Mac and Queso! This twist on traditional mac-and-cheese tops pasta with melted Gouda and Monterey Jack and jalapeno-spiked bread crumbs. Add chorizo or chicken to make it a meal. 42 S. 3rd St., Easton; (610) 829-2101.
Southeast PA
With three locations in the Greater Philadelphia area, The Lucky Well is a beloved modern barbecue spot with fantastic smoked meats, like St. Louis pork ribs and smoked chicken. But where The Lucky Well really shines is in its sides, with a wide variety of apps, salads, slaws and other options to add onto your proteins. The mac-and-cheese, which is straight-up classic and super cheesy, is high on the list of sides to order on your next visit! 990 Spring Garden St., Philadelphia; (215) 646-4242; 111 E. Butler Ave., Ambler; (215) 646-4242; 1613 N Main St., Warrington; (215) 646-4242.
Mac Mart is a genius concept that takes the fast casual "build-a-bowl" style of service and applies it to macaroni-and-cheese! Try one of its signature creations, which each start with Mac's classic 7-cheese mac topped with potato chips and panko bread crumbs. There's the Chicken Bacon Ranch, Mac n' Tots (yes, topped with tater tots), the Fat-n-Happy, with fried onions and bacon, and so much more! Or customize your own bowl with any combo of toppings you like. Gluten-free and vegan options are available if you call ahead a few hours before you head over. 104 S. 18th St., Philadelphia; (215) 444-6144.
Mac-and-cheese lovers will appreciate the trio of dishes on the menu at Ram's Head Bar & Grill: The OG (Trottole pasta with Vermont white cheddar and fontina sauce and a pecorino panko crust); Nashville Hot Chicken Mac (the OG topped with spicy fried chicken); and the Asian Glazed Pork Mac. Pair any of the three with a pint of local ale for the ultimate cozy pub vibes. 40 E. Market St., West Chester; (484) 631-0241.
South Central PA
The tagline at the Double C is "Keystone Casual," meant to encapsulate its farm-to-table ethos applied to comfort food standards, like burgers, margaritas and tacos. It also has some of the best mac-and-cheese in Lancaster! The spicy, Not Your Grandma's Mac-n-Cheese features a trio of Colby, pepperjack and garlic-chive cheeses and spices; order it as a starter or side, or try it as the base for one of Double C's Meaty Mac-n-Cheese bowls, which, as you may have guessed, is a bowl of mac-and-cheese topped with your choice of meat, like chicken leg confit or hickory smoked beef barbacoa (or seasonal veggies), topped with tomato-red pepper sauce, chimichurri and queso fresco. 220 N. Prince St., Lancaster; (717) 874-4184.
Mac-and-cheese is a standard side at many barbecue spots, but sometimes it seems like an afterthought. Not at Queen's BBQ and Southern Cuisine, where the homestyle cooking extends from the succulent smoked meats to the veggies offered alongside them. The baked mac-and-cheese, with a velvety, creamy cheese sauce, gets rave reviews from fans, and it is not to be missed! If you really want to go for it, try the brisket mac-and-cheese, with tender beef baked into it. 912 N. 3rd St., Harrisburg; (717) 526-9998.
Elevated comfort food is the specialty at The Fig & Barrel Pub in York. Alongside swoon-worthy plates like duck confit grilled cheese and shrimp and grits, find a stunner of a mac-and-cheese side that's baked in the pub's wood-fired oven! If you love a deal, swing by during happy hour (Monday through Friday from 4 to 6 p.m.) to try this cheesy delight for just $4.  25 W. Market St., York; (717) 850-0080.
Forrest's Feed Co. is an upscale wood-fired barbecue joint, where everything is made from scratch, including the sauces, and also made with local, seasonal produce. The mac-and-cheese here is a delight, with big shells swimming in creamy cheese sauce and studded with tomatoes and bacon. Note: Forrest's Feed Co. is closed for the winter and will reopen in spring. 283 East Main St. (rear), Hummelstown; (717) 566-6666.
North Central PA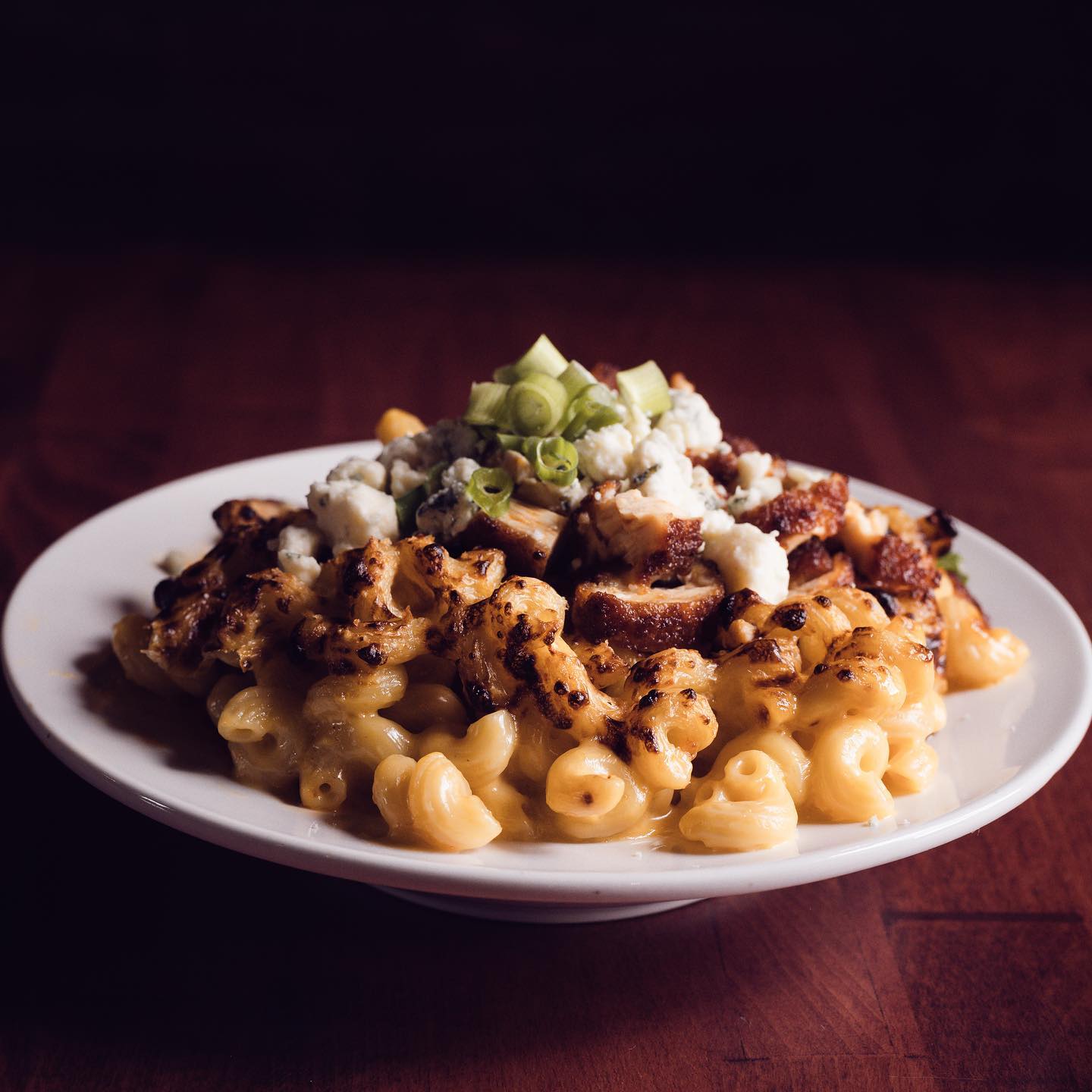 Located in a historic building (circa 1835), US Hotel Tavern is a cozy gastropub with all the hits on repeat: French onion soup, pierogi, loaded burgers and more. One house favorite is the buffalo chicken mac-and-cheese, a gorgeous bowl of mac-and-cheese (with just enough crispy bits), topped with chicken tenders, blue cheese and buffalo sauce. It's a combo of two great bar food classics, and it will make your inner child very content. 401 S. Juniata St., Hollidaysburg; (814) 695-2624.
Fresh, casual and from scratch are what sets Carver's Deli apart from other similar spots. Students and locals show up for the loaded sandwiches, low-and-slow smoked meats, and they stay for the super-good sides, including a classic, super-creamy white cheddar mac-and-cheese that will knock your socks off. 1633 N. Atherton S., State College; (814)-237-0620.
The Mountaineer Lounge is an old-school sports bar featuring great bar food, plenty of cold beer and a dedicated crew of local regulars. Comb through its long menu to find the "Mountain Munchies" (aka deep-fried delights), and you'll find its macaroni-and-cheese bites, essentially wedges of mac-and-cheese, breaded and fried and served with marinara sauce for dipping. It's basically a fusion of mozzarella sticks and mac-and-cheese, and we're here for it! 420 E. Mountain Ave., South Williamsport; (570) 326-2537.
Charming and quirky, with plenty of comfy nooks (yes, it has a fireplace), The Hublersburg Inn is a must-go-to destination in Central PA. The food has a gourmet vibe, with PA meat-and-cheese plates, house-made condiments, and local beef in the burgers. It's not always on the menu, but when the lobster mac-and-cheese makes an appearance, do yourself a favor and order it up. 449 Hublersburg Rd., Hublersburg; (814) 383-2616.
Western PA
Quality Time & Carryout brings all the comfort and warmth of home-cooked meals to its neighbors in New Brighton, PA. Its menus span the gamut, from steak-and-egg wraps at breakfast, to fiesta chicken salads at lunch, to Cajun Alfredo pasta at dinner. There are six — count them, six! — varieties of mac-and-cheese on the menu; a highlight is the pulled pork mac with cheese, black bean corn salsa and a drizzle of BBQ sauce. 906 3rd Ave., New Brighton; (724) 581-4104.
For British fare, like fish and chips, sausage rolls and Scotch eggs, The Pub Chip Shop is the place to go in Pittsburgh. But there's so much more than that on the menu, including loaded tots and crazy-good mac-and-cheese. The brisket mac is highly recommended; it's topped with Welsh cheddar, tender beef brisket, and savory fried onions. 1830 E. Carson St., Pittsburgh; (412) 381-2447.
Carmi Soul Food is a community-driven restaurant, serving Southern cuisine with a hefty side of hospitality. Most of the entrees on the menu, like cornmeal-coated catfish and gravy-smothered fried chicken, come with a few sides. Yes, you've got to go for the cornbread, but make sure one of those other sides is the mac-and-cheese, impossibly creamy (it's made with a five-cheese blend!) and seasoned with black pepper to perfection. 1825 E. Carson St., Pittsburgh; (412) 231-0100.
At La Bella, a sweet BYOB in Erie that walks the line between casual and upscale, mac-and-cheese isn't just a side dish. It's the main event! Its Lobster and Shrimp Macaroni and Cheese goes over the top: ziti pasta is enrobed with a lobster-infused mascarpone cheese sauce, then tossed with plenty of lobster tail meat and shrimp scampi for a truly decadent delight. 802 W. 18th St., Erie; (814) 456-2244. 
The fact of the matter is, there is amazing mac-and-cheese everywhere in PA. Where are some of your favorites? Let us know on the PA Eats Facebook page!
Feature photo:

SLY Photography for US Hotel Tavern

Mac and cheese with fork photo:

BigStock

All other photos :

Courtesy of their respective businesses