As much as anyone, we love going to fancy restaurants, with their richly-textured linens, uber-refined service, killer cocktails and jaw-dropping tasting menus. But we're equally as smitten with a no-nonsense lunch or late-night snack at a classic diner. The sassy waitstaff, tobacco-stained walls, gleaming chrome and comfort-food-centric menus strike a deep chord in our nostalgic hearts. Diners are egalitarian places — your status, or how much money's in your checking account, doesn't matter a bit when you settle into a squishy booth and order a cup of coffee and a patty melt on rye (one of our fav combos) or a chocolate milkshake with an extra-cold tumbler served on the side.
Pennsylvania is home to so many vintage diners — in our definition that means pre-1980 — each with its own back story, personality and local fan club. On your next road trip, make a plan to stop at one (or more) of these slices of American culture for a taste of true local flavor.
Northeast PA
The Village Diner in Milford is one of the few stainless-steel diners left in the U.S., and it's been around for quite awhile. It was established in 1956 by The Mountain View Diner Company, and is currently owned by Maria Pagelos Wall and Agisilaos "Aggie" Pagelos. The pink-and-teal-tiled bar and chrome bar stools are diner perfection, and the rest of the interior is incredibly well preserved. Breakfast is available all day, including classics (creamed chipped beef, buttermilk pancakes, etc.), as well as house specialties, like the Loco Moco, a Hawaiian-style breakfast of two eggs scrambled or fried with hamburger patty over rice and topped with homemade gravy. Familiar sandwiches, salads and "diner delights" rule the lunch and dinner menu, with tacos, quesadillas, Italian-American dishes and plentiful vegetarian options to round it out. Locals know: Don't leave without a slice of homemade pie. 268 Route 6 and 209, Milford; (570) 491-2819
In Scranton, Glider Diner's legacy goes back to 1945, when two military vets, Chappy LeStrange (come on, that is the best name ever!) and Gene Cosgrove, Sr. partnered up to open a restaurant. In 1952, they replaced the original wooden building with a dining car, and by the '60s were so busy they built an expansion in 1964, and called it the Fireside Lounge. To this day, Glider Diner retains so much of its mid-century charm, with its chrome details, neon signage, red booths and worn-in bar stools. The menu sports all of the diner favorites, but why not try the Gliderburger with bacon, cheese and tomato, Glider fries with cheese and gravy, and an extra-thick milkshake, like people have been doing for 75 years. 890 Providence Rd., Scranton; (570) 343-8036.
Chick's Diner has been the go-to spot in Scranton for decades (open since 1946) for 24/7 meals. Whether you're there at 7 a.m. for a quick breakfast or at midnight for a late-night snack, you'll find Chick's packed with a mix of locals and students enjoying cheap diner eats. Pancakes are a big favorite on the breakfast menu, and fries are a must-order. 1032 Moosic St., Scranton; (570) 344-4156 
Walking into D's Diner in Plains is a bit like stepping back in time. The curved, pink ceiling, cozy booths and formica tabletops and bar surface hearken back to another era. After the diner formerly called Eddie's Place closed in 2016, it was bought and reopened by Dan and Denise DeMellier and Stephen and Danielle Simko, who gave the place some minor updates. But they rehired the old staff and brought back the comfort food classics the regulars loved for so long. Look for budget-friendly breakfast specials, PA foods (sauerkraut, stuffed cabbage), and a hilarious children's menu that features items like "I don't like that" (mac and cheese) and "I don't care" (chicken tenders and fries). 587 E. Main St., Plains; (570) 823-1990.
Lehigh Valley
For decades, Gap Diner in Wind Gap has been serving up comfort food with a focus on traditional Pennsylvania Dutch fare. It's not at every diner where you can order a platter of pork and sauerkraut or PA Dutch chicken pot pie while the person across the table is enjoying a cheeseburger and fries. If you can, grab a spot at the bar and enjoy the untouched back bar as you tuck into a slice of homemade cake or pie. 1041 S. Broadway, Wind Gap; (717) 442-4260.
Neon? Check? Eye-pleasing teal and pink color combos? Shiny stainless steel everywhere? Check and check! At Queen City Diner in Allentown, the aesthetic is vintage perfection. The food sticks to the timeless diner classics: sandwiches, fries, breakfast and the likes. At breakfast, order up the grilled sticky bun, and for lunch or dinner, try the chicken or steak Caesar salad. 1801 Lehigh St., Allentown; (610) 791-0240.
Love a tableside jukebox? Us too! Allentown's Sunrise Diner has that old-school charm, and more, plus it's open 24 hours a day and has a bakery on-site. A large selection of breakfast options are on offer, including an excellent banana walnut French toast, as well as the familiar diner stuff: club sandwiches, cold platters and burgers, as well as Italian-American specialties and "Chef's Suggestions," like meatloaf, breaded veal and grilled Polish kielbasa. 1401 S. 4th St., Allentown; (610) 797-2233.
Southeastern PA
Bob's Diner, on Ridge Ave. in Philadelphia's Roxborough neighborhood, is an institution. Built by diner baron Jerry O'Mahony in 1947, this no-fuss joint has a place for the community to meet and eat for generations. Though the food sometimes gets mixed reviews, there is atmosphere to spare, with a curved ceiling, low-slung bar and cozy interior. 6053 Ridge. Ave., Philadelphia; (215) 483-9002.
In Northeast Philly, The Dining Car was opened in 1961 by Joe Morozin Sr., who was just 16-years-old at the time! It operated under a few different names, finally settling on The Dining Car in 1976. One fun fact about this diner is that, in 1980, a new Dining Car diner was built in New Jersey and installed next door to the original location. For a brief time, both diners operated simultaneously; some customers were known to buy a cup of coffee from the old diner and then walk over to the new diner to sit down! Though it retains its old-school charm, The Dining Car's menu has modernized in recent years, with vegetarian additions, like the Impossible Burger, gourmet milkshakes and cupcakes and Restaurant Week menus. Bonus: It has a full liquor license. 8826 Frankford Ave., Philadelphia; (215) 338-5113
Llanerch Diner, situated right outside of West Philadelphia in Upper Darby, is an unusual "plate-glass" style, fabricated in 1968 by the Swingle Diner company of New Jersey. This style of diner was developed as an alternative to the stainless steel designs and is the only of its kind in Pennsylvania. Llanerch (say "Lan-erk") was also made famous by the 2012 movie Silver Linings Playbook, which used the diner for some of its most iconic scenes. Inside, find a 1970's aesthetic and a menu packed with diner classics. 95 E. Township Line Rd., Upper Darby; (610) 789-6057.
At the edge of town in Oxford, PA, you'll find Miss Oxford Diner, a 1950's diner that seemingly hasn't changed a bit since the day it opened (in a good way, of course). The "Silk City"-style diner was built in 1953 by the Patterson Vehicle Company and placed on the site in 1954. It was closed for awhile in the 1980s and early '90s until Tom Greenfield restored and reopened the Miss Oxford in 1994. Inside, it's all light pinks and greens, with old time-y jukeboxes at each table, which sadly don't work, but they are still fun to flip through. The minimalist menu offers breakfast, lunch and dinner, including some unexpected stuff, like Kunzler ham steak sandwiches and fries with Old Bay. 233 S. 3rd St., Oxford; (610) 932-2653.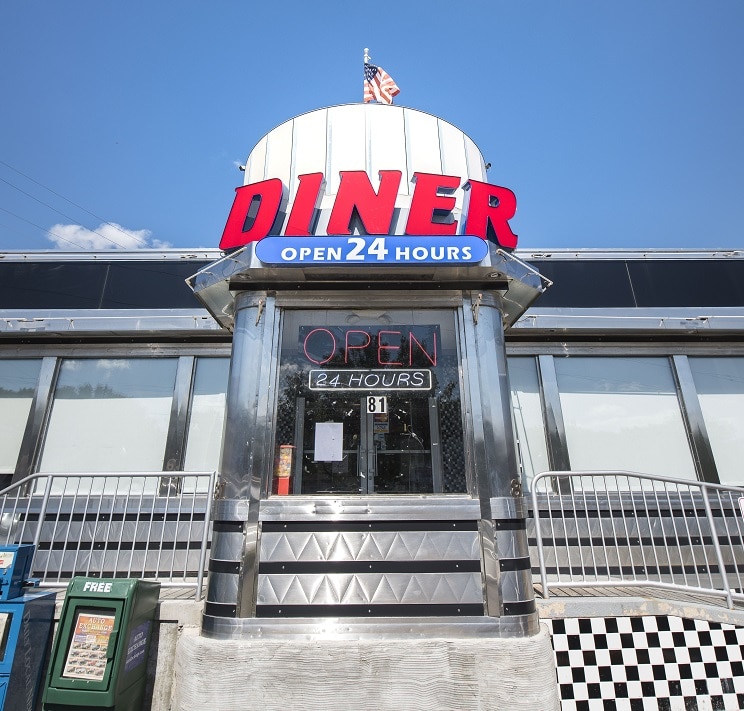 Fun fact: Downingtown Diner was used as part of the set in the 1957 horror film The Blob! Though the original Downingtown Diner was relocated to Hollywood, another retro style diner took its place, and this 24-hour eatery keeps the locals well-fed. The menu boasts omelettes, a "Blob" burger, seafood, steaks and chops in addition to daily specials and senior and children's menus. Service with a smile and that retro vibe — what more could you want from a diner? 81 W. Lancaster Ave., Downingtown; (610) 873-4545.
South Central PA
Route 30 Diner in Ronks, "Home of the Giant Pancakes," in a supremely old-school diner that, until 2015, was called Jennie's. Everything about it, from the neon "air conditioning" sign to the red vinyl booths and blinds on the window, is pure 1950's Americana. Its menu is simple and straightforward, with breakfast specials like the half-pound breakfast burger and an array of platters, entrees and salads for lunch and dinner, including PA Dutch favorites like ham loaf and pork and sauerkraut. 2575 Lincoln Highway East, Ronks; (717) 397-2507
For homestyle cooking in retro digs, Neptune Diner is the place to go in Lancaster. It's only been under its current ownership since 1994, and the diner itself is a 1950's relic. Its famous meatloaf, which was featured on the Travel Channel's Food Paradise, is available at breakfast (meatloaf omelet, meatloaf Benedict, etc.), lunch (meatloaf melt, meatloaf Pittsburgh-style wrap) and, of course, at dinner (meatloaf parm, meatloaf stack). There's plenty more to explore for all three meals of the day, as well as an extensive selection of 50's-style milkshakes. 924 N. Price St., Lancaster; (717) 399-8358
The Highspire Diner is a quintessential hometown diner, established in 1952. Inside and out, it has the ideal greasy spoon vibe: chrome, neon, cobalt blue booths, awesome floor tiles. We don't know if this is Highspire Diner's official slogan, but we love what it's got written on its Instagram profile: "Cracking yolks and feeding folks since 1952." The food is standard stuff, with homemade touches, like from-scratch crust for its chicken pot pie. 255 2nd St., Highspire; (717) 939-5366
Practically untouched from its first days open in the early 1950s — including Formica counters and working tableside jukeboxes! — Wolfe's Diner in Dillsburg is a total time warp. The prices seems stuck in the past, too, with many items clocking in under $5 (a cup of soup is $2.70; a slice of lemon meringue pie will run you $2.95). The place is tiny, and some diners complain of it being too small, but, to us, that's just part of its charm. 625 N. U.S. 15, Dillsburg; (717) 432-2101
Right smack in the middle of downtown Gettysburg is the Lincoln Diner, its exterior a mix of shiny stainless and checkerboard tiles. Opened in 1955 as the Varsity Diner, this popular spot's name changed in 1969 to George Grawe's Cannon Cafeteria, and finally to the Lincoln Diner in 1971. This is the rare diner that's still open 24 hours a day, 7 days a week, so you can grab a seat at a sparkly barstool literally anytime. 1800, 32 Carlisle St., Gettysburg; (717) 334-3900
In Altoona, Tom & Joe's is one of the oldest restaurants in town — it opened in 1933! Though it has seen some renovations and menu revamps in the past 85 years, it's still hanging on to plenty of its old-school feels. The menu offers plenty of the standards (omelets, grinders, salads, etc.) and goes a bit further with daily specials, like fried haddock fish dinner and grilled liver and onions. The prices are right, with most menu items coming in under $10. This is a breakfast and lunch spot, closing before 2 p.m. most days, so check the hours before heading in. 1201 13th Ave., Altoona; (814) 943-3423
North Central PA
Got a thing for 1970's decor? Then you're going to love Sunset West Diner in Pleasant Gap, a greasy spoon that opened in 1972 and seems frozen in time in the best of ways: drop ceilings, plaid curtains, all-brown-and-yellow-everything, including flowery tiles. Breakfast and specials are offered all day; locals love the chuck burgers, made with hand-formed ground chuck in 1/4-pound patties. Bring some dollars with you; Sunset West Diner is cash-only. 521 E. College Ave., Pleasant Gap; (814) 359-2783
Western PA
Missy's Arcade in Titusville is kitsch central, and we're loving every minute of it. Retro Coca-Cola memorabilia covers every spare inch of the space, which has been renovated in the past few decades (though the storefront is totally original). Try a cup of homemade French onion soup, and at least one slice of cake or pie, which are baked on site and come in creative flavors, like Oreo cake and pistachio pie. 116 Diamond St., Titusville; (814) 827-8110
Valliant's Diner in Pittsburgh's North Hills neighborhood has been serving breakfast and lunch for over 50 years. It was originally opened in 1968 by Peter Valliant, who emigrated from Greece in 1950, and his wife, Helen. First, it was called Valliant's Dairy, and operated as a restaurant and convenience store. Their son, Gerri, took over the family business in 1995 and gave the space a renovation a few months later, restoring it to 1950's-era glory. Valliant's Diner customers have added their own touches, by bringing in Marilyn Monroe posters, vintage model cars, black-and-white photos and diner memorabilia to add to the decor. The menu offers classic breakfast and lunch items (the diner is only open 'til 2 p.m. each day), like bologna, egg and cheese sandwiches, buttermilk pancakes and plenty of coffee. 3418 Babcock Blvd., Pittsburgh; (412) 364-9577
Eating in a train car diner is just more fun! Lawrence Park Dinor in Erie is a perfectly preserved specimen, and no, "Dinor" is not a typo. This incorrect spelling of the word "diner" is actually found only in Northwestern Pennsylvania; some people speculate that it may be due to an uncorrected typographical error, or a derivation from the German language. Regardless, this cute, shiny "dinor" is the only diner in Erie on the National Register of Historic Places, and dates back to 1948. Open from 7 a.m. to 3 p.m. each day, breakfast and lunch are solid and inexpensive. 4019 Main St., Erie; (814) 899-4390
What's your favorite classic/vintage diner in PA? Let us know in the comments or on the PA Eats Facebook page!
Feature & Downingtown Diner photos:

Ed Williams