You work hard. Unending deadlines, a packed schedule and a seemingly bottomless inbox sometimes make it difficult to take time away from the office. Studies show skipping lunch during the workweek can make us lethargic and unproductive. Also, it's been proven that getting away from the office — even for an hour — is crucial to staying motivated.
We realize it's not always possible to take a break from our daily grind, but when we do, we like to head over to Black Powder Tavern. Just minutes from King of Prussia, this historic pub takes pride in making sure we're pampered during our lunch break, so we can head back with enough energy to tackle the rest of the day. Great for a small crew and also popular with larger crowds, Black Powder Tavern has what it takes to make your lunch a satisfying experience.
The tavern's pro staff have fine-tuned their expedient "express lunch" (in and out in less than an hour) with daily chef's specials on the menu, including the 8-ounce Big Ale Prime Burger loaded with caramelized onions, melted Irish stout cheddar and ale mustard all on a pretzel bun, a classic reuben, or the melt-in-your-mouth short rib grilled cheese.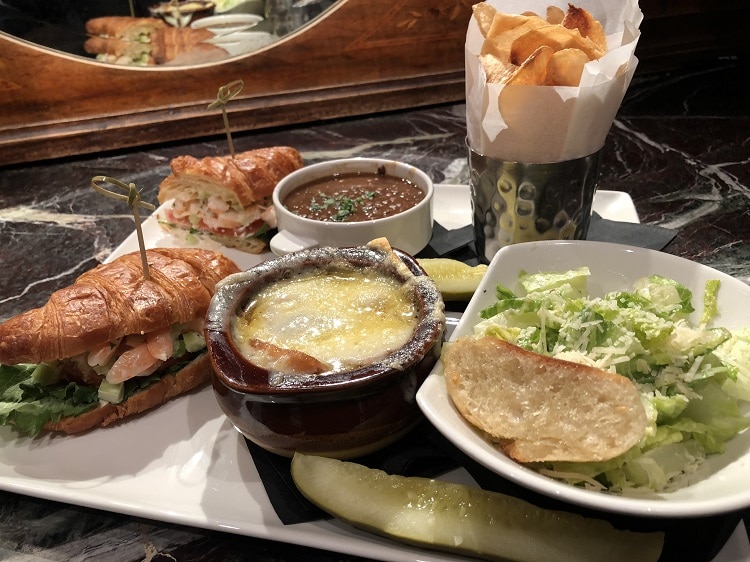 If you're thinking soup is the way to go, look no further than the signature Lafayette's Onion Soup, oozing with gooey melted Emmental and Gruyère cheeses. Or ask your server what they're featuring as the chef's seasonal soup of the day. Keep it fresh and healthy with crisp salads loaded with flavor, like grilled salmon, chicken or traditional Caesar.
Adding small plates and shareable appetizers make lunch out with the crew enjoyable, as well. Try the shrimp scampi crostini, comforting poutine or blackened chicken quesadillas. Meatless options also abound, with roasted cauliflower steak, housemade hummus and parmesan polenta fries.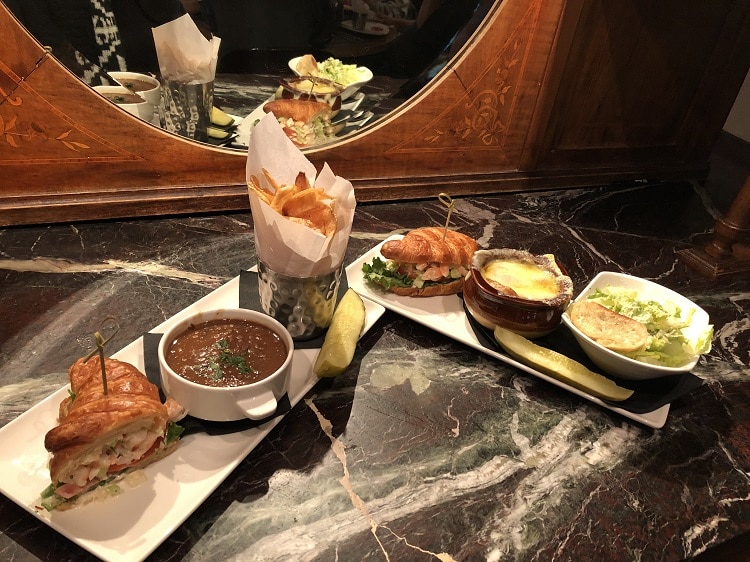 We also enjoy Black Powder Tavern's inclusive "Pick Three" menu that lets us sample a little bit of everything, with half a sandwich, a bowl of soup and a side salad for just $12.
Bonus: St. Paddy's Day Specials
With St. Patrick's Day right around the corner, don't forget to put a reminder on your calendar that Black Powder Tavern is rolling out a special holiday weekend menu — because you can never have too much of that "luck o' the Irish" fare!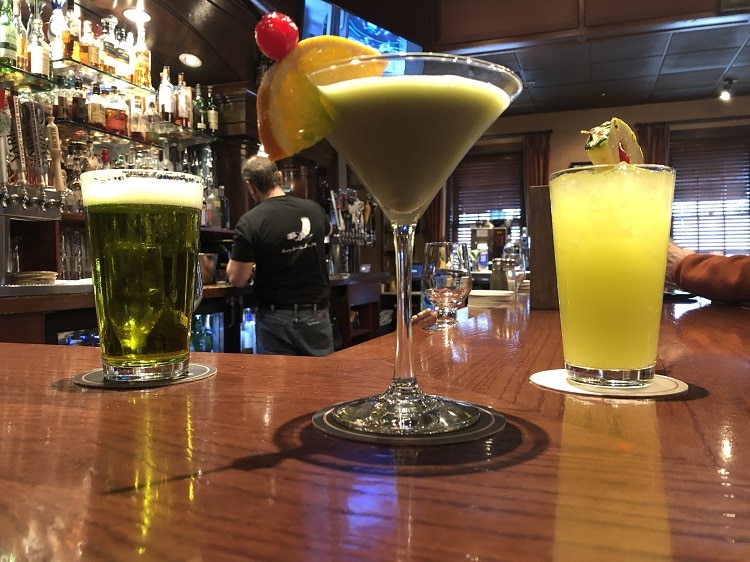 Start your meal with housemade potato skins topped with Irish cheddar, pork belly, scallions and sour cream or a creamy Guinness beer cheese dip. Then, enjoy authentic entrees including traditional corned beef and cabbage (with Irish soda bread), succulent shepherd's pie or grilled bangers and mash. Drink specials include a thirst-quenching Irish Mule with Tullamore Dew, ginger beer and fresh lime and a Thin Mint Martini, inspired by one of our favorite cookies. Or, tap into weekend beer specials with Guinness Draught and the always popular green beer.
So, whether you're looking for a quick weekday getaway from the office, or you want to indulge in good old-fashioned Irish tradition, Black Powder Tavern is the place to make it happen!
Black Powder Tavern is located at 1164 Valley Forge Rd. in Wayne; phone: (610) 293-9333.
Feature photo:

Bigstock

All other photos:

Black Powder Tavern