Putting together a well-composed, thoughtful, crowd-pleasing cheese plate is a true party trick, one that separates the savvy modern-day host from the wannabes. But, it can be overwhelming walking into a specialty foods shop and looking over the cheese case — it's enticing to see all the wedges, rounds and wheels laid out, and yet it can incite a bit of panic: There are so many choices, and which ones will play nicely together? Which ones are exciting without scaring off cheese newbies? And then there are the condiments, cured meats pairings and — wait a sec — which is better, baguette or crackers?
Deep breath. We spent some time with TJ Giannantonio, a cheesemonger at Carlino's, the best place in Ardmore and West Chester to go for artisan cheese, specialty groceries, gorgeous desserts and basically everything else delicious.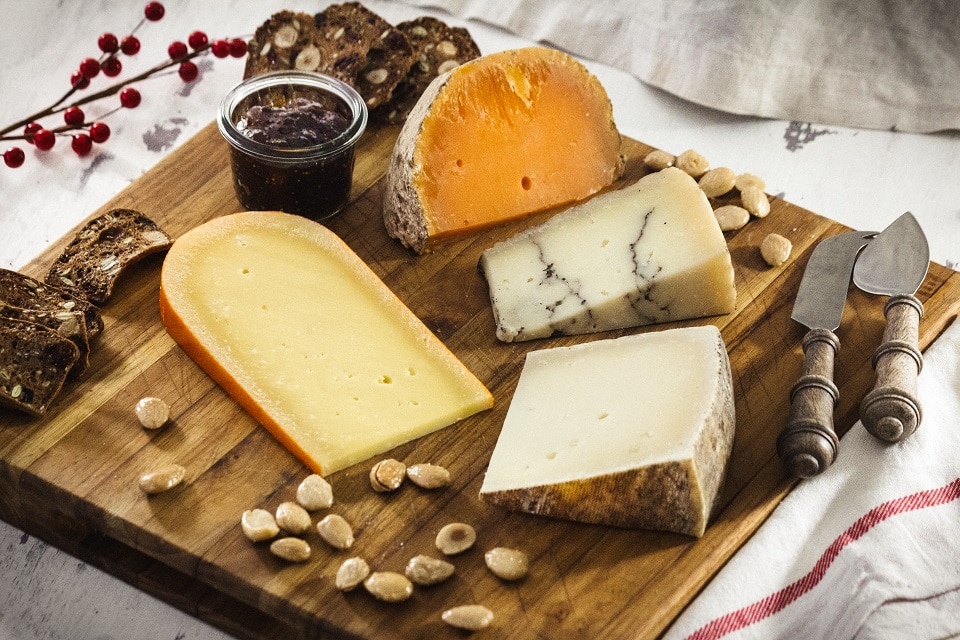 With TJ's expert tips, we've come up with this definitive guide to building cheese plates so that you don't ever need to stress about it again!
General tips:
Pick 3 or 4 cheeses. Unless you're hosting a massive bash, you don't need a gigantic cheese plate (though they do look good on Instagram). A curated selection with a few accompaniments will keep guests intrigued with plenty of tasty combinations.

The key to a good cheese board is making sure that your cheeses contrast enough with each other to keep things interesting. A basic rule of thumb is: one soft and creamy cheese, one firm, and one "wildcard" cheese, like a blue or truffled cheese.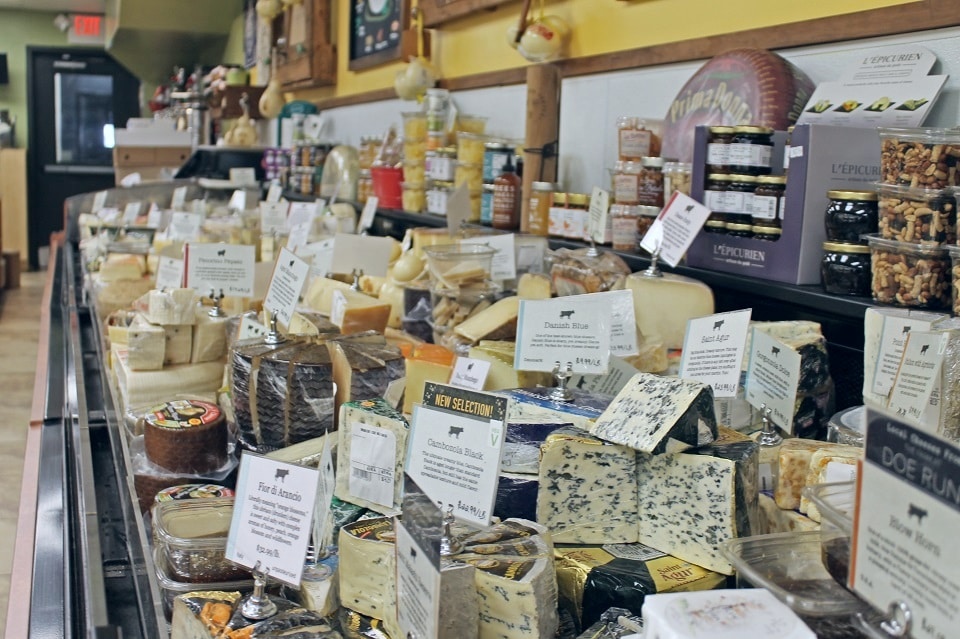 For cutting implements, TJ says a "basic mistake" is to use a plain chef's knife to "butcher" your cheeses. He notes that many people receive cheese cutters, wires and cheese-specific knives as hostess and wedding gifts. If you have them, by all means, use them! Using a wire takes some practice, so give it a few trial runs on less-special blocks of cheese in the days leading up to your gathering.

Pre-cut your hard cheeses before placing them on the board. "The last thing you want is your guests standing over the cheese board hacking it to pieces and shaking up your table," TJ notes.

Let your cheese come to room temp before serving. But, TJ clarifies, this doesn't mean they need to sit out for hours. "Most don't need more than half an hour, especially the soft ones, because you don't want them to totally fall apart."

Crackers vs. bread: Generally, softer cheeses go well with baguette and harder cheese with crackers, but why not have a bit of both on the plate? Carlino's selection of crackers (including some gluten-free varieties) is truly mind-blowing.

If you're serving cheese after a meal, think about the kind of meal you've eaten and stay on theme. "You can go in a lot of different directions, depending on what your taste is and what you're trying to do with your meal," TJ notes. A super-creamy, rich cheese might be too much after a heavy meal, and a nice wedge of sharp provolone (not the most common dessert cheese) is actually quite lovely after a meal of Southern Italian cuisine.
Now, let's talk about putting that plate together. TJ recommends playing to your crowd, and your own tastes, for best results.
"Are your guests adventurous, are they tame, are they foodies? That kind of thing can really shape the conversation," he says. "Some people want to stick with basics, other people will come in and say, 'I want the stinkiest thing you've got, when I open it, I want my houseplants to all whither and die.'"
So, we've put together two tracts: one for a more crowd-pleasing plate and another that's a bit more out-there.
How to Build an Approachable (But Not Boring) Cheese Plate
La Gruta Tres Leches Manchego: This olive-oil-cured Spanish cheese is made with three different milks: goat, cow and sheep.

Cheesemonger notes: "

Pleasing buttery flavor; great entry-level cheese, but connoisseurs love it, too."

Sartori BellaVitano: This brand may sound Italian, but it's actually made in Wisconsin. You'll often see this nutty cow's milk cheese washed with balsamic vinegar, merlot or espresso, but Carlino's is the only store in the area that carries the original unwashed version.

Cheesemonger notes:

"This is a cheddar that uses Parmesan cultures, so you get a lot of that salt crystal pop, very creamy, crumbly and imminently snackable."

Double or Triple Cream Brie: Miles ahead of the sticky, tacky stuff you might find in the supermarket, French double and triple creams are wildly decadent, velvety and oozy.

Cheesemonger notes:

"Fromager d'Affinoise is basically like pure salted butter, and Delice de Bourgogne isn't strong or funky but is still interesting."
How to Build an Adventurous (But Not Scary) Cheese Plate
Mimolette: This visually striking cheese (it almost looks like a cantaloupe, with its scratchy rind and bright orange interior) is called "cannonball cheese" by the French. Reportedly, it was Napoleon and Charles de Gaul's favorite cheese, making it a perfect conversation piece for history buffs.

Cheesemonger notes:

"Cheddar-like, not sharp or especially tangy, smooth with an almost waxy texture."

Farm at Doe Run St. Malachai Reserve: This PA brand makes incredible, high-quality and consistent cheeses, including this one in the style of aged Gouda.

Cheesemonger notes:

"You get that nutty 'butterscotchiness' with hints of smoke. Some people swear they get hints of bourbon. Incredibly complex, but still approachable. Not divisive, like some stronger cheeses."

Cambozola Black Label: What happens when you take two styles of cheese and fuse them together? In the case of this brie/bleu hybrid, the results are spectacular. A nice long ripening time and an extra layer of gray mold on the rind bring deep, complex flavors.

Cheesemonger notes:

"Brie-like salted butter richness. Even people who say they don't like blue cheese taste it and get on board."
How to Build a One-Cheese Plate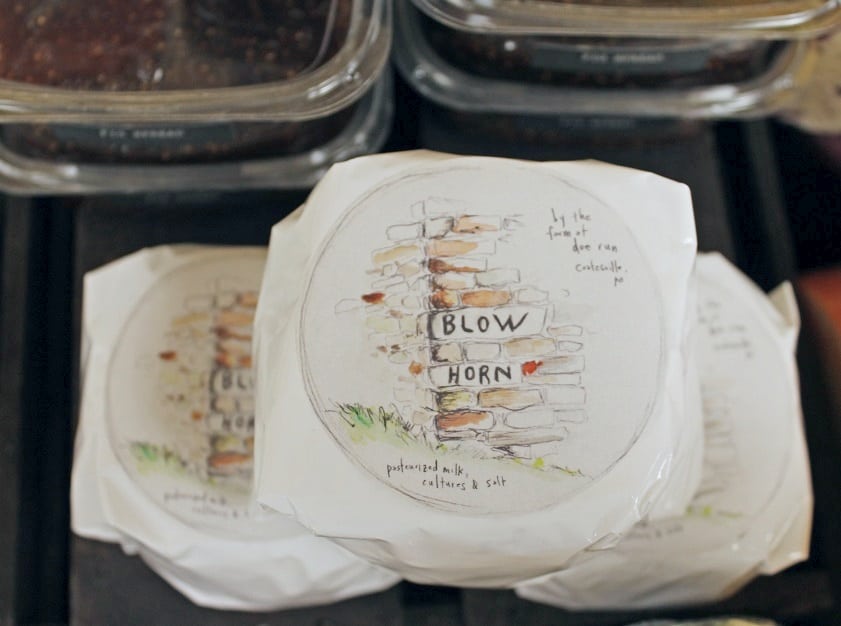 Here's a little bonus: If you're hosting a small party or just want a cheese plate for date night, pick one standout cheese and make it the centerpiece. A self-contained small wheel, like Blowhorn from The Farm at Doe Run, can hold its own with a few crackers, a drizzle of honey and a handful of nuts. TJ loves the Blowhorn, noting that it's "kind of an oddity. It looks like another soft, bloomy rind cheese, but it's actually got a relative firmness and flakiness, almost to the point of crumbliness. Put it in the middle of the board with a knife and let people go at it."
Another good option is a truffled cheese — "decadence personified," as TJ puts it — like a truffled brie or a firmer cheese, like Moltinero al Tartufo, an Italian sheep's milk, marbled with earthy, rich truffle.
Happy Pairings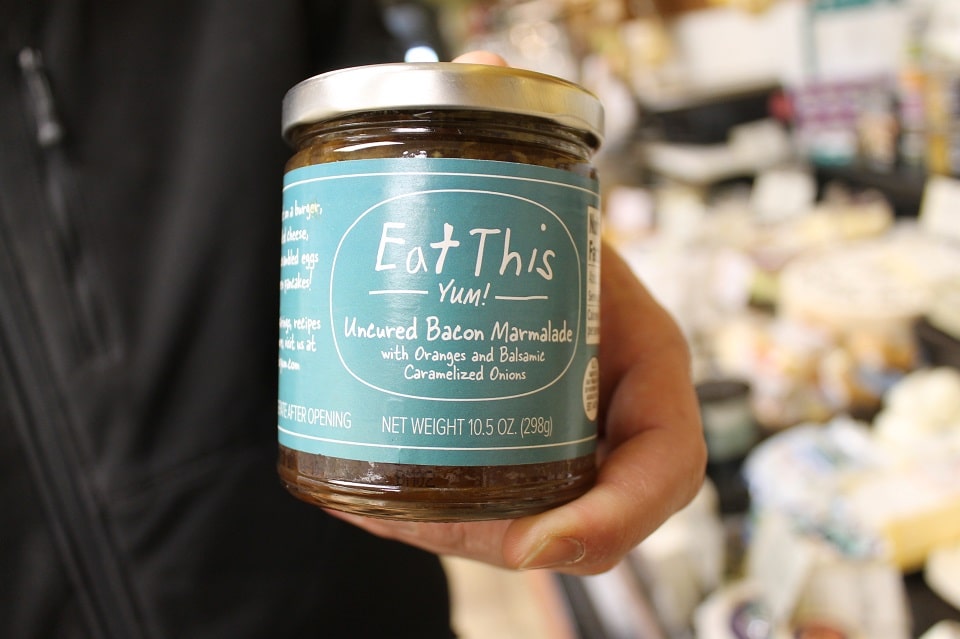 Condiments
Alpine-style cheese and tangy, aged cheddar: bacon jam

Brie and goat cheese: salted honey

Manchego, Gouda and goat cheese: Carlino's house fig spread (very versatile)

Quality jams, preserves, nuts and fresh fruit are welcome on nearly every cheese plate.
Charcuterie
Spanish Jamon serrano and manchego

Cured meats with Italian staples, like provolone and mozzarella

Salami with aged Gouda

Prosciutto and soft-ripened Italian cheeses, like robiola
Foods originating from the same country or region often go well together, though TJ is quick to say that you can, of course, "cross-pollinate." One of the most common rookie mistakes is trying to pair like with like. "You're looking for contrast: sweet and salty or sweet and sour," TJ says. "Though there's no unified field theory to it, and sometimes harmonious flavors do go together. Maybe the first rule to observe is that there is no rule."
We hope that you feel empowered and excited to put your next cheese plate together. Even though this has given some structure to the process, remember what TJ said: there are no rules! Explore the delicious world of artisan cheeses guided by your own palate, and when in doubt, ask questions and ask for samples! The Carlino's cheesemongers are always there to help with guidance and suggestions.
Carlino's Market has two locations: 2616 E. County Line Rd. in Ardmore; phone: (610) 649-4046; and 128 W. Market St. in West Chester; phone: (610) 696-3788.
Cheese case, Blowhorn and Bacon Jam photos:

Emily Kovach

All other photos:

Carlino's