To us, pizza is so much more than a tasty snack. Whether you're a traditionalist, or you love wild and experimental toppings, or you request a gluten-free crust and vegan cheese, pizza is a soul-soothing, life-giving, occasionally mind-altering food. Pizza is everything. So, we decided it was time to get to know the people behind the perfect pies in our neighborhoods.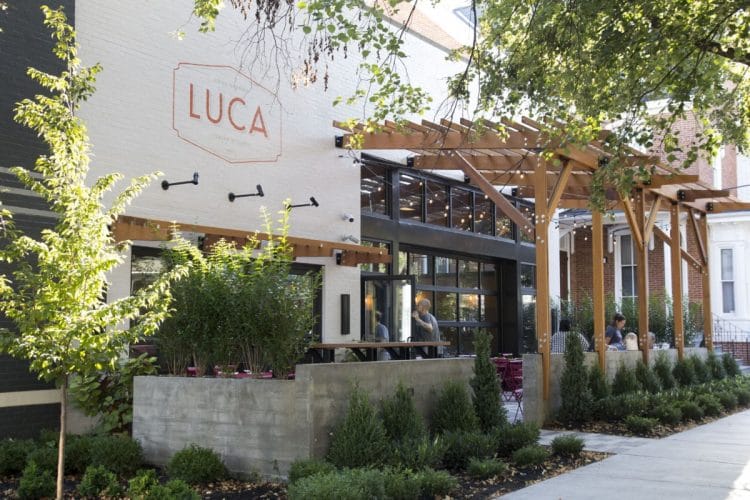 We were lucky enough to chat with Chef Taylor Mason, owner of Lancaster's LUCA and the equally as crave-able Ma(i)son. Between hosting amaro tastings and hanging out in Italy for what chefs call "market research," Mason is making some of the most exquisite pizza in town.
Here's what he has to say about the art of pizza:
PA Eats: Name, age, hometown, please!
Chef Mason: Taylor Mason, 32, originally from Silver Spring, Md., currently in Lancaster, Pa.
How long has LUCA been open?
LUCA opened July 5, 2016, so we'll be celebrating our two-year anniversary this summer.
Which is the most-ordered pizza on the menu?
We have a few top fan favorites, when it come to the pizzas … namely the Norcia (garlic cream, black truffle, pancetta, Caputo mozzarella, shaved garlic, Grana Padano, thyme) as well as the Piccante (spicy tomato sauce, shaved garlic, pecorino and Caputo mozzarella, hot soppresatta, hot and sweet honey to finish).

When we create pizzas, we conceptualize them through a process that we have deemed "food anthropology." We may take a region or a town and think about the ingredients that are native to that area, or what that area is known for, and how they would play out on a pizza.  For example, the Norcia pizza is named after a town in Umbria, Italy that is known both for pork as well as black truffles. So for us, that was a starting point. Then, we wanted to create complimentary flavors that would round the pizza out and create depth of flavor. That changes with every season and it is a fun way to interpret regional ingredients through pizza.

Would Italians do that? Certainly not, but it's our Italian, our interpretation of traditional flavors that play well together so we like to keep it lighthearted but contextually accurate, when applicable.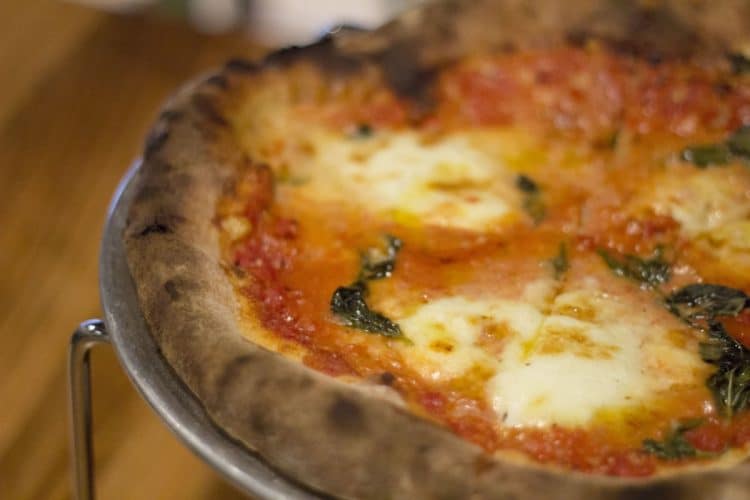 What's the hardest part about making stellar pizza?
Making great pizza — in our case, from a Neapolitan wood-burning oven — is way harder than it looks. There are a lot of places that use "faux" wood burning ovens that have a little gas flame flickering away in the corner that use a super basic dough and make decent pizza, with more ease than it takes to make ours. Perhaps they are smarter than us (ha ha), but we have a very specific end product in mind, that we are chasing, which we can only create using our wood-burning oven and our dough.

We often refer to it as a "game of inches" because there are so many variables to making really good pizza in a high-volume environment. Overall, perhaps the most complex and originally difficult to master for us was the dough.  True Neapolitan dough is very wet with very high hydration. When that dough hits the oven, all the moisture in the dough turns to steam which creates a very puffy crust. Similarly, it is often baked around 850°F–1,000°F and is usually cooked for 90–120 seconds. To me, the only problem with this dough is that it's very delicate. It has a short shelf life on the plate and gets soft quickly. Most Italians eat their pizza with a knife and fork because its nearly impossible to slice and pick up.

There are very specific rules that dictate "true" Neapolitan pizza. Our pizza at LUCA is not that. While we use the same oven as they do in Naples, we burn it at a lower temperature, between 750°F–800°F, as our dough is quite different from Neapolitan dough and we are looking for a slightly longer, slower bake time. With our dough, we were looking for a few specific characteristics: A contrast of texture or "crack" to the crust, better stability on the plate, and a dough with more pronounced, well-fermented flavor, which also results in a deep caramel, crackly brown color.

To achieve this type of dough, we combine four types of flour and ferment the dough for 72 hours minimum. We have found the sweet spot between there and 96 hours. This allows us to handle the dough with minimal manipulation, and it develops a rich, bread-like flavor and browns beautifully while creating a developed crust.

So, while pizza making is truly all about the details, the dough I think is the most complex and challenging.
What's your favorite pizza evolution of the past decade?
I think the coolest development of pizza over the past decade has been the fact that there is a lot better pizza out there more readily available. The quality of pizza has grown substantially, but I also appreciate that there is a lot of expression within the world of pizza. For example, our pizza is not Neapolitan, but it's inspired by those pizza makers. It's a mash-up of traditional and regional flavors as well as my own experiences traveling and eating in Italy. Through that, we are able to create a very specific and unique perspective on Italian food and pizza that makes ours different from others. I like that.

Some people will tell you that so-and-so has better pizza, or they do it better in New York or New Jersey, but I like to think that they just do it differently. I think people do themselves an injustice as pizza makers by coming in with preconceived notions about what pizza should be. They're only limiting their enjoyment of it, as well as the pizzaiolo's ability to share a new perspective.
What kind of pizza did you eat as a kid?
I think I just liked pizza! I didn't discriminate much, and I feel much the same way today. Obviously, I would prefer an artisanal product over a commercial one, and one that was made by someone who has passion and love for what they do. I truly believe you can taste that in food — passion, love and thoughtfulness. That's the kind of pizza I like.
What's currently your favorite topping?
I have to say that one of my favorite toppings we have embraced over the past year is fresh, shaved lemon. That probably sounds weird and is only used on specific pizzas, but when shaved paper thin on the meat slicer, then rough-diced and tossed sparingly on a pie, it brings a contrasting bright note and some acidity and really makes a pizza sing. We use that on a clam pizza that we are doing right now with chopped clams, cream, garlic, spring onions and Parmigiano. These are all flavors that work well with clams, as lemons traditionally bring brightness and acidity to a dish. So, we added them to the pizza as we were creating it and, boom! There are bright, high notes of lemon here and there, just enough to make you think about it, but light enough that it's hard to pin down; they provide complexity and a lot of fun.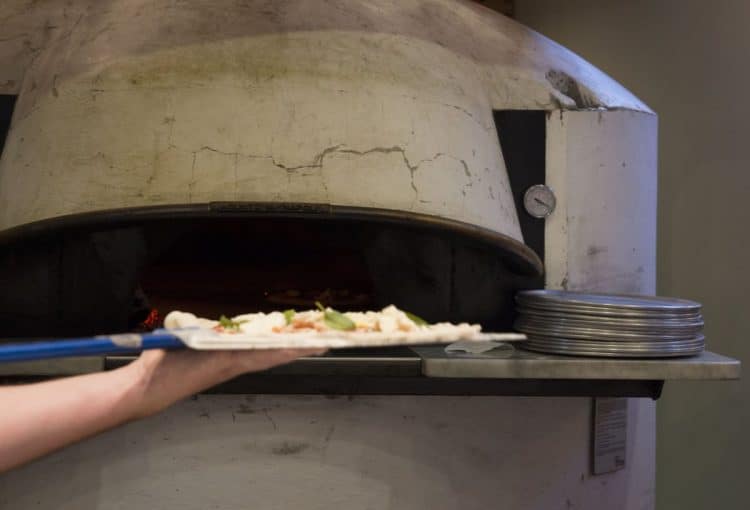 What's one of your pizza secrets?
One of my pizza secrets, or perhaps pizza philosophies, is to think of topping the entire pie like "the first bite." I often think of pizza like the law of diminishing returns, which is to say that the first bite of each slice is always best, and the bites following are never quite as satisfying (although they should be). So, I talk with my pizzaiolos a lot about ensuring we are topping completely and evenly, all the way to the crust; ensure that the last bites are just as juicy, delicious and satisfying as those first ones. That makes a great pizza.
What's your "desert island" pizza?
That's tough … I would probably say a Margherita with pancetta. A Margherita is a thing of such beauty when done right. I always discuss this simple, yet unbelievably satisfying, pizza to make with my pizzaiolos. It should sing with bright, tart tomato mixed with milky, creamy mozzarella that finishes with bright, herbaceous and perfumed high notes from the basil. Some richness from EVOO as well as rendered pork fat from our house-cured pancetta just sets it over the top for me. I could eat that every day.
For more info on LUCA, check out its Facebook and Instagram pages or stop in to try fan favorites, Norcia or Piccante, and one of its many tasty cocktails! LUCA is open Tuesday through Thursday from 5 p.m.–11 p.m., Friday and Saturday from 5 p.m.–midnight and Sunday from 4 p.m.–9 p.m.
You can find LUCA at 436 W. James St. in Lancaster; phone: (717) 553-5770.
Photos:

Lisa Yoder for LUCA