The idea of a well-stocked home bar is a nice one: sophisticated, suave, set up for any type of guest or scenario. In my case, I've usually got a bottle of gin, some Aperol or Campari (can you tell I like Negronis?) and maybe half a bottle of rye whiskey around, flanked by a bunch of eye droppers of bitters, a dusty bottle of walnut cordial and some other boozy odds and ends. I love the idea of whipping up a Moscow Mule when the urge strikes or being able to make a round of vodka martinis when my grandparents come to visit. But, more often than not, I'm caught unprepared to shake up anything more than my own favorite few cocktails.
What are the must-have bottles for someone trying to restock or level up their home bar? Which bottles are worth splurging on, and which ones can you get away with selecting a more budget-friendly choice? I turned to Ben Spirk, pro bartender, who's been slinging cocktails at Manatawny Still Works Craft Spirits Shop & Tasting Room in East Passyunk since it opened last year.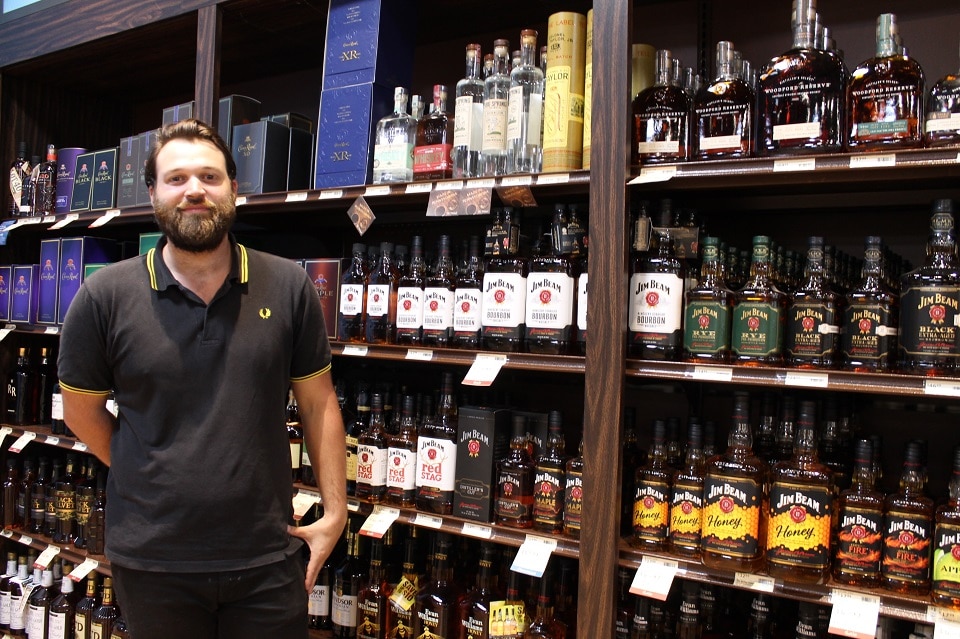 An enthusiastic spirits fan with a deep well of knowledge and not a bit of pretense, he turned out to be the ideal shopping companion for this mission. We met up at the Fine Wine & Good Spirits in Ardmore to work our way through the aisles of gleaming bottles. Here are his top picks:
Vodka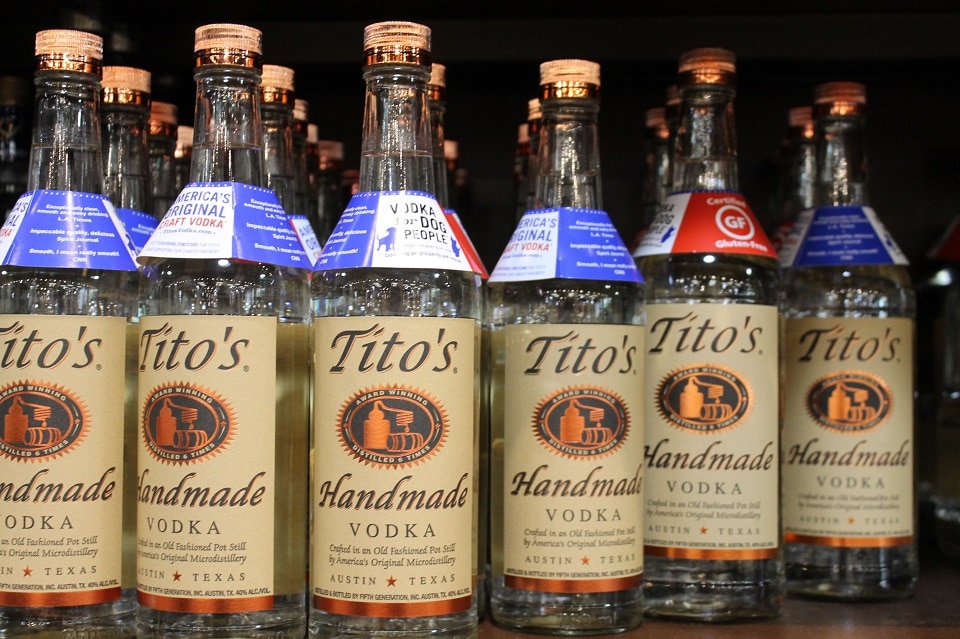 At Spirk's suggestion, we start with the clear spirits. Up first: vodka. If you want to stock your bar without breaking the bank, his first choice is Tito's Handmade Vodka. "Tito's is a workhorse," he says. "It's going to do everything you need your vodka to do, it's made from corn, so there's no worries about the gluten-free issue, and it such a good price point."
Though still a family-owned craft brand (the first distillery founded in Texas after Prohibition, he notes), Tito's is an ubiquitous brand that you should be able to find in pretty much every state store in Pennsylvania.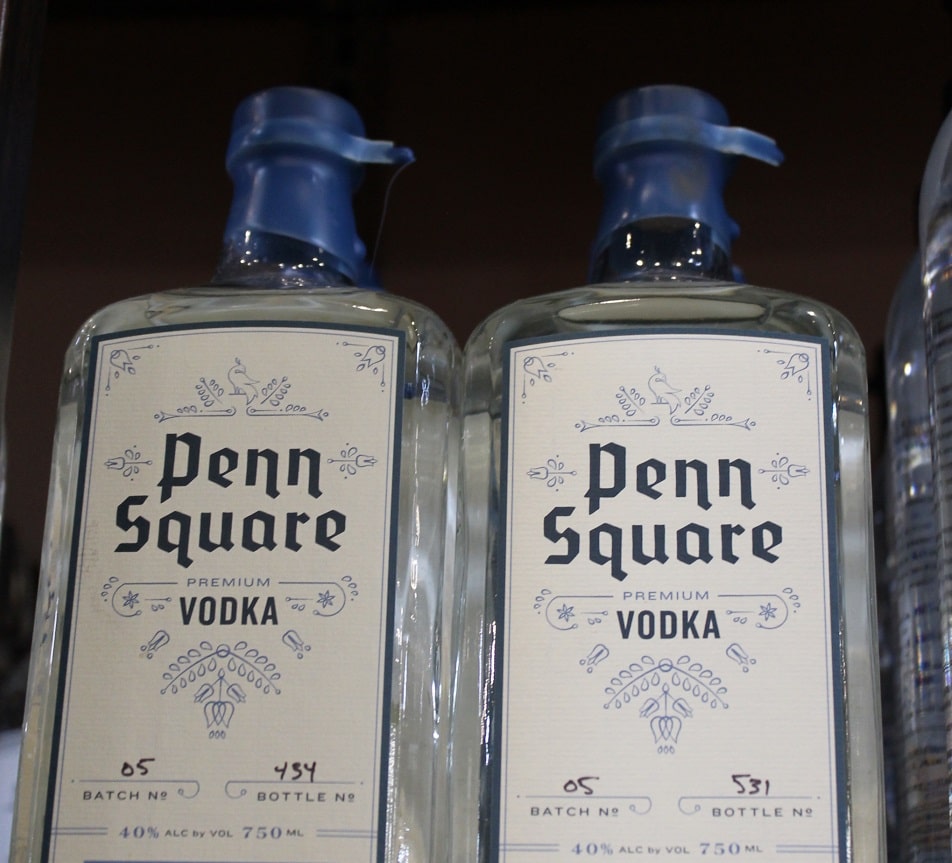 A native of Lancaster (who moved to Philly a year ago), Spirk is also partial to Lancaster-based Thistle Finch Distillery's Penn Square Vodka. "That one I find incredibly smooth, with a creamy texture," he says. "The cool thing is that it's distilled a couple times, but they leave a good mouthfeel to it, and that's what I'm looking for from a vodka."
Gin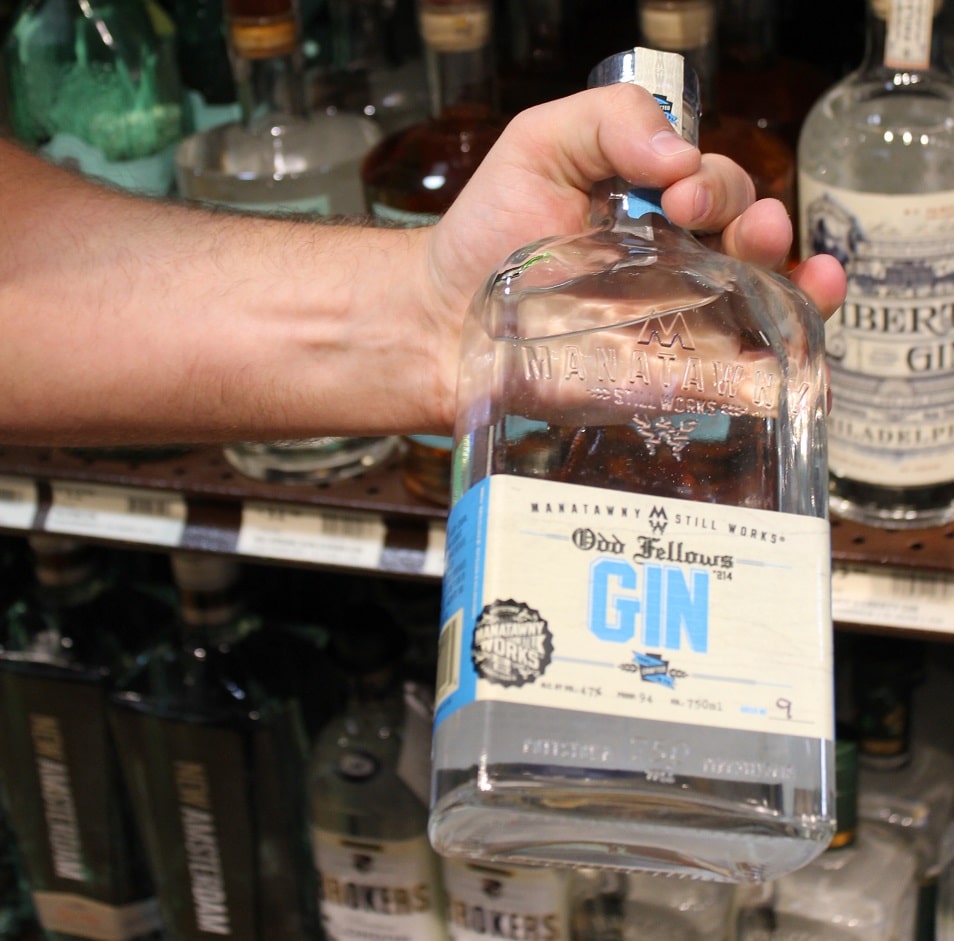 Spirk's eyes light up as we approach the gin section, and he explains that gin is his favorite spirit for cocktails. He points out Manatawny's own Odd Fellows Gin. "The nice thing about ours is that it's really balanced, it's not too heavy in a juniper way, which I think a lot of craft distilleries are doing now," he says. "They're steering away from the super-dry Beefeater style, and going for something more balanced."
He also points to Aviation as an example of high-quality, New American-style gin and says it would be a "perfect summer sipping gin." The brand was recently made more famous, as it was acquired by actor Ryan Reynolds. "It's very light on the juniper, more focused on the citrus notes," he says. "They use two different types of orange peel, one sweet and one bitter, so it's a really nice, complex gin." For martini purists, he explains, it won't quite do the trick, and a bottle of classic London-style dry gin, like Tanqueray, is a better fit.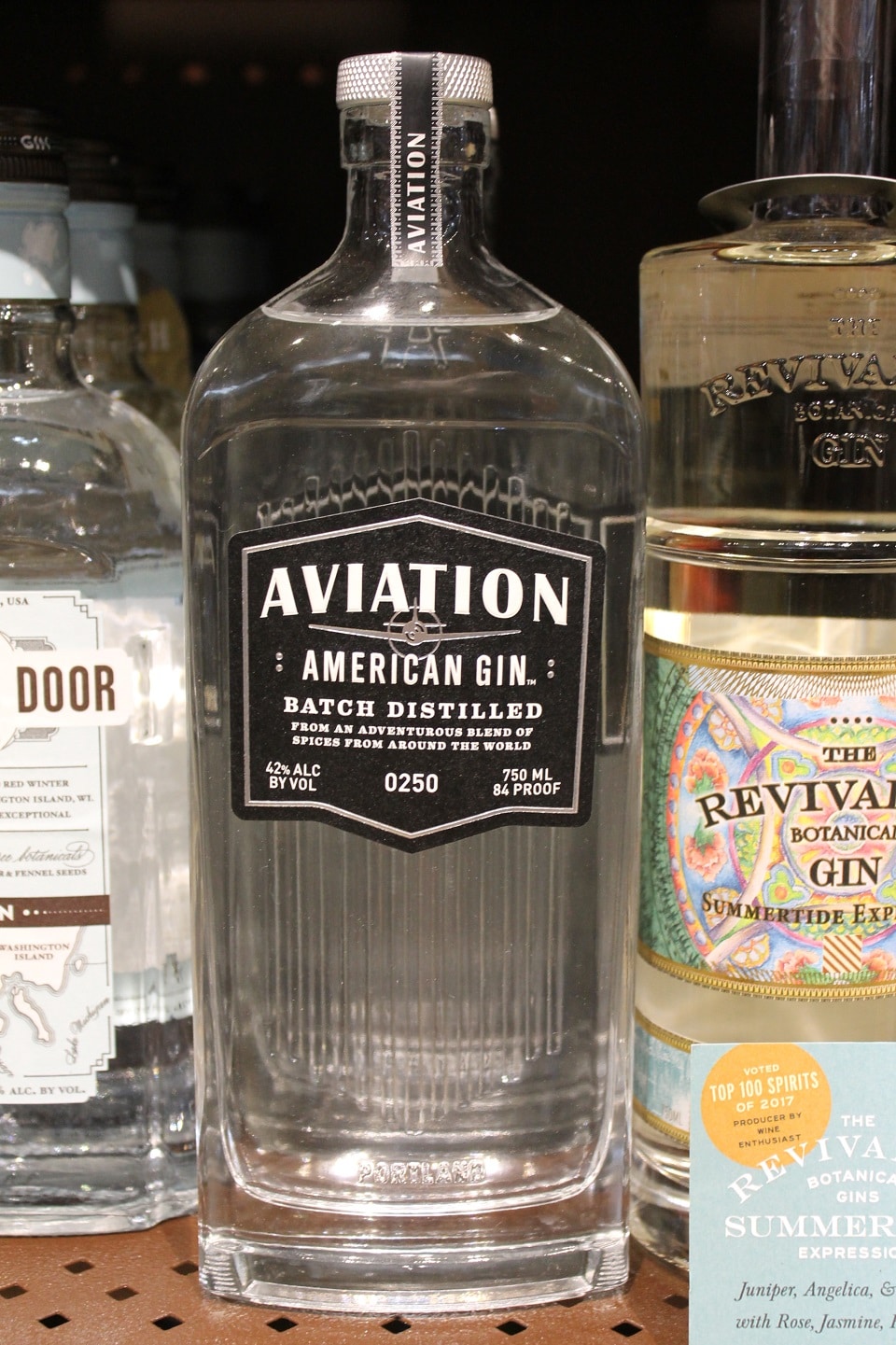 He also notes that barrel-rested gins are in vogue at a lot of cocktails bars, and that the best example on the shelves is PA-made Bluecoat's Barrel Finished Gin.
Rum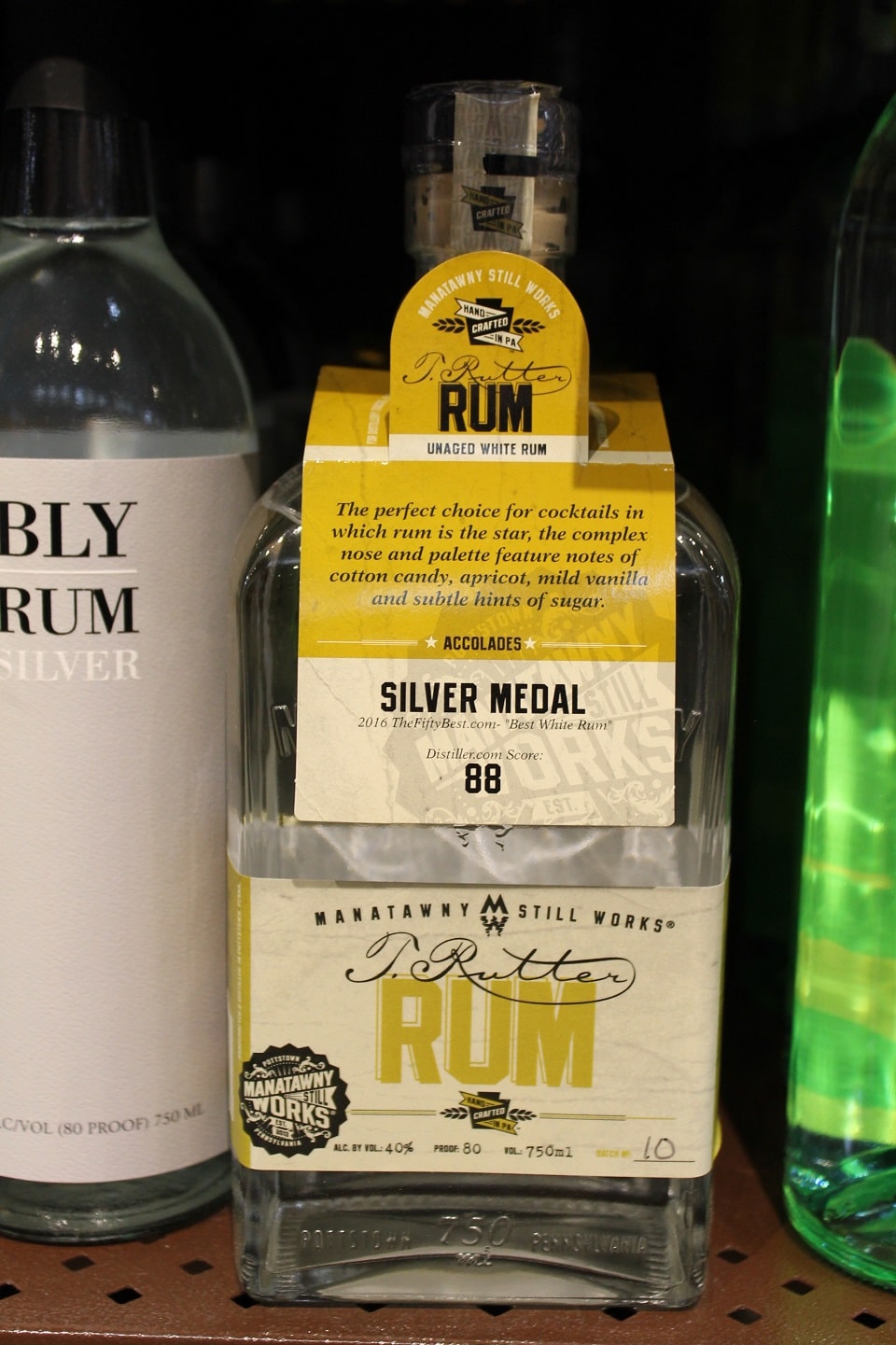 Though Manatawny is phasing out T. Rutter Rum, it's got a new aged rum on the way. Spirk explains that the T. Rutter recipe was recently altered to add more molasses and will be briefly aged in barrels, so it will be a more deep and impactful rum. "The current version is great for mojitos, but now we can start playing around with things like Rum Old Fashioned," he says. "Things change as we get better, and we're getting better every day, so we keep improving on the recipe."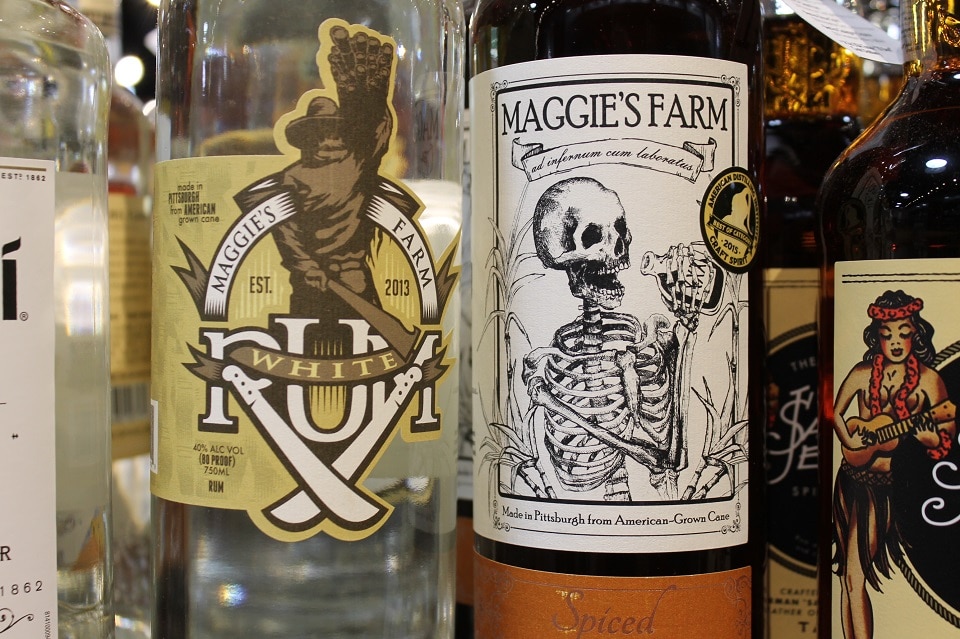 Maggie's Farm is a brand based in Pittsburgh that Spirk is also a fan of for rum. He notes that the Spiced version is a little more of a specialty rum, not necessary for the basic home bar, but he is excited about its program and uses a lot of Maggie's Farm's spirits and liqueurs in the Manatawny Tasting Room. "I would recommend anything from them!" he says.
For a standard Caribbean rum, Spirk points to Haiti-based Rhum Barbancourt, an agricole rum that works very well for daiquiris or Hemingway daiquiris. Though we couldn't find it in the Ardmore shop, Spirk also spoke highly of Philly brand Rowhouse Spirits' Demon Rum for its complex nuttiness.
Whiskey & Rye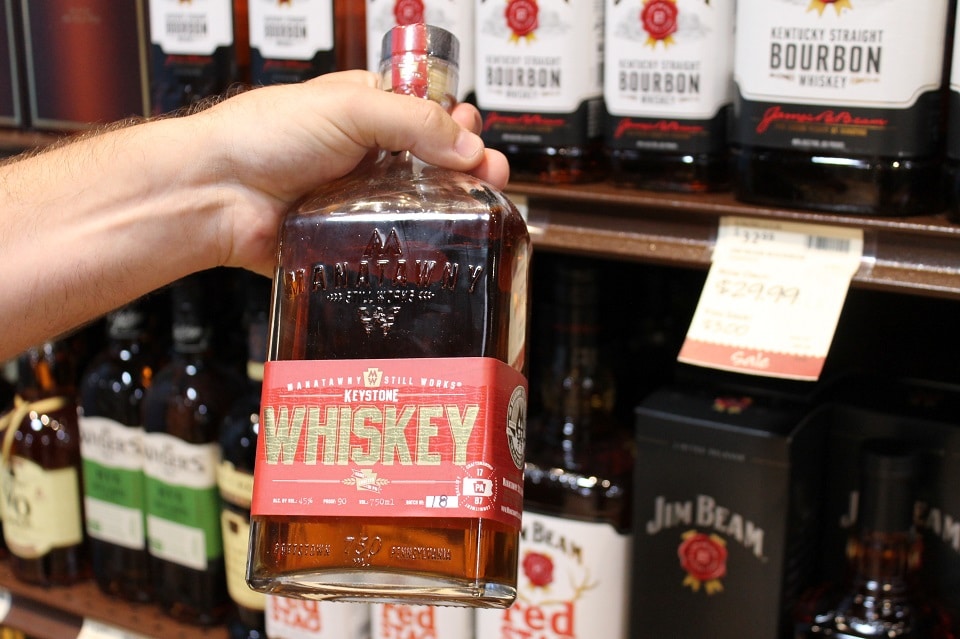 In the whiskey, bourbon and rye section, Spirk again reaches for a Manatawny bottle (can you blame him?). He explains that the Keystone Whiskey, made from malted barley and not from corn, is almost more like a Scotch, and he praises its versatility. "This one is cool because it bridges the gap between cocktails that call for rye or bourbon, so you can use it in any classic whiskey format."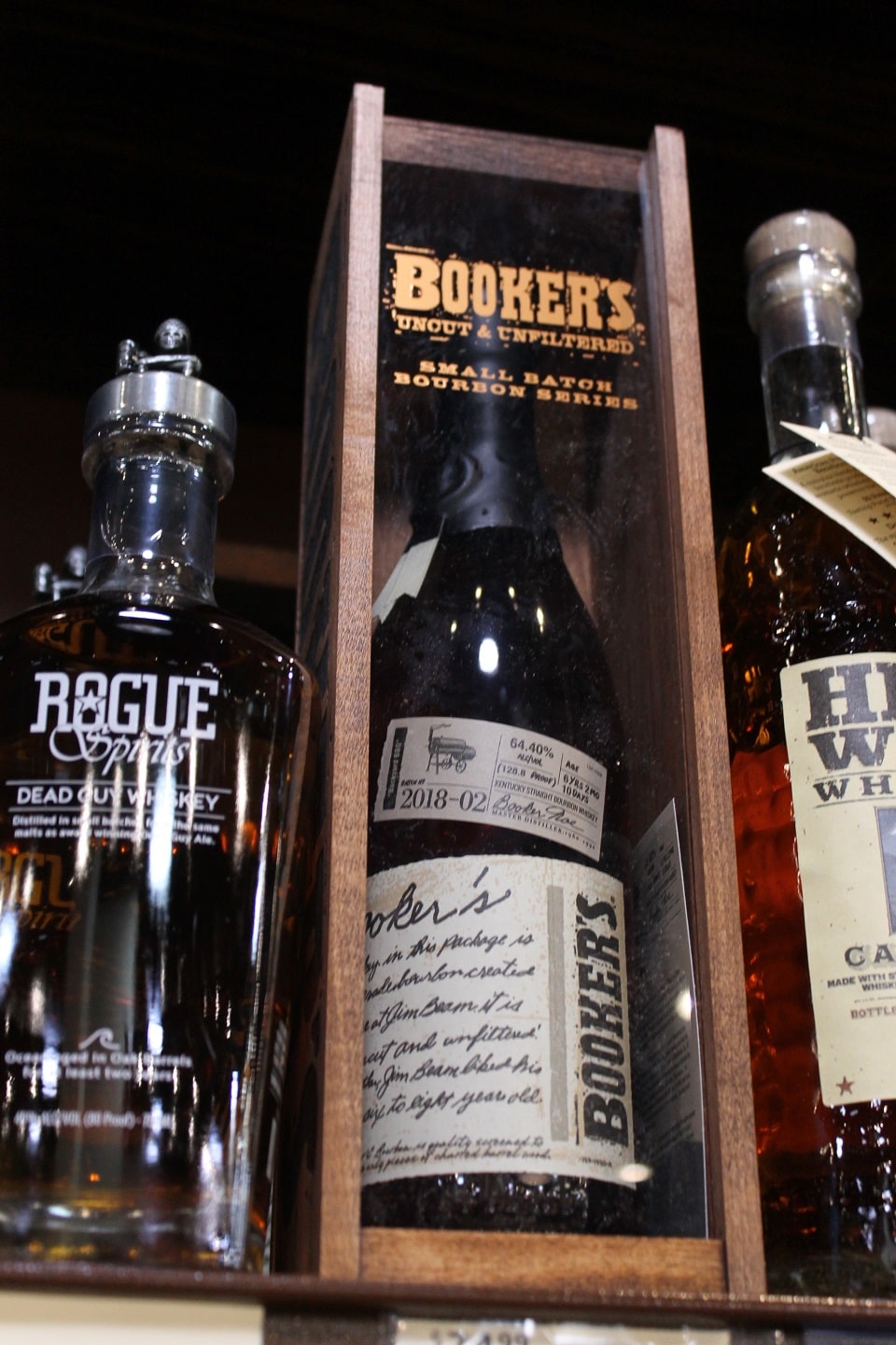 He next looks for something high-proof for classic cocktails, and he reaches for Booker's Small Batch Bourbon, from Kentucky, which clocks in at 128 proof. "That's what you're going to make your Old Fashioned with," he says. "The Old Fashioned is the quintessential cocktail for the home bartender; once you master that one, you feel like you're on your way to becoming a good mixologist."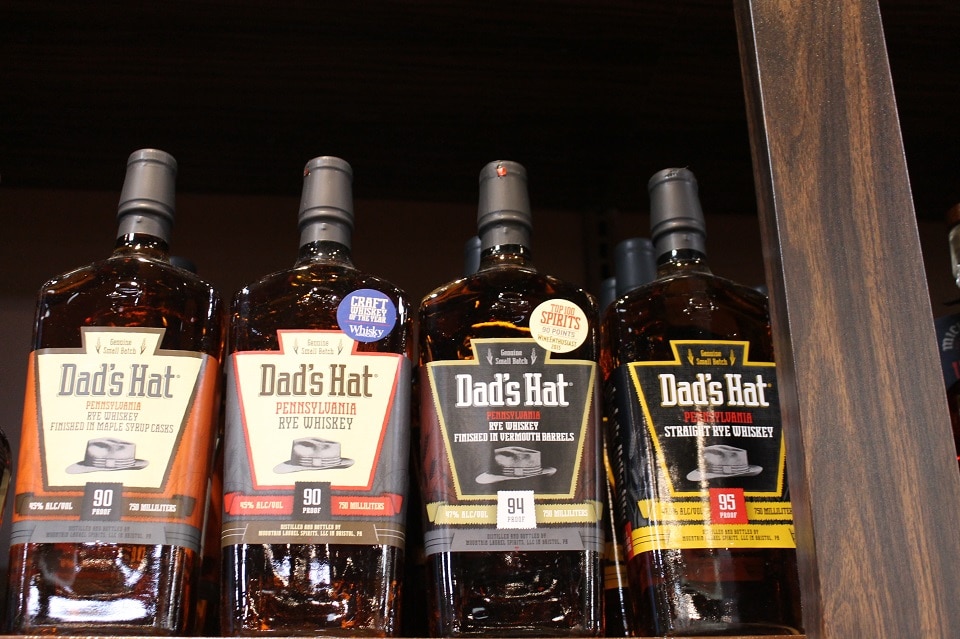 Another Pennsylvania-proud brand that Spirk gives a shout-out to is Dad's Hat, from Bristol. "This is an excellent rye … something I'd definitely add to my bar," he notes.
Scotch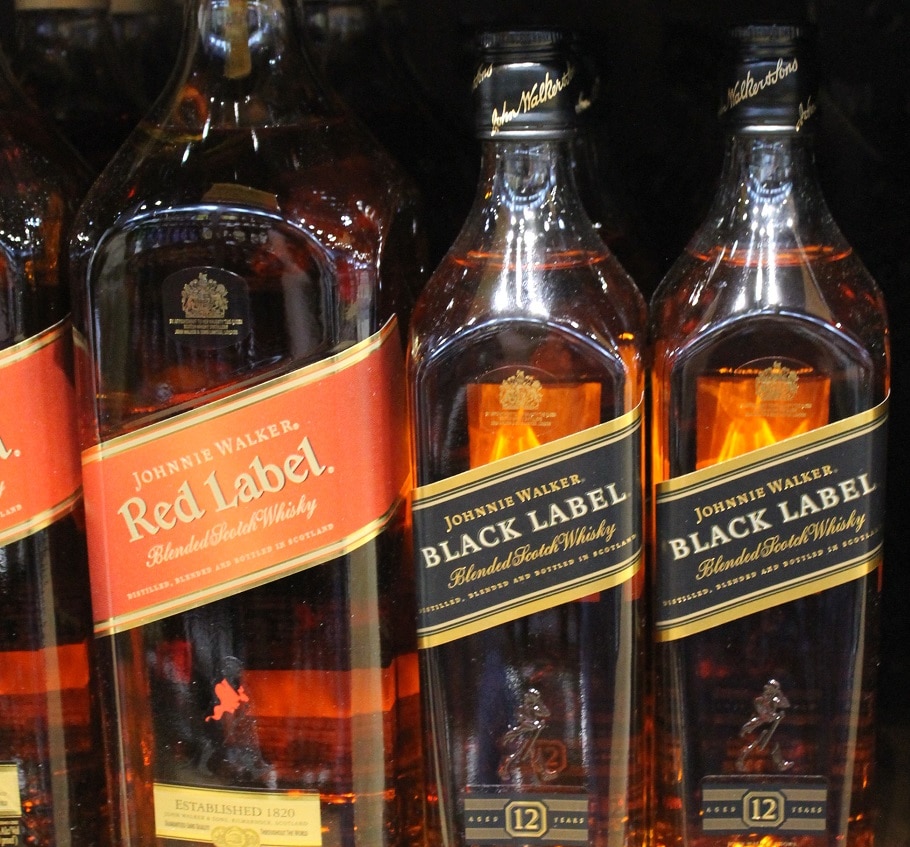 "This is a precarious section, as many people are saying you shouldn't be putting Scotch in cocktails and that it's just for sipping," Spirk says. "But if you are making a cocktail, it's good to start with one of the blends. Johnnie Walker Black Label is his choice, noting that while it's a little more expensive than the Red Label, it's a much better-quality product for mixing up drinks like Blood and Sand and Rob Roys."
One of Spirk's favorite cocktails is the Penicillin, a mix of Scotch whiskey, ginger juice, honey and lemon, topped with a float of peaty Scotch. For this, he recommends a "peat monster" like Laphroaig.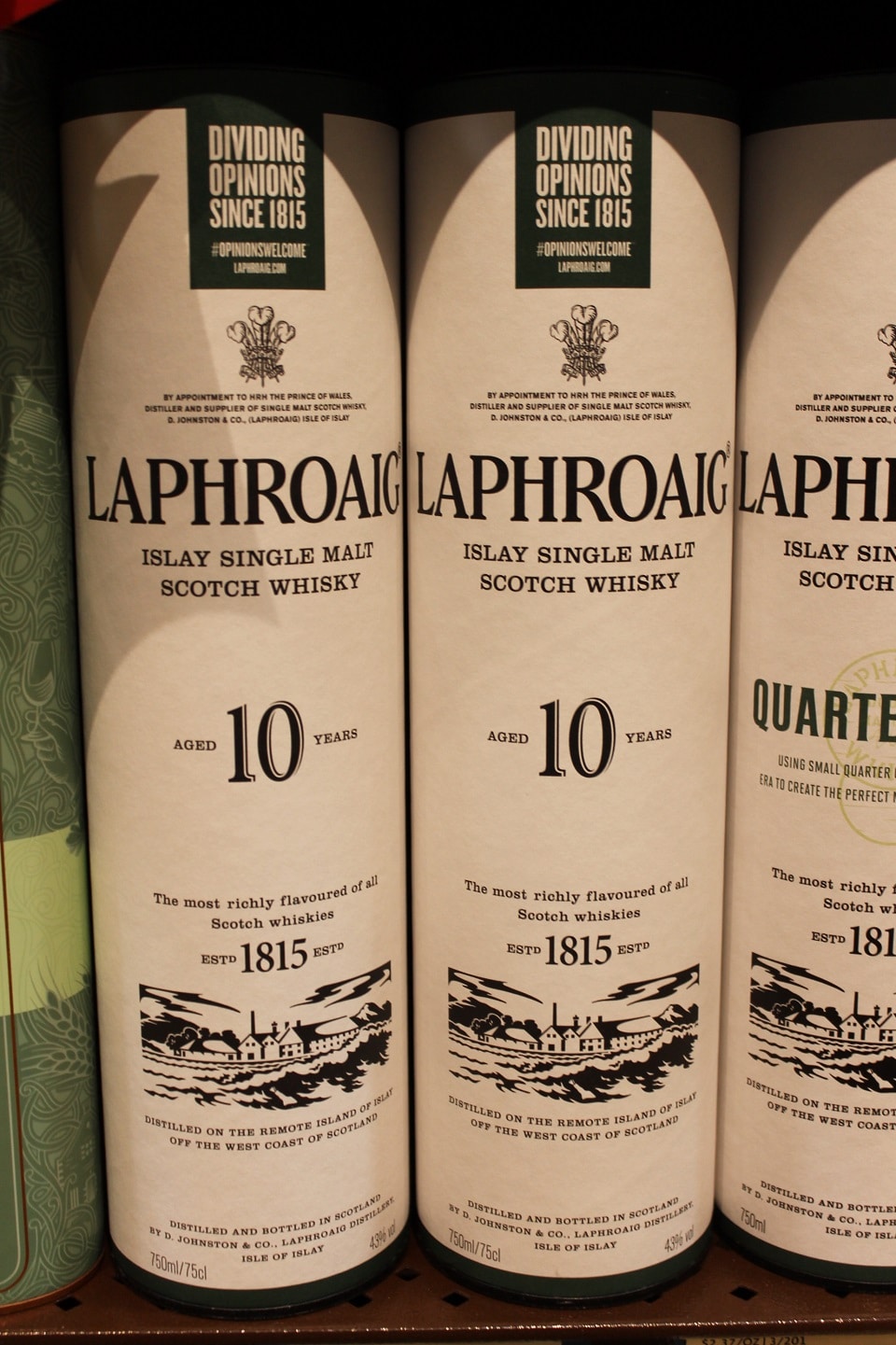 Spirk also shared a bit of cocktail trivia: "Most people think the Penicillin is a classic cocktail, but it's really only been around since 2005 since its invention at Milk & Honey, a bar in NYC. Sometimes cocktails that seem old are brand new, and sometimes cocktails that seem new and exciting are actually old!"
Tequila & Mezcal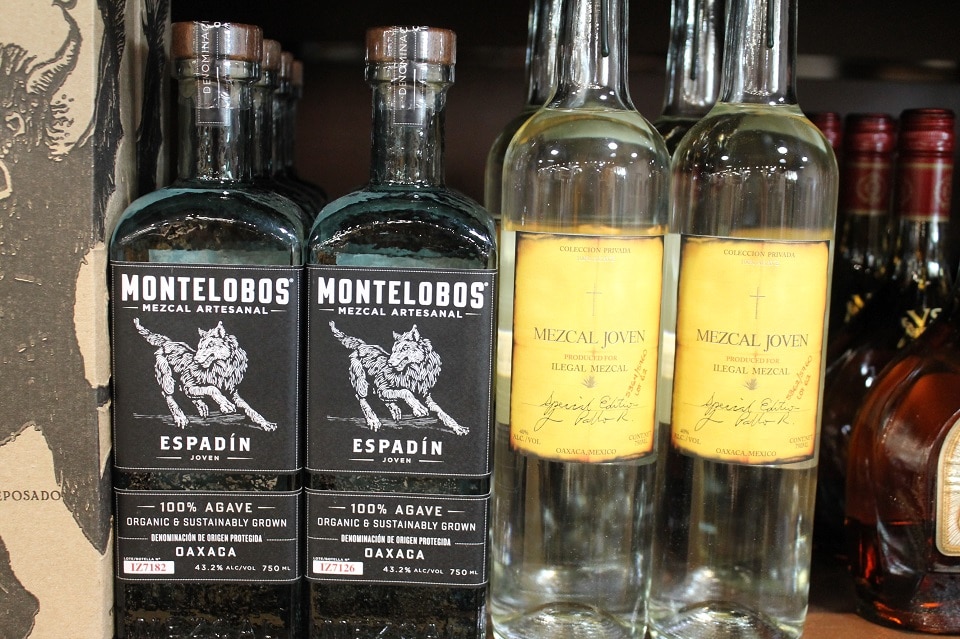 Spirk admits that tequila is outside of his expertise. "Tequila is kind of a myth to me," he says. "I've never had the luxury of working with a really advanced tequila program."
He says that, actually, he'd be more inclined to suggest adding a bottle of mezcal to the home bar, versus tequila. Both are agave-based and are produced in Mexico. Most agave is made in the state of Oaxaca from the heart of the agave plant in the same fashion it's been crafted for the past 200 years. Spirk says he's noticed more mezcal in cocktails (instead of Scotch) where a smokey flavor profile is desired.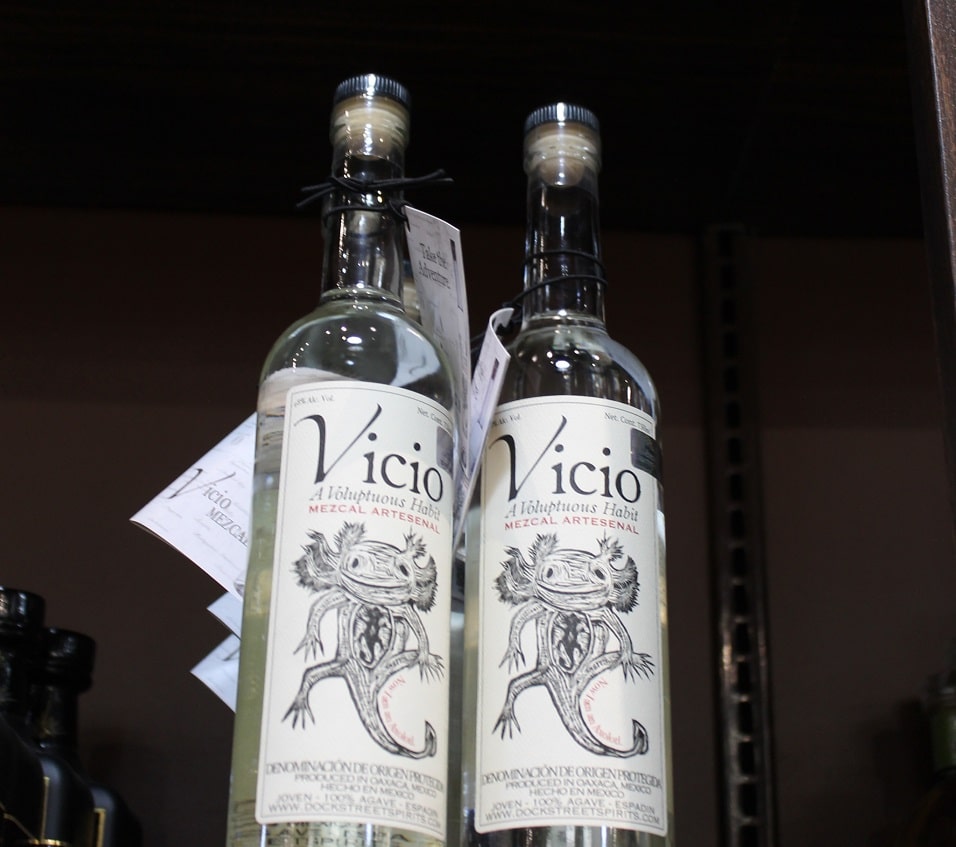 While tequila and mezcal can't be produced locally, Spirk does point out a brand, Vicio, that's locally-owned by Dock Street Spirits, which are the same folks behind Dock Street Brewery in West Philadelphia.
There you have it: a well-rounded selection of spirits to help turn your charming-but-somewhat-random home bar into a legit home bar. You're ready to rock out whatever cocktails you or your guests have a hankering for (you know, within reason). Just don't forget the fresh citrus and homemade simple syrup!
Visit bartender Ben Spirk at Manatawny Still Works Craft Spirits Shop & Tasting Room at 1603 E. Passyunk Ave. in Philadelphia; phone: (267) 519-2917.
Find the Fine Wine & Good Spirits location we visited at 62 Greenfield Ave. in Ardmore; phone: (610) 645-5010.