While we definitely enjoy the sorta fancy, sometimes a little snobby Neapolitan-style pizzas — you know, the ones with the delicate, perfectly-charred crusts, artfully topped with a restrained swirl of San Marzano sauce and few pieces of sweet Buffalo mozzarella — there's something to be said for a big, extravagant slice of gooey, no-hold-barred 'za! Need a good example of what we mean? Check out Pizza Gutt's Instagram feed for the idealized version: Detroit-style pan pizza, abundant with all the toppings, just begging to be invited to your next party where munchies-inducing substances will be enjoyed.
Pizza Gutt (get it?) is the project of Daniel Gutter, who started out of the kitchen at Win Win Coffee Bar at 9th and Spring Garden Streets in Philadelphia, and in May of 2019, opened his own shop, Circles + Squares in Kensington.
Since summer of 2017, this Pizza Brain alum started messing around with making his own pizzas in his parents' backyard brick oven and posting the results to his Instagram account. A bunch of heart-eye emojis later, he decided to go pro … sort of. Instead of trying to open his own spot, he teamed up with pals at Win Win to sort of take over its food operations. Using an online reservation system to sell pies, he'd announce specials and updates via the 'gram. It wasn't a perfect set up, but as people caught on, it seemed like they were able to appreciate the system's DIY charm.  At Circles + Squares, both 10″ Detroit-style square pies and more traditional 16″ circle pies (get it?) are available via phone orders, and, for the more spontaneous among us, there are a few pies reserved each night for walk-ins. There's limited seating (like, four chairs), the spot is cash-only, and the menu is limited: a vegan tomato pie, a white pie and a red pie, each customizable with a handful of toppings. Pizza lovers of Philadelphia had responded with rapturous support and applause.
We asked Gutter some questions, quick-fire style, to get a better idea of what makes this pizza person go.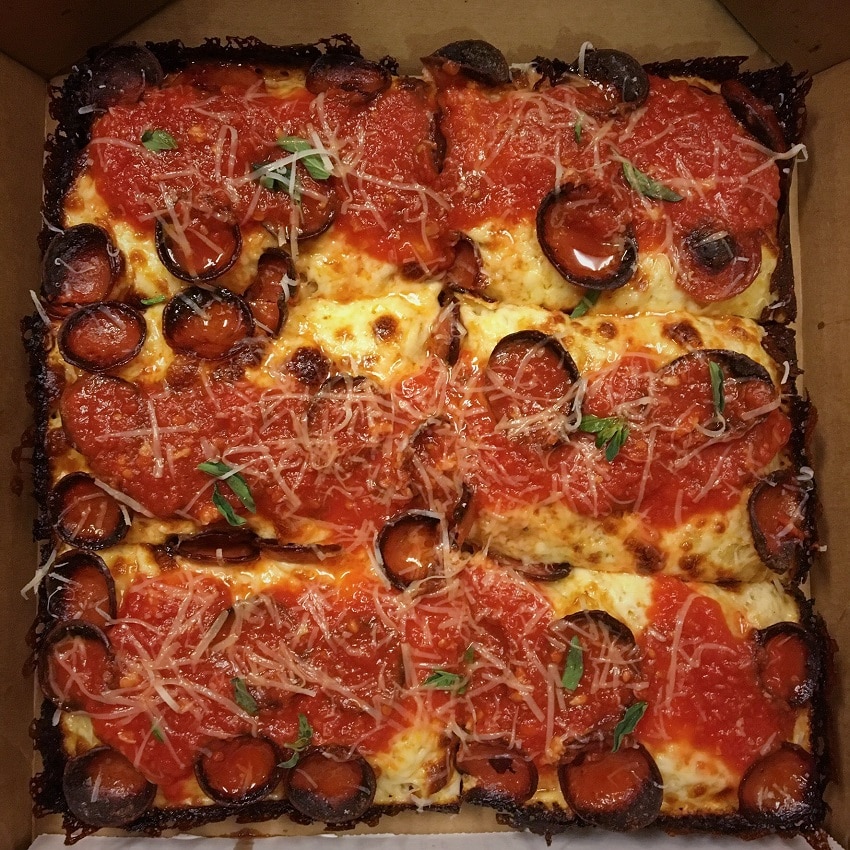 PA Eats: How long has Pizza Gutt been around?
Daniel Gutter: In this form, Pizza Gutt has been around since August of 2017. But I was born in '88.
What was a moment when you felt like you were starting to "figure out" making pizza?
I will let you know if it happens. Every batch is an adventure.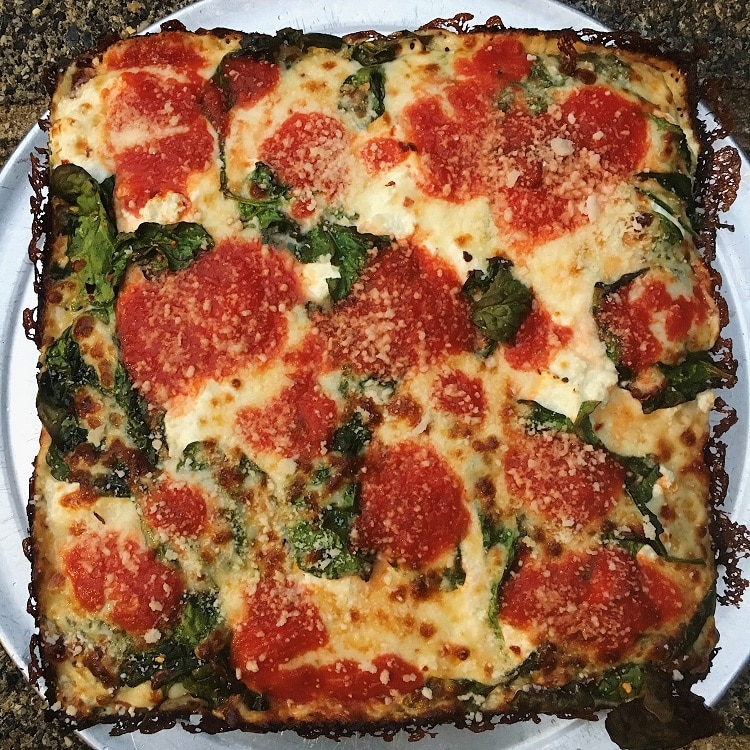 What's the trickiest part about making pizza?
Balancing time between friends, family and work, and having meaningful conversations with customers who are also friends, instead of small talk about work, because that's the only time I see them right now.
What inspires you? How do you dream up your pizzas?
I am inspired by being able to blend my real life into my work. I don't want to have to be two different people. As for the pizzas, with these pan pizzas I try to keep the toppings pretty traditional.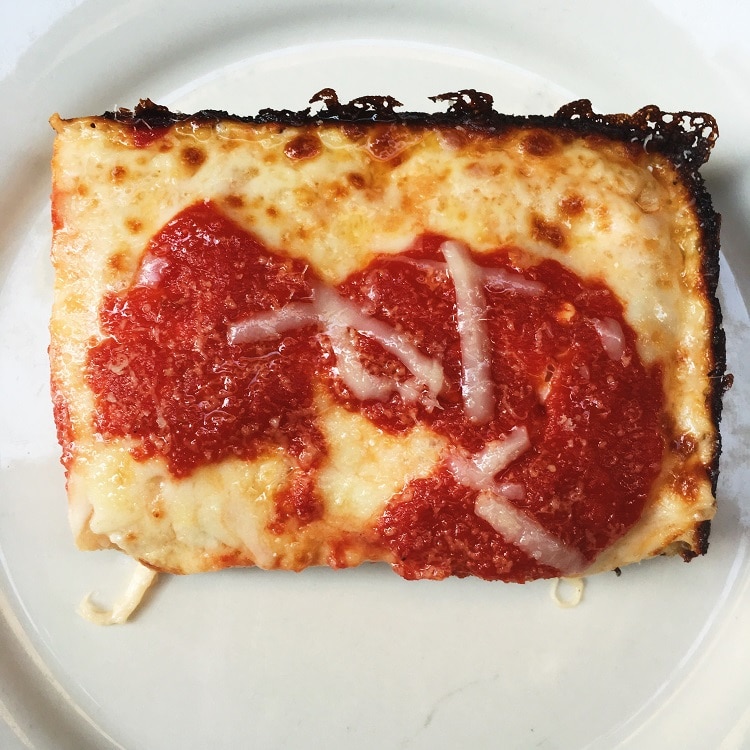 What was the pizza of your childhood?
Any neighborhood pizza spot.
Current fav topping/topping combo?
Cheese 🙂
What's your "desert island" pizza?
Pepperoni and fried onions.
One pizza secret you'll let us in on?
If you are patient, they always fill the pan.
Thanks to Gutter for answering our questions, and here's one more pizza photo, just in case your cravings aren't out-of-control yet: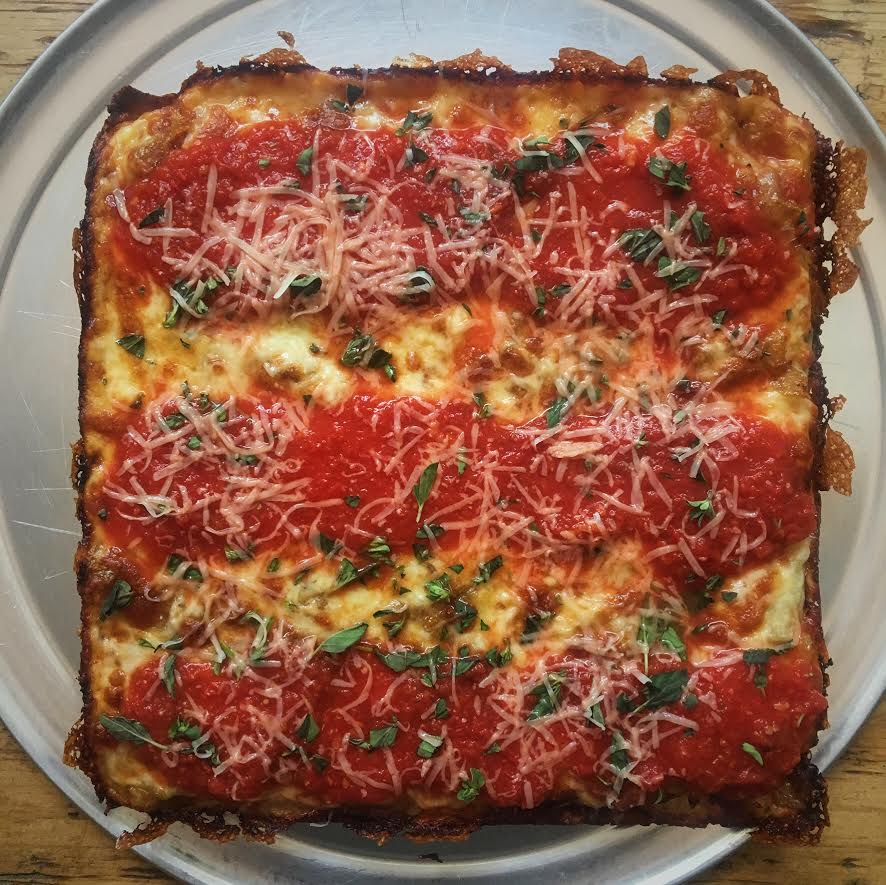 Find Pizza Gutt at Circles + Squares at 2513 Tulip St. in Philadelphia; phone: (215) 309-3342.