Lotus Farm to Table, a scratch kitchen in the heart of Media, Pa., takes a seasonal and local approach to everything that goes into, and comes out of, its kitchen. Always inspired by what's blooming in the garden, Executive Chef Ryan Sulikowski loves to keep the menu fresh, flavorful and relevant.
Take, for example, his fried chicken, which is served with broccolini, bleu cheese and peppers, including jalapeño, Fresno, chili threads, candied peppers and sriracha. He uses all of these pepper varieties as a garnish and also to elevate and transform this traditional dish.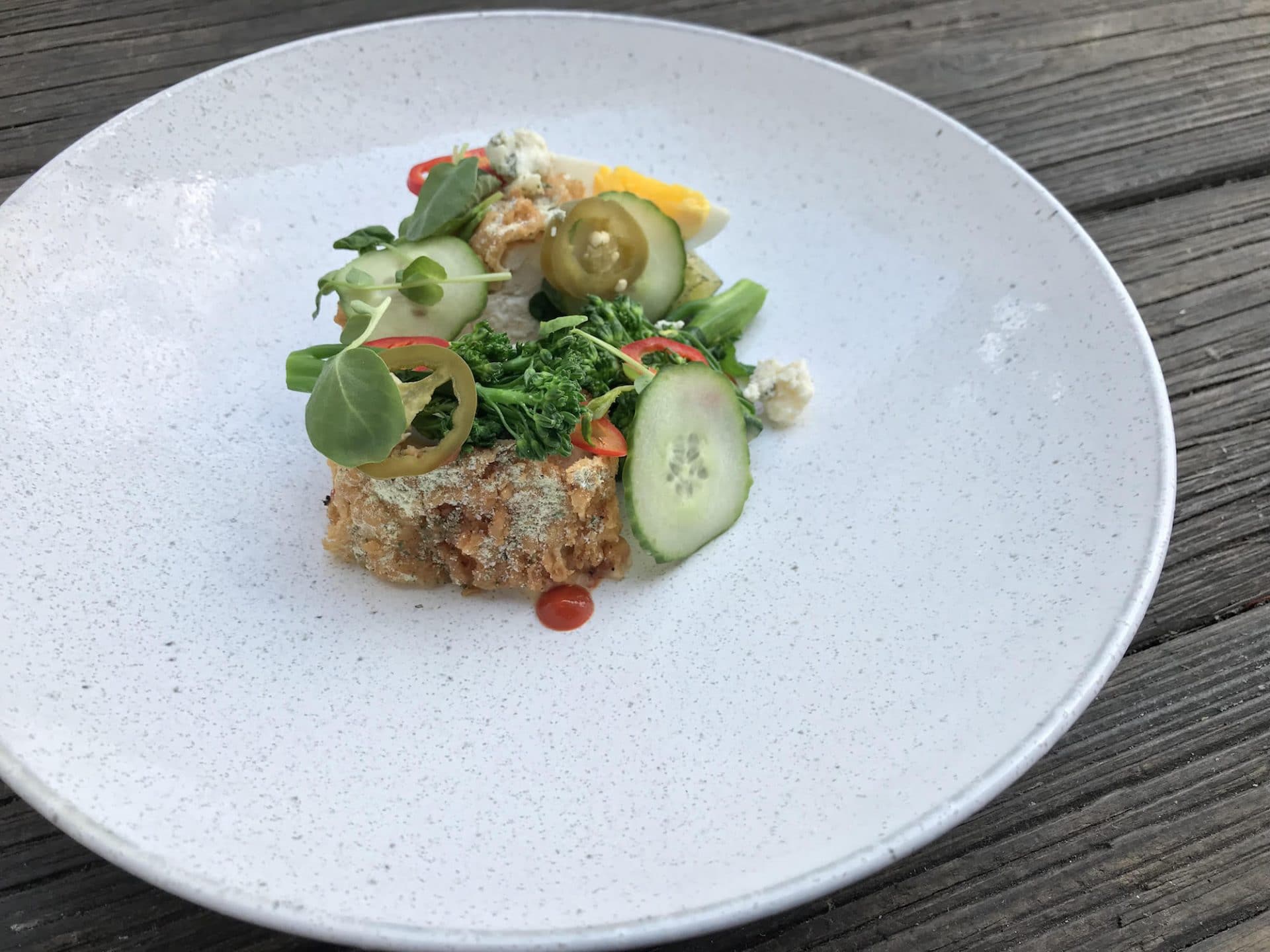 We asked Lotus's Chef Sulikowski about how he and his team choose which dishes get garnished with what, and about his thoughts on garnishing dishes, in general:
PA Eats: When and why do you choose to garnish a dish (or not)?
Ryan Sulikowski: It depends on the specific dish. Some dishes need an herb garnish of something that's also in the dish. Sometimes it's as simple as sea salt and a finishing oil. Some dishes need an extra pop of brightness. It's all specific to the dish. Sometimes the dish doesn't need anything at all! I don't consider fresh herbs as a garnish, because that's more functional. If you have a red sauce with basil, parsley and oregano, and you decide to garnish the sauce with fresh basil, it's adding a brighter flavor, not a garnish, in my mind.
So, what makes a good garnish, then?
A garnish has to be functional, has to serve a purpose. Sometimes, something looks really pretty, but it doesn't taste good. Sometimes flowers are pretty, but they can be bitter, so it takes away from the dish. The garnish has to be edible, not just a showpiece. As long as it's functional, that's what makes a good garnish. It should always add, never detract.
Which items from the garden do you find inspiring? Was there something about this specific dish that guided your choices?
For something like the fried chicken dish, we'll pick the ingredients we want to focus on. The dish may start out as a fried chicken breast, but then it turns quickly to focus on peppers: some spicy, some sweet, some pickled.
We use as many fresh ingredients as possible, like tomatoes, cucumbers and fruits. We always say fresh, in season and local is best.
The fried chicken came first in this dish. One of the classic garnishes for fried chicken is hot sauce, which we could do, but we wanted to find a different way to bring those flavor profiles to the dish. Which is why we used the peppers.
What are some ways people at home can look at, and go to, their gardens (even if it's just some potted herbs on the windowsill) for "cheffy" inspiration?
It depends on what you like to eat. The easiest thing to do is try to think outside of the box. If you have fresh tomatoes, create a tomato sauce and instead of adding crushed red pepper, use your peppers from the garden. Use fresh ingredients to replace dried or processed ingredients.
You can also reuse ingredients in a different way. Make a tomato, garlic and herb sauce, and garnish it with crispy garlic or fresh herbs. You're using the same flavors, but just adding a different texture or flavor profile. 
The most important thing is, if you have a garden and you plant things you enjoy eating, it makes it a lot easier to be a home cook. We start with something we're familiar with and we build off of it from there. Take a classic dish and fit it to what you personally enjoy.
Try the fried chicken and peppers at Lotus Farm to Table at 112 W. State St. in Media; phone: (610) 565-5554.
Photos:

Ryan Sulikowski for Lotus Farm to Table