We're heading into the season where fresh produce rules everything around us. And, we mean everything — even the refreshing cocktail in your hand!
Hop on the fresh-from-the-garden train and head to Stoll & Wolfe in America's coolest small town, Lititz, Pennsylvania. There, you'll find Stoll & Wolfe's team of talented bartenders mixing up an Elderflower Spritz. This cocktail consists of the distillery's elderflower-infused vodka, lemonade and soda water. It's garnished with a long sprig of thyme and a little sprinkling of mint.
The bartenders we chatted with describe the spritz as "sessionable" (a very buzzy word right now), because of the splash of soda water. There's no reason that two cocktails should get you overly tipsy, right?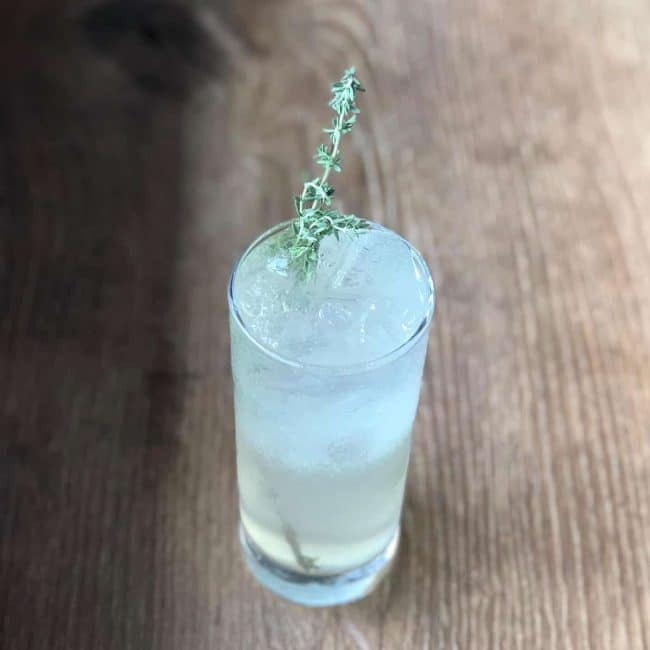 We asked Stoll & Wolfe's very own Erik Wolfe about how he and his team choose which cocktails get garnished and with what, and about his thoughts on garnishing cocktails, in general:
PA Eats: When and why do you choose to garnish a drink (or not)?
Erik Wolfe: If a garnish adds something to the drink, then add it in! I've always said that you drink with your eyes first. We want our cocktails to be as visually appealing as they are delicious.
In your opinion, what makes a good garnish?
I think a good garnish is one that enhances the drink but isn't in anyway superfluous. With certain cocktails, like tiki drink, some garnishes are over-the-top outlandish. We subscribe to simple elegance with our garnishes. Our imported cherries from Italy are so delicious. All a cocktail needs is one cherry to complete it.
Which items from the garden do you find inspiring?
We're lucky to have an abundance of ingredients to choose from in the summer in the Northeast. There are so many varieties of mint now. We love being able to play with them and with items we grow ourselves. And then, in the winter, we always consider what we can grow indoors, like rosemary.
We're loving lemon balm right now. It's in our Elderflower Spritz and our Jungle Juice cocktails. And the fruit from the cacao plant. It tastes unbelievable. The juice is so fruity and floral, with pineapple and yuzu flavors. It's sweet, but it also has a saltiness to it. It's filled with electrolytes and potassium, too. We love it.
What are some ways people at home can look at and go to their gardens (even if it's just some potted herbs on the windowsill) for bartender-type inspiration?
We always recommend infusing clear spirits or brown spirits with your favorite herbs. Cherries make a great infusion. And herbs and spices. We like to mix herbs with fruit, like mint and strawberry or basil and strawberry. There are so many kinds of mint now — chocolate, ginger, apple. Approach your infusions like a sun tea and you can extend the flavors of summer into fall. 
Here's a great three-part base recipe for summer. Mix together the following and enjoy it as-is, or by adding soda water for an all-natural soda.
1 part fruit juice (let strawberries sit with sugar and then macerate)
1 part white or apple cider vinegar
1 part sugar
Sip on the Elderflower Spritz and more at Stoll & Wolfe at 35 N. Cedar St. in Lititz; phone: (717) 799-4499.