Half the fun of watching a big game is the food. But, if you have food allergies or sensitivities, it can get a little more complicated when attending or hosting parties. Even though dietary issues are more mainstream than they once were, many people still don't think about alternatives when planning a game-day menu.
There are so many great companies and restaurants in Pennsylvania making gluten-free and dairy-free alternatives to traditional snacks, no matter which team you're rooting for, you can be prepared to enjoy game day to the fullest with an amazing food spread!
Soft Pretzels
It wouldn't be a Philly sports celebration without soft pretzels. Tonya's Gluten Free Kitchen developed its soft pretzels to help family members who have celiac disease. These frozen pretzels come six to a box, and you can heat them up in an oven. Try all three varieties: original, cinnamon sugar, and pieces, which are like nuggets. Bonus: Tonya's is local! Since 2010, Tonya's bakery has been operating in Newmanstown, PA, about 18 miles west of Reading.
Hard Pretzels
It's easy to find gluten-free regular pretzels these days — Snyder's makes a bunch of types: mini, sticks, buffalo wing, and honey mustard and onion — and I also recently came across a gluten-free variety of Snack Factory's Pretzel Crisps! These are so good paired with a heavier dip, like spinach or crab. They come in several flavors: original, salted caramel, vanilla yogurt and dark chocolate.
Dairy-Free Cheese
Nytera Foods, an artisan vegan cheese company, is the brainchild of Chef Riq Glispy. This startup, based in Easton, PA, offers a whole line of expertly cultured cheese, from chevre to smoked mozzarella to cashew cream cheese and more. No matter the type of cheese, Nytera products are made from nuts and are free from the chemicals and fillers found in many commercially-produced non-dairy cheeses. Shop online, or find Nytera's cheeses at Common Space in Easton and at the Bethlehem farmers market.
Appetizers, Pasta & Pizza
There's nothing quite like a piping-hot pizza to keep your home kitchen clean and all your guests fed and happy. Grandma's Grotto in Horsham, PA offers an extensive gluten-free menu, complete with dozens of types of pizza, apps like gluten-free wings, garlic bread, meatballs and so much more. It even offers gluten-free pasta in your favorite comfort-food dishes, like spaghetti Bolognese and fettucini Alfredo. Call in an order for pick-up or, if you're hosting a crowd, place a catering order online. 986 Easton Rd., Horsham; (215) 675-4700.
In Pittsburgh, Pizza Care takes care of your gluten-free pizza needs. Any of its health-conscious pies can be ordered on gluten-free crust — think broccoli and chicken, green garden, and spinach and feta! Indulgent toppings, such as seven cheese and Philly cheesesteak are available, too. An array of gluten-free pastas are also on the menu. Order online for delivery or take-out. 1525 5th Ave., Pittsburgh; (412) 281-8585.
The Wild Tomato in Harrisburg was recently selected as a finalist as one of USA Today's "10 Best Gluten Free Pizzerias in America." This family-owned restaurant goes the extra mile, storing all of its gluten-free items separate from other foodstuffs, and handling the gluten-free products with dedicated utensils. Subs can be made on gluten-free rolls, and any type of pizza can be made gluten-free. The Wild Tomato also offers vegan cheese for those avoiding dairy. Gluten-free appetizers include cheesy bread, baked meatballs and french fries. Order online for pick-up or delivery. 4315 Jonestown Rd., Harrisburg; (717) 545-6435.
Slice Pizza, a local chain in Philly, keeps vegan and gluten-free pizza-lovers happy with wheat-free crusts (available for any pie), cheese-free pizzas and faux-meat and cheese options, like Daiya vegan mozzarella and vegan sausage and pepperoni made by Vegan Commissary. Order online or call for pick-up or delivery. 1180 S. 10th St., Philadelphia; (215) 463-086; 431 E. Girard Ave., Philadelphia; (215) 425-1555; 1740 Sansom St., Philadelphia; (215) 557-9299.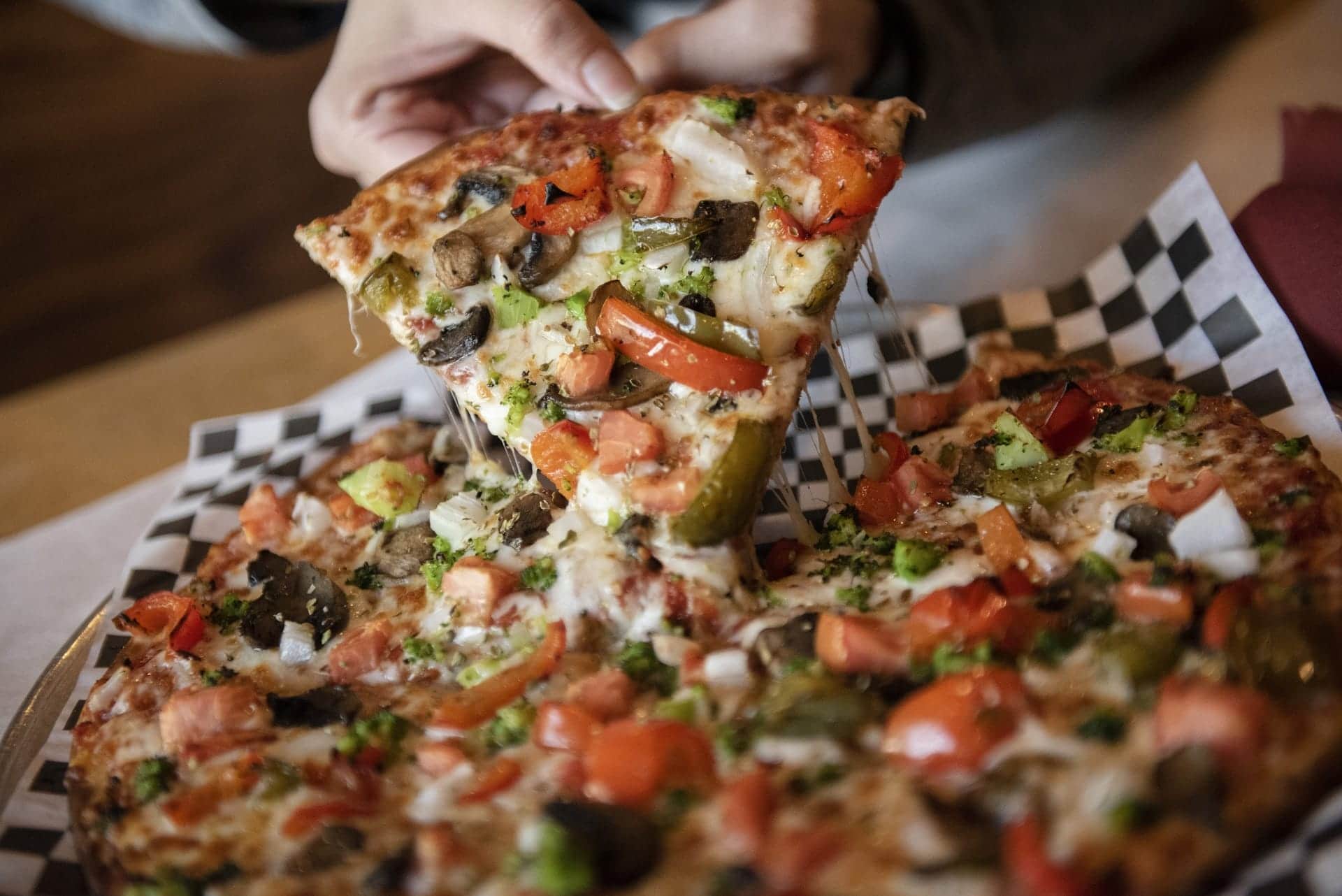 For years, Ron's Original in Exton has been going above and beyond your average pizza and sandwich joint with clean, healthy ingredients. The Ron's menu offers over 25 gluten-free dishes, with even more options that are gluten-free. One of the most popular items is Ron's gluten-free pizza, made with a prepared gluten-free dough made from a special flour blend. Gluten-free pasta, chicken Parmesan and eggplant are big hits, too. Call in for pick-up. 74 E. Uwchlan Ave., Exton; (610) 594-9900.
What are your favorite gluten- and dairy-free game-day snacks in PA?
Feature & Ron's photos:

Ed Williams