As part of our Greens + Grains theme, we're interviewing a series of local bakers, pastry chefs, bread masters and dough whisperers. If you know a baker who should be featured, let us know at [email protected]. 
I can remember the best baguette I had in 2017 — can you? Mine came from Machine Shop Boulangerie. On a pretty spring day, I wandered through the wide halls of BOK in South Philly, the office building for creatives in the former Edward W. Bok Technical High School. On the fourth floor, at one of the then-brand new wholesale bakery's pop-up bake sales, I selected a slender loaf of bread and left a few bucks in a coffee can for payment. It was baguette perfection — the exterior boasted an admirable crunch, then gave way to chewy, airy bread on the inside.
In the year since, Machine Shop, owned and run by Emily Riddell and Katie Lynch, has swiftly made its mark on the city's culinary scene. Its gorgeous pastries are sold in some of Philly's best cafes (Res Ipsa, Menagerie Coffee and Elixr, among others) and it's wooed Philly's food lovers via bake sales at ITV and the Winterfare markets at BOK.
Get to know these pastry pros a little bit better in this rapid-fire Q&A, and trust us: If you can get your hands on one of their baguettes or treats (the kouign amanns are next level), do so without delay!
PA Eats: Name, age, hometown, please!
Machine Shop Boulangerie: Katie Lynch, 31, Mullica Hill, NJ. Emily Riddell, same age, Philadelphia, Pa.
First thing you ever baked that made you be like "YES I can do this":
Cookies. Both at a young age.
How you met one another:
Tinder. But really, in the pastry kitchen at Le Bec Fin, or at the bar after service … We had mutual friends and both worked for the company.
Best bit of advice you got about starting Machine Shop:
Don't live together.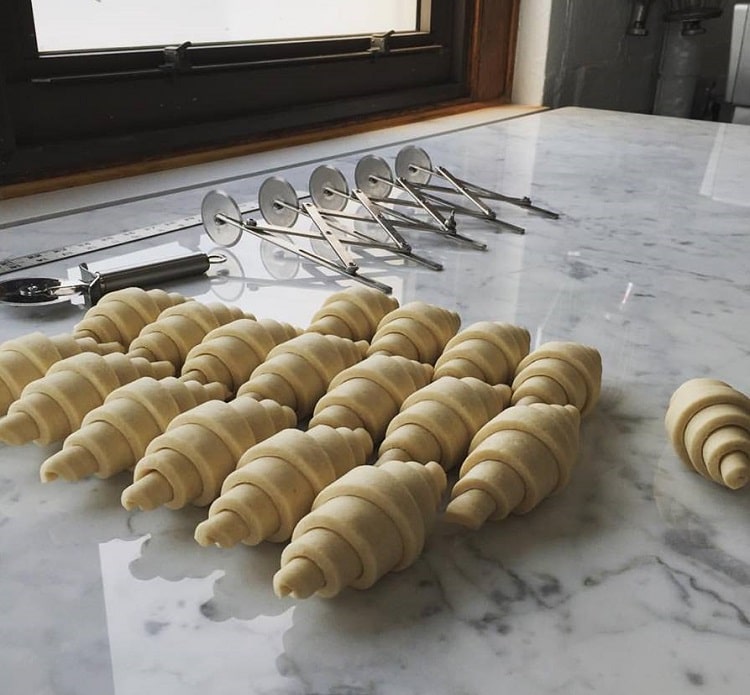 What's your favorite part of working together in this partnership?:
Katie: Someone else to make snacks. Collaboration, having someone I trust.

Emily: Having someone to call when you get a flat tire on deliveries… truth.
Secret weapon that every home baker should add to his/her arsenal?
A bench knife.

Machine Shop baked good that you'll never get sick of?
Baguette.
Best music for baking to:
Including, but not limited to: WRTI 90.1 Monday through Friday until 10 a.m., The Talking Heads (every album), Paul Simon, French disco pop electronica, Beirut, Bob Dylan on rainy days, Wes Anderson soundtracks, Rolling Stones, Wiz Khalifa, Enrique feat. Bad Bunny's "El Bano," Buena Vista Social Club, Rodrigo y Gabriela … we could go on. We spend quite a bit of time together, baking and listening to music.
Check Machine Shop's website for a full list of where to find its fabulous products, and follow along on its Instagram for updates on pop-up markets and bake sales. Warning: Machine Shop's social media feeds may cause intense carb cravings!
Feature photo:

Stevie Chris Photography

All other photos:

Machine Shop Boulangerie