There is so much delicious, fizzy kombucha in Pennsylvania, that it's easy to find local brands of this fermented tea beverage pretty much anywhere you go in the state. If you're in Centre County, the name to watch out for is Moody Culture Kombucha, with its pretty illustrated labels and creative, fruit-forward flavors, like raspberry lemon and blueberry ginger.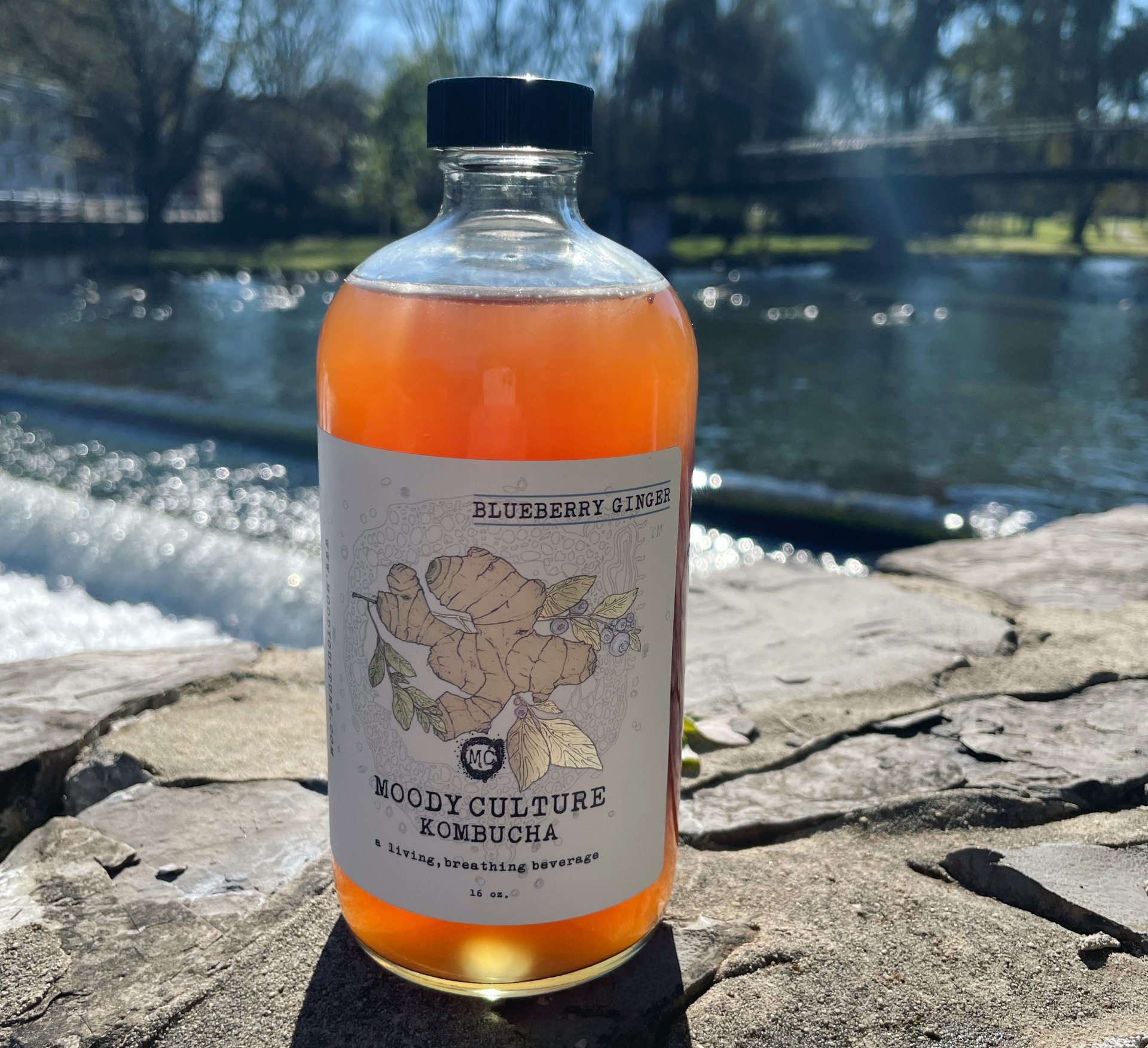 Moody Culture was founded in 2017 by Lisa Harpster and John Schaffer, Penn State grads, who have carried the brand through the ups and downs of the past few years and the unpredictability of the pandemic. Now, they are on the cusp of some major changes and big moves (hint: they're opening a brick-and-mortar, which is going to brew more than just kombucha), which we are excited to announce in this Q&A!
PA Eats: How did you first discover kombucha?
John Schaffer: A friend of mine gave me a plane ticket to the Super Bowl in San Francisco in February of 2016. [While I was there] I kept getting this one lemon ginger kombucha that I really liked. When I came back here, I tried to get it through different markets but I couldn't find it anywhere. So, I decided to teach myself how to make kombucha. That was in the beginning of 2017. I did some research on YouTube and experimented with different flavors. I'd give bottles and growlers to my friends, and one 7-gallon carboy in my kitchen turned into four. I invited Lisa to get involved because I'm not really that creative with flavors, other than knowing what I like.
By that time, kombucha was already on its way to becoming a mainstream drink. How did you decide that you wanted to go from hobby homebrewing to starting your own artisan brand?
John: Shortly after I scaled up my homebrewing setup, the owner of a local cafe, Rothrock Coffee, got a hold of some of my kombucha and asked if we'd start selling it to them. Of course, I said yes! Before our official launch, I went on a beer trip to Vermont, and all these markets we went to had kombucha for sale, and a lot of breweries had kombucha on tap. That's when I decided to make a business out of this. I thought, if this can happen in rural Vermont, why not in State College, PA? I realized there was a void in the market here, so I said, let's go for it.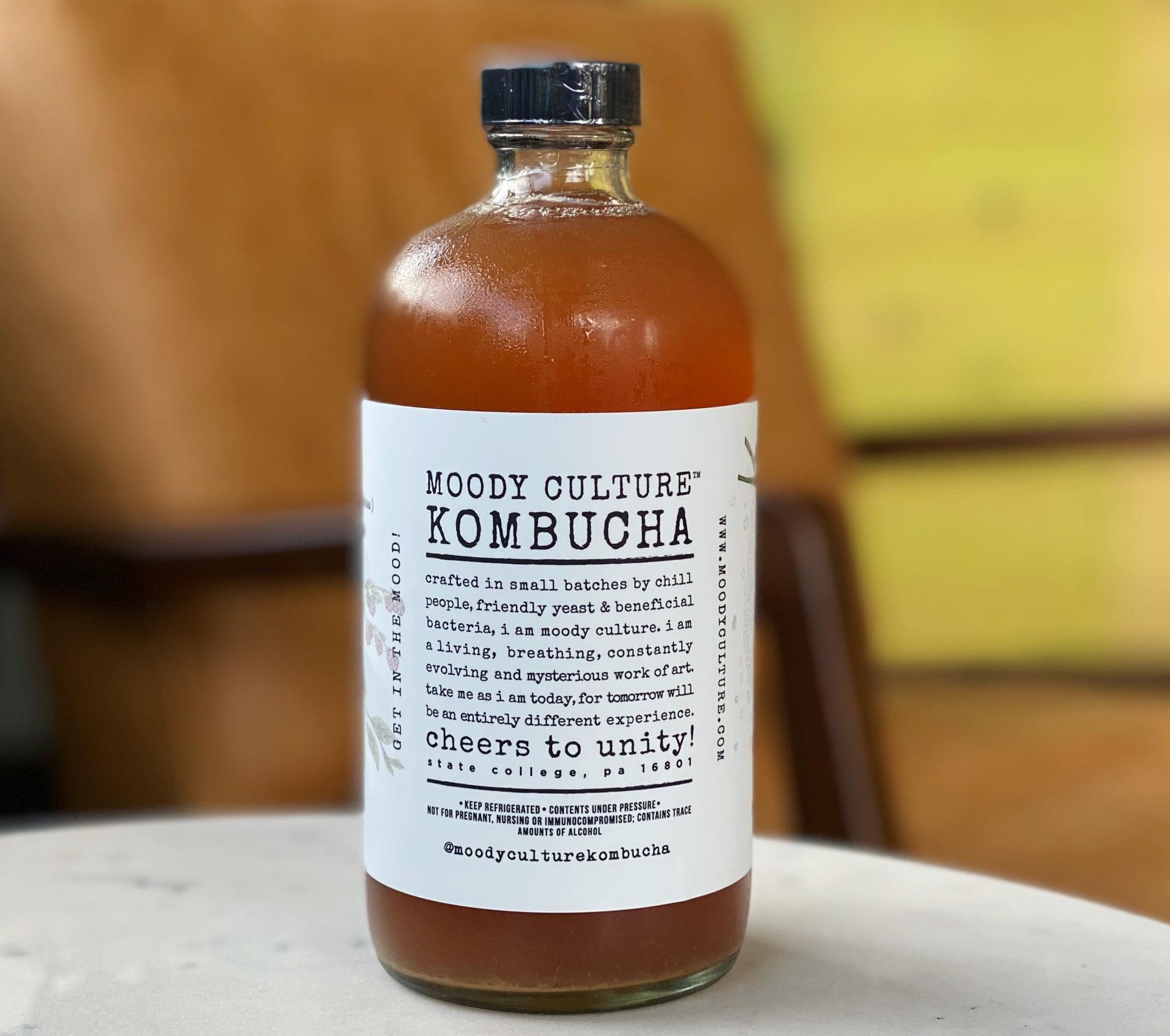 How is Moody Culture Kombucha different from some of the others out there?
Lisa: The ones we've had that we didn't like were strong in vinegar and light in tea flavor. We strive for a heavier tea flavor and more subtle fruit flavor. That's due to the volume of tea. We use a lot of tea and because of that, our kombucha is a darker color. Trial and error was how we found the right tea, which is a blend of green and black.
What's your current production space like?
John: We're categorized as a home-based limited food production company. Our production space is in a basement apartment I have that qualifies with the Department of Agriculture as a commercial kitchen.
After your first account with the coffee shop, what was the brand's growth like?
Our growth happened pretty quickly. We got into a couple more establishments in State College. Now, we're in a bunch of accounts in Pittsburgh and the Harrisburg market, as well more in Centre County. Lisa and I both have full-time jobs, so everything we did in production was about driving efficiency. First, the production grew to 48 carboys, and we'd siphon from those into kegs and let the kombucha carbonate in the kegs. Then, about six months in, we moved over to nano-sized commercial brewing equipment that beer brewers use. I even learned to weld and built a home-built bottling system!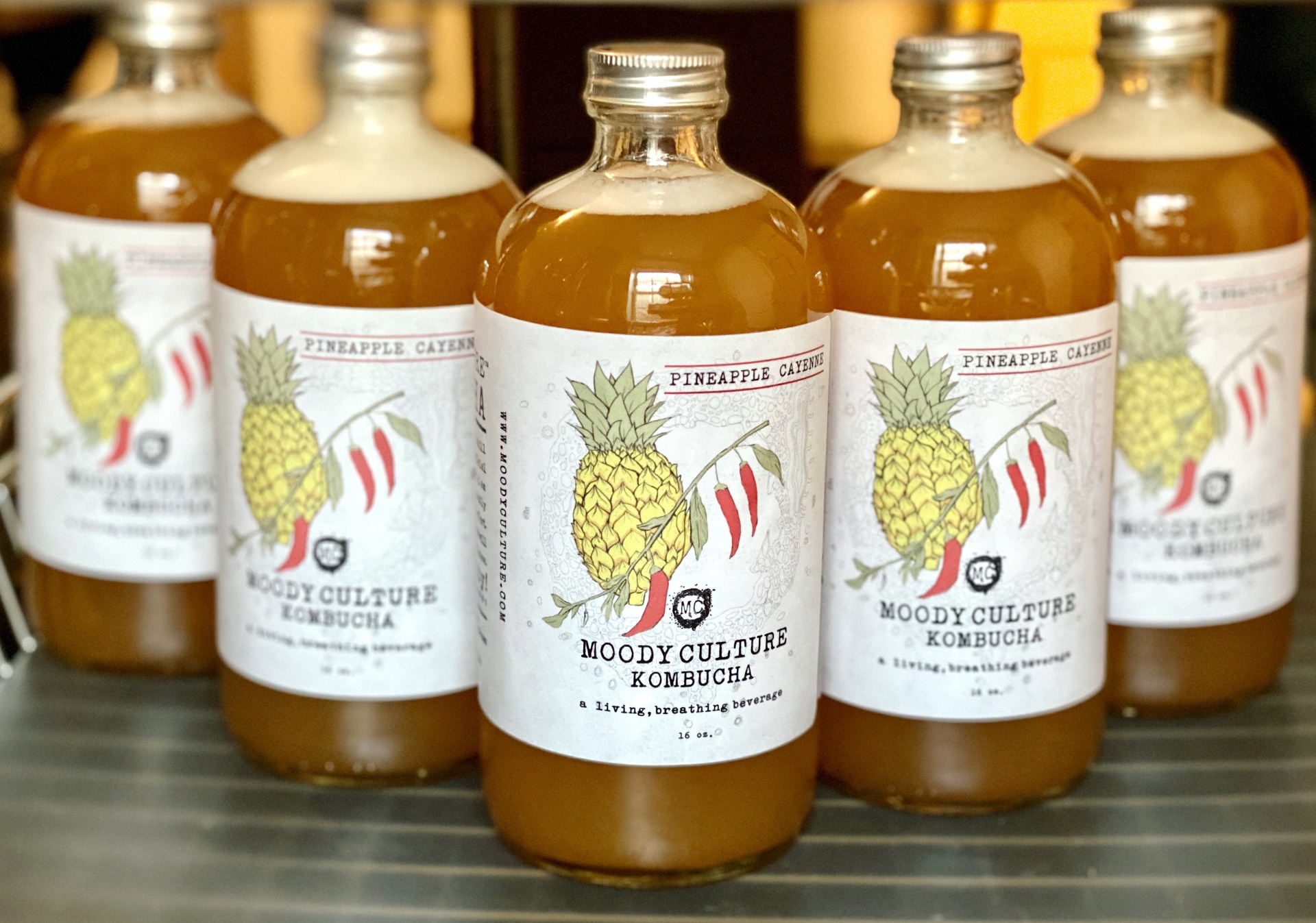 How did the pandemic affect things for you?
Lisa: We've felt super-grateful because we weren't paying rent all through COVID because of working out John's basement apartment space. Things slowed down for us, but they didn't stop, and we were allowed to continue going because we didn't have employees and we weren't absorbing a lot of overhead.

John: We definitely scaled down production. Most of our retail accounts were dead in the water, but we started offering porch pick-ups and drop-offs, and did some online farmers markets. That helped for a bit.

Prior to COVID, we were thinking about opening a very larger brewery outside of State College, and we met an award-winning brewer from Brazil. He brewed some beer on our system, which turned out really well, and we wanted to start moving on that plan. But then the pandemic hit, and everything got put on hold. In 2021, we started seeing rents getting more attractive in downtown State College and ultimately settled on a space that's less than 2,000-square feet. We'll brew beer, kombucha and hard kombucha all on a nano scale. We're in the process of moving into a space and getting licensed by the PLCB.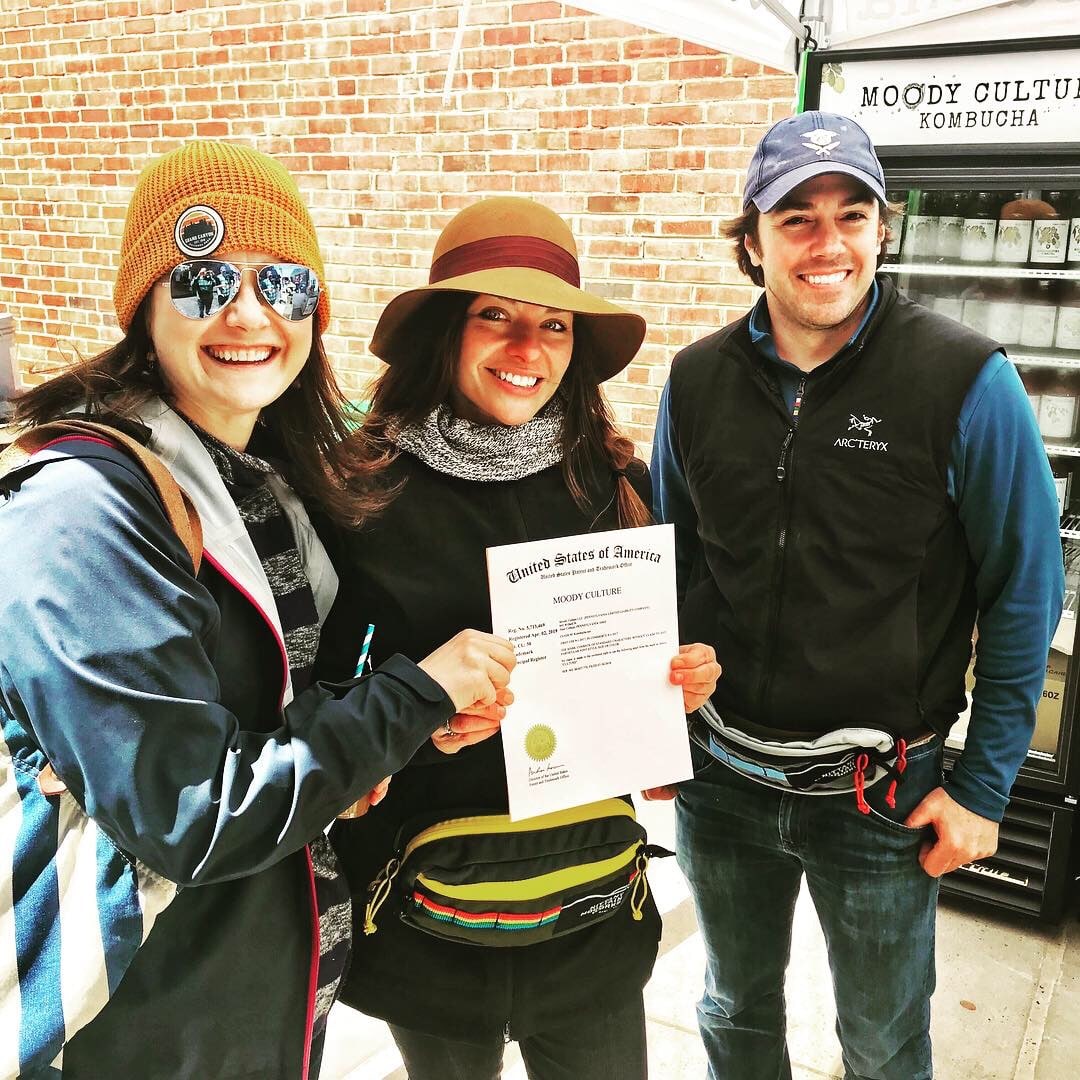 You're opening a brewery?! That's so exciting! Will you be brewing beer, or just kombucha, or both?
John: We'll be brewing beer, kombucha and hard kombucha. I'm a total hop-head beer-head, and I've always been drawn to the craft beer industry. And when we found our brewer, I thought we had a real chance. From an economic standpoint, beer is a known quantity, we know we can sell it. With hard kombucha, there may be a limited market for it. Even though there are some bigger brands, they maintain minimal shelf space compared to beer.

Lisa: Beer and kombucha really go quite well together! But aside from that marriage, it was really appealing to us, having the optionality in a brewery space, so when people want a break from beer they can have a kombucha.
What is the timeline of the brewery? Can you tell us anything else about it?
John: The space is located at 324 East Calder Way, right in the downtown area of State College. The beer brand will be called Antifragile Brewing, and it will have a heavy focus on IPAs, as well as stouts, lagers and, at some point, mixed fermentations for sours. We'll keep Moody Culture Kombucha for that brand. We are probably a few months away from opening the brewery. We want to experiment and really get everything right. The brewery itself is pretty small, and we'll have one side for kombucha and one side for beer, because you don't want contamination of bacteria getting in your clean beer.

Lisa: The space has a preexisting industrial feel, so we're going with a modern industrial feel with an apothecary twist. At its roots, the brewery is a laboratory where we're doing fermentations. It's going to have a bar and seating for about 45 people. We're still playing with food options, like gourmet popcorn and charcuterie boards from the local cheese shop, and we'll offer craft cocktails, as well. We've met so many great small businesses, and one of our goals is to partner with them. Whether it's a fruit farm or juice company, we want to nurture those relationships.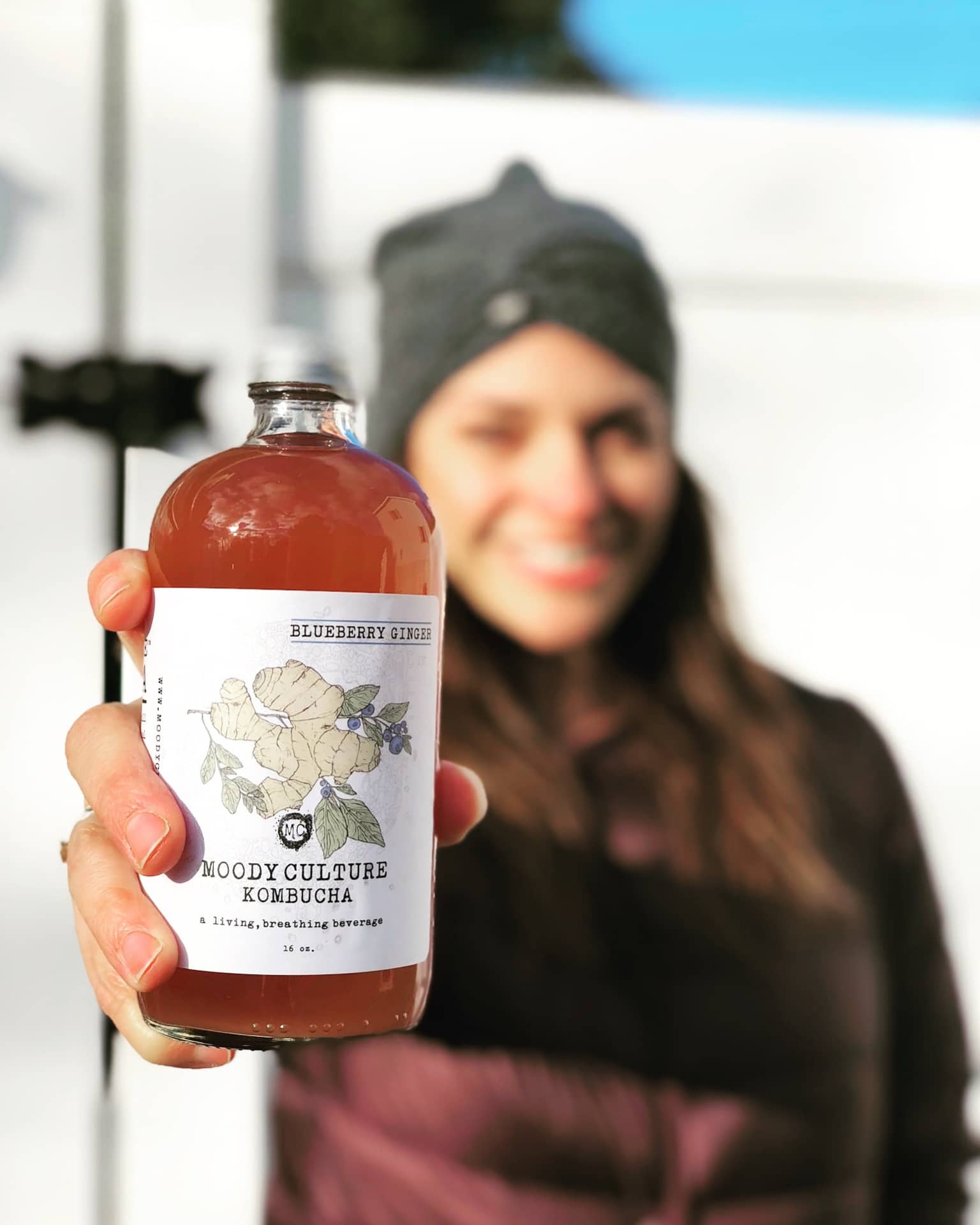 Big congratulations are in order to this local company for this incredible expansion! Be sure to visit Moody Culture Kombucha's Instagram for updates and progress reports on the opening of its brewery! In the meantime, find a list of local retailers here.
Photos:

Moody Culture Kombucha