There are a lot of craft breweries in Pennsylvania. A lot. But beer isn't the only fizzy, fermented beverage that's brewing up in our state! Kombucha, the probiotic-rich, tea-based elixir, has trended non-stop over the past few years, and it's become mainstream. We've seen big kombucha brands at PA rest stops, supermarkets, gas stations — you're likely to find it nearly anywhere you can buy bottled water or soda!
We'd rather keep it local, though. In every corner of the Commonwealth, you'll find a crafty culinary artisan making batches of booch. There are so many, in fact, that you could make a whole awesome road trip out of trying kombucha and meeting its makers. People travel to visit craft breweries, so why not travel to visit kombucha makers? (Some of the PA booch we found is even a little boozy!).
Without further ado, we present the PA Eats kombucha trail — and if we missed a kombucha brewery or tasting room in your town, please let us know!
Northeastern PA
Groovy Booch Brewery is a kombucha brewery and farm kitchen in the rolling hills of Franklin Forks, Pennsylvania, just a mile from Salt Springs State Park. Stop by its taproom, which is on an actual farm (with chickens wandering about and everything) to try between 10 and 20 varieties of live culture kombucha, and four to six varieties of boozy booch. Yes, you heard that right! A second fermentation and/or the addition of grains and yeast lets Groovy Booch make kombucha with alcohol levels ranging from 2% to 5.9% ABV! The taproom, which also offers veggie-heavy snacks, is open on Wednesdays from 6 to 9 p.m. and Thursdays from 4:30 to 7:30 p.m. 2296 Valley View Rd., Franklin Forks; (570) 967-2185.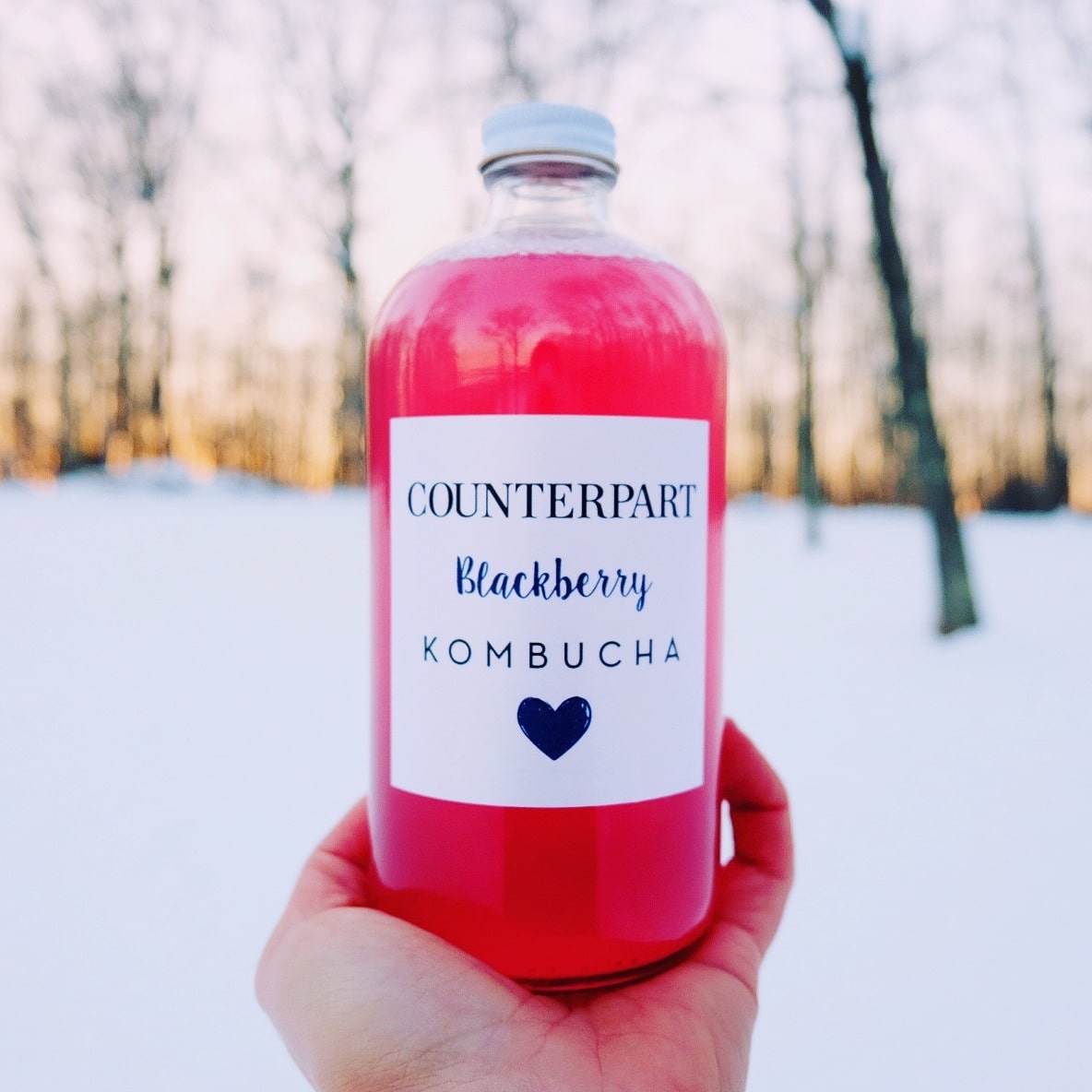 Counterpart Kombucha is the project of Natalie Lynn, who lives in Drums, PA. Lovely flavors made in small batches, pretty packaging and a fun Instagram account are just a few things that set Counterpart apart. Her business is entirely wholesale, but her booch can be found all over Central and Southeastern PA. One of the spots in Wilkes Barre where you can buy Counterpart Kombucha is at City Market and Cafe, which also serves great food and has beer and wine to go. 25 Public Square, Wilkes-Barre; (570) 235-6916.
Most of Lehigh Valley Kombucha's business is private orders placed through its Facebook page and then delivered to homes in the Lehigh Valley. But its kombucha is available to buy in a handful of other places, like the Crooked Row Farm Store in Orefield. It's worth checking out this organic, "lady-run, earth-friendly vegetable, egg and herb farm" anyway to peruse all of the beautiful locally made products on offer, like honey, tea and natural body products. 3245 Route 309, Orefield; (610) 417-6982.
Portch Tea is a tea farm in Emmaus that makes all kinds of wonderful kombucha flavor combinations with tea it's able to cultivate and other fresh ingredients. Think: rosemary mint; beet, sage, rosemary and thyme; ginger turmeric; and apple pear cider. Fill up your growlers at its Farmentory or at the Easton Farmers Market. Or, get a glass-fill at Separatist Bar + Bottle in Easton (the beer is very good there, too!). 3502 Main Road East; Emmaus; (484) 838-0503.
Sole Kombucha is a small kombucha brewing company based in Dublin, PA, but currently, it doesn't have a taproom of its own. If you're looking for this clean, sustainable, non-GMO, local and organic booch, you can find it at markets and cafes throughout Bucks County and other parts of the state. Since, like most drinks, kombucha tastes better fresh from the tap, we suggest finding Sole Kombucha at NelliRae's Kitchen, a cozy vegetarian cafe in Revere, about 20 miles east of Allentown. 8826 Easton Rd., Revere; (610) 847-2223.
Southeastern PA
Noble Earth is a cafe for all-things-wellness in the up-and-coming waterfront town, Bristol, PA. Owner Joe Rakowski runs this full kombucha/tea lounge and bar with house-brewed kombucha on tap. Flavors are always changing (try a flight!); recent examples include Purple Ion (butterfly pea powder, peppermint, yerba mate and assam) and Bar Spinoid (blueberry, lavender, oolong and CBD). Noble earth also offers a slew of international loose-leaf teas, herbs, CBD oils and holistic goods. 212 Mill St., Bristol; (215) 458-7049.
Funky Fresh is a Philly-based fermentation company specializing in "raw living nutrient-dense beverages, sauces, and vegetable ferments," according to it website. While it doesn't have its own retail storefront, you can find it all over the city. We suggest snagging a spot at the bar at Martha in Kensington to try it on tap. Memorable flavors include Tumeric Ginger and Black Cherry Rose. 2113 E. York St., Philadelphia; (215) 867-8881.
It seems like Tired Hands Brewing Co. is always pushing to innovate, whether through hybrid beer/wine special releases, its home delivery service or adding ingredients to beer that no one else would think to add. One of its cool developments in recent memory is its new line of booch, called 333 Kombucha, available on tap and by the bottle in three flavors: ginger turmeric, kalamansi hibiscus and organic kiwiberry spirulina. Hit up the General Store to find all three. 20 Ardmore Ave., Ardmore; (484) -413-2978.
BABA's Brew, a truly homegrown company making fantastic kombucha with farm fresh ingredients, can be found in shops and cafes all over the area. But, it also has its own brewery and tasting room, A Culture Factory, right in charming downtown Phoenixville. Stop by on Saturdays for all kinds of booch on tap and other fermented treats, plus classes and workshops. 333 Morgan St., Phoenixville; (267) 738-1973.
Central PA
White tea lemongrass, blueberry oolong and turmeric chai are just a few of the kombucha flavors brewed up by Renewal Kombucha. With two tasting rooms in Central PA — in West Reading and Lititiz — it's obvious that it's doings something right! Stop by either location for samples, growlers and flights to go! The Lititz location is also a small market, with locally made goods, including granola, soaps, fermented and pickled veggies, and dog treats. 701 Court St., West Reading; (610) 898-4598; 51 North Broad S., Lititz; (717) 892-2918.
The Vegetable Hunter, one of our favorite spots to eat clean in Harrisburg, brews its own beer and its own kombucha. Try its homemade flavors by the glass, in a tasting flight, or mixed into a cocktail, like the Mucha Kombucha with kombucha and Mid-State Distillery Pennsyltucky Moonshine. 614 N. 2nd St., Harrisburg; (717) 695-6229.
In a bad mood? The tasty, small batch-made SCOBY juice from Moody Culture will set you straight. These relative newcomers to the State College culinary scene use only real fruits, herbs and roots to create their flavors, like Pineapple Cayenne and Hopped Up. Find Moody Culture at spots throughout State College, like the all-vegan cafe Cafe Verve, as well as at select cafes and shops in Pittsburgh and Central PA. 115 E. Beaver Ave., State College; (814) 308-8873.
Homestead Cultures is a small family-owned business dedicated to fermentation. Its brand of booch, Wild Water Kombucha, is made in small batches with organic tea and flavored with real fruit. The result is gut health-forward concoctions like Carrot Ginger Apple, Ginger Pear and Cranberry Orange. 18 E. Market St., Lewistown; (717) 953-7077.
Western PA
Collage Coffee & Art House is a bustling little coffee shop in Grove City, PA (about 60 miles north of Pittsburgh) that's also a micro-roaster and a kombucha brewery! It has been brewing and operating our kombucha bar for the last year, where you can get growler fills, tasting flights, $2 pints on Thirsty Thursdays after 5 p.m. and seasonally-minded flavors by the glass, like Bud & Bough (apple cider, spicy clove and sweet fennel) and Shandy Blue (lemon blueberry). 221 S. Broad St., Grove City; no phone.
Earth Below makes small-batch, raw kombucha in Emporium, PA, the heart of the PA Wilds. What started with home brewing experiments has grown into a small company, with really cool flavors, like Rose Berry Vanilla, Grapefruit Rosemary and Honeycrisp Cinnamon. Find it at Aroma Cafe, a little cafe and coffee shop, also in Emporium. 51 E. 4th St., Emporium; (814) 486-7662.
Who else is making booch in PA? Let us know in the comments here or on the PA Eats Facebook page!
Feature photo and Noble Earth photo:

Ed Williams

Counterpart photo:

Counterpart Kombucha