For this installment of our Grain to Glass series, we'll be taking a deep dive into the origin story and production of one specific beer: the PA Pride Nitro Pub Ale. This is the ninth installment of the PA Pride beer series, a statewide collaboration which got its start in 2020, meant to showcase the incredible agricultural bounty in the Commonwealth and support local breweries.
Starting on Friday, June 30, the newest PA Pride beer will hit the shelves, on draft and in cans at a bunch of breweries across the state. Thanks to Breweries in PA, a collaboration partner in the PA Pride beer series, you can find them all using this handy map:
So how does a collaboration beer like this come into being? Every few months, there is a meeting of the minds via a group call, where any Pennsylvania breweries who are interested can join in. Via emails and Google polls, anyone involved can suggest or advocate for a specific style for the next PA Pride beer. 
"All collaborators had a say in the beer style as it was put to a vote months before the actual brewing," Chadd Balbi, the co-founder of Breweries in PA, explains. 
For the ninth PA Pride release, the group decided on a pub ale, a classic style in the UK but a bit more unique in the States. 
Chatty Monks Brewing head brewer John Stemler had made another English pub-style ale a few months prior and was really digging the outcome. He pitched this idea to the group, who responded well to it.
"It's a style I like, and a lot of brewers are swinging over to lower-ABV, easier to drink beers, and consumers are, too," Stemler says. "Plus, we always like to pick a new style for the PA Pride beers — we gotta keep things fresh and creative!" 
Usually, once the beer style has been voted on, one or more production partners agrees to develop the recipe and make the beer. This time around, the beer was brewed at Chatty Monks Brewing, who developed the recipe and decided on the ingredients along with Deer Creek Malthouse. 
Together, they selected a blend of Keystone Pale malted barley, Crystal malt and oats sourced from Deer Creek Malthouse, chosen for their rich and robust flavor profile.
"This simple grain bill has all the characteristics of a classic UK-style pub ale," says Mark Brault, the owner of Deer Creek Malthouse. "Locally-grown 2-row barley from Pleasant View Farm in Chester County and oats from Neal Murphy Farms in Monroe County, combined with a dash of experimental crystal barley malt, adds body and subtle caramel flavor and aroma."
They also fermented the beer with an English Ale yeast, and added East Kent Golding hops (sourced from England), which lend an authentic hop flavor with low bitterness and a nice earthiness. "We dry hopped with that, as well, which isn't traditional technique, but I love how the flavor turned out," Stemler notes.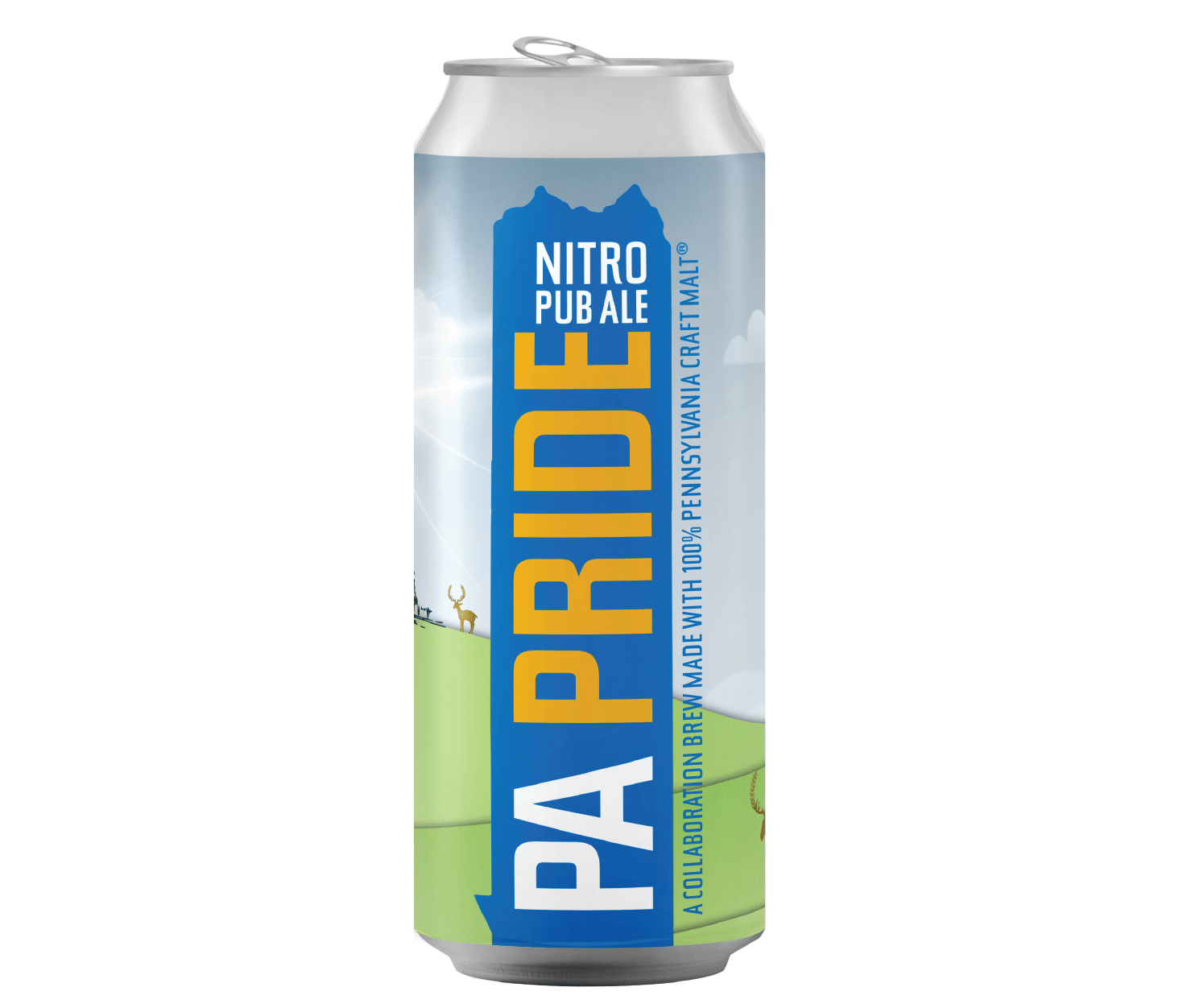 The finished beer is a 5.1% ABV ale with aromas of candied stone fruit, and toasted, warming malt flavors that are balanced with an herbal and spice-forward bitterness. One of the coolest things about the PA Pride Nitro Pub Ale is its creamy texture, which has a beautiful "cascade" effect when poured in a glass. This is thanks to a bit of creative technology used at Chatty Monks.
"We use a piece of equipment called a liquid nitrogen doser, which allows us to add a tiny bit of liquid nitrogen in a controlled manner to the cans of beer right before they're sealed," Stemler says. "When the beer is opened or poured, the liquid nitrogen reacts with the beer to make that thick head and texture that is usually associated with ales that are served in casks and run through a beer engine."
All of the breweries that serve this special beer will be served with the use of nitrogen to create that authentic pub experience!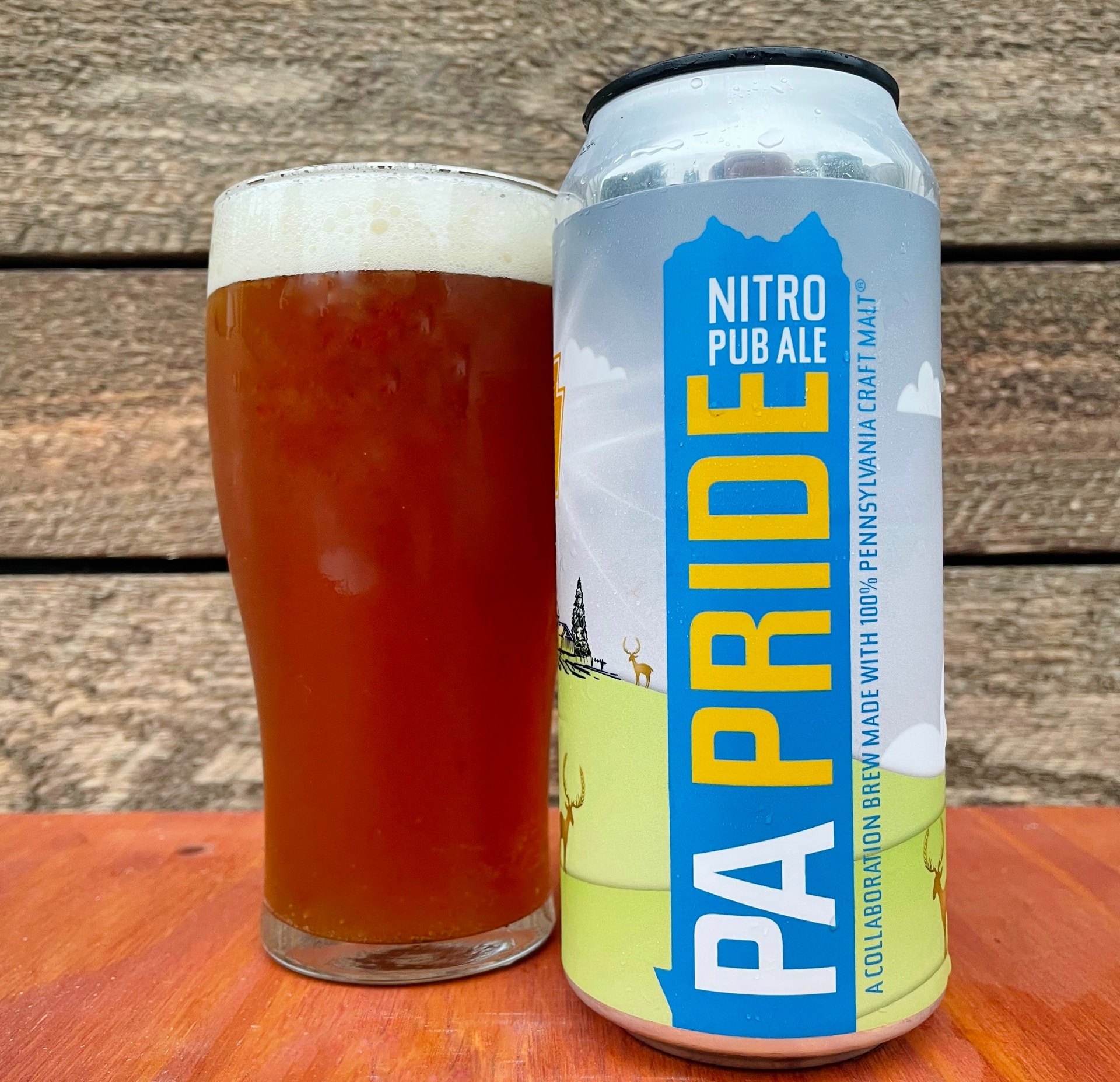 It's so impressive that the PA Pride beer project has released 9 beers in just 3 years. The pandemic was the catalyst that brought the various parties together, and from the first release, PA Pride 1.0 (a light, sessionable hazy pale ale) to this newest one, it's been a way to spotlight local producers and breweries.
"The original PA Pride started as a way to support small craft breweries with a packaged product that would allow them to share with their customers during the pandemic when taprooms were closed," Chadd Balbi explains. "Breweries without the capabilities of canning beer could now have a to-go option in their taproom coolers without the massive investment of a canning operation. It has since grown into so much more by connecting the many different breweries that make up this amazing state, while showcasing the true power of Pennsylvania agriculture."
For more on the PA Pride Nitro Pub Ale, check out Breweries in PA, visit one of the select local breweries that will be selling it this summer or purchase it online from Deer Creek Malthouse.  
This series is made possible by support from Deer Creek Malthouse through the Pennsylvania Malt and Brewed Beverage Industry Promotion Board and grant funding from the Pennsylvania Liquor Control Board.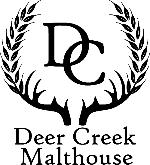 Deer Creek Malthouse (Glen Mills, PA) produces high-quality, flavorful malt ingredients made from local grain. Founded in 2012, Deer Creek is the first commercial malting operation in Pennsylvania since prohibition. The Company is dedicated to improving the regional grain supply chain for all stakeholders and leads many advocacy and value chain building initiatives, including Malt-A-Palooza, and the Mid-Atlantic Grain Fair & Conference. Deer Creek also produces a variety of consumer food and beverages using their grain and malt ingredients such as zero proof Barley Tea.
Beer photos:

Breweries In PA

Barley photo:

Courtesy of Tröegs Independent Brewing