Welcome to "Pantry Pros," a column that's part of our Kitchens + Gardens theme. Here, we meet local culinary artisans who are creating the new essentials for the modern pantry. Know someone we should talk to? Let us know at [email protected].
Sautéed to top a fresh-from-the-grill burger, to au natural additions to a refreshing summer salad, mushrooms are a perfect accompaniment to almost any meal. For home cooks seeking out gourmet mushrooms, you can always take a trip out to Kennett Square. But, did you know that there's an urban mushroom farm located under the corner of Erie and D Streets in North Philadelphia? Yup, tucked amid a busy city street is the headquarters and growing operations of Mycopolitan Mushroom Company.
Above-average 'shroom selections, such as king trumpet, nameko, pom pom, shiitake, pioppino — all of these mushroom varieties, at one point in time, have been cultivated by Mycopolitan. The urban farmers at Mycopolitan use sustainable methods to grow their specialty mushrooms, which are then acquired by restaurants, school cafeterias and home cooks. In addition to selling to individuals directly, Mycopolitan also participates in various CSA programs, adding their fungi goodies to the CSA participants' weekly hauls.
We wanted to learn more about how this all works and how the company's founders even thought to start a mushroom farm in Philadelphia. Luckily, we recently enjoyed the opportunity to grab the finer details from Mycopolitan's co-owner, Tyler Case:
PA Eats: When was Mycopolitan Mushroom Company founded and who are the owners of the business?
Tyler Case: The farm started in 2014 and Tyler Case, Brian Versek, Dave Novak and Dan Howling are all partners. 

What was the driving force behind creating the company?
A strong desire to grow fungi. Watching mycelium and mushrooms grow is a deeply rewarding experience, something we never get tired of. And, while very challenging, it is a type of small-scale urban farming that can support a living in a town like Philly. We also felt that by serving the mushroom and staying on the path, new possibilities might arise where fungi, ecosystem and community intersect. The idea of supplying Philly's great chefs was also really attractive, and their feedback has kept us motivated and true to the work we do.
How did you find your North Philly location? What kind of space were you looking for?
To grow mushrooms with any kind of consistency, in most places anyway, you need to grow indoors. Most mushroom farms are above ground, some with separate buildings for lab-work, incubation, mushroom growth, prep and storage and so on. At first, we were looking for underutilized buildings within an hour or so of Philadelphia. We thought we might even need to build from scratch, which would have meant much greater initial investment in land and construction.
The mushroom spirits were shining on us, because only a few months into our search, the multi-talented Lindsay Gilmour, who had been doing work for The Common Market, answered a plea for space that we had posted on the PUFN (Philadelphia Urban Farm Network) listserv. She had envisioned a mushroom farm setting up shop in the basement of their then newly-acquired warehouse at East Erie Avenue and D Street. We met Lindsay, and we met Haile and Tatiana (founders of Common Market), and it felt right. They extended an invite to us, and we've been there ever since.
What types of mushrooms do you produce?
We focus mainly on four exotic varieties: king trumpet, shiitake, pom pom (lion's mane) and nameko. Nameko is particularly unusual, but has such amazing versatility and flavor that it has become a classic. Pom poms can be harder for chefs to swap in for other mushrooms, and it can take a little getting used to for the home cook, but we find that those who take the time to hone a recipe or two fall in love with them for their taste and texture, if not for the well-researched effects on the nervous system.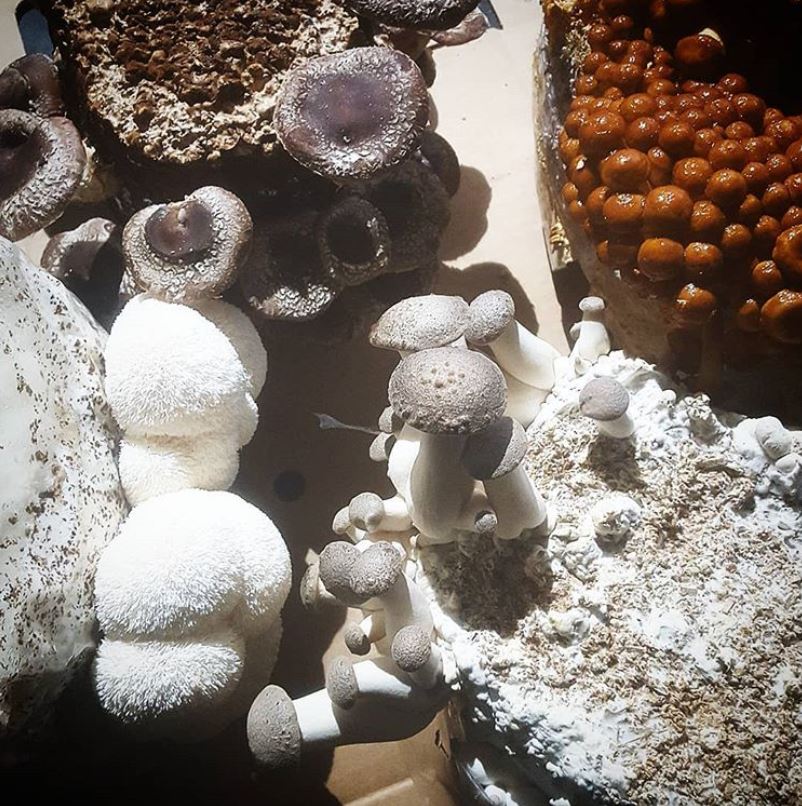 What is the growing process like at Mycopolitan Mushroom Company?
Mushroom farming differs from standard vegetable farming in many ways. Probably the biggest difference, besides the setting, is the continuous initiation of the growth cycle. Every day there's work to be done in every stage, from substrate prep, loading, cooking, inoculating, birthing, monitoring fruitbody development and harvesting. While some farms have huge autoclaves which can sterilize a week's worth of substrate in a day, we cheaped out and built our own low-pressure cooker which heat sterilizes 40, 6-pound bags of substrate. We run it at capacity, seven days a week. It works great for us, so we built a second one to handle more volume next year.
We differ from the Agaricus mushroom industry (button, cremini, portobello), in that our substrate is wood-based. Hardwood sawdust from local sawmills, wheat bran from Castle Valley Mill, and gypsum is all it takes for most of our varieties. The Agaricus industry, whose epicenter is in Chester County, utilizes composted, pasteurized substrate, typically straw and chicken manure, or horse manure. A careful eye is one of the most valuable tools on the farm, as the optimal time window to advance a run to the next stage can be as short as one day. Taking the time to do things on time ends up saving time, the most important resource on the farm.
Who are the primary buyers of your products?
Restaurants, at the moment, make up around 80% of our sales. This season, our weekly customers include Kensington Quarters, Russet, Aldine, Rooster Soup Co., Jaxon BYOB, Nomad Roman, Vetri and Res Ipsa. We've sold to a few retail places, including Primal Supply's brand new Butcher Counter in South Philly, Riverwards Produce and Weavers Way Chestnut Hill. Our CSA (Mycopolitan Farm Share) ranges from 20–30 members and has had pickup locations in Fishtown, West Philly, Mt. Airy and Chestnut Hill. Next year, we'll be adding a South Philly pickup.
Your website states that you also take part in research and education with regard to mushrooms. Could you please expand upon these two concepts a bit?
We are currently a partner of Heritage Farm (and Methodist Services) in a grant provided through the USDA for soil generation using stropharia (wine cap) mushrooms. We've also taught classes on fungi at local high schools, presented at different conferences, and we've led cultivation workshops in Philly. This summer, we'll be presenting at the New Moon Mycology Summit in upstate New York in August.
What is your favorite use for Mycopolitan mushrooms? How do you like to use them in the kitchen?
I've become addicted to a nameko pickle that utilizes ume plum vinegar, ramps and juniper berries. The coolest thing is the leftover thick pickle juice can be used in so many ways, such as salad dressing, glaze for grilling or even replacing eggs in savory rice pancakes. Pickled mushrooms fry up nicely to further intensify the flavor. This year, I've been making a lot of dashi with the shiitake stems and using that in all kinds of dishes. Most everything I cook has mushrooms in it. It's such an easy way to promote flavor and health.
What lies ahead in the future for Mycopolitan?
First, we always focus first on getting better at growing mushrooms. After four years, I feel we can almost call ourselves decent growers. Our equipment and environmental control are finally tight, and our systems are strong. We look forward to venturing into new territory to work with more restaurants, as well as finding those mushroom-loving home cooks wherever they're hiding out. Beyond that, there are some exciting projects in the planning stages that are too early to share just yet. Once the hyphae start to connect, you'll be hearing from us again.
Find out more about the highly sought after offerings of Mycopolitan Mushroom Company by visiting its website, Instagram and Facebook page. Be extra sure to keep an eye on Mycopolitan's social media, which promise some exciting new offerings in the near future.
Feature photo:

Mycopolitan Mushroom Co.