If there was a food award for "fastest adoption by the mainstream" in the current decade, we'd have to give it to cold brew coffee. What was once only available behind the counters of the hippest coffee shops is now everywhere, from health food stores to rest stops. Cold brew is different from generic "iced coffee" in that coffee grounds are steeped in room temperature or cold water, usually somewhere between 12 and 24 hours. This time-based extraction is a gentler process than the high heat of hot coffee and the intense pressure of espresso, and yields what many people find to be a smooth beverage with rich chocolate notes, low acidity and a heady jolt of caffeine.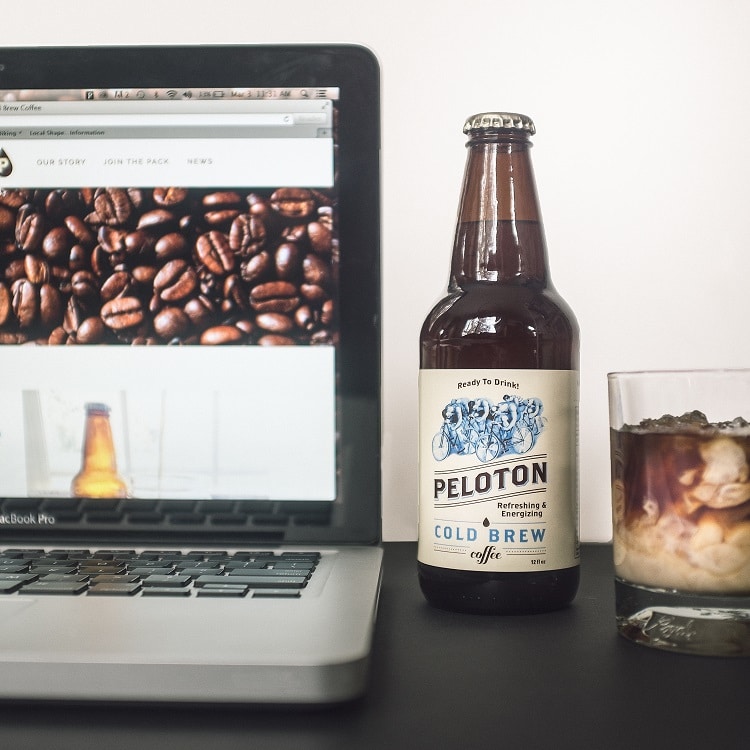 Of course, many coffee shops still serve this popular drink poured from kegs or pitchers, but the number of ready-to-drink canned and bottled cold brews are really where the trend seems to be heading. While there are huge national brands jumping on the cold brew train, we're more interested in local, artisan-made versions, with transparent sourcing methods and clear commitments to quality. A few years ago, before cold brew exploded onto the scene, we noticed bottles of Peloton Cold Brew in the cold case at specialty markets and cafes. Upon further inspection of the cool bike-themed label, it was exciting to see that the company is based in West Chester, Pa.; the small startup was founded in 2015 by brothers Dave and Adam Jones.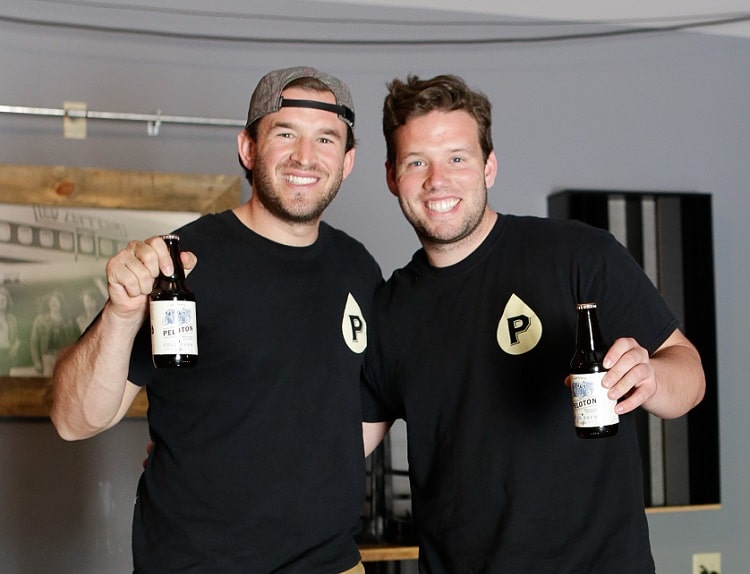 We recently chatted with Adam Jones to learn more about how the brothers got into the coffee biz and what the future holds for Peloton.
PA Eats:  Hey! Can you tell us a little bit about how you started Peloton Cold Brew?
Adam Jones: Basically, I started it in my apartment kitchen in New York City. At that point, it wasn't a real company, I was just brewing cold brew for fun and my roommates were loving it. Eventually, one of my roommates offered me investment money and I thought, "Maybe I have something here." I called my brother Dave and explained what cold brew was … at that time it wasn't big yet. He researched it and for a month straight we stayed up all night crunching numbers. I didn't take the money from my roommate, by the way. I wanted to go into business with my brother.

I moved back to West Chester in February of 2015, and we started brewing in our parents' kitchen. Our girlfriends (who are now our wives) and one of our friends helped us with bottling and capping. Literally, we took Blue Moon beer bottles, scraped the labels off, cleaned and filled them and put our labels on them. Then we went around West Chester trying to sell it. The first day we went around, we sold to over a dozen accounts and we saw how fast we could grow.
Is that when you realized it was time to move out of your parents' kitchen?
Adam Jones: Yes! Our good friend Dan Celluci let us rent out the kitchen at Sprout and we started a little production facility there.

But within one month, we got into the Glen Mill Whole Foods Market and realized that we could go to each Whole Foods individually and sell to them. Soon, we were making all of our own deliveries weekly to about 26 Whole Food Markets between Baltimore and Pennsylvania. The following year we got a mid-Atlantic contract with Whole Foods in New Jersey, Ohio, Maryland and more states.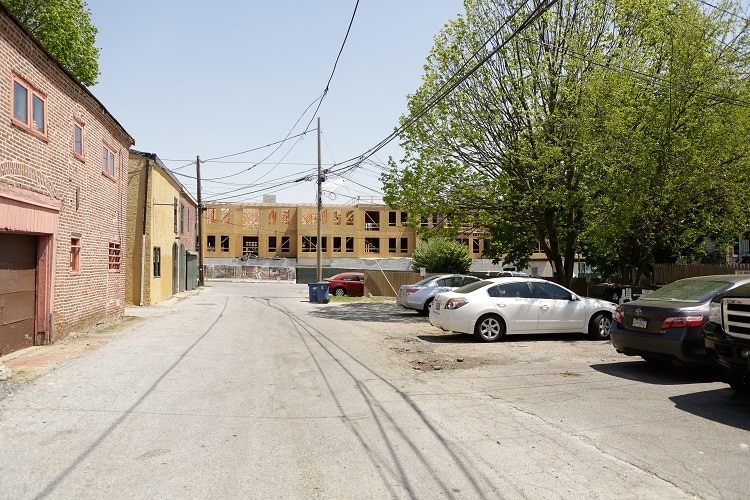 At that point, we knew we had to upgrade, and within one week we found a warehouse and decided to rent it. There was nothing there, just cinder block walls. We had orders that needed to be fulfilled and were on a time crunch to get the place ready, so we hired out the electric and plumbing. We had to find a walk-in fridge and my brother went online to an auction and found one for $700 in Vineland, New Jersey. We rented a truck and went to get it, but when we saw it in person, it was covered in dirt and mold. When we got it home, we called up Perley-Halladay here in West Chester and when their guy looked at it he said, 'You got a steal, you just need to clean it up!' It took more money to clean it than we spent on it but we got it up and running, and in one week we turned this warehouse into a production facility. It was a stressful week, to say the least, but we made it happen. It was fun, though. It's awesome to look back on it. Now, everything is streamlined and we do all our bottling, brewing and everything else here.
Was it scary to take "the leap" into starting Peloton? Did you have other jobs that you left to pursue the company?
Adam Jones: Our dad was an entrepreneur as a interior designer and Dave and I have really always been entrepreneurs … we've never enjoyed working for other people. I went from owning a window cleaning business to owning a photography business, and Dave was in real estate. Making the switch to starting the cold brew company was not very difficult, because we really believed in our product, and we believed in ourselves and knew that we could do it.

I think the hardest part was that we used our own money, we drained our savings to start this company in the first year. But, once we had it in our heads that we were gonna make it work, it was easy. You have to believe in yourself. If you don't, nothing will be easy because you can't manifest it and it won't work. On top of that, we were able to keep our jobs and make money and funnel everything back into the company. We could do that because we had the flexibility of not being on a 9–5 schedule.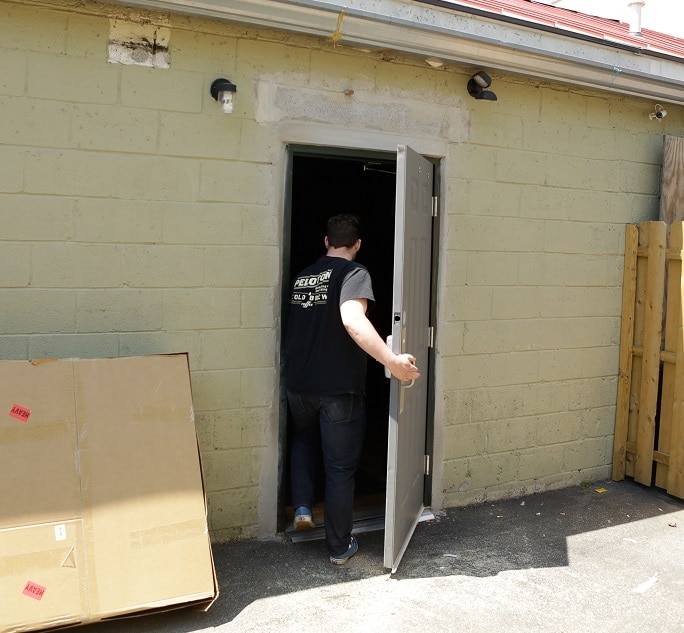 Any advice for other young entrepreneurs?
Adam Jones: Even if you do have a 9–5, there are plenty of hours after work to spend on what you're passionate about. And if you do take the leap and leave your 9–5, there's always going to be a job out there for you. If you're passionate about something, why not? If you're young, there's no reason not to try. The first thing to do is start your passion as a hobby, and once you realize that you love it and believe in it and are committed, then turn it into your career.
It's been a busy few years since you started Peloton in 2015. What are you looking forward to this year?
Adam Jones: We have a new line coming out of cascara teas! Cascara is made from the coffee cherry and has eight times the antioxidants of blueberries, 48 mg. of caffeine, and ours is only 70 calories per bottle, with just 14 grams of all-natural sugar per bottle. Cascara is also known to be a powerful nootropic, a cognitive enhancer. We realized that nobody's really doing cascara, so one day we started researching. Dave bought some from a local roaster and loved it. We began tinkering and playing with it and hired a flavor company to help develop flavors. We're coming out with peach ginger, apple pomegranate, cranberry lime and original lightly sweetened cascara tea.

When we presented the cascara tea to investors we landed a pretty large investment, and that was one of our biggest moments. We've ramped up the company — now we have a VP of sales out in New Jersey and a marketing company out of Philly helping. Before, it was Dave and I doing everything, and now we have this stuff taken care of.

Our hope is that this product will help take our company to a national brand. We'll never give up on the cold brew. But, right now, stores are bringing in every product that comes through the door. When we started, we were one of the only ready-to-drink cold brews on the shelf. So, we think this tea is the ticket, because there's not much competition out there right now. One of the things we've strived for is to provide a supply chain for it — we're getting it at an amazing price so we can sell it for an amazing price. The tea line should be coming out in February and we'll probably have our launch party in March!
What's it like to be in business with your sibling?
Adam Jones: Everybody thinks that working with partners or siblings is rough, but to us, it's amazing. There are times we bicker or argue, but the biggest thing is communication, and we're both really good at that. We love each other and we want this business to succeed so later in life we can own yachts together [laughing]! But it's rewarding and I think we push each other to do better. The only challenges are that I'm the younger brother and sometimes Dave has the older-brother syndrome. But really, he pushes me to be the best.

And we're completely different. I'm a creative, my brain works that way. Dave is a little more type-A: organized, to-the-point, good at schedules, good at getting stuff done. He's very business-oriented, he's good at selling and talking to people. We have that perfect dynamic to cover both sides of the business.
If you could change one misconception about cold brew, what would it be?
Adam Jones: Not all cold brews are created equal. One of the things that sets them apart is whether they're small-batch made and made with natural ingredients, compared if they're large-batch made and going through heat treatments and using thing that aren't good for your body. We don't use anything artificial, it's coffee and water, and for our mocha flavor, it's coffee, water, 100% pure Dutch cocoa and organic sugar. We use Ethiopian Yirgacheffe coffee beans, which are some really amazing, high-end beans. And we only add real, high-quality ingredients to enhance, not mask, the flavors of the coffee. Peloton Cold Brew never touches heat, ours is brewed for 24 hours at 35 degrees. It's bottled cold and stays cold. We use micro-filtration rather than heat treatment, we don't pasteurize our cold brew and we keep it refrigerated with a four-month shelf life. It's a much better product with a better taste.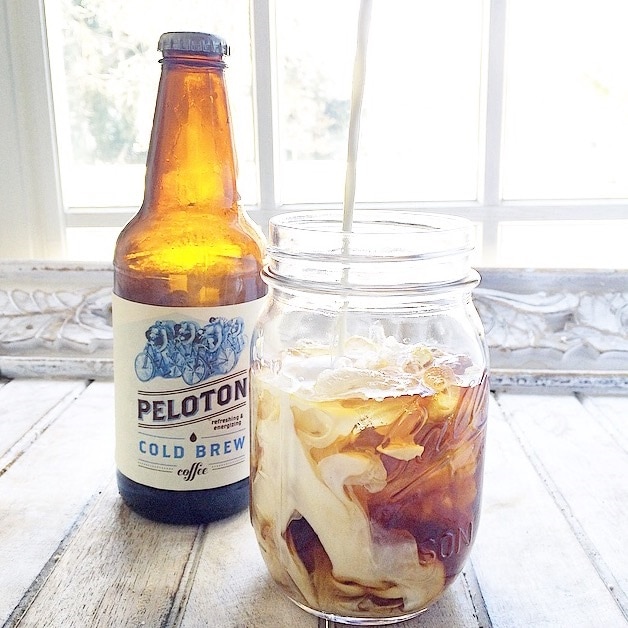 Thanks to Adam Jones for sharing Peloton Cold Brew's story! For more info on the brand and where to find its products, check out its website and Facebook and Instagram pages. And for more stories of young entrepreneurs, tune in to Adam's podcast, Young Founders, where he interviews local business owners about the struggles and successes of leaving that 9–5 and striking out on your own.
Photos:

Peloton Cold Brew